« Saturday Morning Weird News [Mis. Hum.]
|
Main
|
Ace of Spades Pet Thread [Mis. Hum.] »
September 03, 2016
Saturday Gardening Thread: All-American Edition [KT]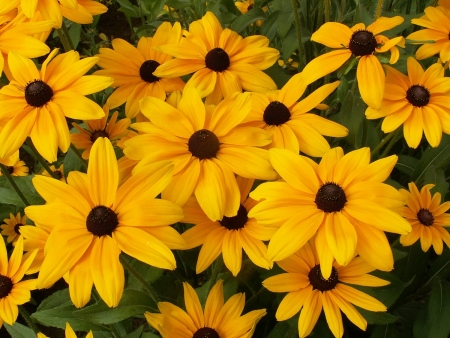 'Indian Summer' Black-eyed Susan
I am on the road today somewhere in the Northwest, so thanks to whoever posted this thread for me. As summer starts to wind down, I thought it might be fun for members of The Horde to discuss some "All-Americans". Below is some content to get you started, including information about some native flowers, a native fruit and some American butterflies.
Black-eyed Susans and Gloriosa Daisies

All twenty-something species of Rudbeckia are native to North America. Many of them are grown in gardens, and the others are cheerful in the wild. "An abundance of these plants on a rangeland indicates good health." Black-eyed Susans remind me of some of my favorite people, from my grandparents who let them grow along their fence line to dedicated flower gardeners.
Black-eyed Susans grown as annuals
'Indian Summer', pictured above, is one of many cultivars of Rudbeckia hirta. Most cultivars of R. hirta are short-lived perennials. but they are often grown as an annual for their summer and fall flowers. 'Gloriosa Daisies' are Black-eyes Susans with red and russet markings. They are generally large-flowered. They are very widely adapted. This species is grown as a winter annual in the low desert.
There are two widely-available green-eyed cultivars, 'Irish Eyes' and 'Prairie Sun'. To give you an idea of the variations that have been teased out of this American wildflower, here is Prairie Sun with a Gloriosa Daisy. They are both the same species: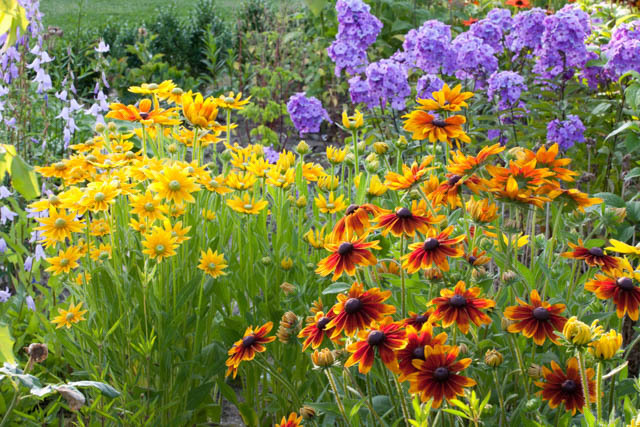 There are also dwarfs and doubles One of my favorite cultivars of R. hirta is the short-petalled dwarf 'Toto Lemon'. I think 'Toto' comes in a couple of other shades of yellow, too.
I am not a big fan of the fringe-y doubles, but some of the semi-doubles appeal to me.
Biennial Brown-eyed Susan
The flowers of 'Toto' resemble those of the profusely-flowering biennial Brown-eyed Susan. which is a little taller and blooms the second year. It would typically be direct-sown in summer or fall for bloom the following year.
Longer-lived perennial species and cultivars
Among the more long-lived perennials, Rudbeckia fulgida 'Goldstrum' seems to dominate the market. Be careful that you don't get the variable seed-grown strain of this cultivar. It is recommended for mass planting, especially with ornamental grasses if you are into those. There are some dwarf cultivars of this species for the front of the flower border.
There are two dramatic species of Rudbeckia in the 5 to 10 foot range, too. 'Herbstsonne' ('Autumn Sun') may be a hybrid between R. laciniata and R. nitida.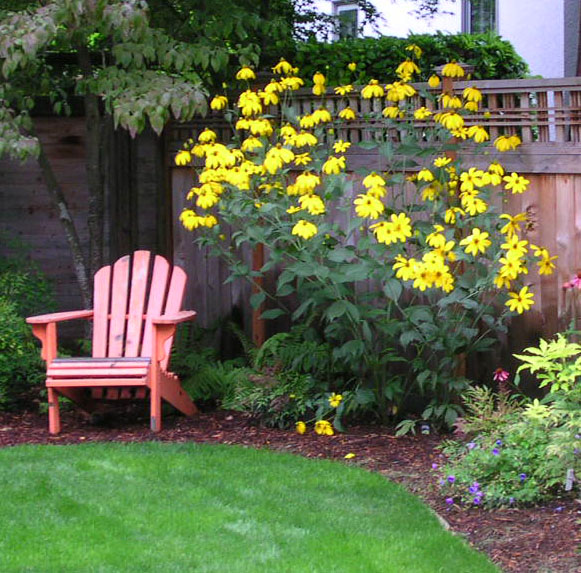 Ready for daisies that are taller than you are?
Black-eyed Susans and butterflies
Rudbeckias are great nectar flowers for all kinds of butterflies, and they are larval hosts for the Bordered Patch and Gorgone Checkerspot. Maybe for some of their cousins, too.
There are 33 Chlosyne species of which 29 occur in North America and/or Mexico, while the rest are found variously from Guatemala to Argentina. Many Chlosyne species are characterized by having a patchwork of black, yellow and red/orange markings; while others are fritillary-like in appearance, with a network or dark veins and lines on an orange-brown ground colour.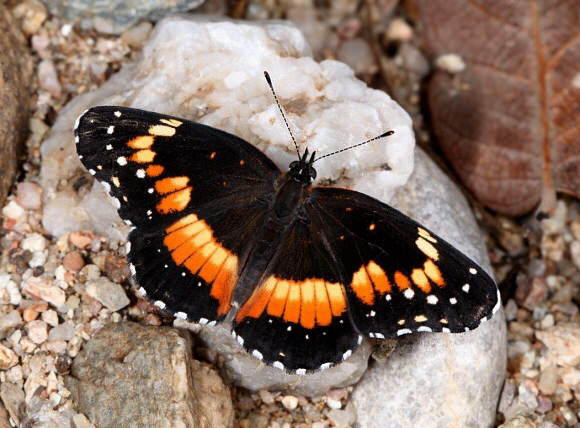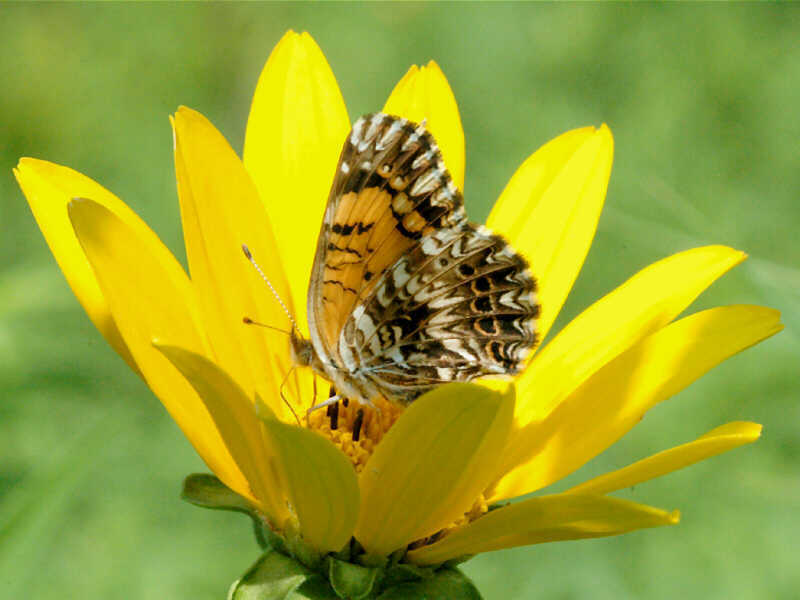 Bordered Patch and Gorgone Checkerspot
The Bordered Patch is found in the more southerly part of the country, even in desert washes. The Gorgone Checkerspot flies mostly in the Great Plains, into parts of Canada. Although their wingspans generally measure less than two inches, they are fun to have in the garden. The males perch and patrol for mates. They gather at puddles and on dung, which gives you an excuse if you didn't get around to cleaning up the doggie doo-doo near your butterfly gerden.
Why haven't I ever tasted a pawpaw?
Pawpaws are the largest edible native American fruits. So why haven't I ever tasted one?
Last week we went over news reports of the possible extinction of bananas. And last week, MarkY mentioned ripe pawpaws in the woods. Planned to make some pawpaw bread. Will pawpaws become the new banana? Some cultivars and wild fruits have a hint of banana flavor. It might be fun to have an American native fruit as a common breakfast food. The California Rare Fruit Growers note that:
Although pawpaw fruit is not yet a commercially viable commodity, the domestication process is well underway. Several academic institutions are setting up seventeen Regional Variety Trial sites. Kentucky State University is the site of Pawpaw National Clonal Germ-plasm Repository. The pawpaw has also found its way to several overseas countries, and a few of these are actively engaged in research. Pawpaw leaves and twigs contain substances with promising anti-cancer and pesiticidal properties.
You can check out the University of Kentucky Pawpaw Page for growing information and progress reports. Other universities involved in regional testing also have some interesting information.
Here are some other Paw Paw Facts. Sounds like the flowers were intended to resemble rotting meat. "Pawpaw blossoms are designed by their color (purplish red) and odor (fetid) to attract their primary pollinators, various species of flies and beetles. Bees rarely, if ever, visit pawpaw flowers."
Paw paw trees have attractive tropical-looking foliage. Young trees need some shade. They are related to Cherimoyas. Wild fruits vary wildly in flavor - some are reportedly delicious, others bland, still others have overtones of turpentine. There are many cultivars available. You generally need two different ones to get fruit. Consider an early and a late-ripening cultivar if your season is long enough.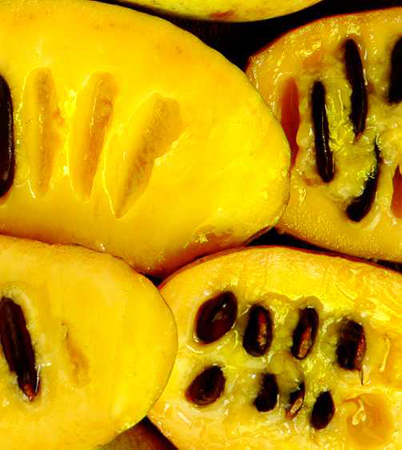 Pawpaw fruit
The common name of this species is variously spelled pawpaw, paw paw, paw-paw, and papaw. It probably derives from the Spanish papaya, an American tropical fruit (Carica papaya) sometimes also called "papaw", perhaps because of the superficial similarity of their fruits. (In some parts of the world, such as Australia and New Zealand,the name Paw Paw is commonly used for a variety of Papaya.) Asimina triloba has had numerous local common names including: wild banana, prairie banana, Indiana banana, Hoosier banana, West Virginia banana, Kansas banana, Kentucky banana, Michigan banana, Missouri banana, the poor man's banana, Ozark banana, and banango.
Many mammals, including bears, eat the fruit. Deer usually avoid the leaves, but mules have been seen eating them.
Pawpaws and butterflies
I don't know that pawpaw flowers are particularly enticing as nectar sources for butterflies, but:
Larvae of the zebra swallowtail (Protographium marcellus), a butterfly, feed exclusively on young leaves of Asimina triloba and various other pawpaw (Asimina) species, but never occur in great numbers on the plants. Chemicals in the pawpaw leaves confer protection from predation throughout the butterfly's life, as trace amounts of acetogenins remain present, making them unpalatable to birds and other predators.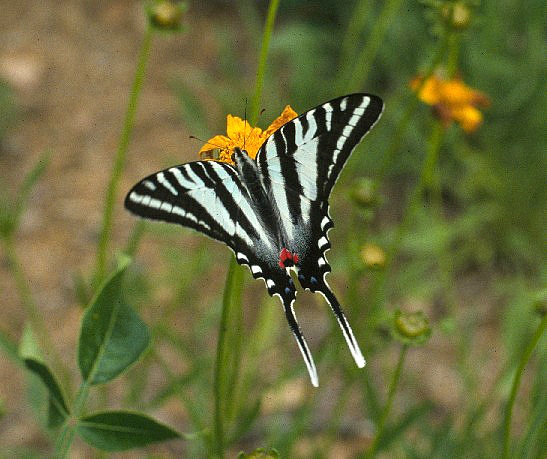 Compare the Zebra Swallowtail with the Zebra Longwing
The Ohio Paw Paw Festival will be held September 16-18 in Albany. Don't miss Rusted Root! The D-Rays, Supernobody, Water Witches, Bright at Night, Steve Free and The Paranormals will also be performing. Lots of food featuring paw paws.
I like it when communities organize events like this. People write all kinds of Pawpaw Poetry, too. Sounds like a fruit with unrecognized potential.
Do you gather pawpaws from the wild or grow them? Do you have favorite cultivars? Recipes?

Gardens of the Horde
Anything going on in your garden? Harvesting? Pickling? Canning?
Have a great weekend and a great week.

posted by Open Blogger at
12:20 PM
|
Access Comments