« Thread below the Gardening Thread: August Robot News [KT]
|
Main
|
Ace of Spades Pet Thread [Mis. Hum.] »
August 20, 2016
Saturday Gardening Thread: Under Water [KT]
Flood water remains in communities off of Bluff Road and in St. Gabriel, and if nothing is done officials suspect that water could remain for at least two to three weeks. Some say that if no action is taken, standing water could remain for as long as six months.

Now, Iberville and Ascension officials are developing a plan to add pumps to drain the Spanish Lake basin. They'll also cut Alligator Bayou road open as Bayou Manchac reaches safe levels to help drain water.
You can't do much gardening when the garden you normally walk through is under water. But someday, the water will subside from the flood zones in Louisiana. Then it will be time to don some boots and get back to work. Might as well have a little fun, too.
Got flooding? Maybe you should get some Louisiana Irises. Or some other water-tolerant plants.
Flooding and Louisiana Irises
The LSU ag center has gone beyond ag on its website. There is quite a bit of current flood recovery information. Homes and businesses are the first priority. but then come farms and gardens. They have a nice fact sheet on Louisiana Irises. Some Louisiana Irises can grow even in standing water. Some people may need a plant like that for a while.
I picked three other vigorous, moisture-tolerant plants for discussion today, too. Two were recommended in a blog post: Louisians Iris Black Gamecock, or or How I Turned My Soggy Mess of a Back Yard into a Garden. Here is a "before" photo.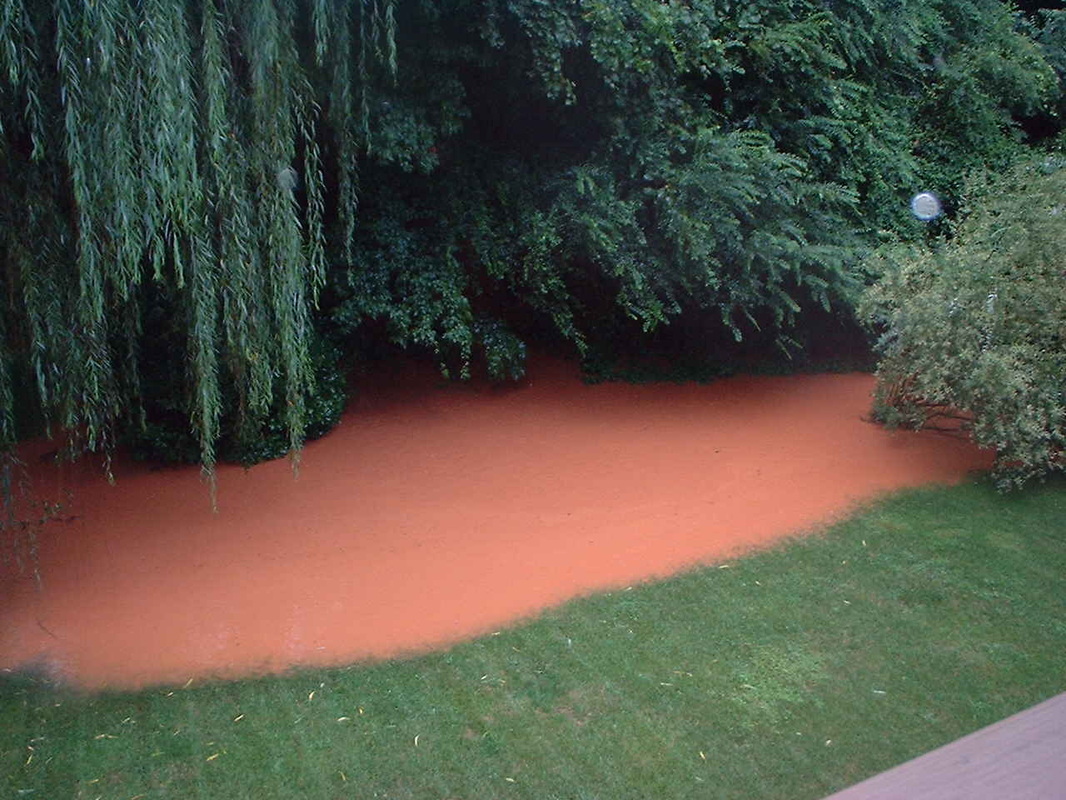 And here is the transformational flower, Louisiana Iris 'Black Gamecock':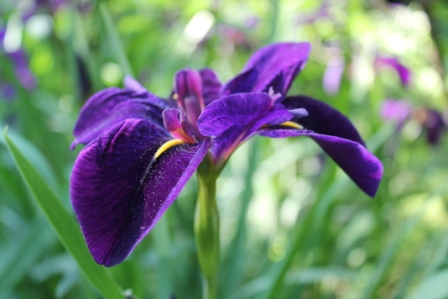 "It has the distinction of being perhaps the only plant that will happily grow in unamended red North Carolina clay." Read the entertaining (at least for gardeners) post for more.
I think it's great that there is a Society for Louisiana Irises. Love the cultivar names in the right sidebar. It's fun looking around their site. Some of the breeding information is quite technical, but if you want to name a plant after someone you love, irises are one possibility.
And the American Iris society has a nice section on Louisiana Irises. The Winner of the Mary Swords DeBaillon Medal for 2016 is Blue Mountain Mist. "Midseason late bloom. Standards and Falls pale sky blue, fine white rim, white reverse; style arms ice blue, white tips; signals yellow blotch overlaid golden orange steeple on Falls; triangular form; slight fragrance."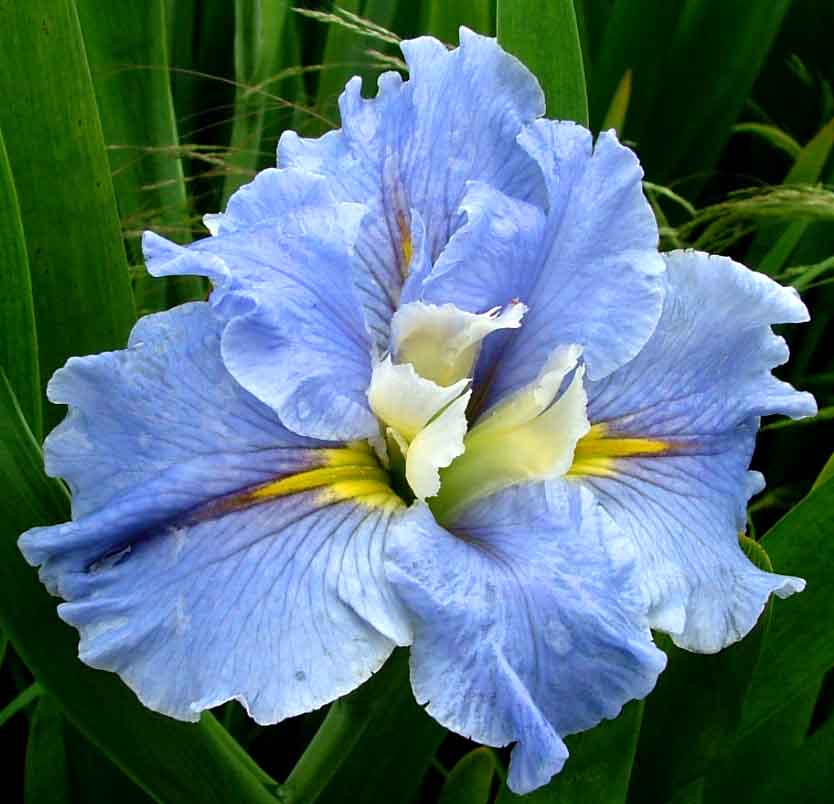 Hybrid Louisiana Irises are derived from 5 closely related species. One of them, Iris giganticaerulea (giant blue iris), is the state flower of Louisiana. From the
American Iris Society blog:
The Louisiana Iris is one of the most misunderstood yet versatile irises. It's been called a water iris, which is not technically correct. Some will grow in water, some will not. If the foliage is totally submerged, they will most likely die. Most will grow well in bog conditions, but some will not. They have been grown from Canada to Mexico and in many countries abroad. They grow from the marshes and swamps of Louisiana to the deserts of Arizona. The secret to their successful cultivation is understanding the cultural differences of the five species that make up this diverse group of iris, and being able to recognize these traits.
Bog Sage
This plant likes moist soil, but does not grow in standing water like some Louisiana Irises will. Bog Sage is the tallest plant in the Pollinator Garden at the Coastal Georgia Botanical Gardens. It grows from 4 to 7 feet tall, depending on growing conditions. Where happy, the roots will spread. Sunset recommends confining the roots by planting it in a 15 gallon container (with drainage), buried to the rim.
The garden becomes pure enjoyment when you choose to grow a great pollinator plant like the bog sage. More would experience this no doubt if it had a different name. You see, you don't have to have a bog, just fertile well drained soil with plenty of sun. Unfortunately the bog sage has a botanical name that isn't any better: Salvia uliginosa. At first look you might think Salvia ugly-a-nosa, but it is really Salvia u-lig-a-nosa.

The bog sage is native to the South American countries of Brazil, Uruguay and Argentina and will look at home in your garden. It is a cold hardy perennial in zones 6-10 and a worthy annual in colder areas.
Looks great paired with contrasting flowers.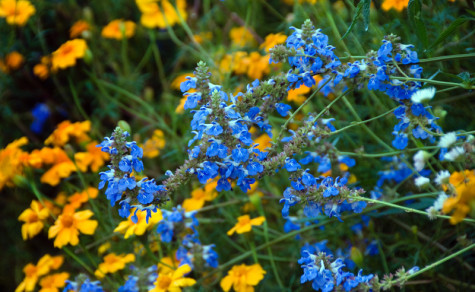 Bog Sage won an Award of Garden Merit, Great Dixter.
Swamp Sunflower
Thinking about planting a stand of swamp sunflower? You might consider confining its roots, as with Bog Sage. The two should be knockouts together.
If you decide to use them in your landscape, you will be treated to zillions of blossoms about 2 to 3 inches across through the part of Fall when most other plants are dying off. When planted in mass, the effect of so many blossoms is unbelievable.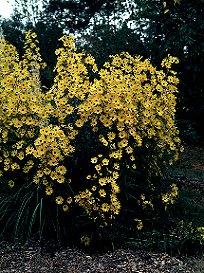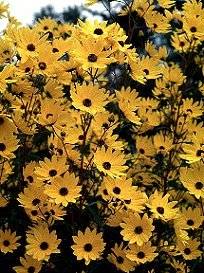 From Knotts Island, on the Carolina/Virginia border.
Swamp Sunflower has a mature height of 6 to 10 or even 12 feet. You can whack it back in June or July to keep it shorter and to keep the stems from falling over when it blooms in the fall. It grows 4 or 5 feet wide. More where it can spread by rhizomes. Hardy in USDA Zones 6 - 9.
There are two dwarf cultivars: "First Light" grows to a height of 4 feet. 'Low Down' grows just a foot tall. Both are a little hardier to cold than the tall wild form.
Valued for its late blooming golden yellow flowers, ability to grow in dry to waterlogged conditions, and verticality in the landscape. Attracts native butterflies, bees and birds. Deer resistant. Tolerates swamp and salty conditions.
Can you grow something edible in a swamp? Other than cattails?
Why, yes, you can! Water Dropwort is an herb with celery-like leaves that is used in Asian cooking, particularly in Korea. I prefer the name 'Rainbow Water Celery' for the variegated form.
. . . The commonly cultivated variegated form "Flamingo" is a bit smaller than the species and less invasive, though it certainly can spread like crazy until it reaches dry ground. It does well in regular garden soil kept moderately moist but will also thrive at pond margins or partially submerged in water.

Its chief feature is the colorful serrated leaves of cream, green and pink. But in summer it also has small white carrot-flower umbels. It grows to about six inches tall, sometimes more than a foot tall, with practically limitless spread via rhizomes. If it happens to spread to far, it is not difficult to pull from where it isn't wanted. It's hardy to about 15 degrees F. and in mild climates can be at least partially evergreen. It prefers partial shade, but ours gets full morning sun which does not seem to harm it so long as there is always some moisture around it.

Lovely as a garden ornamental, it also happens to be very good to eat, whether fresh on salads or sandwiches, cooked in soups or stuffings or merely as an especially pretty garnish. Young leaves taste like a mild celery; older leaves are spicier and may be nicer steamed with vegetables than raw. . .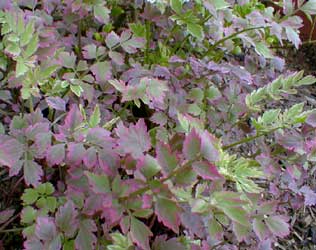 Traveling foragers beware: This plant is a cousin to the most toxic plant in the UK. Hemlock Water Dropwort was once used to execute criminals in Sardinia, leaving a horrible expression on their faces. "A sardonic grin"?
I also found a piece on to grow more conventional herbs in a swamp. I hope this garden survives the current flooding. Its creator grows herbs and sells herb vinegars in the bayou region of Louisiana. She has garden grit: "How to Unwater", "Trial by Murder" and all. Though she "has her moments".
"Last spring when everything else was flooded, I was threatening to get out the pistol to shoot crawfish, then plant rice."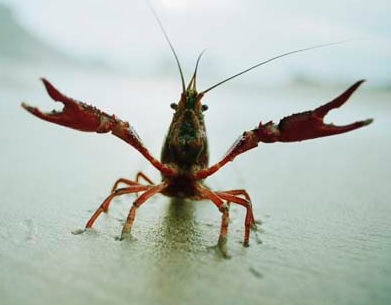 Crayfish (or Crawfish) Facts
Garden Destinations
O.K., there were some garden destinations I would have liked to add this week that are either flooded or threatened by fire. But if you are considering going to help with flood or fire clean-up efforts, you might consider a visit to a botanical garden on the way home.
Dang. I missed National Moth Week again. But you can still go check out butterfly and giant silk moth habitats at Prairie Haven, an old farm in Western Wisconsin undergoing restoration to something close to the original prairie habitat. They had their own flash flood this month. No comparison to the flooding in Louisiana, though. Nice website with lots of nice photos of landscapes, plants and critters.
They have a lot of information on butterflies and moths, including photos of various stages in the life cycle of the Silvery Checkerspot Butterfly. This butterfly and some of its cousins lay eggs on the Swamp Sunflower, among other members of the sunflower family.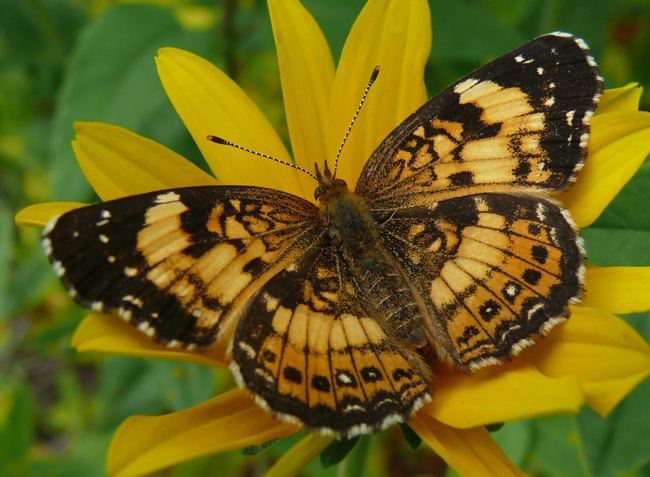 Local Garden and Produce Reports
I got nothin' new to speak of. The cauliflower in the stores seems especially nice right now. Not sure why.
I should have been out planting beans and cucumbers for fall, but the smoke from the wildfires (and life) have kept me indoors more than usual. Since last week, there are more wildfires putting smoke into the Valley air. The sky was especially ugly Thursday night. Looks strange outdoors. One of my most distinct memories of past fires is the otherworldly color of Silver Dollar Eucalyptus leaves under similar circumstances years ago in Southern California.
Anything going on in your garden?

posted by Open Blogger at
12:45 PM
|
Access Comments