« Thread below the Gardening Thread: Oppression Chic [KT]
|
Main
|
Ace of Spades Pet Thread [Mis. Hum.] »
August 06, 2016
Saturday Gardening Thread: Mucho es Moy Grande en Texas [KT]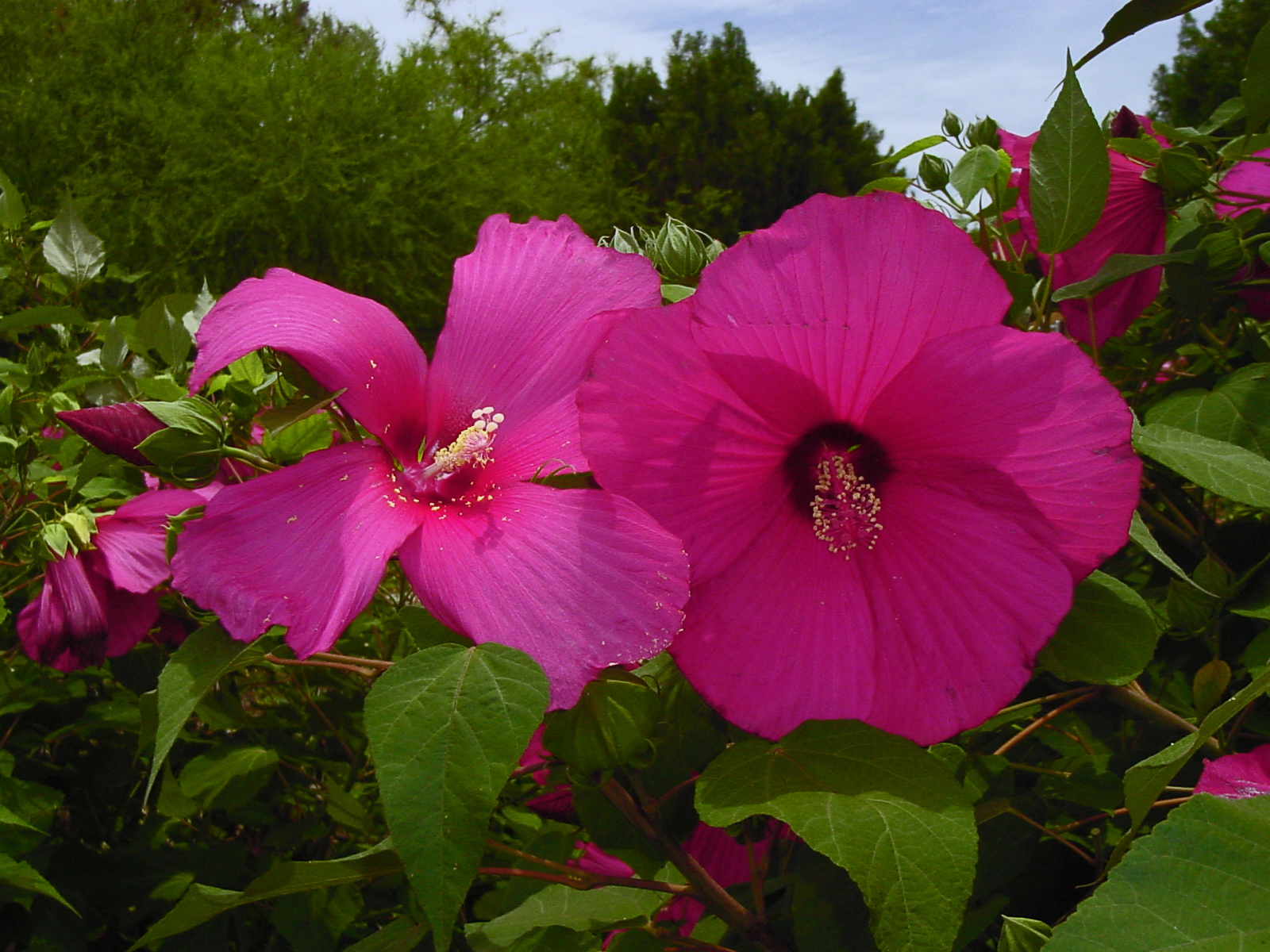 Left: Hibiscus 'Moy Grande' Right: 'Mucho Mas Moy Grande'
If you know a little Spanish, did you feel a twinge of discomfort when you read the names of those flowers? Like maybe something was not quite right?
I felt much better when I learned that 'Moy Grande' was bred in San Antonio by a pioneering plant breeder from China. Now the flower names make perfect sense.
Ying Doon Moy, research and development horticulturist at the San Antonio Botanical Center cross-bred a Hibiscus moscheutos hybrid with Hibiscus grandiflorus to create the largest open-face hibiscus flower in the world.
He led a remarkable, sometimes scary life. It says a lot to me about persistence, something that comes in handy for gardeners. Unless you are just growing some sprouts for a sandwich or something. So many of us have had terrible setbacks in the garden this year. But he has faced some setbacks I hope few of us ever have to face. And he came back from them:
Mr. Moy endured many hardships during his life. He would sometimes have flashbacks to World War II where he would suddenly start talking about "bombs fell like carrots" and the Japanese soldiers would shoot into the crowd indiscriminately. Also, he was separated from his family who had fled to Hong Kong in the late 1950s. . . During the Cultural Revolution (1966-1976) in China he was stripped of his title and was forced into a program of hard labor and persecution to the extent that he and his family hid in caves and survived on weeds for an extended time. That is where he developed a dislike for purslane.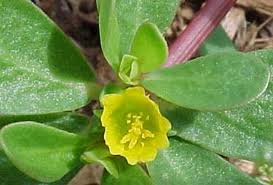 Purslane: enough is enough.
Those young, idealistic revolutionaries! "Livestock were turned loose in his test planting areas where they destroyed his three prized bi-generic crosses." Sort of reminds me of Occupy taking over university farm land in Berkeley. From Zombie's report: "The scientists themselves are for the most part royally pissed off at the Occupiers and some may have years of work ruined by the Occupiers' juvenile prank."
Occupy got pizza delivery while trying to establish a revolutionary peoples' farm in Berkeley. Its actions are not really comparable to the horrors of the Cultural Revolution. Same doomed utopian dreams though, pretty much. Let a thousand flowers bloom.
But back to our unassuming-yet-persistent plant breeder. Mr. Moy did pioneering work on improving the quality of litchis, pineapples, seedless watermelons, citrus and other crops. In addition to flowers. He used an early technique for cross-breeding of different species, embryo rescue.
This technique is also used by Floyd Zaiger and others here in the Valley to cross-breed species of fruit in the same genus, for example plums and apricots. The embryo is removed from the seed and grown in vitro. This may sound like genetic engineering to a lot of people, but like irradiation, it is considered "natural" by the folks who usually go indiscriminately ballistic over "genetic engineering".
Growing Papayas in Mainland USA
I had not intended to write about papayas after writing about mangoes last week. But Mr. Moy also bred papayas to bear ripe fruit outdoors in South Texas. So here's a song. May not be SFW if you work with relatively recent graduates in the liberal arts. This TV version is even more culturally dangerous. You have been warned. Heh.
When Mr. Moy started working at the San Antonio Botanical Garden, he quietly started improving the papayas in the Formal Garden, where the dramatic, tree-like plants were an exotic curiosity. First he aimed for early ripening and large fruit size for "Texas Bragging Rights". And for shorter plants. He then started hybridizing the Mexican-style papayas with smaller Hawaiian papayas for improved flavor and sweetness.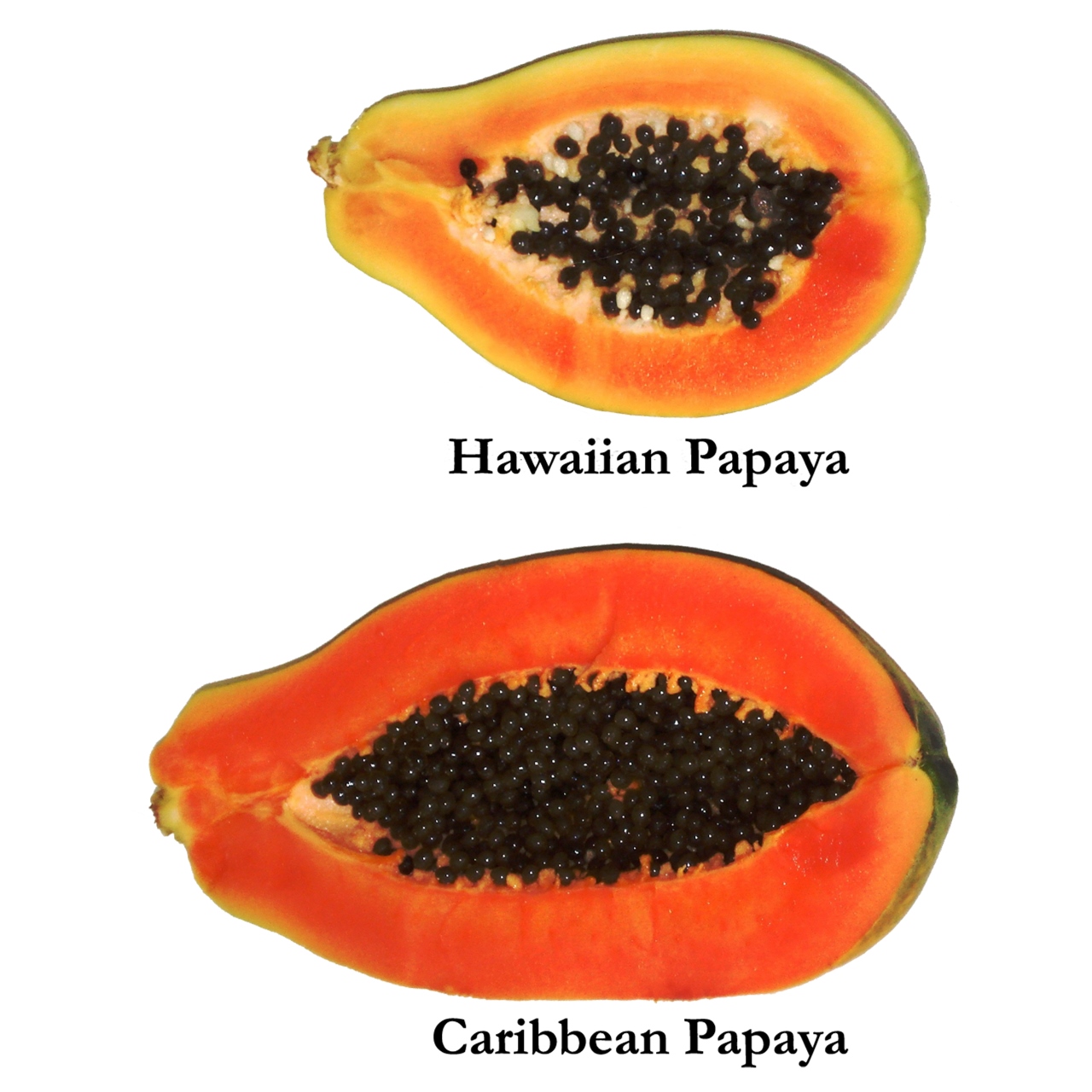 Do you have a favorite papaya variety?
Mr. Moy received an Imagineer Award from the Mind Science Foundation for successfully developing papaya varieties for the South Texas environment. These include Pretty, Aromatic, Delicious and Dulce. I liked the story about when he chased down co-workers at the botanical garden to taste-test his experimental 25 pound papaya fruits. Texas Figs. Heh.
Mr. Moy's growing tips for papayas are included at the link above. Early types of Mexican papayas can be grown as annuals to produce fruit in San Antonio. There are also links to a papaya video and papaya recipes.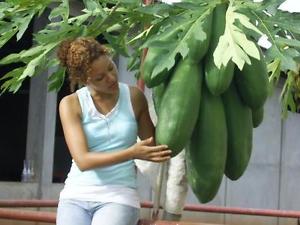 Texas Fig, anyone?
Those in more tropical climes, or those with a greenhouse, have more options. You can order seeds for a wide variety of papayas through the AoSHQ Amazon Store. California Rare Fruit Growers explains the differences between Hawaiian and Mexican (or Caribbean) papayas, and describes some cultivars. It always intrigued me that you could grow distinct cultivars of this fruit from seed.
Sex among papayas is a complex thing. As described (with some nice photos) at the Life Is Just Ducky blog (in Florida), you can grow papayas using seeds from grocery store fruits, but if you intend to get more fruit:
You will need to grow several of them as some are male plants, some female and some are bisexual. You won't know what you have until they flower. The female flowers are held close to the 'crotch' of the tree and the male has a smaller flower that is on a long stem that dangles away from the crotch (I can't make this stuff up folks).
Some cultivars, like Solo (popular in Hawaii before the Papaya Ringspot Virus) have predictable sex ratios. Others, not so much. There is now a very dwarf papaya that does not need pollination by another plant. TR Hovey can even be grown in an EarthBox. The Babaco, a natural cross-species relative of papayas, is even better suited for containers and tolerates cooler temperatures. But that is a topic for another day.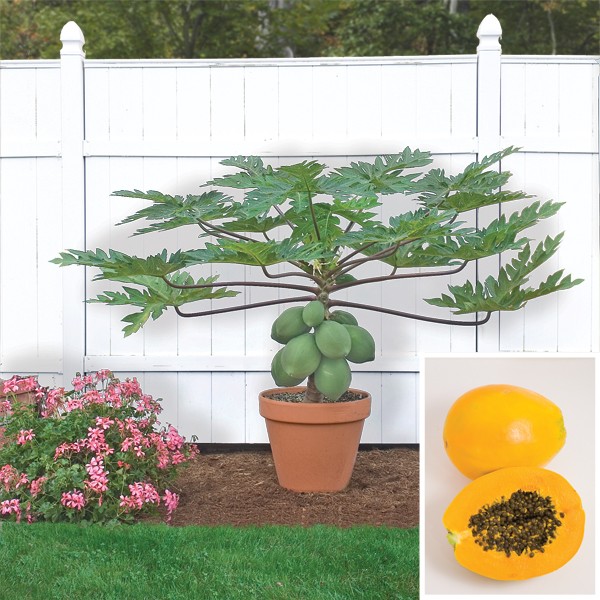 Papayas in New England?
Papaya Ringspot Virus and Genetic Engineering
Because of the emergence of the Papaya Ringspot Virus, papayas are the first genetically engineered commercial fruit to be attacked by activists. Genetically engineered cultivars saved papaya farming in Hawaii. From hope to reality.
If you are worried about genetically modified commercial papaya you might want to stick to Mexican papayas. Personally, I prefer my papayas without the virus.
This disease also affects cucurbits such as melons and squash. One strain was previously known as Watermelon Mosaic Virus. Natural cross-breeding of many cucurbits with virus-resistant relatives produced "natural" resistant cultivars. But a few genetically-engineered summer squash cultivars are also commercialized.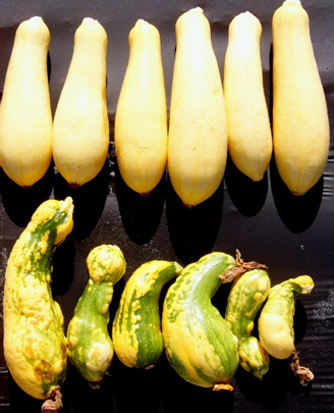 Virus-resistant and non-resistant squash
The link below the photo is an excellent source of information if you have friends or relatives who are very concerned about GMO foods.
Hardy Hibiscus
I stumbled onto the story of Mr. Moy and his giant hibiscus because JTB made a comment last week about growing hibiscus in his yard. Texas A&M has chosen three native hibiscus hybrids for special recognition. One is the cultivar JTB grew, Lord Baltimore. Another is Hibiscus 'Moy Grande'. They are the Texas Superstars.
'Flare' has apple green foliage and large, high quality fuchsia red flowers to ten inches wide. Four feet tall, it is a profuse bloomer and has the important advantage of being self sterile which encourages luxuriant rebloom. This wonderful cultivar does great in any soil type, even our sticky, highly alkaline clays. Texans will love 'Moy Grande' because it has the largest, open-face hibiscus flower in the world! The rose-pink blossoms are truly magnificent with diameters reaching a full 12 inches (dinner plate size). This cultivar will grow in acid or alkaline soils. Gives flushes of bloom throughout the summer; prompt removal of spent blossoms will encourage rebloom. 'Lord Baltimore' displays deeply cut, glossy foliage and stunning red flowers up to ten inches in diameter. Five feet tall and self sterile, this improved hybrid prefers neutral to acid soils.
Below is a photo of
Lord Baltimore
growing in Northeast Ohio, with an unidentified white cultivar. I wonder if it is
Blue River II,
which is reputed to stay open at night? I have always loved red and white flowers together.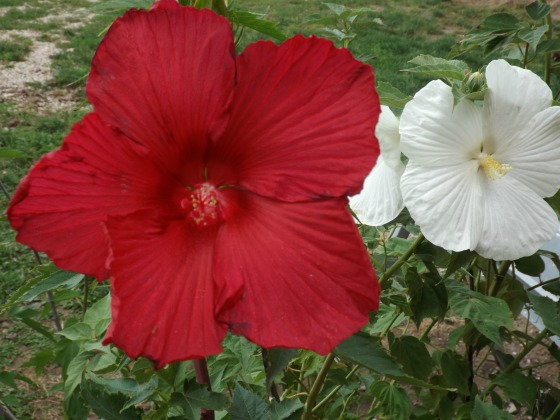 There is also a Peppermint Flare, similar to Flare, but it opens pale pink and turns white, with dark markings.
One thing I think is kinda cool is that you can use many of the big hardy hibiscus flowers as table decorations with no need for water. Moy Grande has a little fragrance from one of its parents, too. In the garden, it is salt-tolerant, which would be a bonus near the seashore, and maybe in the valley where I live.
There are several native American hibiscus species. Many commercial hybrids include more than one species in their background. If you check around, you are likely to find one that does well where you live, even if you live pretty far north in the country. Strains of native Swamp Mallow, including dwarf strains and bicolors, can even be grown from seed. We can discuss specific possibilities in the comments.
Shooting the Hardy Hibiscus
Hardy hibiscus species and their hybrids make good subjects for summertime photo excursions. You can explore your neighborhood or more challenging habitats, like swamps. Photography tips at the link.
Not a bad pursuit if you are taking an "Internet Sabbatical". Just don't send photos out immediately to all your Facebook friends. The photo below is from an excursion on the Dallas Trinity Trails.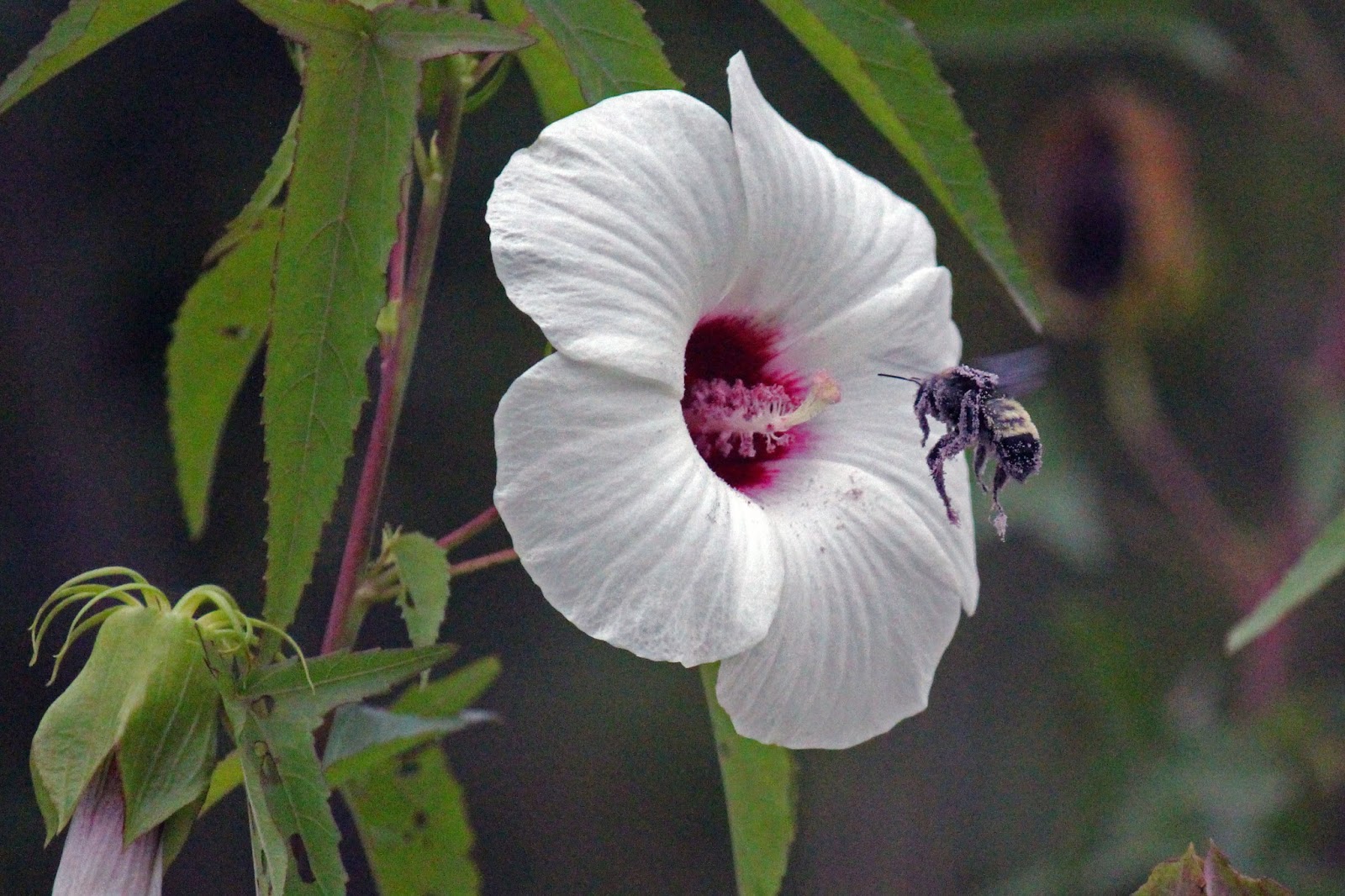 Hairy Rose Mallow and visitor
Garden-related destinations and events
The San Antonio Botanical Garden
The botanical garden where Mr. Moy worked, is open year round. They have some fun events there, and displays change from time to time, sometimes featuring visits by dinosaurs, for example. Construction for expansion of the gardens is currently underway Slideshow here.
This weekend, doggie visitors will be offered treats and pools of water for the Dog Days of Summer. Current themes include Winged Wonders (habitat gardening) and Art in the Garden. Blooms and Brews is coming up on an evening in September.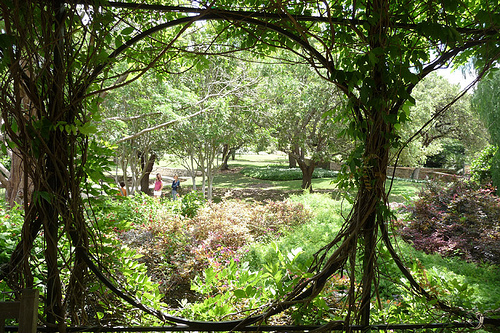 A visit to the Botanical Garden
The plan for the botanical garden was hostaed by two women in San Antonio long before construction began. The garden is mainly on property which includes an abandoned quarry and waterworks which had been deeded to the city. Some of the displays are underground.
California Rare Fruit Growers Event
If you are going to be somewhere near the Central Coast of California at the end of the month, you might consider stopping by by CRFG's Festival of Fruit. Learn something new, maybe taste some rare fruit.
If you would like The Horde to know about a garden event or destination near you (or not near you), let me know.
Local Garden and Produce Reports
After two weeks of 100 plus degree high temperatures, we still have a few Sun Gold tomatoes hanging on. In part shade. Their flavor is better in cooler weather. But they still taste better than the store-bought cherry tomatoes. Mr. Bar-the-Door got some beefsteak type tomatoes from his cousin in the foothills. They have a really acid flavor. But they at least have flavor, unlike those our house guest bought at the store. Funny how tomatoes that look so similar can taste so different.
We have been getting some excellent muskmelons from the local supermarket, cheap. Every year we find some as good as those we have ever grown. Though we have grown other types of melons that were better. I have not grown regular muskmelons for several years. A hot, dry climate like ours is also suited to specialty melons (mostly "Late Melons") that can't be grown well in much of the country. I'm not growing those this year, either. Long story.
The melons we have been buying recently are from Los Banos, across the Valley and to our north. Sweet, with complex flavor and no harsh ketone notes. The fruits have a melting texture. It is always encouraging when the grower's name is on the sticker.
Anything going on in your garden? Have you found any interesting produce at the Farmer's Market lately?


posted by Open Blogger at
12:28 PM
|
Access Comments