« Wednesday Morning News Dump (7/13/16) [Mis. Hum.]
|
Main
|
Two Polls Show Clinton's Lead Narrowing to 3, Post Comey
Make That Three Polls »
July 13, 2016
Mid-Morning Open Thread [CBD]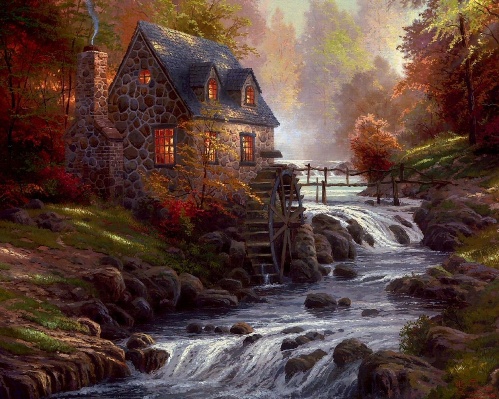 Cobblestone Mill
Thomas Kinkade
Criticism of Kinkade abounds, both from art critics who called his work "kitsch," and garish and a host of other less than flattering terms, and from those who were contemptuous of the commercial aspect of his work.
A simple click here, or here, or here will refute any criticism by current art critics, most of whose heads are firmly planted in their own asses.
As for commercialism as an attack? I find that disingenuous in the extreme. Those same art critics commercialize their passion...very few of them work for free. I find nothing even remotely disturbing in Kinkade's desire to make money.
As I mentioned to AtC yesterday, Michelangelo cashed his checks just as quickly as Kinkade.
Is this art on par with Michelangelo? No...of course not. But it is pleasing to the eye and one can certainly appreciate the effort and technique. It's a lot more impressive than mounting a urinal on the wall or leaning a shoe against a chair.
[Pro-tip: spell Kinkade correctly when you Bing him. There is a pron actress with a similar name...]

posted by Open Blogger at
09:45 AM
|
Access Comments