« Sunday Morning Book Thread 07-03-2016: Inescapable Concepts [OregonMuse]
|
Main
|
Open Thread [Y-not] »
July 03, 2016
Let's Beat the Democrat: Colorado Edition [Y-not]
Last weekend I highlighted the the race for Harry Reid's open Senate seat in Nevada. Recall that Congressman Joe Heck is vying with Catherine Cortez Masto in a race that has been rated a "Toss Up" by FiveThirtyEight and others.
Today I'd like to turn our attention to the open Senate seat in Colorado. This race is a long shot, but not beyond reach. (The Cook Political Report seems to have shifted the contest to "Likely Democrat" from "Lean Democrat", unfortunately.)
Recall that Darryl Glenn, a favorite amongst grassroots conservatives, prevailed in a five-way race for the GOP nomination, garnering over 37% of the vote. Ted Cruz traveled to Colorado to campaign for Darryl Glenn shortly before the primary.
One reason I think that it could still represent an opportunity for Republicans is that Colorado is rated as one of the battleground states that is thought to lean Trump. Darryl Glenn, the GOP nominee for Reid's Bennet's (GAH! Brain cramp. Sorry about that. -- Y-not) seat, seems to sense that as evidenced by his speech at the Western Conservative Summit yesterday:


Glenn's introduction starts at the 3hr 50min 40sec mark.
After touching on his upbringing as a military "brat", he spent much of the early part of his speech embracing Donald Trump's candidacy. Other themes in his speech included personal responsibility and hard work. I found him to be a good speaker -- although the content of the speech was not remarkable, his delivery was very good.
His speech at the Colorado GOP convention was especially well-received.
Glenn is currently a county commissioner:
Darryl Glenn graduated from Doherty High School in Colorado Springs. He holds a Bachelor of Science from the United States Air Force Academy, a Master's in Business Administration from Western New England College and a Juris Doctor from New England School of Law.

Glenn retired from the Air Force as a Lieutenant Colonel after 21 years of active duty and reserve service. He led a $19 million Iceland Command and Control Enhancement Program implementing performance standards that saved $400,000. He served as Program Manager for a $5 billion office responsible for implementing a base realignment and closure plan. And, he supervised 35 communication system programs valued at $1 billion developing support plans that saved $20 million while providing a 40 percent increase in warfighting capability.

Glenn was appointed to the Colorado Springs City Council in June 2003. He was elected to serve a four-year term in April 2005 and reelected to another term in 2009. As a Council Representative, he served as a member of a board of elected officials overseeing a $350 million municipal budget, a $1 billion four-service municipal utility and a $600 million municipal health care system.

On November 2, 2010, Glenn was elected to the El Paso County Board of Commissioners.
Follow the link to learn more.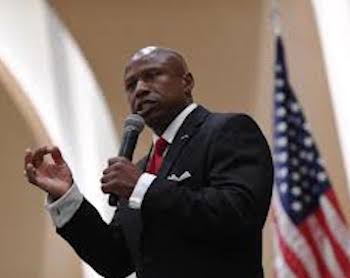 Here are Glenn's top campaign themes:
1) Freeing our Future by creating opportunies for everyone to pursue personal prosperity: Reduce regulations so employers and employees flourish in a healthier business climate.

2) Freeing Our Future by reigning in federal spending and forcing the federal government to live within its means. Promote a balanced budget amendment

3) Freeing our future by defending our homeland and strengthening our national defense. Secure our national borders.

4) Freeing Our Future by restoring the power to the governed and requiring that Congress live under the laws they pass. As your Senator, I will endeavor to repeal Obamacare and other policies that divide Americans and separate them from their elected officials. It is time Congress and the President live like the people they were elected to serve, and feel the effects of their policies directly, personally and financially.
One challenge we face is that up to now Glenn has been relying heavily on volunteers to run his campaign. In addition, he has very little funding. That said, it seems to me that all of us, both Trump supporters and #NeverTrumpers, share a common goal here. Perhaps we could work together to flip Dingy Harry's Michael Bennet's (Brain cramp. Sorry about that! [Y-not]) seat to the red column.
His campaign website is undergoing an overhaul right now, but the donations link can be found here.
Between Colorado and Nevada, there are two seats (out of the ten currently held by Democrats) that the GOP might flip. Next week we'll start looking at the 24 seats Republicans must defend this Fall, starting with those currently listed as "Toss Ups" (Rubio (FL), Kirk (IL), Ayotte (NH), Portman (OH), Toomey (PA), Johnson (WI)) and "Leans R" (Burr (NC)).
Any there any other races in your state that you'd like to see us watch?

If you don't feel like talking politics, OregonMuse's awesome Book Thread is still going strong down below.

posted by Open Blogger at
11:35 AM
|
Access Comments