« Ace of Spades Pet Thread [Misanthropic Humanitarian]
|
Main
|
Overnight Open Thread 6/18/16 (tmi3rd) »
June 18, 2016
Saturday Afternoon Chess/Open Thread 06-18-2016 [OregonMuse]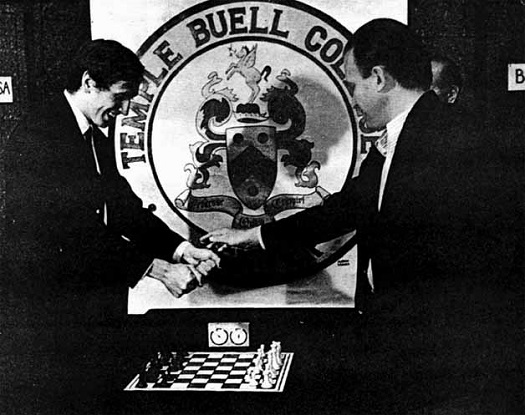 Bobby Fisher and Bent Larsen, Candidates Match, Semifinal
Denver Colorado, 1971
It's kind of fun to see that even at these high levels of chess competition, they determine who plays what color the old-fashioned way.
Also, that chess set and board they're going to be using look awfully cheap. In fact, it kind of looks like those Drueke sets that many club players had back in the day. But you'd think that for a WCh. semifinal, the organizers would provide a classy wood set and board.
Good afternoon morons and moronettes, and welcome to the Saturday Afternoon Chess/Open Thread, the only AoSHQ thread with content specifically for all of us chess nerds who pay homage in the temple of Caïssa, goddess of pawn chains and castling queenside. And, for those of you who aren't nerdly enough for chess, you can use this thread to talk about checkers, or politics, or whatever you wish, only please try to keep it civil. Nobody wants to get into a pie fight on a Saturday afternoon.

White Mates In 1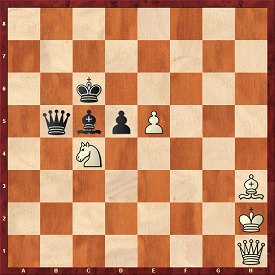 FEN: [8/8/2k5/1qbpP3/2N5/7B/7K/7Q w - d6 0 1]


This one may be a bit tricky for you noobs, so I'll provide a couple of hints, just swipe the blank areas of the lines below after each ''Hint #:'
Hint #1: Look at them pawns sitting there right next to each other on the fifth rank
Hint #2: Know any special capturing rules?
The first hint is a "weak" hint, the second, a strong one.

Chess Resources On Teh Interwebz
Ken's Free Chess Lessons is a self-contained program of chess improvement, structured around watching explanatory YouTube videos, tactical exercises (using Lazlo Polgar's book Chess, which is a compilation of tactical exercises) and playing actual games, either against a computer or a live person. There are 12 lessons in all. And once you're finished with those, you can explore his Beyond the Basics section where a number of advanced topics are explored.
Watch bendsdad00 COMPLETELY DESTROY OregonMuse In Only ONE MOVE
This was actually an interesting game until I booted it away.

OregonMuse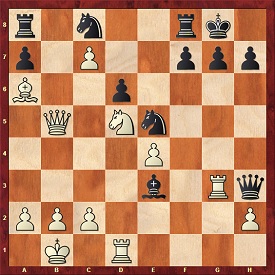 FEN: [r1n2rk1/p1P2ppp/B2p4/1Q1Nn3/4P3/4b1Rq/PPP4P/1K1R4 b - - 0 25]
bensdad00

After 25.Rg3


So, with two pieces under attack, I thought that 25...Qh5 was the perfect move. It served to both get my Queen out of danger and it also harassed his rook on d1, so I would have time to do something with my bishop. But, it turned out to be *the worst* move on the board. In fact, it was the last move I made in this game. I resigned after bensdad00 came up with a DEVASTATING response.
What was bensdad00's killer move after 25...Qh5?

Chess In The US - Chess In the US - Chess In the USSR
Some guy wrote his Ph.D. dissertation on the "political" history of chess in the Soviet Union, 1917-1948. From the abstract:
This dissertation explores the social/political history of chess in the Soviet Union, particularly its utility to Party and State...In the early 1920s, the state-sponsored chess program was greatly enlarged, and at the same time its ideological rationale shifted. Faced with the reality of building socialism in a backward country, the Party believed that chess could be of great utility in raising the cultural level of the laboring masses. A culturally developed proletariat was one of several prerequisites for socialism that the Soviet Union lacked. Chess became closely tied to the State labor organizations, although officially attached to the government's sport and physical education bureaucracy. Whether chess refashioned Soviet society is debatable, but official encouragement refashioned chess, which became a significant cultural component in the lives of Soviet citizens. Chess achieved a stature in Soviet society that was entirely without precedent...Soviet chess now reinvented itself as a propaganda device for touting the superiority of Soviet culture. The world championship was conquered in 1948, and Soviet domination of world chess was a very important weapon in the cultural front of the Cold War.
This dissertation shows that the USSR was politicizing chess as far back as the 1920s. Which came to fruition when they seized the World Championship in 1948. Say what you will about the commies, but you've got to hand it to them: unlike Americans, they know how to play the Long Game.
Direct link to the dissertation as a pdf file here.
Those Ukraine GMs really knock me out...

Black Wins Material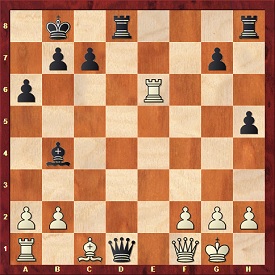 FEN: [1k1r3r/1pp3p1/p3R3/7p/1b6/8/PP3PPP/R1Bq1QK1 b - - 0 1]


White has just blocked a check with 1.Qf1. He thinks he's safe. But Black sees that he can win a rook. How does he do this?

White To Play And Draw
Because sometimes a draw is a victory: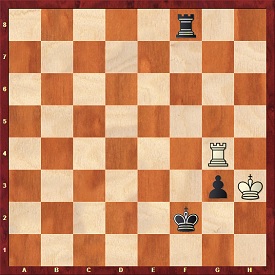 FEN: [5r2/8/8/8/6R1/6pK/5k2/8 w - - 0 1]

So White is in a bit of a pickle here. His king is jammed up in a bad position and Black is about to queen his advanced pawn. At this point, White's strategy is to realize that winning is out of the question, so the best he can do is to see there is some way he can avoid losing. Fortunately for him, in this position, there is. In fact, White can force a draw with one move. What is that move?

Endgame Of The Week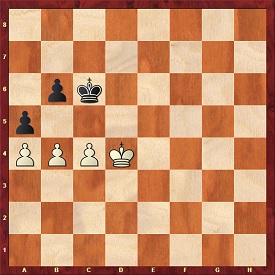 FEN: [8/8/1pk5/p7/PPPK4/8/8/8 w - - 0 1]

White to play and win, i.e. queen a pawn.

___________

Solutions Update:
1. White Mates in 1
I was hoping that those two pawns next to each other would bring to mind that this is what pawns look like just before an en passant capture. The correct move is
1. exd6#
I also learned from this exercise how the FEN standard designates the possibility of an en passant capture. Look at the FEN string, almost to the right end, you'll see 'd6'. That indicates that yes, an en passant capture is possible and that d6 is the square the pawn will end up on after the capture has been made.
The More You Know (insert rainbow).

2. bensdad00 COMPLETELY DESTROYS OregonMuse
So most of the action in this game was up there in the left corner as bensdad00 was struggling to queen that advanced pawn or use it as leverage to gain a positional advantage. I thought my 25...Qh5 was good because there were some tricky lines that would cause him problems. But after 25...Qh5? I had totally overlooked
26.Nf6!
Boom. The killer move. Not only does the knight fork the king and queen, it is immune from capture with that rook on g3 staring down Black's throat. What a sweet tactic. I immediately threw in the towel.
So the moral of this story is: WATCH THE ENTIRE $%*#! BOARD!

3. Black Wins Material
Every move is pretty much forced:
1...Qxf1+
2.Kxf1 Rd1+
3.Ke2 Re1+
4.Kf3 Rxe6
...and Black is up an entire Rook.

4. White to play and draw
In these "must draw" situations, the draw usually comes in the form of either a perpetual check or a stalemate. In this case, it's a stalemate. So the move is:
1. Rf4+
Black has no other choice but to take the rook:
1...Rxf4
And now it's White's move, but, as you can see, there is no legal move for him anywhere on the board. Therefore, stalemate.

5. Endgame of the Week
Note that black is threating to break through with axb4, so White's first move needs to put a stop to that:
57.b5+ Kd6
If now 58.Ke4, then Black moves 58...Ke6 and White is unable to outflank.
So, the only move left is
58.c5+ bxc5+
59.Kc4
This may look like a sub-optimal move, but because of White's b5 pawn, Black cannot protect his own pawn and must retreat, after which White snaps it up.
59...Kc7
60.Kxc5 Kb7
At this point, White should not be hasty with 61.Kd6 due to 61...Kb6 62.Kd7 Kb7 and no progress can be made. Instead, the correct move is
61.Kd5 Kc7
62.Ke6
This is the correct move to outflank Black. Not 62.Kc5 Kb7 63.Kd6 Kb6 and White is stymied.
62...Kb8
Black must retreat. If he tries to stay close with 62...Kb6 then 63.Kd6 Kb7 64.Kc5 Kc7 65.b6+ Kb7 66.Kb5 which is pretty much a transposition to the main line.
And if 62...Kb7, then 63. Kd7 Kb6 64. Kc8 Ka7 65. Kc7 Ka8 66. Kb6, etc.
63. Kd6 Kb7
64. Kc5 Kc7
65. b6+ Kb7
66. Kb5 and wins

___________
Note: that cryptic line of letters and numbers you see underneath each board diagram is a representation of the position in what is known as "Forsyth-Edwards Notation", or F.E.N. It's actually readable by humans. Most computer applications nowadays can read FEN, so those of you who may want to study the position, you can copy the line of FEN and paste into your chess app and it should automatically recreate the position on its display board.
___________
So that about wraps it up for this week. Chess thread tips, suggestions, bribes, rumors, threats, and insults may be sent to my yahoo address: OregonMuse little-a-in-a-circle yahoo dott com.


posted by Open Blogger at
05:03 PM
|
Access Comments