« Marco Rubio: You Know, This Terror Attack Really Makes You Think About Things. Like Family, Friends, Staying In The Senate. That Kind Of Thing.
|
Main
|
Your Federal Government Hard At Work, An Ongoing Series ... »
June 13, 2016
It's Five O'Clock Somewhere [Y-not]
"In wine there is wisdom, in beer there is Freedom, and in water there is bacteria."
- Benjamin Franklin Author unknown
*Update: Tsrblke pointed out this is misattributed, so I did some digging. Here's an article debunking it. I've seen it attributed to David Auerbach by several folks. Good catch, tsr!*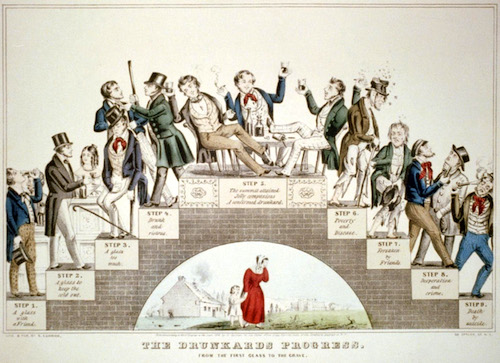 The Drunkard's Progress by Nathaniel Currier (click on link for an enlarged view)
If the news is driving you to drink, this thread's for you!
First, a song:
The Science of Intoxication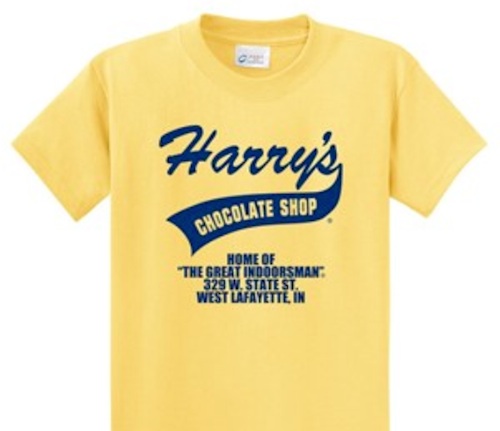 Having spent many years working in and around universities, and given my scientific training, I have devoted much time to this subject. Pictured above you see the brilliantly-colored display of the intoxicated Purdue student, aka Index ebrius.
Here's some more Science! for you:
Don't let their wavy antennae or nearly transparent bodies fool you. Tiny crustaceans known as copepods may be more like humans than you think -- at least when they're intoxicated. New research suggests that after feeding on toxic algae some of the creatures act in risky ways that increase their chances of meeting an untimely end.
Turns out that the algal blooms called red tide contain toxins that affect these microscopic organisms' behavior:
While most of us don't have to worry about being chased -- sober or not -- by lions, these copepods called Temora longicornis don't have the same luxury when it comes to their primary predators: other zooplanktonic animals and juvenile fish. Normally, the crustaceans try not to make things too easy for their pursuers, in part by swimming in slightly meandering paths that help them evade capture.

That behavior may change, however, when the copepods find themselves eating their way through dense patches of a species of microscopic algae known as Alexandrium fundyense.
...scientists exposed the copepods to the toxic algae in tanks. They found that after gobbling down the plants, the crustaceans swam faster and in straighter paths even after being removed from the phytoplankton's presence. That altered behavior is risky because models suggest that it may increase the number of encounters between the copepods and their hunters by 25-56 percent, making it more likely they'll end up as something else's dinner.
Related:
Never. Gets. Old.
"Candy is dandy, but liquor is quicker."
Here I am in bourbon country, but there's one problem. I don't like bourbon! To be honest, I'm not much of a whiskey drinker, either. In keeping with my commitment to Science!, I have decided to devote some effort to learning about whiskeys, and bourbon in particular.
Here's a brief primer on the magic elixir:
For those unfamiliar with what makes bourbon bourbon, here's a brief primer. Contrary to popular belief, bourbon distilling is not limited to Kentucky, though the state does produce the lion's share (Veach attributes this to the area's excellent-quality limestone-filtered water as well as Kentucky's extreme weather patterns).

For a spirit to be considered bourbon it must adhere to six standard rules: It must be made in the U.S.; aged in new, charred white oak barrels; and be at least 51 percent corn. It also must be distilled at less than 160 proof (80 percent alcohol by volume) and entered into a barrel at below 125 proof. Lastly, there can be no artificial coloring or flavor (hence the reason Jack Daniel's is a Tennessee whiskey: it's filtered over maple wood chips before bottling). The darker the bourbon, the higher the alcohol content; and for a true taste of its complexities, open your mouth while sipping.
As part of my *cough cough* research, I'll be visiting distilleries this summer. Last weekend Mr Y-not and I checked out Corsair Distillery. This small (maybe you'd call it "boutique") distillery was started by a couple of craft beer brewers. Rather than go head to head with bourbon distilleries, they spend a lot of time experimenting with additives to come up with unique products. Aging is done in small casks, permitting a quicker production time.
Mr Y-not's tastes in spirits run to tequila, whereas I'm more of a gin and arak gal. We sampled eight of Corsair's spirits (gins, absinthe, vodka, and whiskeys). I found two of their gins to be too harsh, but I liked what they called a "Dutch gin," they named Genever. I enjoyed the absinthe (no surprise given that I like arak). Of the whiskeys that we tried, Mr Y-not liked Oatrage, a whiskey made with malted oats and coffee malts. (I thought it was ok, too.) I preferred Ryemegeddon, a rye whiskey distilled from malted rye and chocolate rye.
Which spirits do you prefer?
Best Drinks for Hot Weather
Although some scientists contend that the best drink on a warm day is a hot one, most of us reach for something cool... and alcoholic.
I like gin & tonics or a pale lager best on a very hot day, but this weekend (when the temperatures hit triple digits) we mixed things up a bit and made a white Sangria. (Technically, I think it wasn't a true Sangria, because it didn't contain a hard spirit.)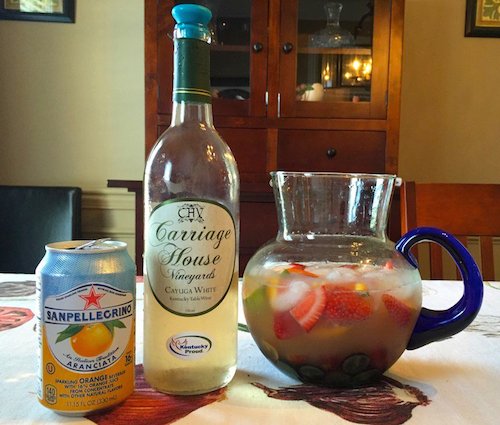 We had just come from the farmer's market, so we had a lot of good fresh fruit in the house which we dumped into a bottle of sweet white wine. A few splashes of orange soda provided extra zing. Here's a link to inspire you to make your own Sangria.
More inspiration for hot weather drinks here and a list of best beers to cool down with here.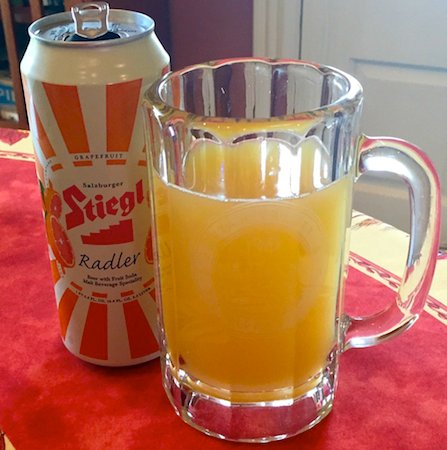 Speaking of great beers for a hot day, we recently discovered Steigl Radler (Grapefruit) beers. (Radler is German for "shandy," I believe.) I highly recommend this beer if your goal is to cool off but not get drunk.
What do you like to drink on a hot day?

posted by Open Blogger at
07:25 PM
|
Access Comments