« Ace of Spades Pet Thread [Mis. Hum.]
|
Main
|
Dear Fox Sports Baseball Announcers....(CBD) »
June 04, 2016
Saturday Afternoon Chess/Open Thread 06-04-2016 [OregonMuse]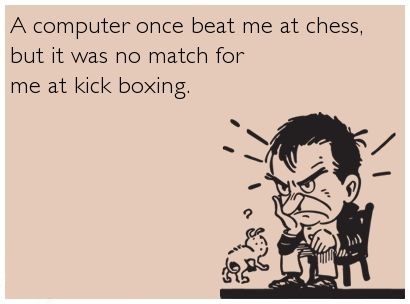 Good afternoon morons and moronettes, and welcome to the Saturday Afternoon Chess/Open Thread, the only AoSHQ thread with content specifically for all of us chess nerds who pay homage in the temple of Caïssa, goddess of double rook sacrifices and flank openings. And, for those of you who aren't nerdly enough for chess, you can use this thread to talk about checkers, or politics, or whatever you wish, only please try to keep it civil. Nobody wants to get into a Gaulish fish fight on a Saturday afternoon.

Our Chess.com Group
We're up to 75 devastatingly good-looking and highly intelligent members. If you're having trouble joining, log on to your chess.com account and send me a message. My chess.com nic is OregonMuse, just like it is here. When I get your message, I will send you an invitation.

White Mates In 2
Bit of a decision tree on this one: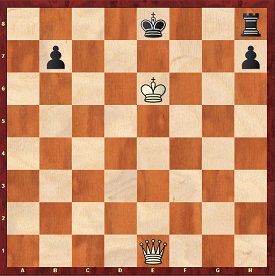 FEN: [4k2r/1p5p/4K3/8/8/8/8/4Q3 w - - 0 49]

White Mates in 4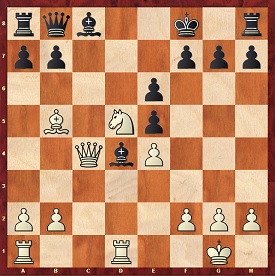 FEN: [rqb2k1r/pp3ppp/4p3/1B1Np3/2QbP3/8/PP3PPP/R2R2K1 w - - 0 17]



Chigorin
Here is an interesting article concerning the pre-Soviet era Russian great Mikhail Chigorin, a reprint of some of the recollections about him by his daughter:
His talent was at its peak in the years 1891-95. Being a very nervous man, my father could never stand any smells and particularly the smell of cigars, while such serious opponents as Lasker, Steinitz and others wouldn't let a cigar leave their mouths while they were playing. They enveloped my father in cigar smoke, which he couldn't stand. He became stressed and made blunders. Someone wrote: there was the impression that Chigorin was almost too lazy to "seize the crown". He wasn't lazy, but given his nervousness the cigar smoke simply prevented him from concentrating in the manner required to work out combinations.
You have to wonder if cigars were simply smoked as a matter of course during tournaments, or did Steinitz and Lasker know Chigorin had an aversion to the smoke and purposely lit up massive, foul-smelling stogies every time they played him?

God Save The Queen!
There are not very many things that can happen to you in a chess game (losing excepted) that are more disheartening than seeing your queen fall victim to a pinning attack. Like this: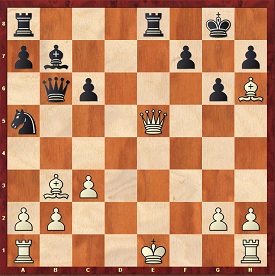 FEN: [r3r1k1/pb3p1p/1qp3pB/n3Q3/8/1BP5/PP4PP/R3K2R w KQ - 0 1]


I hope all you noobs have noticed that White's queen on e5 can't move out of the Black rook's line of fire because doing so would expose the White king.
As I said, you get one of these pins, and your stomach just churns. However, in this position, there's a way out. White *can* save his queen. Question is, how?

Endgame Of The Week
This week, we've got a twofer. It's White to play and win, with "win" meaning "queen a pawn":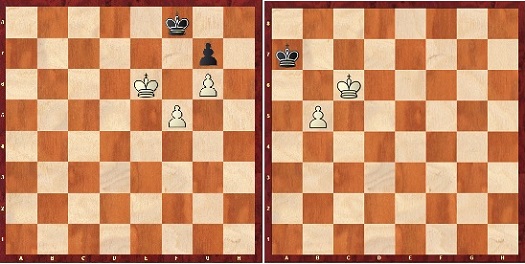 King-and-pawn endgames may look simple, but can contain hidden traps for the unwary. For example, in endgame "A" (the one on the left), the obvious move fails. And "B" is just full of stalematey goodness.
___________
The "official" solutions to today's problems will be posted as an update in the fullness of time. And that time is now:
[Solutions Update]
1. White Mates in 2
As I said, there's a bit of a decision tree here. Unlike some of the other "Mate in X" problems you see on the chess thread, the "key" move White has to make is not a check:
1.Qe5!
And that pretty much wraps it up for Black. White is threatening both 2.Qxh8# and 2.Qb8#, and Black can't stop both. What he should do at this point is resign, but if he wants to play it out, he's got two possible moves, 1...Kf8 or 1...Kd8.
But if 1...Kf8, then 2.Qxh8#, and if 1...Kd8, then 2.Qb8#. Black should just throw the board and pieces up in the air and stomp off, muttering to himself.

2. White Mates in 4:
The decision tree for this problem is pretty much a straight line, i.e. all Black's moves are forced:
1.Qb4+ Kg8
2.Ne7+ Kf8
3.Ng6+ Kg8
4.Qf8# 1-0

3. Saving the Queen
If it weren't for his queen being pinned, White's position would actually be pretty good. Black is very weak on the dark squares, thanks to White's bishop on h6, and the queen parked on the long a1-h8 diagonal. In fact, if it weren't for the rook on e8, White would be threatening Qg8#.
In addition to all of this, White's light-squared bishop on b3 is pointed directly at the Black king. And that makes it possible for White to escape:
1.Bxf7+!
...to which Black's only response is:
1...Kxf7
And then White continues to attack with
2.Rf1+ Kg8
At this point, my chess app, which no doubt sees the writing on the wall, throws in the nuisance check 2...Qf2+ instead of Kg8. This is typical machine thinking. But after 3.Rxf2+, the solution is the same:
3.Rf8+ Rxf8
4.Qg7# 1-0
So White was able to make good on the Qg7# threat after all.
The take-away here is that this is a good reminder of the double-edged nature of the game of chess. Even when our situation look bleak, there can often be found hitherto hidden resources which makes it possible for us to deliver a killing blow just when our opponent thinks he's got it all sewn up.

4. Endgames:
"A"
I look at this position and the first thing I think is, "OK, I'll trade one of my pawns for the one remaining Black pawn and then queen my other one. What could possibly go wrong?" But this is the path to failure:
1.f6?
Now, it would be foolish for Black to take the proffered bait: 1...gxf6? 2.Kxf6 Kg8 3.g7 Kh6 and Black is toast. Instead, the correct response by Black is:
1...Kg8!
Black's King takes up the best defensive position from which he can't be moved.
2.fxg7 Kxg7
3.Kf5 Kg8
4.Kf6 Kf8
5.g7+ Kg8
6.Kg6 and stalemate.
And 2.f7+ is also a loser due to 2...Kf8 and there's no way White will be able to force him away from the f8 square.
So the way to push Black away from is by:
1.Kd7!
1...Kg8
Black tries to hold, but he won't be able to.
2.Ke7 Kh8
3.f6 gxf6
4.Kf8 f5 (or 4.Kxf6 Kg8 5.g7 Kh7 6.Kf7 Kh6 7.g8Q 1-0)
5.g7+ Kh7
6.g8Q+ 1-0

"B"
The "obvious" move, 1.b6+, fails because of 1...Ka8, and White now is unable to win. If 2.b7, then 2...Kb8 and stalemate. Or, 2.Kc7 is also stalemate.
So starting out by pushing the pawn is premature.
What White needs to do is to push the Black king into the corner and then come up on the other side of the pawn to force him away from the queening square. Like this:
1.Kc7! Ka8
2.Kb6 Kb8
3.Ka6 Ka8 (If 3...Kc8, then 3.Ka7 seizes control of the queening square b8, and Black is lost)
OK, *now* is the time to advance the pawn.
4.b6 Kb8
5.b7 Kc7
...and the Black king is driven away from b8.
6.Ka7 Kc6
7.b8Q 1-0
___________
That cryptic line of letters and numbers you see underneath each board diagram is a representation of the position in what is known as "Forsyth-Edwards Notation", or F.E.N. It's actually readable by humans. Most computer applications nowadays can read FEN, so those of you who may want to study the position, you can copy the line of FEN and paste into your chess app and it should automatically recreate the position on its display board.
___________
So that about wraps it up for this week. Chess thread tips, suggestions, bribes, rumors, threats, and insults may be sent to my yahoo address: OregonMuse little-a-in-a-circle yahoo dott com.

posted by Open Blogger at
05:30 PM
|
Access Comments