« Ace of Spades Pet Thread [Misanthropic Humanitarin]
|
Main
|
Open Thread (After Dark) [Y-not] »
April 23, 2016
Saturday Afternoon Chess/Open Thread 04-23-2016 [OregonMuse]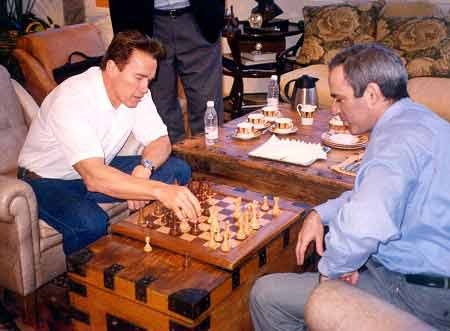 Predators

Good afternoon morons and moronettes, and welcome to the Sunday Saturday Afternoon Chess/Open Thread, the only AoSHQ thread with content specifically for all of us chess nerds who pay homage in the temple of Caïssa, goddess of gambit tournaments and obtaining the bishop pair. And, for those of you who aren't chess nerds, you can use this thread to talk about checkers, or politics, or flower arranging, or whatever you wish, only please try to keep it civil. Nobody wants to get into a big smelly poo-flinging fight on a Saturday afternoon.
Tarrasch about Nimzovitch: "He goes his own way, a way, however, not to be recommended to the general public."

The AoSHQ Chess Group On Chess.com
As most of you probably already know, our chess group, called 'The Moron Horde' is up and running on Chess.com. We've got over 40 members so far. Check out our totes awesome group logo: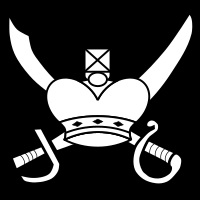 Thanks to moron 'DangerDad' for doing the logo. I originally had a 'ValuRite' logo, but it was all but illegible when the small version is displayed, which is quite often. So I'm glad that we now have one that works.
So, if any of you morons haven't joined our merry group, you are invited to do so. You can sign up on Chess.com for free (there are paid options, but you don't have to sign up for those). You are not obligating yourself to buy anything or do anything, but if you want to play chess with a fellow moron, we'd like to be there for you.
Here is the link: https://www.chess.com/groups/home/moron-horde
Perhaps a few of you have already noticed this, but the Chess.com is not easy to navigate. On any given page, there's a lot of links, but none of them seem to be links to where you actually want to go. What I ended up doing is make a series of bookmarks to get around. Here they are, in the hopes that some of you may find them useful. They're "generic" bookmarks, not specific to me, so they should work:
Main page - https://www.chess.com/
Moron Horde page - https://www.chess.com/groups/home/moron-horde
Messages - https://www.chess.com/home/messages
Moron Horde members - https://www.chess.com/groups/membersearch?allnew=1&id=43014
My Live Chess - https://www.chess.com/livechess/myhome
My Online Chess - https://www.chess.com/echess/myhome
I also couldn't figure out how to challenge an individual moron to a "live" chess game (not the 3-day "online" version). I noticed in the "live" area that you can click a tab to view which of your friends are online. So I sent friend requests to as many Moron Horde members as I could, so any time we're in the "live" section, I can send challenges easily. So I encourage everyone to send out friend requests to as many as you can, and that should help.
One more thing: I signed up for chess.com years ago, so my name there was not my AoSHQ handle. So this week I changed it to OregonMuse. I must admit most of the names in the Moron Horde member list I don't recognize. I would like to change that, if we could. I realize that perhaps some (or maybe even most) of you morons would like the keep your chess.com identities separate from your AoSHQ identities, and if so, just ignore the request. But if this is not true of you, and if you feel so inclined, please go to your user profile and change your username. Just so we may recognize each other easier. The "gotcha" here is that chess.com says it only allows you to change your username once.
Mate in 2
Here's one I could not get to save my life, so and ended up having to peek at the answer: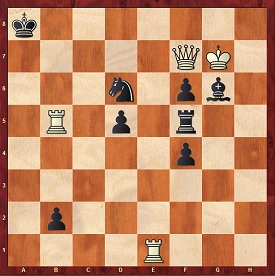 FEN: [k7/5QK1/3n1pb1/1R1p1r2/5p2/8/1p6/4R3 w - - 0 1]

I feel ashamed that I failed to figure this one out. There are a number of ways that White can win, and I did manage to find a mate in 3, but not the mate in 2. When I finally broke down and peeked at the answer (sob!), I thought, "wait, that can't be right. There's all sorts of responses that Black can make that will prevent a mate in 2." So I tried all of them, and get this, they all failed. For every single one, White was able to pull off the mate in 2.
Click and drag for a small clue which may give you some direction: White's first move is not a check.
For those of you who are able to solve it, I'm sure you'll agree, this is truly an ingenious puzzle.

You Know Who Really Really Hated Chess?
"To calculate is not in itself to analyze. A chess player, for example, does one without effort of the other. I will therefore take occasion to assert that the higher powers of the reflective intellect are more decidedly and more usefully tasked by the unostentatious game of draughts than by all the elaborate frivolity of chess. In the latter, where the pieces have different and bizarre motions, with various and variable values, what is only complex is mistaken for what is profound. The attention is here called powerfully into play. If it flag for an instant, an oversight is committed resulting in injury or defeat. The possible moves being not only manifold, but involute, the chances of such oversights are multiplied; and in nine cases out of ten it is the more concentrative, rather than the more acute player who conquers. In draughts on the contrary, where the moves are unique and have little variation, the probabilities of inadvertence are diminished, and the mere attention being left comparatively, unemployed, what advantages are obtained by either party are obtained by superior acumen"
Shorter Poe: "Waaaaaa! Chess is HAAAAAAAAAAAAARD!"
My guess is that in between doing absinthe shots, Poe probably played a few games with some of the local Baltimore chess hotshots, they whupped his ass, and made him cry like a little girl. If I was his doctor, I would have prescribed extra-strength butt cream for his butthurt. Also, more absinthe.
And I think most of what he said about checkers ("draughts") is bullshit, by the way.

Breakthrough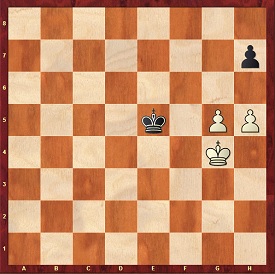 FEN: [8/7p/8/4k1PP/6K1/8/8/8 w - - 0 1]

White to win, i.e. promote a pawn. This position looks simple, but there's a bit of a trick to it.
Also, this whole thing works only because White is one step ahead. If it's Black's move, it's a draw. How would Black force a draw if he gets to move first?

A Resignable Position?
Look at this position. I'm playing Black against moron commenter 'Burn the Witch':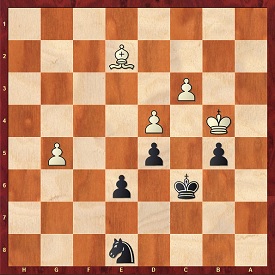 After 42.Kb4
I resigned here. It was getting late in the evening and I thought that between White's more mobile Bishop and his King all up in my grill, I may as well cash it in. But when I put the game into my database, I looked at the final position a bit more, and now it doesn't look so bad. Material is even, and the position is not all that open, what with my pawns all occupying light squares, so White's bishop is not really all that mobile. White has an hellacious passed pawn over there on the g-file, but if I park my knight on g7, it can't be dislodged. I'm going to lose the b5 pawn, if I try to defend with the Knight, BtW will advance his passed pawn. And I'm in danger or getting zugzwanged. So maybe resigning was called for. I don't know, what do you all think?

___________
Note: that cryptic line of letters and numbers you see underneath each board diagram is a representation of the position in what is known as "Forsyth-Edwards Notation", or F.E.N. It's actually readable by humans. Most computer applications nowadays can read FEN, so those of you who may want to study the position, you can copy the line of FEN and paste into your chess app and it should automatically recreate the position on its display board.
___________
So that about wraps it up for this week. Chess thread tips, suggestions, bribes, rumors, threats, and insults may be sent to my yahoo address: OregonMuse little-a-in-a-circle yahoo dott com.

posted by Open Blogger at
04:29 PM
|
Access Comments