« EMT 4/3/2016 [krakatoa]c
|
Main
|
The Barrel Liberation Front Manifesto [CBD] »
April 03, 2016
Sunday Morning Book Thread 04-03-2016: The Shame Of The Cities [OregonMuse]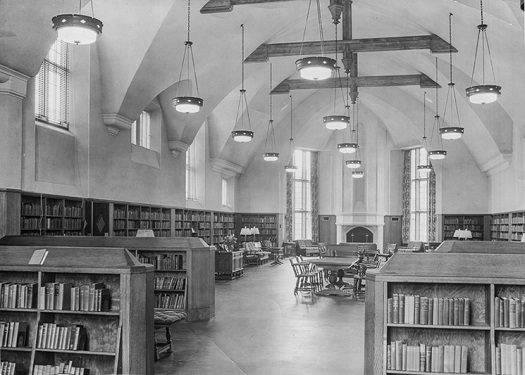 Mark Twain Branch Library, Detroit, c. 1940

Good morning to all of you morons and moronettes and bartenders everywhere and all the ships at sea. And to all you young lovers wherever you are, we hope your problems are few. Welcome to AoSHQ's stately, prestigious, internationally acclaimed and high-class Sunday Morning Book Thread. The Sunday Morning Book Thread is the only AoSHQ thread that is so hoity-toity, pants are required. And when I type up the book thread, my pinkies remain elevated the whole time, that's how classy it is.
"In a good bookroom, you feel in some mysterious way that you are absorbing the wisdom contained in all the books through your skin, without opening them"
--Mark Twain

Death By Democrats
How can a thriving city be turned into a burned-over ruin in just 2 or 3 decades? As has been proven by the Democrats, it's a surprisingly simple algorithm:
repeat
ELECT(left-wing Democrats)
IMPLEMENT(left-wing social and economic policies).
until (city = ruined)
GOTO: next_city
The grim statistics are compiled by author John Perrazo in his book The New Shame of the Cities, the title of which is an homage to Lincoln Steffens 1904 muckraking classic The Shame of the Cities that exposed Tammany Hall and other urban political machines that were lousy with graft and corruption. And they were all, get this, Democrats.
Liberal Democrats make their living by talking about how the policies of heartless Republicans oppress the poor and keep minorities down. But John Perrazo shows that the facts are otherwise. The vast majority of voiceless, powerless and poor people are concentrated in Detroit, Philadelphia, St. Louis, Chicago, Atlanta, and America's other large urban centers. And all of them are run by Democrats and have been for 50 to 100 years...America's urban centers have slid into a violence, corruption and savage dysfunction that make the snapshots of despair Lincoln Steffens produced at the beginning of the 20th century seem mild by comparison.
The only East Coast city not on his "corrupt sh*thole" list? New York City, of course. Why? Mostly because of Republican mayor Rudy Giuliani People forget what a corrupt sewer New York City was in the 1970s and Giuliani turned it into a decent, liveable city. Now, you'd think other politicians would be impressed with his success and go whoa, look at that, how did Rudy do that and how can I take what he did and use it to improve my city? But no, they never do. And his successors have been trying their damndest to reverse what he did and bring back the bad old days.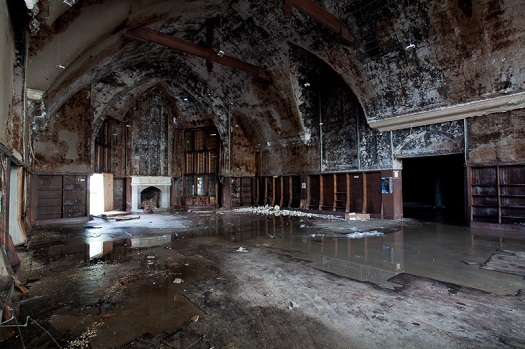 Mark Twain Branch Library, Detroit, c. 2011
Who Was John Birch?
All I've known is that he was no connection to the organization that took up his name other than his name, and that he was a Christian missionary who was killed by rat bastard commies in China. But there's a book on his life that's just been published, John Birch: A Life by Terry Lautz, that attempts to be an objective biography:
Raised as a Baptist fundamentalist, Birch became a missionary to China prior to Americas entry into the Second World War. After Pearl Harbor, he volunteered for the U.S. Army in China, served with Claire Chennault, commander of the famed Flying Tigers, and operated behind enemy lines as an intelligence officer. He planned to resume his missionary work after the war, but was killed in a dispute with Communist troops just days after Japans surrender.
And according to this review, he weren't no ignorant rube:
Arriving in Shanghai, Birch threw himself into the study of Chinese, writing home that "there is war, starvation, disease, sin, idolatry, superstition, suffering and death on every side, but our wonderful Savior keeps saving souls, answering prayers, and giving joy in the midst of sorrow." Before long, Birch acquired an astonishing command of Mandarin, as well as a high level of comfort and familiarity with the ways and customs of China.
I would have liked to have known Mr. Birch. Unfortunately, he died way too young. His death was tragic - and probably avoidable:
On his last mission in the field, Birch had encountered a Chinese Communist detachment. His judgment, which on all such previous assignments had been notably acute, on this occasion failed him, perhaps due to exhaustion. He rebuffed the demands of a Red Army major that he surrender his sidearm, and he shoved a soldier, lodging an insult at the same time. Birch was shot on the spot and his body mutilated.
Previously, most of what anybody knew of Mr. Birch came from this book, The Life of John Birch: In the Story of One American Boy, the Ordeal of His Age, the biography written by John Birch Society founder Robert Welch.

Men And Women Are, Get This, Different
Even in reading? Yes, even in reading:
The study found that although men and women complete books at nearly identical rates, men are more likely to abandon books sooner.

"The initial decline during which most readers are lost is much sharper and earlier for men than it is for women, and this is a behavior that we observe for the majority of books," writes Jellybooks founder Andrew Rhomberg for Digital Book World. "So put another way, men give up on a book much sooner than women do."

It's not entirely clear why this is, but Jellybooks suggests women are more likely to stick with a book even if they don't like it.
Kind of like sticking with a crappy husband, I guess. "I know he'll get better. He'll change. I just know it."
And in related news, I must say I love it when a doctrinaire feminist gets smacked in the face with the great stinking halibut of truth:
As a feminist, I'm all in favor of avoiding gender stereotyping.
Oh, I'm sure that your fear and loathing of gender differences is not an insubstantial portion of your worldview. . But how is that working out for you, babycakes?
Still, working in a public library has demolished any "Free to be You and Me" notion I might have had about guys and gals being just the same. When our patrons bring their books to the circulation desk for check-out, there are few surprises.
So, not very well, then. In other words, this librarian has a strong commitment to what feminist ideology tells her, and then all day, every day, the reality that presents itself to her senses and reason is completely different. That must hurt a lot.
No man has ever checked out "Entwined Together" without a disclaimer. And when women check out "Take, Burn or Destroy: A Novel of Naval Adventure," they invariably remark, "This is for my husband.".
But oh, how she desperately wants it not to be that way:
Will things ever change? They're marketing Easy Bake Ovens to little boys these days, so anything is possible. Maybe we're on the cusp of a Gender Neutral Reading Utopia, a brave new world where women check out "Retreat, Hell!" and men eagerly await the next Julie Garwood.
I haven't heard of any marketing campaign to get little boys to play with Easy Bake Ovens, but the only way they'd be able get them to would be if they were told how they can use them to Shoot Stuff or Blow Stuff Up. And do we really need a "Gender Neutral Reading Utopia"? It sounds so dull, like one of those commie countries where everybody has to wear and eat and think the same things. All in the name of diversity.

Books by Morons
Book Giveaway: Moronette lurker 'Krukke1' is giving away 5 copies of her new collection of stand-aline short short stories, Glimpse (Vol. 2), "forty imagined scenes from forty imagined lives."
I was given 5 different links, one for each book. So the first moron to click on the link gets the book. Please don't take more than one.
Link 1
Link 2
Link 3
Link 4
Link 5

___________
Moron author Pat Chiles is happy to report that both of his books Perigee, and the sequel Farside, have been picked up by Baen Books. They're also interested in seeing follow-on books, so it sounds like Mr. Chiles had a pretty good week.

What I'm Reading
I was fortunate to receive an advance copy of Hallow Mass, a modern-day fantasy novel written by the husband of a lurking 'ette.
This story, the first in a trilogy, takes place in the Lovecraftian universe of hideous, unnatural beings and ultimate cosmic indifference. In Dunwich, Massachusetts, only a small, beleaguered band in the Antiquities Section at Miskatonic University is keeping back trans-dimensional horrors from wiping all human life from earth in preparation for the return of the Great Old Ones. And speaking of hideous, unnatural beings, progressives have pretty much taken over Miskatonic U. and filled it with the usual P.C. blather: critical weather studies, diversity enforcement, and research into "contemporary oppression modalities". Naturally, they are completely hostile to the Antiquities Section and they think the copy of Abdul Al-Hazred's Necronomicon in the Antiquities library is just a collection of old folk religion tales that should be returned to its "original owners", i.e. a group of murderous Cthulu-cultists in nearby Dunwich who need it to bring about the return of the Great Old Ones.
Into this simmering conflict steps Mercy O'Connor, an aimless party girl grad student in the Antiquities Section who has yet to find herself or her place in life. She's about to be thrust to the front lines of the age-old battle against ultimate evil, and her only ally is her department's security guard, a descendent of Zulu warriors who loves country music and Jesus with his whole heart. Against them are arrayed all of the unimaginatively powerful dark forces of evil from time immemorial.
So how could they possibly lose?
I liked this book very much. I loved the characters, the bad guys are suitably creepy, and as an added bonus, readers get to see the SJW crowd get punched in the face, figuratively speaking. So what's not to like?
Hallow Mass is available for pre-order now and will be released on April 29th. An amusing trailer for it can be seen here.

___________
And speaking of the Necronomicon, its wiki entry has this amusing bit:
Many readers have believed it to be a real work, with booksellers and librarians receiving many requests for it; pranksters have listed it in rare book catalogues , and a student smuggled a card for it into the Yale University Library's card catalog.
Heh.

___________
Moronette 'votermom' is putting together a list of moron authors over on the Goodreads site which is intended to be acessible to non-members. Here is the list she has compiled so far. Let her know if there's an author she's missing.
http://www.bookhorde.org/p/aoshq-authors.html
___________
Don't forget the AoSHQ reading group on Goodreads. It's meant to support horde writers and to talk about the great books that come up on the book thread. It's called AoSHQ Moron Horde and the link to it is here: https://www.goodreads.com/group/show/175335-aoshq-moron-horde.
___________
So that's all for this week. As always, book thread tips, suggestions, bribes, rumors, threats, and insults may be sent to OregonMuse, Proprietor, AoSHQ Book Thread, at the book thread e-mail address: aoshqbookthread, followed by the 'at' sign, and then 'G' mail, and then dot cee oh emm.
What have you all been reading this week? Hopefully something good, because, as you all know, life is too short to be reading lousy books.


posted by Open Blogger at
09:03 AM
|
Access Comments