« Food Thread: St. Patrick's Day! Corned Beef, Cabbage and Irish Whiskey -- A Moron Breakfast [CBD]
|
Main
|
Overnight Open Thread (3-13-2016) »
March 13, 2016
Chess On A Sunday Afternoon 03-13-2016 [OregonMuse]
After I posted my last chess thead, I received such an avalanche of no email that I knew, I just *knew*, that all of you AoSHQ morons were dying for more chess.
So who am I to stand in the way of such overwhelming demand? Let's have some chess:

Correct The Mistake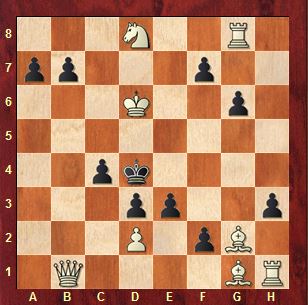 There's clearly a mistake in this diagram. Find out what it is, and then you will discover that White can give mate in 1 move, no matter which way you correct the mistake.
This puzzle is from The Soviet Chess Primer by Ilya Maizelis. It's the introductory text the Soviet Chess Combine used to train its young players. Even though it's called a "primer", don't be fooled. It's not a primer for general audiences, rather, it's an introduction written for serious chess players, and those who aspire to be serious chess players. I don't think it's designed for self-study. I think it's more of a classroom text, used in conjunction with teachers who spend lots of time explaining and going over the concepts. But since I'm in more of a self-study situation, it's a lot more challenging and I'm proceeding at a much slower pace. But I like the Soviet primer very much and recommend it for all low-rated, but serious, chess players.
So your job is two-fold: 1. Find the mistake in the diagram and 2. find all the mates-in-1 that result from when you correct the mistake.
I'm not going to tell you the answer(s), because I'm confident that everyone reading this is capable of figuring it out. The first part, where you have to determine what's wrong with the diagram, well, good luck. If after looking at it for awhile, you don't see the problem, get out your chessboard and pieces and set up the position yourself. This is what I had to do, because I couldn't figure it out, and once I tried to actually set it up, it became obvious what the mistake was. Then I said "oh, duh" and smacked myself on the side of the head.
Sex And Bobby Fischer
The recent Fischer biopic Pawn Sacrifice shows him hooking up with a prostitute at the Piatagorsky Cup Tournament in 1966. That's almost right. The real story is a bit different, particularly the locale:
Fischer's first known encounter with a woman was with a prostitute but it was in Argentina. Grandmaster Larry Evans brought Fischer to a whorehouse. Fischer lost his chess game right after that and had the worst tournament in his life. Fischer never mixed sex and chess again.
The tournament was Buenos Aires 1960, and Fischer pretty much stunk out the joint. Evidently there's quite a red-light district down there and that's where he was spending most of his time. I had heard that there was one particular prostitute he fell in love with.
Heh. It's always a dame, amirite?
Incidentally, I saw Pawn Sacrifice a few days ago, and I was going to do a write-up on it for this thread, but I didn't get to it this time. Shorter review: I liked it, despite the inaccuracies.
I had read somewhere on teh internets that Grandmaster William Lombardy refused to aid in any way with the filming. Lombardy had always impressed me, and the movie portrayed him as, a sane guy. Because of this, it is painful to read his blog entry about the movie, as well as his other blog entries. Regretfully, it appears that the years have not been kind to Father Lombardy. I hope he can one day find peace.

Checkmate On The Half Shell
1.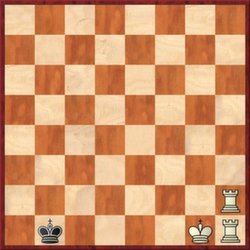 2.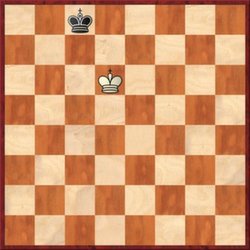 3.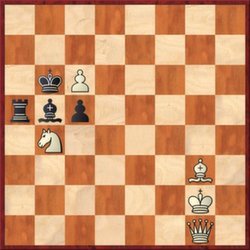 Here are some fun "thinking outside the box" chess puzzles (stolen from http://www.iplayoochess.com) where you have to find the checkmate, not in 2 moves, or 1 move, but rather ½ move. I was only able to figure out the first one. I have provided the hidden answers below, which you can read by clicking and dragging over the blank area.
#1 White wanted to castle. He already made the first half move (K to g1), and now the remaining half move is to be played (Rf1 mate).
#2 White has moved Pawn a7 to a8, removed it from the board, and now he is finishing his half-move with a8Q#
#3 Black king was attacked by White's queen at g1, which he blocked by advancing a pawn to c5. Then, White played the en passant capture dxc5. The current diagram shows the uncompleted en passant capture with the White pawn on its destination square, but before the captured Black pawn was removed from the board. The half-move removing the black c5-pawn delivers the checkmate.

A Bad Book And A Good One
I wanted to study the King's Gambit a bit, so I picked up The Romantic King's Gambit in Games and Analysis by Anthony Santasiere. 'Chess Digest' (remember Chess Digest?) honcho Ken Smith provided updates to the analysis. I got it on eBay for cheap, figuring any book would be better than none.
Ugh. What a lousy book.
There are two problems with it, 1. organizational and 2. stylistic.
First, the organizational structure. Namely, there isn't any. Book chapters on the opening can be arranged by chronology, or perhaps by player, or by sub-variation. Any of these would be logical, or at least defensible. But Santasiere's book has none whatsoever. There aren't any chapters. The book is just one big chapter. There are 138 games included in the collection, and they're just thrown together haphazardly, without any rhyme or reason that I can determine. Santasiere should have subtitled this book "A Random Collection Of King's Gambit Games Thrown Together At The Last Minute To Meet A Publishing Deadline", because that's what it looks like.
Second, I found Santasiere's style of writing extremely irritating. Too many times he'd go on and on about something that had nothing to do with the game, or even maybe nothing to do with chess at all, and it sounded like he was just showing off. He sounds like someone who's just full of himself, and I probably would have found him very annoying in real life (he passed away some years ago).
Lastly, as a low-rated n00b, I can't comment on the quality of the analysis, which is arguably the most important party of any "technical" chess book. But I can say this: Santasiere's notes have been revised and updated by Ken Smith, and it's surprising how many are on the order of "...after Qg3, Black is better" or "Current Analysis favors Black." So remind me again why you think I should be playing the King's Gambit? All that tells me is that if I'm playing *against* a King's Gambit, I can snatch the pawn with every confidence that I'll beat his ass.
I suppose the purpose of pointing out the lines where Black has gained the upper hand is for you to avoid playing into them as White. But the problem is that since the book is about as organized as Hillary Clinton's liquor cabinet, how is the reader supposed to keep track of where the dangerous lines are?
But Santiasiere has done better. I have his Vienna Game and Gambit book which he also co-wrote with Ken Smith, and it is very well laid-out and organized by sub-variation, so you can work your way thorugh it systematically. And the analysis is complete without being overwhelming. It's everything a chess opening book should be, as the King's Gambit book is not.
I'm still looking for a decent book on the King's Gambit (accepted), though, if any of you chess-playing morons know of one.
_________________
There's no need to confine your comments to chess. It would be nice, but I know I'd get maybe at most a dozen comments. So I hereby declare this thread to be Open. Festivalllll!!

posted by Open Blogger at
06:00 PM
|
Access Comments