« Football Sunday in America! - AFC Playoffs Edition - [Niedermeyer's Dead Horse]
|
Main
|
Football Sunday in America! - NFC Playoffs Edition - [Niedermeyer's Dead Horse] »
January 24, 2016
Food Thread: A Winter Wonderland [CBD]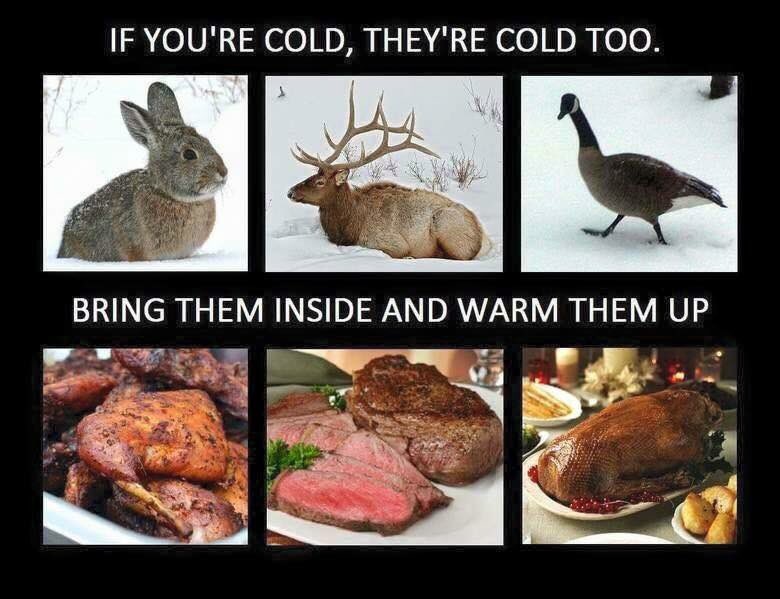 A lot of game seasons are in the fall, so it seems appropriate to eat them in the Fall and winter. And of course the elusive Chile season is in the Fall, so if you were lucky enough to bag a few of them, what are your requirements for a pot of good chili?
I shot a California coastal deer about 25 years ago....it was small; only about 50 pounds dressed out, but the meat was excellent. That might have been because of its diet; I shot it on a friend's vineyard, where it was stuffing itself on his vines. < brag >Why yes, the shot was perfect. Amputated the top of its heart. It dropped without taking a step.< /brag >
Anyway, my significant other at the time was not a fan of game...in fact she was fast becoming a Bay Area leftist idiot, so I was stuck with too much venison for my own consumption. Except....I made a huge pot of chili from the haunch, which she ate with great gusto. I think because the chilies I used were from New Mexico, and New Mexicans are practically indigenous people!
Pretty standard recipe: I toasted the chiles, then blended them with water and added a bit of sautéed onion and garlic and some other stuff I don't remember. Then I added all of that to the seared venison I had cut into very small chunks. added some roux, and away we went.
I served it with beans and tortillas on the side. Good stuff.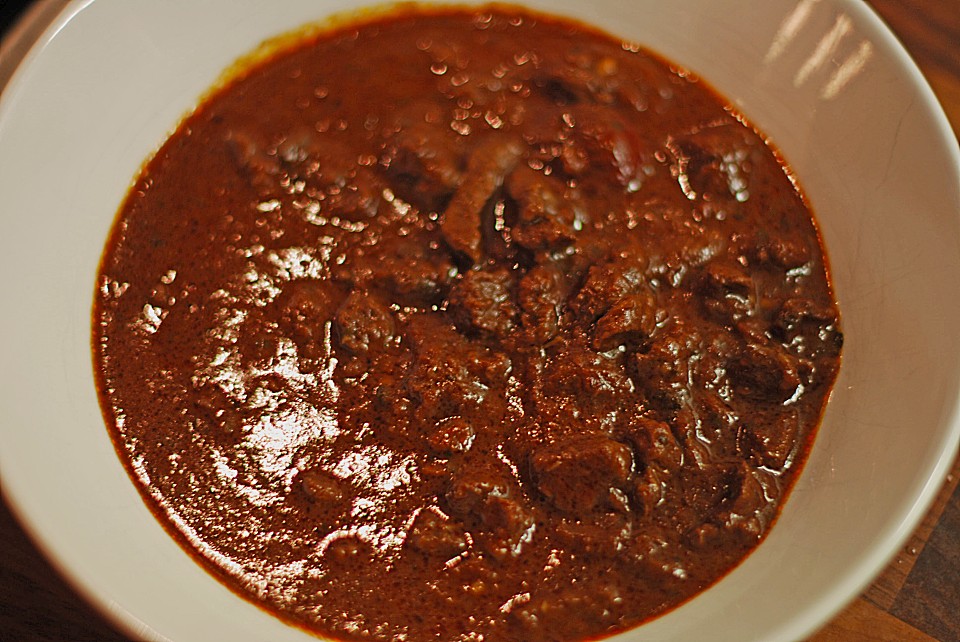 There are too many great chili recipes out there that are radically different. I'm not going to link anything, but talk amongst yourselves about what works for you. Beans....no beans....red chiles....green chiles....white chiles...what the hell is that? Sorry, but Dildo don't go there. Turkey is meant to be cooked once each year for Thanksgiving, and ignored in favor of other, better foods.
One thing I have found that seems to add depth of flavor when using powdered chile is to cook it gently with the onions or garlic or whatever. It seems to bring out more flavor, something that I and many others have noticed with other herbs and spices.

******
I had three gorgeous pork chops I was planning on grilling for dinner last night. But nature intervened.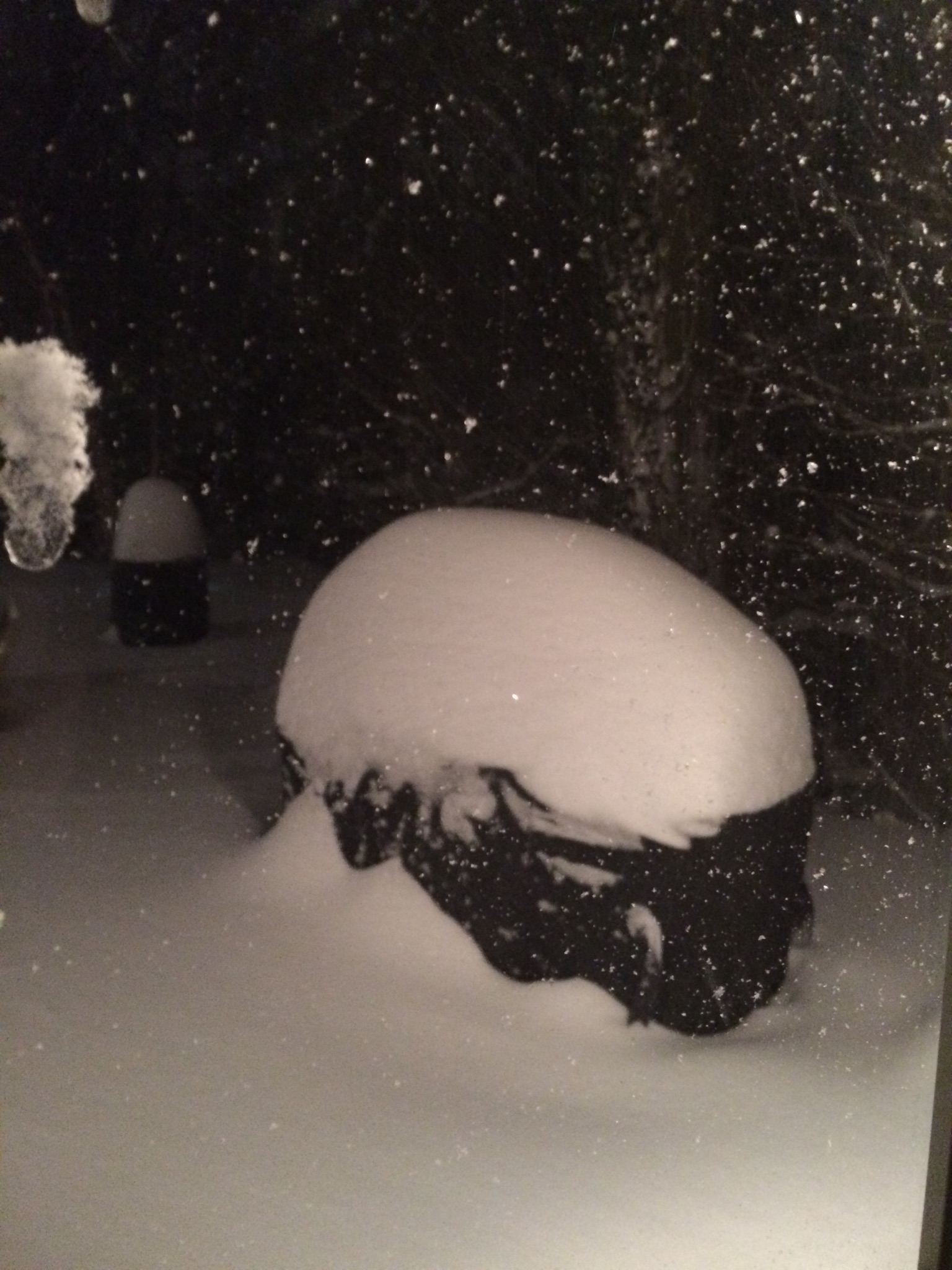 I roasted them on high heat, then finished them under the broiler. And all were happy and content, except.....there simply isn't anything like a grill for that kind of stuff, absent a commercial kitchen with gas grills that can reach ridiculous temperatures.
Yes, broiling is a time-honored technique, but I just don't have the same success. I think I should have pan-seared them then finished in the oven.
#FirstWorldProblems.

******
This recipe is from Bon Appetit from a dozen years ago. The magazine has, sadly, deteriorated, but this was an interesting dish, even though were I to make it again I would use canned beans and chicken stock instead of vegetable stock.
Tuscan Vegetable Soup with White Beans and Parmesan
Ingredients


1 1-pound package dried cannellini (white kidney beans)

2 tablespoons olive oil

1 large onion, finely chopped

2 tablespoons chopped fresh thyme

4 garlic cloves, minced

1/4 head of green cabbage, cut into1/2-inch pieces

2 cups chopped fresh tomatoes

4 celery stalks, cut into 1/2-inch pieces

3 carrots, cut into 1/2-inch pieces

10 cups (or more) vegetable stock or canned vegetable broth

2 medium potatoes, cut into 1/2-inch pieces

1/2 cup chopped fresh basil

1/2 head of red cabbage, cut into 1/2-inch pieces

4 zucchini, cut into 1/2-inch pieces

6 3/4-inch-thick slices 7-grain bread, toasted

1 cup grated Parmesan cheese (about 3 ounces)

Additional olive oil
Place beans in heavy large pot. Pour in enough water to cover beans by 3 inches. Soak overnight. Drain beans.
Heat 2 tablespoons olive oil in very large pot over medium heat. Add onion, thyme, and garlic; sauté 5 minutes.
Add green cabbage, tomatoes, celery, and carrots; sauté 10 minutes.
Add beans, 10 cups stock, potatoes, and basil. Bring to boil. Reduce heat; cover and simmer 1 hour.
Add red cabbage and zucchini. Cover and simmer until vegetables are tender, about 20 minutes longer.

Uncover. Add toasted bread slices to soup and remove from heat; let stand 10 minutes.
Stir in cheese. Divide soup among bowls. Top each serving with ground pepper and additional olive oil and serve.

posted by Open Blogger at
04:00 PM
|
Access Comments