« Football Sunday in America! - [Niedermeyer's Dead Horse]
|
Main
|
Football Thread: Sunday Late Game Edition [CBD] »
December 06, 2015
Food Thread: Dear Restaurant Kitchen... [CBD]
How do you screw up a brisket sandwich? I now know the answer to that question.
Cook the brisket correctly, then put it back in the oven for another several hours until all of the fat has been rendered and the meat has shrunk and toughened. Then slice it, slop some barbecue sauce on it, put it between two slices of bread and serve it to the unsuspecting dildo who just wants something reasonably good to eat while he chats with friends.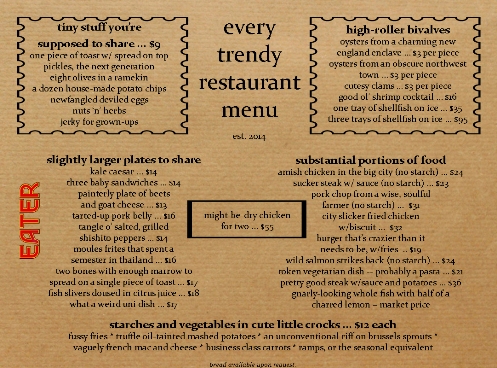 I get it; nobody wants to cook the same thing day in and day out. Trying something new and trendy makes you feel like you aren't cooking in a suburban restaurant, pumping out slop for the soccer moms and commuters who just want to eat something pleasant and not do the dishes afterward.
But...get this...that is exactly what you are doing. And there is nothing wrong with it. In fact, chefs who can do this well are rare, and they get recognized!
There is a tiny little diner in a town near me. It is about 500 square feet, has a few tables and a few counter seats. Their menu has about 10 items on it, and they are all good. They make the best fast-food burger I have ever had outside of my own kitchen, and everything else is top notch. Nothing fancy, nothing complicated, nothing hip. They stick to what they know, and they concentrate on doing it well.
******
Here's a very interesting looking
French Onion Soup
recipe for you folks with slow cookers. It's a good idea, using the slow cooker for a dish that is essentially onions cooked to death. And lest you think I am sneering at it, I love French Onion Soup, and I will be trying this as soon as I can borrow a slow cooker from someone.
******
After the Deepwater Horizon explosion and resulting oil spill, the price of Gulf shrimp skyrocketed (if you could even find it), and with it other American shrimp. They have been back in the market for a few years, but the price never came back down to normal, so at least in my area, American shrimp is double the price of the foreign stuff. That's too bad, because I think American shrimp is much better than most of the foreign stuff. Luckily my local fish market has sales on American shrimp every now and then, and this evening's dinner is shaping up to be shrimp heavy, because it is on sale for the same price I pay for Indonesian or Indian shrimp.
So....Shrimp Scampi, using Tyler Florence's fantastic recipe, or grilled shrimp tacos, or just plain sautéed shrimp with some dipping sauce?

******
An article about a chocolate tester
sounds interesting...and it is. But I couldn't get past the first paragraph without yelling out, "Fvck you, asshole."
******
While I was basking in the glory of my rotisserie rack of pork from Thanksgiving, I found this recipe,
herb-crusted rack of pork with morel sauce,
which looks very nice. I love morels, so even if the pork is just "eh," how bad can this be. But I was irritated by the obligatory instruction; "french the ends of the ribs." No, do not french the ends of the ribs. That's where all of that luscious meat/fat/connective tissue lives that breaks down during roasting into some of the best little bits on anything with a rib.
Just Say No To Frenching!

******
I think I posted this recipe before (senility: where every day is a new day), but it is a really nice and quick meal that doesn't require any fancy technique or expensive ingredients. If you don't have any cheap brandy (anybody who uses expensive booze for cooking is a knucklehead), it will work with bourbon. The original recipe called for Canola oil for some reason (it used to be the hipster douchebag oil), but I think that Canola tastes like fish.
Pavés du Mail

(Pan-Fried Steaks with Mustard Cream Sauce)
4 10-oz. flat iron steaks, cut horizontally without the connective tissue
Kosher salt and freshly ground black pepper, to taste
1 tbsp. unsalted butter
1 tbsp. corn or vegetable oil
5 tbsp. cognac or brandy
1/4 cup heavy cream
1-2 tbsp. Dijon mustard
1 tbsp. minced flat-leaf parsley
1. Season steaks with salt and pepper. Heat butter and oil in a 12" cast-iron skillet over medium-high heat. Add steaks and cook, turning once, until browned and cooked to desired temperature, about 6 minutes for medium
rare. Remove pan from heat. Transfer steaks to 4 warm plates and pour off and discard all but 1 tbsp. fat.
2. Add 4 1/2 tbsp. cognac to pan and stir, scraping browned bits from the bottom with a wooden spoon. Return pan to medium-high heat and cook for 20 seconds. Add cream and mustard, season with salt and pepper, and
cook, stirring vigorously, until sauce just comes together. Stir in remaining cognac and pour sauce over steaks.
Serve steaks garnished with parsley and black pepper.

******
For any NY/NJ Morons who are interested: there is a Moron Meet-up scheduled for December 18th, 6:00pm-9:00pm in the West Village.
For more information: nynjmeet at optimum dot net

posted by Open Blogger at
04:00 PM
|
Access Comments