« John Oliver, Last Month: Boy, Those Fox Chuckleheads Sure Are Paranoid Ninnies to Think That Terrorists Might Smuggle Themselves Into Europe With the Rufugees!
|
Main
|
Morning Thread (11-17-2015) »
November 16, 2015
Overnight Open Thread (11-16-2015)
Well after last night's rather pathetic ONT performance I was tempted to just repost it again and call it a night. But instead I'm just giving you this - which is really more than you deserve.
The Gods of the Copybook Headings

-- Rudyard Kipling, 1919

AS I PASS through my incarnations in every age and race,
I make my proper prostrations to the Gods of the Market Place.
Peering through reverent fingers I watch them flourish and fall,
And the Gods of the Copybook Headings, I notice, outlast them all.

We were living in trees when they met us. They showed us each in turn
That Water would certainly wet us, as Fire would certainly burn:
But we found them lacking in Uplift, Vision and Breadth of Mind,
So we left them to teach the Gorillas while we followed the March of Mankind.

We moved as the Spirit listed. They never altered their pace,
Being neither cloud nor wind-borne like the Gods of the Market Place,
But they always caught up with our progress, and presently word would come
That a tribe had been wiped off its icefield, or the lights had gone out in Rome.

With the Hopes that our World is built on they were utterly out of touch,
They denied that the Moon was Stilton; they denied she was even Dutch;
They denied that Wishes were Horses; they denied that a Pig had Wings;
So we worshipped the Gods of the Market Who promised these beautiful things.

When the Cambrian measures were forming, They promised perpetual peace.
They swore, if we gave them our weapons, that the wars of the tribes would cease.
But when we disarmed They sold us and delivered us bound to our foe,
And the Gods of the Copybook Headings said: "Stick to the Devil you know."

On the first Feminian Sandstones we were promised the Fuller Life
(Which started by loving our neighbour and ended by loving his wife)
Till our women had no more children and the men lost reason and faith,
And the Gods of the Copybook Headings said: "The Wages of Sin is Death."

In the Carboniferous Epoch we were promised abundance for all,
By robbing selected Peter to pay for collective Paul;
But, though we had plenty of money, there was nothing our money could buy,
And the Gods of the Copybook Headings said: "If you don't work you die."

Then the Gods of the Market tumbled, and their smooth-tongued wizards withdrew
And the hearts of the meanest were humbled and began to believe it was true
That All is not Gold that Glitters, and Two and Two make Four
And the Gods of the Copybook Headings limped up to explain it once more.

As it will be in the future, it was at the birth of Man
There are only four things certain since Social Progress began.
That the Dog returns to his Vomit and the Sow returns to her Mire,
And the burnt Fool's bandaged finger goes wabbling back to the Fire;

And that after this is accomplished, and the brave new world begins
When all men are paid for existing and no man must pay for his sins,
As surely as Water will wet us, as surely as Fire will burn,
The Gods of the Copybook Headings with terror and slaughter return!
Lefty Journalists Quietly Retconning Their Pro-Refugee Pre-Attack Articles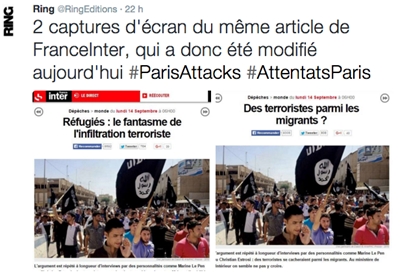 So Who Are the Eagles of Death Metal?
They're an American band who despite their name are not death metal in the least. Why was their concert targeted by the terrorists? No one really has a good theory other than that they were American and the popular show happened to be scheduled the same night as the rest of the attacks.
Sadly their merchandise manager, Nick Alexander, was one of the victims of the Paris attack.
Ted Cruz Knows His Princess Bride
And can recite it from memory - with the correct voices.
Now Might Be a Good Time to Cash Out Your DraftKings Account
Why GPS Always Overestimates Distances
Have you had a suspicion that your GPS app is overestimating the distance traveled? It is something that runners and walkers complain about a lot. If so, you are probably correct -- but the reason isn't an algorithmic glitch. The answer lies in the statistics, and it is a strange story. If you make a measurement and it is subject to a random unbiased error, then you generally are safe in assuming that the random component will make the quantity larger as often as it makes it smaller. Researchers at the University of Salzburg (UoS), Salzburg Forschungsgesellchaft (SFG), and the Delft University of Technology have done some fairly simple calculations that prove that this is not the case for GPS distance measurement. Consider the distance between two points - this is along a straight line, and hence it is the shortest distance. Now add some unbiased random noise, and guess what? This tends to increase the distance. So unbiased errors in position give rise to a biased overestimate of the distance. There is an exact formula for the bias and in some cases it can be more than 20%. Is there a solution? Perhaps using velocity measurements and time to work out distance is better - it isn't biased in the same way, but how accurate it could be remains to be seen. So when your fitness band tells you you have run a 4-minute mile - don't believe it.
Kate Upton - Now Bigger Than Ever?
There's rumors going around that Kate Upton is fat. It's not a rumor so much as an observation made by people to scared to call it a fact. She's getting thick again, even post-Photoshop. The bigger questions is who cares? I was going to say, just how gay are you, but not after France. Why don't you make a list of all the times you turned down a good looking woman because she was a bit chunky? If you've got an exercise counter on your wrist you're not in this conversation.

The world has adored fat chicks for eons. They carry their own luggage and when you're a shitty boyfriend, they get sullen and eat quietly in the corner. Compare that to a raving skinny girl throwing your shit out of the window and running eight miles of angry. Anybody can be fat these days, but looking like Kate Upton and needing to drop ten to twenty, that's the ticket.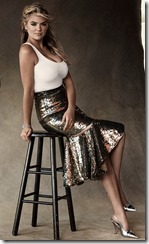 The Yahoo AoSHQ group - it's got electrolytes and shit.
And my twitter thang.
Tonight's post brought to you by this blank space:
Notice: Posted by the generosity of AceCorp LLC, you ungrateful loaves.

posted by Maetenloch at
10:37 PM
|
Access Comments