« It's Time to Start Listening to Millennials
|
Main
|
Morning Thread (11-13-2015) »
November 12, 2015
Overnight Open Thread (11-12-2015)
We often read nowadays of the valor or audacity with which some rebel attacks a hoary tyranny or an antiquated superstition.  There is not really any courage at all in attacking hoary or antiquated things, any more than in offering to fight one's grandmother.  The really courageous man is he who defies tyrannies young as the morning and superstitions fresh as the first flowers.

-- G.K. Chesterton, What's Wrong with the World, 1910
As to the court case - Mann vs Steyn - Robert Tracinski notes en passant here that we're now in the fourth year at the District of Columbia Superior Court. I voluntarily submitted to their jurisdiction (I don't live or work in the District of Columbia, and nor does Mann) because I naively assumed they had the minimal competence to adjudicate a 270-word blog post in under half a decade. They don't. It's somewhat frustrating to be trapped in a choked toilet of a "justice" system where everything is actionable but there's never any action.

-- Mark Steyn
The society which scorns excellence in plumbing as a humble activity and tolerates shoddiness in philosophy because it is an exalted activity will have neither good plumbing nor good philosophy: neither its pipes nor its theories will hold water.

-- John Gardner
Glenn Reynolds: It's Time to Repeal the 26th Amendment And Raise The Voting Age to 25
It's bad enough to have to treat college students like children. But it's intolerable to be governed by spoiled children. People who can't discuss Halloween costumes rationally don't deserve to play a role in running a great nation.
Okay you have all been legally warned....
The Racist Poop Swastika of DOOM Finally Captured on Film!
The scene of the crime - an ordinary unsuspecting unisex bathroom on a day just like any other...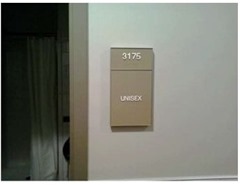 The lab in which this horror was created and the detritus from its unholy birthing...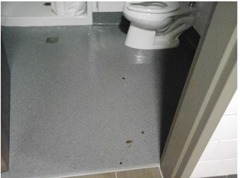 Its trail of destruction and defilement...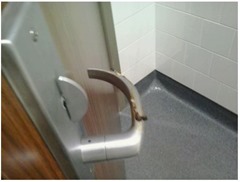 OMG THE ABHOMINATION ITSELF AYYYY!!!!!!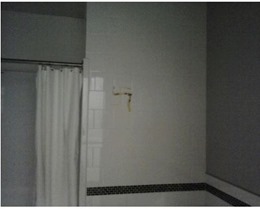 BURN IT DOWN BURN IT ALL DOWN!!!!!!!!!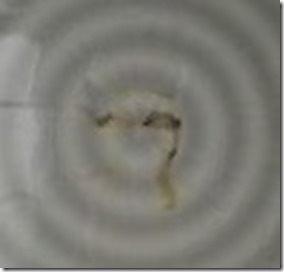 So Why Were Black Students - But Not Jewish Students - Up In Arms Over the Poopstika?
Why No One Believes the 'Racial' Incidents on College Campuses Are Real
In order to combat the supposed scourge of "structural racism," it seems that much of it has to be invented. A grossly racist flyer circulated on the campus of Ohio's Oberlin College in 2013 sparked massive campus-wide protests and resulted in cancelled classes. The pamphlet repeatedly used anti-gay, anti-Jewish, and anti-black slurs, and demanded that all these undesirables be locked in "cages," but it turned out to be the work of two liberal activists. One of the hoaxers was a member of the group "White Allies Against Structural Racism." Worse still, the campus administrators knew that this incident was a hoax even as the classes for which their students were paying exorbitant fees to attend were being cancelled.

In 2012, a University of Wisconsin, Parkside student found herself on a racist "hit list" that included the names of a number of African-American students targeted for violence. That list appeared several days after two nooses made out of rubber bands appeared on campus. The incidents exploded in the news and became the focus of an investigation by the Kenosha County District Attorney's office, but that investigation revealed that this student who originally exposed the plot was behind the whole affair. What gave her away was the fact that the only name on the "hit list" spelled correctly was her own.

The student activists on Vassar College's Orwellian-named "Bias Incident Response Team" found themselves busy indeed in November of 2013. They were supposedly combating an epidemic of hateful and insensitive messages directed toward blacks, women, and the transgendered scrawled and spray-painted on student residencies. Guess what? The perpetrators of this act of bias were none other than the members of the anti-bigotry brigade themselves.
Campus Kangaroo Court Convicts Conservative Professor
Academia delenda est.
The VICE Guide To Getting Out of Your Student Loan Debts
Short version: You can't.
How Many Democrats Are Totalitarians?
Well at least 27%.
What If Obama Has a Strategy in the Middle East, and It's Working
And just to continue the bashing...Merit Badges for Millennials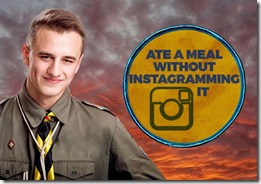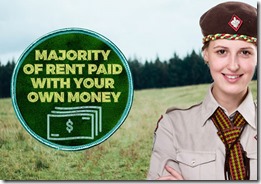 The Single Best Thing You Can Do For Your Child...
Just might be having them wait an extra year before starting school.
A new study on the mental health effects of kindergarten enrollment ages found strong evidence that a one-year delay dramatically improves a child's self-regulation abilities even into later childhood.

According to the study co-authored by Stanford Graduate School of Education Professor Thomas Dee, children who started kindergarten a year later showed significantly lower levels of inattention and hyperactivity, which are jointly considered a key indicator of self regulation. The beneficial result was found to persist even at age 11.

"We found that delaying kindergarten for one year reduced inattention and hyperactivity by 73 percent for an average child at age 11," Dee said, "and it virtually eliminated the probability that an average child at that age would have an 'abnormal,' or higher-than-normal rating for the inattentive-hyperactive behavioral measure."

The study, aptly titled, "The Gift of Time? School Starting Age and Mental Health," was published Oct. 5, by the National Bureau of Economic Research. A version of the article is also available here as a working paper from the Stanford Center for Education Policy Analysis at the GSE.
The Average Gun Owner Now Owns 8 Firearms
Here's a number to be proud of. The Washington Post is reporting that according to Wonkblog, the average number of firearms in a "typical gun-owning household" has increased to 8.1 firearms. This is a  nearly two-fold increase from data in 1994 which reported the typical household had 4.2 guns.
Which means they now have an 'arsenal' in their 'compound'.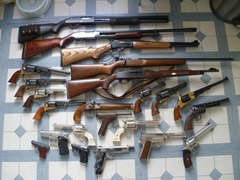 Holy Shit - They're Buying It!!! So All You Big Mouthed I-Gotta-Correct-Everything Assholes Just Keep Your Damn Pieholes Shut!
It's Going to Be Okay Explained the Co-Pilot to the Scared Young Woman...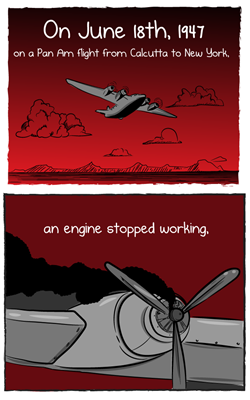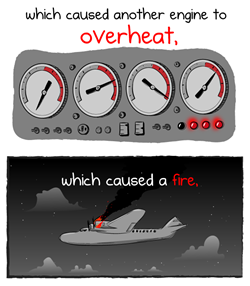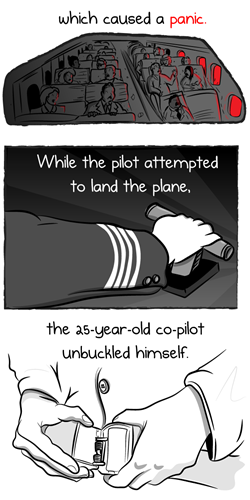 And all of you know the name of the co-pilot even if you don't know that you know.
Hey There Baby...Are You Feeling Hawt For a Little Math Action?
Well so are all the other hot single variables at SolveX4U.com.
Yahoo group. That is all.
Come on be a smartie and join the yahoo group party! For the children. Why do you hate children? Are you a micro-aggressing counter-revolutionary saboteur?
And my lo-fi Twitter spew.
Tonight's post brought to you by wrangling the Queen's corgis: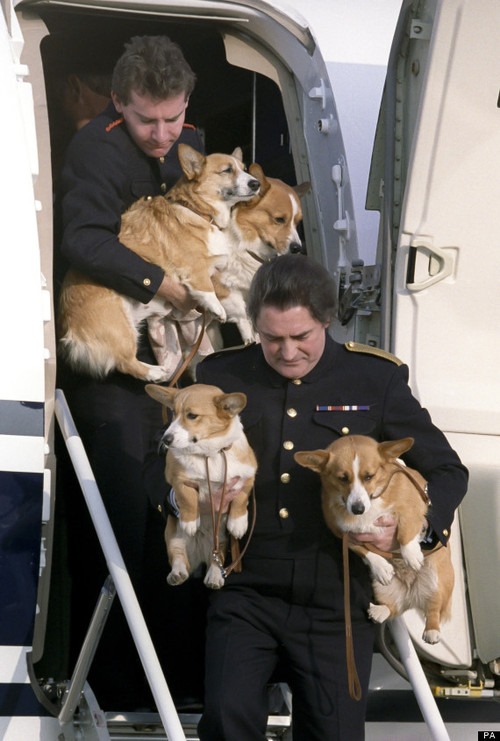 Notice: Posted by permission of WeHeartMillenials LLC, a division of AceMedia Inc. Please send juicy gossip and offerings to maetenloch at gmail. Otherwise send your prayers to Joe Pesci who can probably get things done. Note that the mannequins are for display only. Do not micro-aggress happy-fun ball. This is a safe place!

posted by Maetenloch at
11:05 PM
|
Access Comments