« Football Sunday in America! - [Niedermeyer's Dead Horse]
|
Main
|
Sunday Afternoon All-Star Insta Story Free Association Word Jam »
October 11, 2015
Food Thread: Ribs: A Work In Progress [CBD]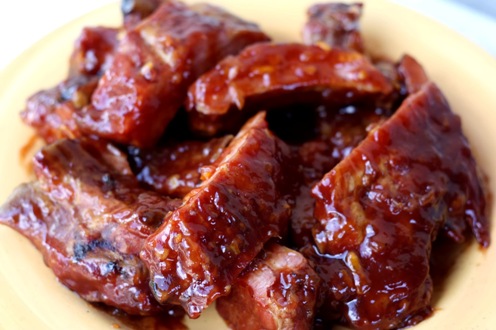 I think these look way too sloppy
I make good pork ribs. Not great. And I am coming to the realization that my dedication to dry rub and no sauce has limited the upside. As they say...."A foolish consistency is the hobgoblin of little minds." Well, "they" is Ralph Waldo Emerson, and as he was a well known smoked meat aficionado, I will respect the sentiment.
So I am off on a great quest for the ultimate sauce recipe, and the ultimate technique. AmazingRibs says to brush the sauce on at the end of the cooking process and grill the meat to get browning and caramelization. And they know their stuff; it is a great resource for barbecuing and grilling and assorted other stuff.
But there are other well-respected folk who simply make a great sauce and brush it on after the ribs are done, or simply provide the sauce as a garnish.
So...calling all Morons....what sauce (commercial or home made) works for you, and what's your preferred technique?
******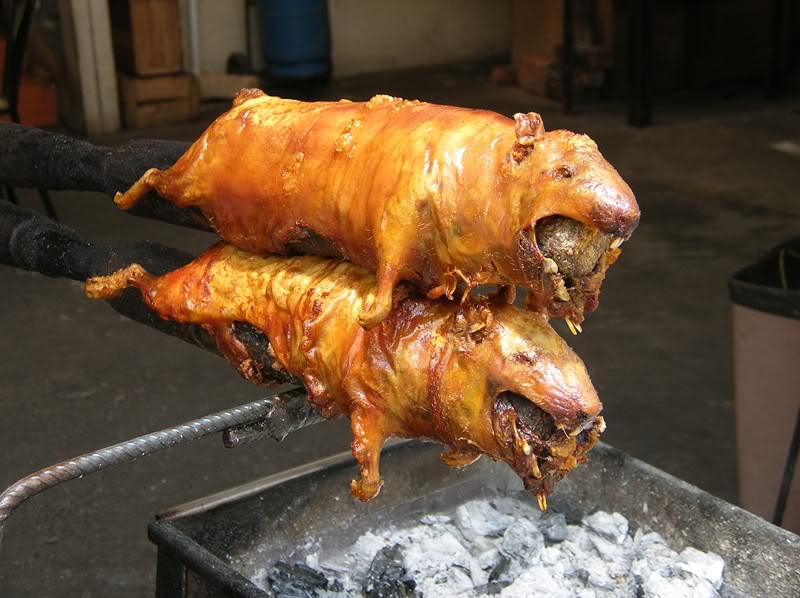 Ecuadorean Roasted Guinea Pig
A local pet food pantry.
A food pantry for pets. You know, animals. Not humans. We are such a rich country that we can fill a need for something that is laughable in most other places on the planet. Real poor people eat the animals around them. Anyone want to take my wager that the people who frequent this food pantry have flat screen TVs and automobiles? And cellular phones? And air conditioning?
And another thing....why isn't there something like Purina People Chow?

******
From Food Safety News,
an opinion piece that is mildly critical of the Dietary Guidelines Advisory Committee. You know....the people who are smarter than you are and tell you what you should and should not eat. They have done such a bang-up job in the last few generations that the entire country is in jeopardy of tipping over into the ocean we are so fat.
I wonder how we would be doing if they had never existed; if the guidelines were never published and shoved down our and our kids' throats. My money is on a slimmer and healthier America.

******
Paul Prudhomme, the legendary Louisiana Chef
died on Thursday morning. He took New Orleans cooking into the mainstream, and created a generation of cooks who love and respect Cajun cooking. I ate at his restaurant once, and enjoyed it immensely. Yes, the food was great, but it was also lots of fun...something that is missing from many fine dining establishments.
RIP

******
Blueberry Scones
• 2.5 cups unbleached flour
• 1.25 tablespoon baking powder
• 1.25 teaspoon salt
• 3.3 ounces sugar
• 1/4 pound unsalted butter cut into small pieces.
• 1 cup buttermilk or cream (cream is better, but more fattening)
• 1 egg
• 1 pint fresh blueberries (or currents or raspberries)
Toss the blueberries with a bit of flour and then freeze them for a few hours. This will prevent them from breaking up when you mix them into the batter, and the end result will be whole berries distributed through the scones rather than blueberry mush in blue scones. If you use raspberries, cut them into smaller pieces before you dust them with flour and freeze them.
Preheat oven to 400 degrees F.
In a large bowl, thoroughly mix the flour, baking powder, salt and sugar.
Add the butter pieces to the flour mixture, and using a pastry blender or your hands (stick them under cold water and then dry them carefully), break up the butter until it resembles sand or small crumbs (A food processor will do a great job).
In another bowl, whisk the cream and egg together, and then add to the flour mixture. Add the frozen blueberries and mix just to incorporate, do not overwork the dough.
This is messy, sticky dough. I have found that the best method for portioning is to use a large ice cream scoop. Spray the scoop with oil or just grease it with some butter.
Drop the mixture onto an ungreased baking sheet, trying to keep them as tall as possible. This recipe will make ten large scones, but tailor the size to your preference.
Sprinkle granulated sugar on them for a nice color and added crispiness.
Bake for 25-30 minutes or so until nicely tinged with brown. If you make smaller scones they will bake more quickly, so adjust the time accordingly.

posted by Open Blogger at
04:00 PM
|
Access Comments