« Colleje Football Thread...Week Five [CBD]
|
Main
|
Another Twitter Roundup - [Niedermeyer's Dead Horse] »
October 10, 2015
Saturday Gardening Thread: Greens or Weeds? [Y-not and KT]
Y-not: Greetings gardeners! Today's Saturday Gardening Thread is brought to you by The King singing "Polk Salad Annie":
Gumby? No, Pokeweed!
Here's a familiar plant that I found growing up against our fence: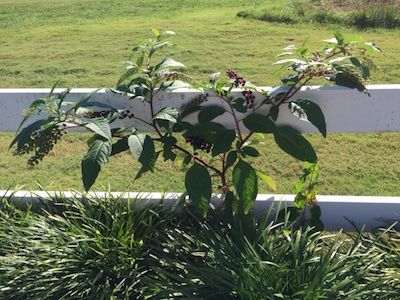 It's the American Pokeweed, a plant found throughout most of the U.S. (although, interestingly, not apparently in Utah).
The author of Nadia's Backyard calls it a Jekyll and Hyde plant. She writes:
If a nice-looking plant could attract scads of birds, make a great mess of greens, treat cancer, AIDS, herpes, bad breath and more, and revolutionize the solar energy industry on the side, wouldn't you want it in your backyard?

All of these claims and more have been made for the American Pokeweed (Phytolacca americana), an imposing perennial common in disturbed, fallow and edge areas, routinely growing taller than 6-8 feet, with large, oblong leaves and reddish stems at maturity. It's also known as poke root, poke salad (or poke sallet), poke berry, poke, inkberry, cancer root, American nightshade, pigeon berry and other names. The starring feature of Pokeweed is the flower cluster, which can host flowers, immature green berries and mature, shiny red berries all on the same clump, and there are many clumps per plant, flowering from May on into the fall. It dies back to its very large taproot each winter and re-emerges each spring. It is very insistent about that.
The problem, as she points out, is that American Pokeweed is both poisonous and invasive. More about that here:
If you have curious children or pets, beware, because all parts of this plant are poisonous, especially the roots, seeds and mature stems and leaves. The young, tender leaves can be eaten, but only as thoroughly cooked greens, with two changes of water.

Native Americans found many medicinal uses for the plant, and many folk remedies make use of parts of the plant, Hamilton said. The berry juice was used as a dye by colonists and to improve cheap wine.

Songbirds, foxes, raccoons and opossums eat the berries, apparently immune to the toxic chemicals. Animals help distribute the seeds far and wide. Pokeweed is deer-resistant; the foliage and stems are somewhat toxic and bitter, particularly when mature.
If you dare, the Eat The Weeds guy explains how you can enjoy this ubiquitous plant without killing yourself.
Alternatively, you might want to get rid of the pokeweed plants making their homes in your yard. This is no small feat, apparently:
Manual removal for common pokeweed control requires the gardener to dig deeply and get out the entire taproot. Pulling is not successful as it leaves behind roots that will regenerate. If you do nothing else, remove the fruits from the plant before they spread. The plant can produce up to 48,000 seeds, which remain viable in soil for 40 years. Birds seem unbothered by the berry toxicity and enjoy the fruit, planting seeds wherever they are excreted.

It is usually necessary to use chemicals to control pokeweed as the taproot is fleshy and extends deep into the soil. Chemicals to control pokeweed work best when the plant is young. Apply glyphosate directly to the leaves of the plant to kill it. This acts through the vascular system and while it takes a while to see results, eventually the chemical reaches the roots. Other chemicals to control pokeweed are dicamba and 2,4 D. Use spot applications on plants as they occur in your garden.
My pokeweed plants are on the golf course side of the fence, so I think I'll just cut off the fruits for now and see what happens.
Or I could be like this guy or this one and watch the critters and birds snacking on the berries. A lot less work that way, too!
Do any of you have experience eradicating these plants? Or using them?
(Here's another Pokey.)

And now, here's KT:
Weather and Water
This week, I have been worried about members of The Horde in areas flooded by either fresh or salt water. It already sounded kind of bad for some last Saturday, before the worst of the flooding hit. Let us know how you are doing.
If weather forecasts are correct, we could also face flooding in California this year. There has already been some flooding in the high desert. But nothing like in the Carolinas.
My garden is looking pretty forlorn right now. We got a touch of rain Sunday, but the ground still looks dry. For the time being, much of California is still in a severe state of drought. One reported result of the drought has been an increase in the growth rate of the water hyacinth in the Sacramento-San Joaquin Delta.
Hyacinths for Hippopotami
Other than the appearance of its flowers, the water hyacinth has little in common with hyacinths grown from bulbs. At the preceding link, Y-not asked The Horde about plants we love to hate. Several mentioned in the comments warrant a profile in the Saturday Gardening Thread. I can feel a "Plants with a Dark Side" series ahead. Water hyacinths qualify, having escaped well-meaning (as far as we know) introduction in many parts of the world where they have caused terrible problems.
In the USA, "The water hyacinth was introduced in 1884 at the Worlds Fair in New Orleans, also known as the World Cotton Centennial. The plants had been given away as a gift by a group of visiting Japanese. Soon after, the water hyacinth was choking rivers, killing fish and stopping shipping in Louisiana, and an estimated 50 kilograms per square meter choked Florida waterways. There were many attempts to eradicate the flower, including one by the U.S. War Department to pour oil over many of the flowers, but none worked."
In 1910, the U.S. Congress narrowly defeated a bill which would have introduced hippopotamus ranching in the Gulf States. This was intended to solve two problems: invasive water hyacinths and a meat shortage. Lake Cow Bacon, anyone? One of the proponents of the plan was a legendary model for the Boy Scouts and for Indiana Jones. What a story.
Do you think that hippo dude ranches could have become vacation destinations?
Oh, give me a boat
Where the big hippos float...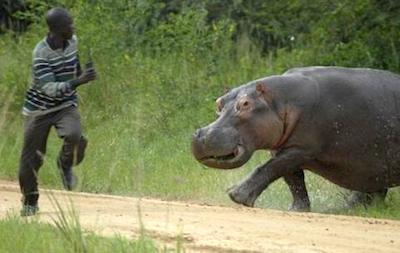 Hippo taking a break from controlling water hyacinths
Aside from their beauty, water hyacinths have several potential positive uses. And for most people, they are edible when cooked. They do not sound as edible to me as their relative, the pickerel weed.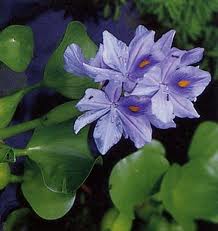 Pretty little flowers
People still plant water hyacinths in ponds in cold climates where they cannot survive in nearby waterways. Remember to add some mosquito fish. The plants may need to be kept in an aquarium over the winter. This sounds like a lot of effort to me. In most places, the risks of growing this plant seem to outweigh the benefits.
One recent indication that our political class is still living in something of a fantasy world has been the importation of mammals such as manatees, capybaras and "a herd or "bloat" of hippopotamuses from Botswana to chow down on vast mats of water hyacinth that also threaten to clog the intake to the California Aqueduct near Stockton." When I was growing up, hippos killed more people in Africa than any other large animal. Might still be true. But never mind that:
In their native African habitat, hippos mainly eat aquatic plants, including hyacinth, which they devour at a rate of 200 to 300 pounds a day. The mammal's affinity for the plant inspired the character "Hyacinth Hippo," the prima ballerina from the Dance of the Hours sequence of Disney's Fantasia.
For those who prefer their fantasies in movie form, we present Hyacinth Hippo and her servants dancing to an excerpt from Dance of the Hours by Amilcare Polchielli. I had not known that the original ballet was part of an opera in which a main character heads the Inquisition and the ballroom is adjacent to a death chamber. What soap opera today has that much drama?
Extra-Hardy Greens
Time to get down to business in the garden. Winter is coming. It may have already come for some of The Horde. Our socialist friends at Fedco Seeds in Maine have made a nice list of extra-hardy greens. They say that these plants should survive at least part of the winter in USDA Hardiness Zones 4 and 5. With protection, they may survive the entire winter in Zones 6 and above. Their flavor will almost always be superior to produce you can buy at the supermarket.
The greens they suggest are listed below, with comments on some categories. You can find additional hardy cultivars in other catalogs based in the North, like Pinetree and Johnnys. Members of The Horde in the North may need to start with seedlings of selected greens this year, but some of us could still plant seeds for this winter.
MUSTARD: Pink Lettucy Gene Pool, Golden Frill, Spicy Green, Green Wave, Red Giant
If you are a mustard fanatic, you might want to develop your own personal mustard strain from the moderately spicy "Pink Lettucy Gene Pool". Some of the other cultivars above are really piquant. Try them sparingly as baby leaf if serving raw in salads, unless zing is your thing. Cooking the spicier mustards for a long time with a ham hock and maybe some collard or turnip greens mellows the flavor.
For frequent commenter Golfman, here are some tips on using Red Giant Mustard as an ornamental. I think it would look great with creamy yellow or apricot pansies. It thrives through some pretty cold weather if it gets established before the ground gets too cold. Its color darkens as the weather gets colder.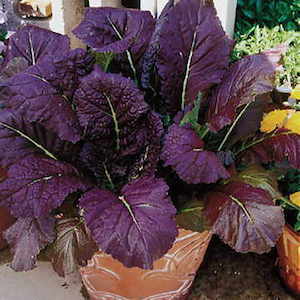 Red Giant Mustard
ASIAN GREENS: Green Lance, Senposai, Tatsoi
Tatsoi is one of the cutest plants ever. It is hardy to 15 degrees. The colder the weather, the flatter to the ground it grows. You can harvest the outer leaves and allow the inner ones to grow for later harvest. There are reddish and variegated cultivars, too. Tatsoi is milder than the mustards in the category just above. I really like its flavor in cool weather. I might also appreciate it in warm weather if I could eat it in Hawaii. Miso soup recipe at the link.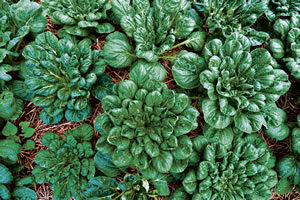 The Joys of Tatsoi in Hawaii
SPINACH: Space, Olympia, Donkey, Bloomsdale, Winter Bloomsdale, Tyee, Giant Winter
Johnnys also has a list of spinach cultivars by season, for commercial growers.
LETTUCE: Merlox Red Oak, Red-Tinged Winter, Oscarde, Tango, North Pole, Winter Marvel, Winter Density, Rouge d'Hiver, Winter Wonderland, Trigger, Winter Lettuce Mix
Pinetree has a nice Winter Lettuce Mix, as well as some other interesting hardy lettuces. One is recommended for cooking.
Y-not: Thanks, KT! To close things up, here's Tony Joe White singing the song he made famous:
I admit, I like this version a lot better than Elvis'. (I denounce myself.)

What's happening in YOUR gardens this week?

posted by Open Blogger at
02:00 PM
|
Access Comments