« Open Thread
|
Main
|
Obama Trolls Pope Francis »
September 18, 2015
The Demise Of Trump Means The Rise Of Jeb
Yes, yes. Everyone has been predicting the End of Trump since before he even announced. But it's over. The high-water mark has been reached and now the long slow retreat begins. His performance on Wednesday was beyond ridiculous. He knows nothing. His grasp of current affairs is beneath a Twitter troll's.
Now he's backing out today's Heritage Action forum. He'd have to stand on a stage (or sit at a desk, whatever the set up is) and answer actual policy questions. We saw on Wednesday he simply can't do that. He has two modes...insult and claim he will do great things by hiring great people. Those aren't actual demonstrations of knowledge.
"But that doesn't mean Jeb," you'll cry plaintively. Yeah, it does. Carly and Carson will run up front for awhile but they too will fade. Carson isn't any better on policy than Trump and Carly, while terrific, A- doesn't have much money and B- will get hit on the whole HP layoff business as well as doing deals with Iran. There's literally a whole oppo book on her and it will all get tossed out there.
So we will see a repeat of 2012...flavors of the month rising and falling. Meanwhile the establishment favorite, loaded down with cash will just bump along watching the grassroots challengers come and go. He'll deep into his war chest every now and then to help the more stubborn ones along their path to oblivion with a well placed negative ad or two thousand.
Which brings me to your next objection:
"Ah but you forget...RUBIO!"
Yes, Rubio.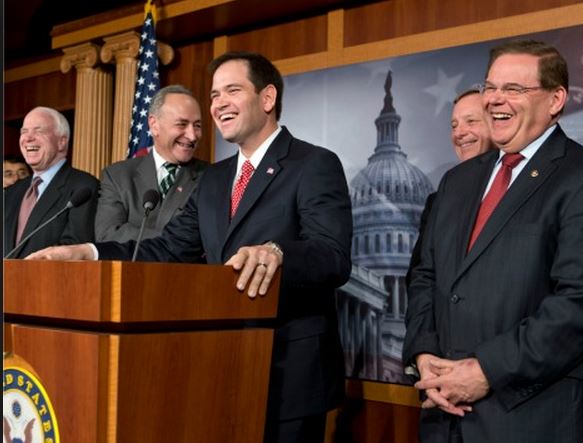 Rubio With His Pals Announcing Their Amnesty Bill
Sure Jeb is more pro-amnesty than Rubio is but Rubio is the only to cut a deal with Schumer-Reid-Obama-McCain on it. A deal even Rubio says was a mistake.
Not only will the hit be about immigration but Rubio's lack of experience. "How can you trust my good friend Marco to deal with Putin when by his own admission he was rolled by Obama and the Senate Democrats on immigration? Now, when I was Governor of Florida....."
It's going to be Jeb. The GOP is gonna GOP.
Special acknowledgment to Karl. He and I had this conversation on Twitter a few days ago and some of this is from what he said and got me thinking about.

posted by DrewM. at
12:59 PM
|
Access Comments