« Hillary's Emails Hosted on Same Server as Clinton Foundation Emails?
|
Main
|
Morning Post (9-1-2015) »
August 31, 2015
Overnight Open Thread (8-31-2015)
The tragedy for Hillary Clinton is that she is all too human. As Bill's mortal sidekick, she's had a good ride. But whereas Bill has an almost Jedi-like ability to lie convincingly - "these aren't the interns you're looking for" - Hillary has no superpowers to fall back on. She just has to grind it out. Like Syndrome in The Incredibles or the entire cast of Kick-Ass, she has to compensate for a lack of raw superpowers through guile and technology - and minions, lots and lots of minions. They do her dirty work for her. They burrow into the bureaucracy and cover for her. They get appointed to commissions and erect firewalls against accountability. They tell her what she wants to hear and explain how all bad news is someone else's fault. They scrub the paper trail. They even shove classified evidence in their pants, if that is what is required. As Renfield to her huband's Dracula, Otis to his Lex Luthor, Gogo Yubari to his O-Ren Ishii , Alistair Smythe to his Kingpin, Tom Hagen to his Don Corleone, Bizarro World Radar O'Reilly to his evil Colonel Potter, she has amassed considerable resources and abilities of her own. There's now an entire Clinton-Industrial Complex that fuels and funds the vast interconnected network of minions. They are like agents of Hydra, embedded in the media, in government, and in academia. Places like Media Matters are like huge industrial farms for breeding Clintonian hacks where the larvae are grown in vats.

...But the problem remains; Hillary is not the charismatic leader her husband is, or was. She's good at cleaning up the loose ends of her husband's lies, but she's not the person you want out front laying down the lies in the first place. His superpowers did not rub off on her, and to assume they did is to confuse the elephant for the guy sweeping up behind it.

The thing is, Hillary's been riding shotgun on all those hairpin turns with Bill behind the wheel for so long she thinks she can do what he does. She can't. It's understandable, of course. The great ones always make it look easy.

-- Jonah Goldberg
We judge whether we have a bias by examining our thoughts, and because we believe our thoughts are rational, we often think we're not biased when we are. Psychologists call this contradiction the "bias blind spot." Although we're quick to see biases in others, we have more trouble noticing them in ourselves.

And the more we convince ourselves that we don't have certain biases, the more likely we are to exhibit them. If we believe we're good people, for example, we may stop trying to be better and may be more likely to act indecently. Similarly, if we think we're smart, we might skip studying for a test and give ignorant answers. In general, if we believe we're unbiased, we're giving ourselves permission to be biased.

-- Jim Davies in Why You're Biased About Being Biased
Here is the first rule of "mainstream" news coverage in America: Whenever the prejudices and illusions of left-wingers are confirmed by an individual incident, the incident is treated as representative; when those prejudices and illusions are contradicted, the incident is considered an aberration - and treating it as representative is deemed hateful.

-- Andrew Klavan
I mean, for the love of God: it has celebrities there. How many of those people have functional life skills outside of the ability to carry a tune or play a musical instrument? And by 'functional life skills' I mean 'iron clothes,' 'balance a checkbook,' or 'walk past a bar without drinking it*.'  Don't get me wrong: musical celebrities are often fun to hear. Just don't listen to them.

-- Moe Lane on the train wreck of the VMA awards
Lake Chargoggagoggmanchauggagoggchaubunagungamaugg And The Shikaakwa Way
Greg Gutfeld Has Had Just About Enough of Geraldo's Bullshit
Watch this Fox News segment right until the end and note Greg's body language as Geraldo keeps blathering on and on. You know there's an eruption coming.
The WFB Politifacts Donald Trump's Claim That Carlos Danger Is a 'Sleazebag Perv'
Trump's suggestion that Anthony Weiner is a "perv" is certainly supported by the facts. However, the additional claim that Weiner is "one of the great sleaze bags of our time" is difficult to verify. Given the sheer magnitude of the sleaze bag population on the planet, we are not comfortable making a definitive judgment at this time.

We rate this claim "Mostly True."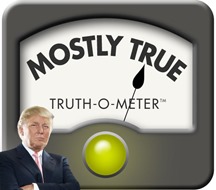 EPA Fines Farmer $16 Million For Building a Pond
Even though the EPA has no jurisdiction over non-navigable waters and stock ponds are exempt from the CWA.
Even though the Clean Water Act exempts stock ponds, and Mr. Johnson had obtained the necessary state permits, the EPA ordered him in January 2014 to restore the area to its original condition or accumulate fines of $37,500 a day. Instead, Mr. Johnson hired a lawyer.

"The EPA is out to expand its power, and I'm a test case," said Mr. Johnson in a statement. "We're going to fight them all the way."

Last week, his attorneys - including the Pacific Legal Foundation and the Budd-Falen law firm in Cheyenne - filed a lawsuit against the agency to stop it from enforcing the compliance order.
Rand Paul: Extreme Border Hawk...Well By Libertarian Standards That Is
"There have been a lot of dumb ideas put out," Paul said, speaking with Boston Herald Radio. "One that the Mexicans will pay for a wall, [which] was probably the dumbest of dumb ideas. But putting a wall up between us and Canada is sort of a ridiculous notion. It is sort of like everybody is now competing to say, 'Oh no, I'll put them in camps. Oh no, I'll throw them out. Oh no, I'll put everyone in jail. And I'll have an electric fence, and I'll do this.' And it's like, you know, the biggest thing we need to do is have a functioning immigration system, with a good work program."
When The State Can No Longer Afford to Run The Circuses...
No prize but in your heart at least you'll still know you were a winner.
MN Judge Orders ISIS Recruit to ISIS 'Rehab'
Just one problem: the rehab center has no clue how to rehabilitate wannabe jihadis.
Bookworm: Why Science Is Crying Out For a Reformation
And then it struck me. The trajectory of the modern church matches with eerie precision the trajectory of modern science. In its early years, when it was separate from government, the Christian church was a remarkably pure institution, devoted to developing each individual's relationship with Jesus Christ. There were different ideas and approaches floated, as well as battles within the Church (think of the gnostic heresy), but the faithful and their clergy were remarkably untainted by worldly considerations.

...The early church was attractive because it promised relief from the darkness of paganism, with its human sacrifice and the many rules it had, rules that obscured the fact that paganism generally lacked underlying and, if you'll pardon me for the word play, overarching moral principles. In the same way, science, from the Enlightenment through the mid-20th century, promised relief from the darkness of Hippocrates's and Galen's ideas about the four humours and the crazy (and often terribly painful or dangerous) medical ideas that flowed from the Ancient Greeks' approach to medicine.

In the case of both institutions - that is, the medieval Catholic Church and science - as they gained popularity, they attracted the attention of power and money. Royalty tried to integrate the church into its power structure (and, in the case of Henry VIII, succeeded magnificently), while the wealthy plied churches, monasteries, and nunneries with money in an effort to preserve their immortal souls. The result was that the medieval church became fabulously wealthy and began to devote its time to managing money, not shepherding men's souls, while too many churchmen were unable to resist the earthly temptations that came with wealth and power.
F-35 To Face Off Against A-10 In CAS Test
Lara Seligman from Defense News reports that the capabilities of the Joint Strike Fighter are to be evaluated for close-air support (CAS) missions. She writes, "To gauge the joint strike fighter's ability to perform in a close-air support role, the Pentagon's top weapons tester has declared the sleek new fighter jet must face off against the lumbering A-10. The Pentagon's Office of Operational Test and Evaluation plans to pit the full-up F-35 against the legacy A-10 Warthog and potentially other fighter jets to evaluate the next-generation aircraft's ability to protect soldiers on the ground."
Note that lumbering actually is a compliment when it comes to CAS since it means a longer loiter time.
Two planes enter, one plane leave!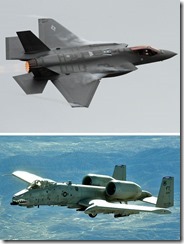 Shittiest Game Ever Made + Time = $100,000 of Landfill Gold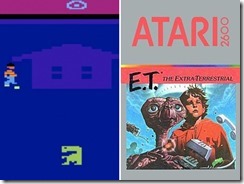 Fuel Conservation + Positive Body Image Awareness + San Francisco = A Whole Lot of Naked Bicyclists
Heartbroken Man Tries To Woo Back Ex-Wife With Romantic Closet Fire
I saw this last week and was going to mock it but it was very hot this weekend and as I was working outside I just kept thinking about how awesome it would be right about now...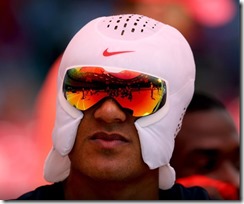 The Yahoo AoSHQ group - it's got electrolytes and shit.
And my twitter thang.
Tonight's post brought to you by launch from the Satish Dhawan space center last week: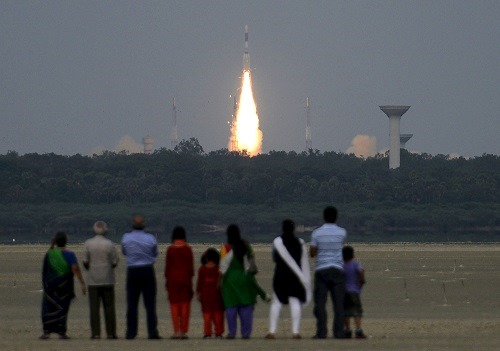 Notice: Posted by permission of AceCorp LLC. Warning: Happy fun disco ball is not a toy. Do not look at laser beam with remaining eye.

posted by Maetenloch at
10:46 PM
|
Access Comments