« AoSHQ Podcast: Ben K.
|
Main
|
The Real Scandal at the Washington Post: Hack David Ignatius Fails to Disclose His Key Source Claiming There Is No Email Scandal is Longtime Advisor to... Hillary Clinton »
August 28, 2015
Tropical Storm Erika 8/28/15 (tmi3rd)
Good evening from the AoSHQ Weather Desk, Morons and Moronettes. I'm tmi3rd, and I'll be continuing my nightly eye on Erika until the storm dissipates. Some interesting things have happened over the last 24 hours with Erika, and I think we'll enjoy the media disappointment over it.

More below the fold...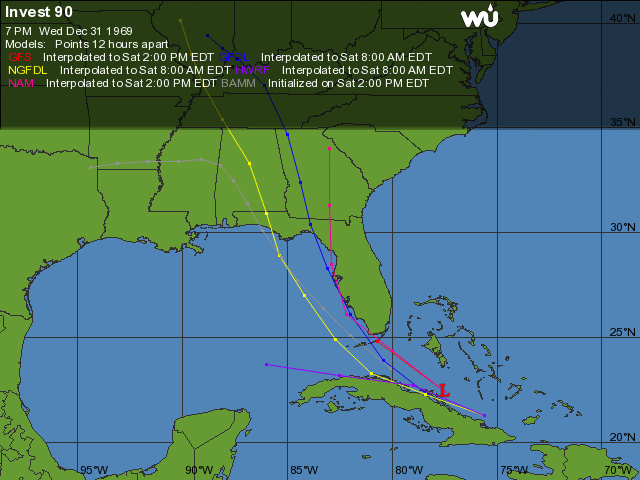 So you'll notice the track has shifted back to the west, which comes as something of a surprise to me, but this is largely in response to the shape of the high pressure area that it's moving around.

The other thing is, with its path taking it straight over Hispaniola and Cuba, it doesn't look like it's going to reach the continental United States as a hurricane. In point of fact, it's entirely possible it won't even make it ashore as a tropical storm, due to a combination of terrain and speed.

This will, of course, totally WRECK the planned news cycle for the weekend, which requires an editorial by Nelson Muntz:

Thanks, Nelson.

Now- if you're living in Florida anywhere from Miami to at least Apalachicola, you do need to stay alert for flooding. I will remind you that there have already been fatalities on the island of Dominica (where I have friends in medical school, at Ross University). Dominica saw a foot of rain, and flooding is what causes the most fatalities in tropical cyclones.

You're still going to get *some* storm surge. How much and where depend on the storm's exact track and speed, and we won't have a better feel for that until we see what it does over the next couple of days.

So, to recap:

Good news: Erika is increasingly unlikely to hit land as anything more than a middling tropical storm, and that will in turn wreck the weekend news cycle.

Bad news: you're still looking at a major-league rain event that has already killed some people, and if you're in a low-lying area in pretty much all of Florida, you need to keep your eyes on it.

That's what I've got for you tonight- more later! As ever, you can find me on Twitter if you need me.

Thanks for reading!

-tmi3rd

posted by Open Blogger at
07:34 PM
|
Access Comments