« EMT 8/23/15 - Gird your loins! [krakatoa]
|
Main
|
Open Thread »
August 23, 2015
Sunday Morning Book Thread 08-23-2015: Behemoth [OregonMuse]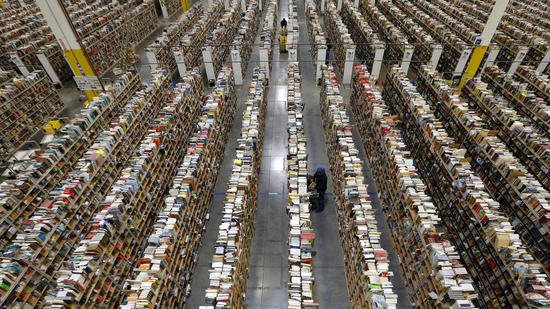 This Is What Amazon Actually Looks Like
Good morning to all of you morons and moronettes and bartenders everywhere and all the ships at sea. Welcome to AoSHQ's stately, prestigious, internationally acclaimed and high-class Sunday Morning Book Thread. The Sunday Morning Book Thread is the only AoSHQ thread that is so hoity-toity, pants are required. Or kilts. Kilts are OK. But assless chaps don't count. Serious you guys. And no tutus. Unless you're a girl.

No trigger warnings this week. Everything is just fine. Go back to sleep.
But we do have a health warning: reading the book thread excessively may result in severe wallet shrinkage.
Great books help you understand, and they help you feel understood.
-John Green

Book Thread Note
One of the cool things I've noticed about the book thread is how long it remains active. I mean, it pretty much owns the joint on Sunday mornings, but even after it gets pushed down by other threads in the afternoon, there's usually some activity still going on throughout the day. And occasionally late in the evening I will see new comments, and new recommendations posted.
So the reason I'm bringing this up is to encourage you morons not to give up on the book thread early, but try to stop by once or twice in the afternoon or evening to see if there's anything new. You might be surprised. And who knows, you might discover something worth reading hidden in a late comment that you might otherwise have missed.

The Amazon Story
You ever wonder what it's like to work at Amazon?
In a report published Sunday in the New York Times, writers Jodi Kantor and David Streitfeld outline a work environment that's hostile and grueling. According to the report, employees at the online retailer are expected to compete with one another, work nights and weekends, report on colleagues they feel are underperforming, and face probation if illness or family matters are perceived as affecting their performance.
But Jeff Bezos tells a different story:
Amazon's founder and chief executive says that the New York Times report misrepresents his company's workplace environment. "The article doesn't describe the Amazon I know or the caring Amazonians I work with every day," Bezos writes. "But if you know of any stories like those reported, I want you to escalate to HR."
Who's right? Eh, I don't have a dog in this race. But it's not unusual for a CEO and top level management to be completely oblivious to what conditions are like in the trenches. And Amazon's leadership principles sound like typical corporate word salad.
But, whatever the case, the Amazon operation is a lot bigger than I had realized.
Last month, it eclipsed Walmart as the most valuable retailer in the country, with a market valuation of $250 billion, and Forbes deemed Mr. Bezos the fifth-wealthiest person on earth.
The NY Times piece makes the Amazon work environment look pretty grim. But, then again, according to the Times, Reagan was a dunce, Hillary! is pure, and Obama is a kick-ass president.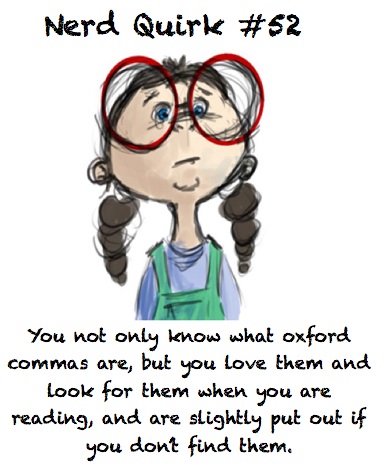 The Oxford Comma
Because without it, this sentence:
Among those interviewed were Merle Haggard's two ex-wives, Kris Kristofferson, and Robert Duvall.
...becomes this sentence:
Among those interviewed were Merle Haggard'a two ex-wives, Kris Kristofferson and Robert Duvall.
Ew.
The Oxford comma: useful, clarifying, and necessary.

Werehipsters?
One of the good results of the growth of e-publishing/self-publishing is that a lot of really good books that somehow didn't make it past the traditional publishing-house gatekeepers can now enjoy a wider audience.
One of the bad results of the growth of e-publishing/self-publishing is that a lot of dreck gets published that probably should never see the light of day.
And the cover art. Oh. My.
Here is a bunch of Kindle book covers, and no, they're not being made up, these books actually exist.
We're talking about books like Werehipsters, which is actually available for free, and Bigfoot Bob: Why I Chase The Monkey (which cover looks like Duck Dynasty gone horribly wrong). The cover art is bad enough, but I always wonder, who writes these books?
In ye olde days, if you had an odd or perverse habit, like stamp collecting or eating mayonnaise with a spoon, you did it in the dark, washed your hands afterwards, and didn't tell anyone. You knew nobody you knew wanted to hear about it.
But nowadays, you wrap yourself in your idiosyncrasy like an Easter bonnet, climb aboard the internet crazy train and discover that You're Not the Only One with your hitherto peculiar inclination or habit.
The libertarian part of me thinks, so, what's the harm? If someone wants to write pr0n featuring New England Patriots star Rob Gronkowski, and she can find an audience for it, then who am I say no, she can't publish? Also, if she wasn't writing her fantasies about Mr. Gronkowski, she'd probably be stalking the guy, and there'd be no end of creepy phone calls, arrests for trespassing, and restraining orders, so perhaps this perverse publishing is actually a net social plus.
On the other hand, does this extend to kiddie pr0n? I think most of us would draw the line at that, but I've known hardcore big 'L' libertarians who wouldn't.
I don't have any grand theory of What Should and What Should Not be published. But seeing all of these bizarre books reinforces my belief that the content of many people's heads should probably remain there. It very much reminds me of G. K. Chesterton's observation that the only Christian doctrine for which there is unquestionable empirical evidence is original sin.

More Tolkien Coming
Harper Colllns is set to release JRR Tolkien's first fantasy story:
"The Story of Kullervo – published here for the first time with the author's drafts, notes and lecture-essays on its source-work, The Kalevala – is a foundation stone in the structure of Tolkien's invented world," Harper Collins said in a statement, echoing the author's own words.

"The germ of my attempts to write legends of my own to fit my private languages was the tragic tale of the hapless Kullervo in the Finnish 'Kalevala,'" Tolkien himself wrote in a 1964 letter. "It remains a major matter in the legends of the First Age (which I hope to publish as 'The Silmarillion')."
Tolkien wrote it in 1915 while he was studying at Oxford.
The unfinished short story is based on a tragic character in the Finnish poem, "The Kalevala." After a magician kills his father and kidnaps his mother, young Kullervo is brought up by a dark magician who also tries to kill him. Kullervo is sold into slavery, after which he uknowingly commits incest with his sister, who, upon discovering what they have done, kills herself.
And they didn't live happily ever after. Because they were dead.
The Story of Kullervo will be available on August 27th.

You Are Getting Sleepy... Zzzzzzzz...
I don't know if any of you morons are parents of small children, and if you are, whether it's a major undertaking to get them to settle down and go to sleep at night. The Muse family fortunately did not have this problem. When our kids were little, we just tucked 'em in and that was that, but I know that for other families, bedtime can be a real struggle.
So there's been a book written to help out with this:
The book was written by Swedish author and psychologist Carl-Johan Forssen Ehrlin. He recommends parents read the story methodically, and to even yawn while reading it. Children will mimic their parent's behavior and end up quiet and napping in no time. "It's the verbal equivalent of rocking your child to sleep," Ehrlin told The Express.
How does the book work? The author says:
The book is written with a specific language pattern based on psychological techniques that will help your child to relax and fall asleep.
So I guess it's kind of like hypnosis.
And:
Ehrlin is the first independent publisher to top Amazon's best-seller list. You can also get a free e-book version at Ehrlin's website.
Well, I don't know if that last bit is true. I went to his site, but couldn't find the free e-book version. Maybe it's been removed.
Nevertheless, The Rabbit Who Wants To Fall Asleep: A New Way Of Getting Children To Sleep is available at reasonable prices on Amazon.
And if this doesn't work, the court of last resort is to play the audio version of Go the F**k to Sleep, read by Samuel L. Jackson. Free version on YouTube here.
Or perhaps you might prefer the Morgan Freeman version.
Thanks to whoever posted the hypno-book in the sidebar.

What I'm Reading
My reading time has been shortened lately, as I have a new job with a steep learning curve and I'm pretty tired at the end of the day. But I've been reading Flashback by Dan Simmons. Ace should pick this one for the AoSHQ Book Club, since so many of you morons are reading it, or have read it. The setting of the story, a near-future United States in serious decline, is very depressing, even though Simmons gives progressive politics (and Obama in particular) a severe beating. I especially liked how he described the graying ponytails worn by the aging hippies elected to Denver's city council whose policies accelerated the region's economic decline as "dork knobs".
I'm also working my way through Saigon: An Epic Novel of Vietnam, by Anthony Grey, which is lively and entertaining. Grey also has "epic" novels set in China and Japan.
And by "epic", I think he means "has a lot of pages".

___________
So that's all for this week. As always, book thread tips, suggestions, bribes, rumors, threats, and insults may be sent to OregonMuse, Proprietor, AoSHQ Book Thread, at the book thread e-mail address: aoshqbookthread, followed by the 'at' sign, and then 'G' mail, and then dot cee oh emm.
What have you all been reading this week? Hopefully something good, because, as you all know, life is too short to be reading lousy books.

posted by Open Blogger at
09:00 AM
|
Access Comments