« EMT 08/08/15 [krakatoa]
|
Main
|
Fundamental Concepts - Leap From the Lion's Head [Weirddave] »
August 08, 2015
Saturday Politics Thread: Shankapatomas [Y-not]
What can I say?
I punted.
I had the best intentions. I DVRed the debates and everything! But Life had other plans.
An outfit called Echelon Insights tweeted post-debate reactions and polling. According to their poll of Likely Republican primary voters who watched the debate, Donald Trump won.
Echelon Insights also generated word clouds from respondents who thought a given candidate "won" the debate.
Here's the one from supporters of Ben Carson:
Here's the one based on people who thought Ted Cruz won:
And here's the one from fans of Donald Trump:
Finally, here's an ideology map based on how each candidate's supporters self-identified: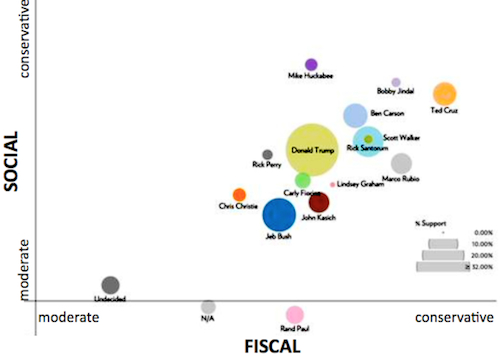 Color code: Christie=orange, Perry=dark grey, Bush=deep blue, Fiorina=green, Trump=gold, Huckabee=deep purple, Kasich=burgundy, Paul=pink, Walker=aqua, Santorum=olive, Carson=light blue, Jindal=lavender, Rubio=light grey, Cruz=goldenrod
In case you're thinking the debate season has started too soon, you might have forgotten that last time the first debate was in May.
Related: here's a link to the Presidential primary calendar via Frontloading HQ.
**UPDATE**
Link to the GOP Debate schedule. Next debate:
Wednesday, September 16, 2015 CNN/Salem Republican Debate Aired On: CNN and Salem Radio (Press Release) Location: Reagan Library in Simi Valley, CA Sponsors: Reagan Library Foundation, CNN, Salem Media Group Moderators: Jake Tapper, Hugh Hewitt, Rules: Split field into Segment B (top 10 candidates) and Segment A (remaining candidates getting at least 1% in polls) (Details) Candidates: To be determined
Open thread because, face it, there isn't enough content here to hold you to a specific topic!

posted by Open Blogger at
08:15 AM
|
Access Comments