« First Republican Debate -- Or, Rather, Joint Interview Opportunity -- Stars in 3 Minutes on CSPAN
|
Main
|
Morning Thread (8-4-2015) »
August 03, 2015
Overnight Open Thread (8-3-2015)
On L'Affaire Cecil and Why Internet Outrage May Doom the Lions of Zimbabwe
I've been trying to avoid getting sucked into this topic but there's been so much insanity on the subject and even otherwise reasonable people have spouted such nonsense on it that I feel compelled to say something. So let me make the case here for why (lion) trophy hunting in Africa is not only not harmful but is in fact necessary for the continued survival of lions and other big game there.
Now I'm a bit of an odd duck when it comes to this subject since I'm someone very interested in hunting who has not actually ever gone hunting - mostly due to time and logistics than anything else. But I have read most of the classic hunting literature from Hunter to Ruark to Capstick as well as various modern reference guides to safaris so I believe I know more than the average person in this area.

I am also indebted to a friend of mine from South Africa who has put me a lot of knowledge on the subject. He's a professor here in the US who goes back to South Africa during summers to work as an assistant to a PH (professional hunter), and is very familiar with the on-the-ground realities when it comes to managing and hunting big game. One thing that becomes clear from the hunting writers and my friend is that they all have a respect (even love) for the animals they hunt as well as a deep knowledge of how they live, breed - and eventually die, which means they are also decidedly unsentimental about individual animals.
So let me lay out some facts for you...
- Without hunting lions have no economic value for the local people or ranchers. In fact they're a giant menacing pain in the ass since they tend to eat the locals' cattle as well as occasionally the locals themselves. There's really no upside at all to having an apex predator like a lion prowling around your village or ranch; only bad things can happen. Yes, there are photo-safaris but unless you're near tourist areas and are set up for it, there's not much money in this. So the reality is that without any economic incentive to keep the lions around, the locals end up driving them out or just poisoning them.

And here to paraphrase Jack Dunphy the alternative to allowing hunting is not perfection - it's the alternative. With no hunting at all you won't get a Lion King-Simba happy existence on the savannah, instead you'll see a slow gradual extinction of lions as a species due to loss of habitat and eradication by humans. Lions will not die out from hunting - rather it will be because none of the locals want them around or care enough about their continued existence to protect them. Ultimately the lions will live or die by whether the local people allow lions to coexist with them.
But with controlled trophy hunting, the lions suddenly do have economic value. Because the hunting is so strictly limited hunters will pay a lot to be allowed to take a trophy - $30,000 and up. And $30,000 goes a long way in Africa. This money is split between the land owner, the local villagers, and the government. For the land owner and villagers this makes up on any losses they might have suffered from the lions, and it also means that they have a strong incentive to protect and maintain the local lions e.g. maintaining water pools, not putting  up fences, watching for poachers, etc. The money from hunting is a major source of revenue for some remote villages. The revenue to the government helps pay for full-time rangers, park wardens and equipment to protect the lion populations.
- Africa is a huge place. Bigger than most people can really imagine. So to say that lions are endangered is both correct and false. Depending on where you are in Africa lions may be endangered or they may be actually over-populated. Due to their territorial nature both may be true - too many lions in one area but very few in another nearby region. Logistically it's not possible to move lions hundreds of miles away to open areas so you have to manage the population locally. And that means allowing controlled hunting.
- Adult male lions do not die peacefully of old age. They tend to die from injuries sustained in battles with younger males or from starvation from being driven out of their territory. Both of which tend to be unpleasant, lingering deaths. This is the reality of male lion life. Also only a few breeding males are needed in an area to maintain and grow a lion population. So a mature adult male like Cecil who was close to the average life span of a male lion in the wild (10-14 years) is the most expendable member of any lion population.
Zimbabwe has a population of lions estimated around 1,680 and on average 10-40 lions a year are taken through hunting which is approximately 1-2% of the population - less than the natural death rate of adult lions. But the permit fees from each hunted lion make a huge difference to the overall lion population. This isn't just theory - there are empirical results backing this up with elephant populations:
Anti-hunting groups succeeded in getting Kenya to ban all hunting in 1977. Since then, its population of large wild animals has declined between 60 and 70 percent. The country's elephant population declined from 167,000 in 1973 to just 16,000 in 1989. Poaching took its toll on elephants because of their damage to both cropland and people. Today Kenya wildlife officials boast a doubling of the country's elephant population to 32,000, but nearly all are in protected national parks where poaching can be controlled. With only 8 percent of its land set aside as protected areas, it is no wonder that wildlife in general and elephants in particular have trouble finding hospitable habitat.
But in Zimbabwe controlled hunting was allowed and hunting revenues shared through the CAMPFIRE program:
The numbers attest to the program's success. Ten years after the program began, wildlife populations had increased by 50 percent. By 2003, elephant numbers had doubled from 4,000 to 8,000. The gains have not just been for wildlife, however. Between 1989 and 2001, CAMPFIRE generated more than $20 million in direct income, the vast majority of which came from hunting. During that period, the program benefitted an estimated 90,000 households and had a total economic impact of $100 million.

The results go beyond the CAMPFIRE areas. Between 1989 and 2005, Zimbabwe's total elephant population more than doubled from 37,000 to 85,000, with half living outside of national parks. Today, some put the number as high as 100,000, even with trophy hunters such as Parsons around. All of this has occurred with an economy in shambles, regime uncertainty, and mounting socio-political challenges.
- Note that only hunters with proper permits and PH guides are allowed to hunt lions. The PH is responsible for obtaining all the permits and knowing all the local restrictions on hunting and knowing which animals can and can't be legally taken. So Dr. Walter Palmer was completely dependent on the PH and local guide when it came to shooting a lion. So if Cecil was shot illegally, the fault is all on the PH and crew. It's ironic that the person facing the most hate from all this (Palmer) is in fact the one most innocent of any charges of poaching.
So the bottom line is that if you actually care about the survival of lions as a species, you should support controlled trophy hunting. Hunters like Walter Palmer who paid $55,000 for the hunting permit have done far, far more to actually preserve real world lions in Africa than all of the hand-wringing celebrities and any of you reading this post. Ironically the weeping over Cecil and calls to ban all hunting of lions in Africa out of First World emotionalism may end up actually dooming them as a species. But everyone would still get to feel awesomely smug about their love of lions and general moral superiority from the comfort of their armchair .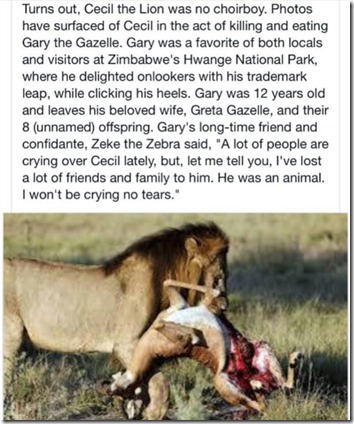 Sonny Bunch: Hulk Hogan and Our Two-Tier Future
Hulk Hogan is now a WWE non-person and Bunch has some thoughts on this.
The point is, though, that the tweet wasn't wrong. Hulk Hogan did, in fact, get airbrushed out of the (WWE) history books because he said bad words. It may have been incomplete, in that he also had bad thoughts. But that's literally the extent to the wrongs committed by Hogan here: He said a word that we, as a society, have more or less forbidden and professed thoughts that we, as a society, rightly consider to be wrong. He didn't, say, run a black guy over because he thought he was defiling his precious baby. He didn't, say, fire a black guy because he doesn't like the color of his skin.

Nope. He said bad words. He thought bad thoughts.
And he points to this comment by Scott Alexander on what the real goal of all this speech policing is:
The worst possible end-game for this is the two-tier marketplace of ideas mentioned above, with an unfortunate twist-everyone knows that the second tier is inhabited entirely by witches, and therefore being on the second tier is sufficient to convict you. Unpopular ideas are gradually forced out of the first tier by media smear campaigns, and from then on everyone believes the effort was justified, because it's one of those second-tier ideas that you only find in the same sites as the racists and trolls and child pornographers. You're not a second tier kind of person, are you? No, we didn't think so.
Because of our non-Leftist wrong-thoughts and bad-words we are all now becoming second tier persons. And you know what happens to them.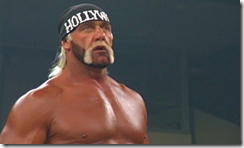 Calling the Government By Its Name is Now a Slur
Apparently prosecutors in Williamson County, TN were unhappy that defense attorneys were referring to them in court as 'the Government' even though they refer to themselves as 'the State' and filed a motion to make one defense attorney stop:
"The State has noticed in the past few years that it has become commonplace during trials for attorneys for defendants, and especially Mr. Justice, to refer to State's attorneys as 'the Government,' " [prosecutors wrote.] "The State believes that such a reference is used in a derogatory way and is meant to make the State's attorney seem oppressive and to inflame the jury."
The targeted defense attorney struck back with his own counter-motion:
He demanded his client no longer be referred to as "the Defendant," but instead be called "Mister," "the Citizen Accused" or "that innocent man" - since all defendants are presumed innocent until a judge or jury finds them guilty. As for himself, clearly "lawyer" or "defense attorney" wouldn't do him, well, justice.

"Rather, counsel for the Citizen Accused should be referred to primarily as the 'Defender of the Innocent.' . Alternatively, counsel would also accept the designation 'Guardian of the Realm,' " Justice wrote. And since prosecutors are often referred to formally as "General" in court, Justice, in an effort to be flexible, offered up a military title of his own.

"Whenever addressed by name, the name 'Captain Justice' will be appropriate."

Gathering steam, he went on to say that even "the defense" wasn't adequate and that "the Resistance" would be far more appropriate.

He then concluded his motion, returning to the formal language of court documents - sort of.

"WHEREFORE, Captain Justice, Guardian of the Realm and Leader of the Resistance, primarily asks that the Court deny the State's motion, as lacking legal basis."
Sadly for both Captain Justice and 'The Government' both motions were denied.
Florida Man Arrested For Playing Star Spangled Banner on 4th of July Rejects Plea Deal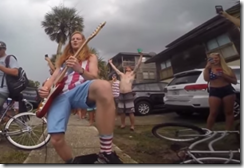 Heh: Donald Trump vs. Montgomery Burns Quotes
I got 7/10 of the quotes right and that was mostly because I recognized them from Simpsons' episodes.
Salem on the Thames: Witch-hunting 2015 Style
How a professor was driven from campus over a single Facebook post critical of Hamas. The fact that almost no other faculty members stood with him shows how much academia has become just a version of Lord of the Flies with student Red Guard enforcers. (Thanks to CBD)
I also learned a new word from this article - demopath:
Demopaths are people who use democratic language and invoke human rights only when it serves their interests, and not when it calls for self-criticism or self-restraint. Demopaths demand stringent levels of human "rights" but do not apply these basic standards for the "other" to their own behavior. The most lethal demopaths use democratic rights to destroy democracy.

Demopaths differ from civil-society free-riders; the latter enjoy more rights than they grant to others simply out of selfishness or laziness. Demopaths are fundamentally hostile to granting others' rights, and secretly despise the values of civil society (which demands that they tolerate and respect others). Instead of coming along for the ride, they want to sink the boat.
Connecticut Bans Grilling For Residents Of Apartments And Condos
Apparently the CT legislature believes the untermenschen aren't capable of using electric or gas grills safely - or even storing them properly. (thanks to LauraW)
A little-noticed change in the newly revised Connecticut State Fire Prevention Code, which took effect May 7, prohibits the use and storage of any type of grill or cooking device on decks, beneath overhangs or within 10 feet of the building.

When Life Gives You Plenty of Ice, Gasoline-Powered Devices, and Free Time...
You make something like this. And then you spin round and round for hours because it means there's that much less free time left to just stare at the ice and the empty vodka bottles. (thanks to M. Humanitarian)
Viagra-Laced Alcoholic Drinks Lead to Government Crackdown in China
Airbnb Now Lets You Stay in a Van Down by the River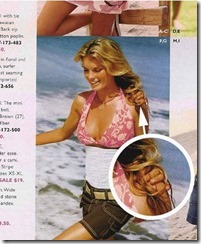 The Yahoo AoSHQ group - it's got electrolytes and shit.
And my twitter thang.
Tonight's post brought to you by being human: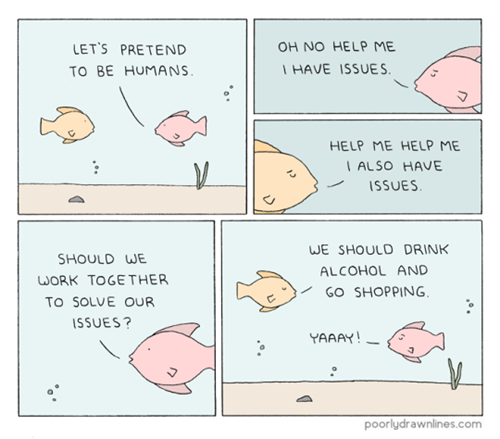 Notice: Posted by permission of AceCorp LLC.

posted by Maetenloch at
11:16 PM
|
Access Comments