« A Baseball Thread: Midway through Already? Pt. 2 [BCochran]
|
Main
|
Morning Thread (8-3-2015) »
August 02, 2015
Overnight Open Thread (8-2-2015)
"The Guardian hasn't been this upset since Hugo Chavez died."

-- Larry Correia on the Guardian's freakout over the Sad Puppies Hugo campaign
The Latest #Outrage That We're All Gonna Be Lectured About For the Next Few Weeks
A 'hitchhiking robot' got beaten up and decapitated in Philadelphia and this means that America is a terrible place or something.
Only two weeks into an attempt to travel across the United States, the friendly hitchhiking robot's journey has ended in Philadelphia after being beaten to a pulp.

HitchBOT, who was created by a team of communication researchers from Ontario, was found damaged beyond repair early Saturday in the city of brotherly love.

"Sadly, sadly it's come to an end," Frauke Zeller, one of HitchBOT's co-creators told the Associated Press.
This was no robot - what it actually was was a bunch of junk glued on to a trash can and left by the side of the road along with a sign asking people to cart it around.
Sure it was a kinda sad end but either way HitchBOT was going to eventually end up in the dump.
Because it's what his dying son wanted:
"Dad, I know you don't give a damn about money," Beau told him, dismissing the idea that his father would take some sort of cushy job after the vice presidency to cash in.

Beau was losing his nouns and the right side of his face was partially paralyzed. But he had a mission: He tried to make his father promise to run, arguing that the White House should not revert to the Clintons and that the country would be better off with Biden values.
Frankly I don't believe this story because Biden has a lifelong history of lying about things like this. But it is a signal that he is in fact joining the race. Because otherwise why would he tell a story where he ends up betraying Beau's dying wish.
Confirmed: Navy Seriously Considering Charges Against Lt. Cmdr Timothy White For Firing Back Against An Enemy Attack
Apparently the correct action would have been for him to die quietly and tragically like a hero instead of actually defending himself and the men under him.
And Nate Hale attempts to explain why the Navy brass would make such a fucktarded decision in Scapegoating 101:
And that brings us back to changing the narrative.  By suggesting that Lieutenant Commander White may be facing charges, senior government officials have successfully changed the focus of the Chattanooga investigation, at least temporarily.  That should make everyone wonder what new revelations are about to drop, in terms of the shooter's travels and affiliations, and security measures in place at the reserve center at the time of the attack.

As we learned in the days followed the shooting, the reserve base was a largely undefended target, putting sailors and Marines at risk.  Abdulazeez was able to crash through an unmanned gate at the facility and open fire.   To date, DoD has said nothing about why the gate was secured with nothing more than a chain and a padlock, and the response of base security personnel.  It was Lieutenant Commander White and that unidentified Marine returned who fire from inside the perimeter and it was the Chattanooga Police Department--in pursuit of the suspect--who finally cornered Abdulazeez and shot him dead.  Base security--based on what we have learned so far--was AWOL. 

Keep an eye on the Navy's "prosecution" of Randy White in the weeks ahead.  It will provide a convenient distraction while far more serious revelations about the attack dribble out.  Sad to say, but it won't be the first time the feds have sought a scapegoat in a terrorist strike against the U.S. military.
Also when it comes to scapegoating consider the sad tale of USMC Lt. Col. Kate Germano who seems to have been forced out for having the temerity to believe that female Marines could perform as well male Marines. Because #SisterhoodIsPowerful.
Camille Paglia -- Frenemy of Conservatives
Republicans nominated the man Paglia wanted and she still didn't vote Republican? To hell with her. Conservatives should not give this lady the time of day.

She is a mole. She is gaming Republicans. She will never, ever vote Republican. That should entitle her to zero influence. Read her for the catty remarks, but never mistake her counsel for anything but encouragement to commit political hari-kari.
I know a lot of people really like her and find her insightful. I've always found her interesting but ultimately unserious when it comes to politics - and this is why her advice should be regarded as For Entertainment Only.
On the Argument That You're Not Really Pro-Life Unless You Support Higher Taxes
A fave of the Left as exemplified by this quote from Sister Joan Chittister:
"I do not believe that just because you're opposed to abortion, that that makes you pro-life. In fact, I think in many cases, your morality is deeply lacking if all you want is a child born but not a child fed, not a child educated, not a child housed. And why would I think that you don't? Because you don't want any tax money to go there. That's not pro-life. That's pro-birth. We need a much broader conversation on what the morality of pro-life is."
And David French rebuts:
Hidden within this argument is the notion that a baby is better off dead than poor, but the Left has been backing off this claim ever since explicit arguments for eugenics fell out of favor. Moreover, the reliance on state-funded welfare as the cornerstone of compassion ignores not just the Christian community's enormous private generosity but also the economic reality that the free enterprise system has lifted more people out of poverty than any other economic engine devised by the mind of man.

It's just pure slander to claim that pro-life activists don't want children fed, educated, or housed. But it's a mistake to treat this argument as if it's made in good faith. Want proof that it's nothing but a misdirection? Ask an abortion activist whether they'd agree to outlaw abortion at any level of taxation or welfare. Given that abortion radicals are happy to see women abort even to preserve a short-lived career as a professional volleyball player, it's clear that a community could reach a level of peak liberal compassion and they'd still zealously guard the right to kill with impunity. After all, the true concern isn't for child welfare but for transient notions of adult fulfillment, and no level of taxation will cure the selfishness of the human heart.
The American A-10 ground attack aircraft recently reminded everyone that it can land pretty much anywhere. On July 20th, four A-10s practiced landing at a Cold War era airfield in Poland that that has been decommissioned since 2000. The cracked and crumbling runway was in bad shape from lack of maintenance. The last Polish units stationed there mainly used helicopters and conditions at the former Warsaw Pact airfield were always substandard for fixed wing aircraft. Not a problem for the A-10, which is nearly immune to FOD (Foreign Object Damage), usually caused by trash or debris being sucked into the engine air intakes during takeoffs and landings, thanks to its engines and their air intakes being mounted above the fuselage, far from the surface of the runway.

By having A-10s land and take off for night operations in such austere conditions, the United States is showing its NATO allies that it can deploy aircraft anywhere, even in the middle of nowhere, on a long forgotten ruin of a former Warsaw Pact airfield. The A-10s involved are part of the squadron (twelve A-10s) in Poland as a part of the European Theater Security Package, which is supporting Operation Atlantic Resolve, and are stationed in the Lask Air Base.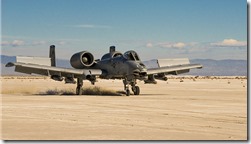 Seattle CEO Who Set Company's Minimum Wage to $70K/Yr Now on Hard Times
A cautionary tale about economics.
The Seattle CEO who reaped a publicity bonanza when he boosted the salaries of his employees to a minimum of $70,000 a year says he has fallen on hard times.

Dan Price, 31, tells the New York Times that things have gotten so bad he's been forced to rent out his house.

Only three months ago Price was generating headlines-and accusations of being a socialist -- when he announced the new salary minimum for all 120 employees at his Gravity Payments credit card processing firm. Price said he was doing it, and slashing his $1 million pay package to pay for it, to address the wealth gap.

...The Times article said Price's decision ended up costing him a few customers and two of his "most valued" employees, who quit after newer employees ended up with bigger salary hikes than older ones.

"He gave raises to people who have the least skills and are the least equipped to do the job, and the ones who were taking on the most didn't get much of a bump," Gravity financial manager Maisey McMaster, 26, told the paper.

She said when she talked to Price about it, he treated her as if she was being selfish and only thinking about herself.
The true minimum wage is $0/yr and paying people who aren't actually worth $70K that much is an insult to those who are.
Congress to Consider Laws Guaranteeing Due Process for Accused Students
Oklahoma Governor Must Move Daughter's Mobile Home From Mansion Grounds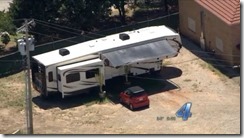 10 Behind-the-Scenes Secrets of Flight Attendants
1. IF THE PLANE DOOR IS OPEN, WE'RE NOT GETTING PAID.

You know all that preflight time where we're cramming bags into overhead bins? None of that shows up in our paychecks. Flight attendants get paid for "flight hours only." Translation: The clock doesn't start until the craft pushes away from the gate. Flight delays, cancellations, and layovers affect us just as much as they do passengers-maybe even more.

Airlines aren't completely heartless, though. From the time we sign in at the airport until the plane slides back into the gate at our home base, we get an expense allowance of $1.50 an hour. It's not much, but it helps pay the rent.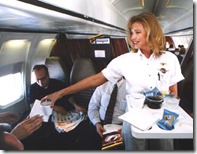 Weekly Commenter Standings
Top 10 commenters:
1 [406 comments] 'Mike Hammer, etc., etc.' [56.98 posts/day]
2 [406 comments] 'rickb223'
3 [398 comments] 'Village Idiot's Apprentice'
4 [385 comments] 'Anna Puma'
5 [351 comments] 'Ricardo Kill'
6 [333 comments] 'AllenG (DedicatedTenther) - Not dead yet'
7 [330 comments] 'Lizzy'
8 [295 comments] 'Bruce With a Wang!'
9 [294 comments] 'J.J. Sefton'
10 [279 comments] 'SMFH at it all'
Top 10 sockpuppeteers:
1 [65 names] 'Mike Hammer, etc., etc.' [9.12 unique names/day]
2 [58 names] 'hockey drinks'
3 [53 names] 'Cicero (@cicero)'
4 [52 names] 'Turd Ferguson'
5 [46 names] 'Movie Preview Guy'
6 [43 names] 'Uncle Busyhands'
7 [33 names] 'Bertram Cabot Jr.'
8 [32 names] 'Count de Monet'
9 [30 names] 'Village Idiot's Apprentice'
10 [30 names] 'Grump928(c)'
The group. Banned on 12 universities.
Where it's at - the Twitter
Tonight's post brought to you by meanwhile in China: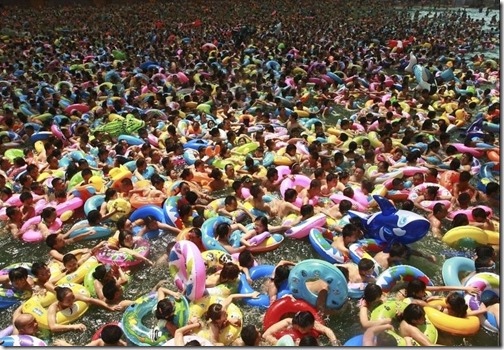 Notice: Posted by permission of AceCorp LLC.

posted by Maetenloch at
11:12 PM
|
Access Comments