« EMT 08/02/15 Opulence edition [krakatoa]
|
Main
|
Norman Lear: Patriot [CBD] »
August 02, 2015
Sunday Morning Book Thread 08-02-2015: Defectors [OregonMuse]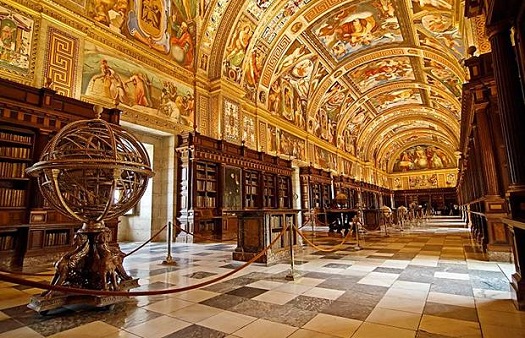 Library at El Real Monasterio de El Escorial - Madrid, Spain
Good morning to all of you morons and moronettes and bartenders everywhere and all the ships at sea. Welcome to AoSHQ's stately, prestigious, internationally acclaimed and high-class Sunday Morning Book Thread. The Sunday Morning Book Thread is the only AoSHQ thread that is so hoity-toity, pants are required. Or kilts. Assless chaps don't count. Serious you guys. Kilts are OK, though. But not tutus. Unless you're a girl.

Book thread MULTIPLE TRIGGER WARNINGS for statements to the effect that murdering babies and chopping up their bodies for money is a bad thing, the climate science is NOT settled, and accused rapists have not thereby forfeited their due process rights.
There are books of which the backs and covers are by far the best parts.
-Charles Dickens
Demons
For a number of years now, this country is going to hell in a handbasket, and there doesn't seem to be anything we can do about it. Heck, I even joined the communist party awhile back, but it didn't work out. But, along these same "if you can't beat 'em, join 'em" lines, I think it's time for a second look at one of mankind's oldest problem-solving techniques.
I'm referring, of course, to the black arts.
I mean, why not? The country is now circling the drain, so what have we got to lose? As the poet says, at this point, what difference does it make?
We are aided by the fact that the necessary magic tomes and necromancy self-help books are much more accessible than they used to be. If you want your book of spells, you don't have to seek out some faraway ruined castle or creepy, half-deserted New England coastal town, and fight your way through vampires, ghouls, Planned Parenthood medical directors, Debbie Wasserman Schultz, and other evil, unnatural creatures. No, now you can simply order them direct from Amazon. With their Kindle editions and Amazon Prime free shipping, dabbling in the occult and meddling with Things Best Left Alone has never been easier!
What brought this on was a link posted by the moron commenter 'The Great White Snark' in a thread earlier this week. He said "If you're having personal problems, you may want to read this book" and then linked to The Daemonic Companion: Creating Daemonic Entities To Do Your Will by Baal Kadmon, and I'm guessing that "Baal" is not the name he was given at birth.
Now, at $4.99, you'd think you'd be getting a bargain, but it's only 38 pages long, so making contact with Beezlebub's servants certainly doesn't come cheap. But I'll give him this, having my own personal demon (daemon?) would come in might handy at times, like when the wife wants me to mow the lawn and I don't feel like it, or I want my boss's wife to walk in on him while he's cheating on her.
The downside is that, as fun as this is, it won't be any good for the stuff I really want to do, such as see Bill and Hillary! incarcerated in a federal penitentiary, or to have entire departments of the federal government simply disappear. I don't think that will be allowed. Because Jesus said:
..."Every kingdom divided against itself is laid waste, and no city or house divided against itself will stand. And if Satan casts out Satan, he is divided against himself. How then will his kingdom stand?
(Mat 12:25-26)
So there's that. Satan is smart enough that he wouldn't do anything against his own interests. He'd make a great CEO of one of our companies, and come to think of it, he probably already is.
But this "Baal" guy has written a number of other booklets on how to use the occult, such as
Vashikaran Magick: Learn The Dark Mantras Of Subjugation and Chakra Mantra Magick: Tap Into The Magick Of Your Chakras. (Al Gore gives this book a thumbs up)
I don't recommend them. I mean, seriously, isn't this obviously a lose-lose deal? If it doesn't work, you're out 5 bucks, but if it does work, these things usually turn out badly, don't they?
These guys are the original mad scientists.
Kulturkampf
Amin & Mohammed Aaser are Muslims who were teenagers during the 9/11 terrorist attacks. They had a rough time of it in school afterwards
So they created the "Noor Kids" series of children's books, for Muslim children:
"Just as Dora the Explorer exposed many to positive impressions of the Latino-American community, we hope that Noor Kids can play that role for the American-Muslim community," Amin Aaser, who left a career working with Fortune 500 companies to start the series and explore other faith-based projects, told a local Minnesota magazine. "Our long-term goal is to use Noor Kids as a vehicle to foster Muslim integration between communities across North America, Australia, and Western Europe through publishing books, video games, and TV shows."
There are 7 books in the series so far.
The genre of Islamic children's books has become popular enough that it now has its own Amazon category.
Which will eventually create an audience for books such as I Dared to Call Him Father: The Miraculous Story of a Muslim Woman's Encounter with God, Bilquis Sheikh's classic autobiography that details her journey from Islam to Christianity. And then there's Hiding in the Light: Why I Risked Everything to Leave Islam and Follow Jesus by Rifqa Bary.
Here are some other conversion accounts:
Dreams and Visions: Is Jesus Awakening the Muslim World? by Tom Doyle and Out of Darkness Into Light: True To Life Stories of Muslims Coming To Jesus Christ Through Visions, Dreams, And Miracles by Ali Abdel Masih. I don't know about dreams. But I've been hearing these conversion stories from the Mideast for some time now, wherein a lifelong Muslim one day has a compelling dream of Jesus Christ and then converts to Christianity.
I believe that the Islamic enterprise, as mighty and as threatening as it looks today, is built on a foundation of sand, and will eventually collapse. And who knows, maybe these dreams are the giving way of the first few grains of sand.

Out of North Korea
And speaking of popular genres, I notice there are quite a few books written by Koreans who have fled North Korea and the tales they tell aren't pretty.
The Girl with Seven Names by Hyeonseo Lee
A Thousand Miles to Freedom: My Escape from North Korea by Eunson Kim
Under the Same Sky: From Starvation in North Korea to Salvation in America by Joseph Kim
Escape from Camp 14: One Man's Remarkable Odyssey from North Korea to Freedom in the West by Blaine Harden

RIP E.L. Doctorow
Writer, novelist, and essayist E.L. Doctorow passed away earlier this week at age 84:
Over a career spanning half a century, Doctorow published 12 novels, three volumes of short fiction, and a stage play, as well as countless political and literary essays and articles.
He was best known for works of historical fiction such as Ragtime, Billy Bathgate, and World's Fair.
Doctorow's usual technique was that he would either place fictional characters in famous historical events or famous historical characters in fictional events, and that would be the platform of whatever story he was telling.

Moron Recommendations
A lurking moron recommends this new anthology of military sci-fi stories: Fiction River: Valor (Fiction River: An Original Anthology Magazine Book 14), also available on trade paperback. The lineup includes stories by authors Steve Perry, Louisa Swann, Jamie McNabb, Kristine Kathyrn Rusch, and more.
___________
The premise for the political thriller 28 Pages by Allen Mitchum is that 28 pages of the official 9/11 Commission Report are classified and have never been released to the public. Who are they protecting and why are they doing it?
A DC lawyer investigating the greusome murder of her sister uncovers a shocking conspiracy against the United States by the Saudi Arabian ambassador.
I thought that the 28 "redacted" pages was just a plot device, but there actually are 28 missing pages that supposedly provide hard evidence of links between Al-Qaeda and the Saudi government. More info here.
28 Pages was selected as a semifinalist in the in The Kindle Book Review's Best Indie Books of 2012 Contest.

___________
So that's all for this week. As always, book thread tips, suggestions, bribes, rumors, threats, and insults may be sent to OregonMuse, Proprietor, AoSHQ Book Thread, at the book thread e-mail address: aoshqbookthread, followed by the 'at' sign, and then 'G' mail, and then dot cee oh emm.
What have you all been reading this week? Hopefully something good, because, as you all know, life is too short to be reading lousy books.


posted by Open Blogger at
09:03 AM
|
Access Comments