« Driver Download Websites
|
Main
|
A Few Weekend Links [CBD] »
August 01, 2015
Saturday Politics Thread: Carly Fiorina [Y-not]
Good morning, morons and 'ettes. Welcome to your regular Saturday Morning Politics thread!
Next Thursday Republicans will hold the first of their primary debates:
The Aug. 6 debate is hosted by Fox News, in conjunction with Facebook and the Ohio Republican Party.

The 9 p.m. ET stage will be open to the top 10 candidates in recent national polls. With 17 total candidates now in the race -- former Virginia Gov. Jim Gilmore was the latest, announcing his bid Thursday -- not everyone will make the cut.

Those who don't can qualify for an earlier debate, at 5 p.m. Fox News has eased the criteria for that debate, and candidates will no longer have to reach at least 1 percent in the polls to make the stage, though there are other criteria.
In addition, several of the GOP hopefuls, including Perry, Fiorina, and Santorum, have said they will stop by a debate-watching event being hosted by the American Conservative Union. (Follow this link to see the details of all eleven GOP debates planned thus far.)
The New York Times has been maintaining a list of all of the announced candidates, both Republican and Democrat, here.
I thought this week we could do a short "backgrounder" on Carly Fiorina. She was not on our radar last Fall when we reviewed 21 prospective GOP candidates. (I've been slammed in Real Life, so I apologize in advance for not doing a more thorough job on Fiorina's backgrounder.)
Here's a bit about Ms. Fiorina from her campaign website:
When Carly was recruited to Hewlett Packard, she became the first woman to lead a Fortune 50 business, growing it to become the 11th largest company in the US. In her six years as Chairman and CEO of HP, she would double its revenues to $90 billion; more than quadruple its growth to 9%; triple the rate of innovation to 11 patents a day; achieve market leadership in every market and product category and quadruple cash-flow.

She currently serves as the Chairman of the American Conservative Union Foundation, which annually hosts CPAC (the largest annual gathering of conservatives); the Chairman of Good360, the world's largest product philanthropy organization; and the Chairman of Opportunity International, the largest non profit micro-finance lender in the world giving out $6 billion at an average of $150 per loan lifting millions out of poverty around the world.
As I think most of you know, Fiorina's tenure as CEO of HP was controversial. Here's a Business Insider article that describes it as "terrible." Although I don't find her ouster from HP as in any way disqualifying (good people get fired all the time), the allegation that she laid off thousands of domestic employees and required them to train their off-shore replacements bothers me.
Read more about Carly Fiorina at her Wiki page. Although Ms. Fiorina has some impressive academic credentials, one thing you might not know is that she started out her career as a secretary at an insurance firm. Her current net worth is $59 million. (For comparison, Mitt Romney's net worth is reportedly $250 million.)
Ms. Fiorina has spent her career in the private sector which makes assessing her political positions and talent more difficult to assess. Her sole foray into politics (as a candidate) was a failed run for the U.S. Senate against incumbent Barbara Boxer in 2010. She also supported John McCain during his 2008 presidential run. (I'm not sure I'd hold that against her.)
Ballotpedia provides this summary of her political positions (I'd apply a grain of salt to these characterizations):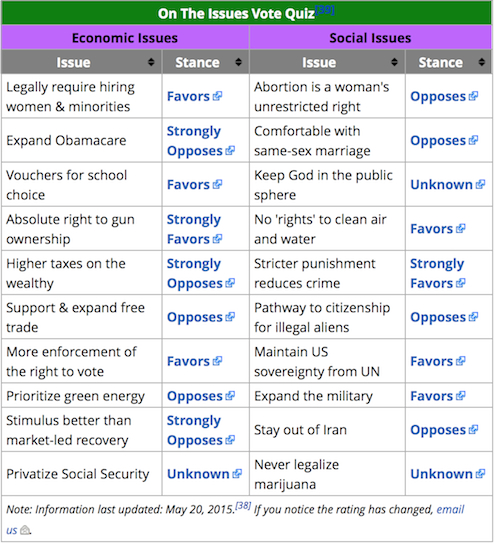 (If you'd like to see what specific statements were used to arrive at these positions, follow this link.)
Ms. Fiorina announced her presidential run back in May. This is what the NYT had to say about her prospects at the time. I think her chances have improved since then because of the discipline she's shown during her campaign, her skill with the media, and the disgust many primary voters feel about politics as usual.
She has, to my knowledge, consistently used her candidacy to attack Hillary Clinton, specifically, and Democrat policies more generally. Here are links to a few of her speeches and interviews:
Speaking at the Reagan Library last week "she focused exclusively on foreign policy issues. She repeatedly assailed the "political class" for their incompetence and pusillanimity -- and called out the spinelessness of the current administration for bargaining with our enemies and alienating our friends. She also offered warnings for America and optimism." Follow this link to watch her delivery.
On a related note, The Daily Caller reports:
Republican presidential candidate Carly Fiorina says the Benghazi "punch" could have defeated President Obama in 2012, but it "didn't get thrown."

"We thought in 2012 that Benghazi was Obama's Achilles' heel," the former Hewlett-Packard CEO said in a Thursday call with supporters. "But the punch didn't get thrown. We can't count on the media to do this... And so the only way to make sure these questions are asked and answered is to have a nominee who will demand an answer."

Fiorina insisted she wouldn't shy away from bringing up damaging issues, like the 2012 Benghazi terrorist attacks, while debating Hillary Clinton.
(OK, I suppose that could be characterized as a mild swipe at our last nominee.)
In addition to speeches and conference calls, Ms. Fiorina recently sat down for an interview with Elle magazine. I think it's worth a read to see how she navigates through a much softer set of "touchy feely" questions. Here's an excerpt:
It's been a tragic and complicated year for race relations in America. As president, how would you strive to bridge those really systemic divides?

You know, I think honestly Democrats have used identity politics to win elections -- not all Democrats, but too many. And what I mean by that is they divide Americans into groups, and they say, "You're a woman. You care about this issue. You're an African American. You care about that issue. You're Hispanic. You care about some other issue."

I think we need to speak to all Americans about all the issues they care about. I got asked recently on The View why I was a conservative. And I said, "Because I know no one of us is any better than any other one of us. Every one of us has God-given gifts. Every one of us can live lives with dignity and purpose and meaning." I believe that. For example, African Americans are demonstrably worse off in the last six years. African American women are demonstrably worse off. I think we need to celebrate the diversity of this nation, but we also need to acknowledge that everyone -- regardless of what they look like -- is an American. Everyone --regardless of what they look like -- is equal. Everyone -- regardless of what they look like -- has potential that we need to tap if we are going to be the greatest nation we can be. And so that's how I want to talk to the American people. It doesn't matter if you're a man or a woman, African American or Hispanic, you care about whether or not you have a good job. You care about whether or not you're earning enough to make a good living. You care about whether your government is responsive. You care about the quality of your healthcare. You care about national security.
Being a data-oriented person, my tastes in candidates tend to run toward ones that have a fairly lengthy record of achievements and public statements that I can evaluate. I think much of Fiorina's -- or any "outsider's" -- effectiveness derives from the fact that they have no records to defend. Hence, candidates like Fiorina and Trump can spend much more time focusing on attacks of the status quo. Although this is appealing, it does little to tell me how she (or he) would govern.
That said, I am impressed by how Carly Fiorina has conducted herself thus far and I look forward to her participation in the debates, whether it be on the "first tier" debate stage or the "second tier" one. If I were to go for an outsider candidate, Fiorina would be my choice.
How about you?
Do you plan on watching the debates this week?
____________________________________
We've been reviewing candidates and issues for almost a year! The first thread in this series was August 30th of last year. Phew!
For your reference, the backgrounders on the other candidates:
Walker, Jindal, Perry here
Kasich, Haley, Martinez here
Rubio, Paul, Cruz here
Christie, Bush, Huntsman here
Gowdy, Carson, Sessions, Lee here
Romney, Ryan, Huckabee, Palin here
Mike Pence here
Last March we had a round up thread of sorts in which many of the issues threads were linked (and candidates' "scores" discussed).

posted by Open Blogger at
09:30 AM
|
Access Comments