« Trump on CNN with Anderson Cooper
|
Main
|
Morning Thread (7-23-2015) »
July 22, 2015
Overnight Open Thread (7-22-2015)
The organizers of Free Pride Glasgow in Scotland have hit a snag in their mission to plan a totally inclusive event: Some activists think drag queens are offensive to transgender people, others think banning drag queens is offensive to transgender drag queens, and still others think allowing only transgender drag queens is offensive to cisgender [straight] drag queens.
The sad part is that thanks to the media I now mostly understand this sentence despite having negative interest in the subject. Sort of like my osmosis-based yet scarily detailed Kardashian knowledge.
The tortured effort by some young progressives in the media to craft a trendy brand around the octogenarian Supreme Court Justice Ruth Bader Ginsburg exposes the terrifying shallowness of the left's bench of fashionable political figures. Democrats who watched a recent video released by Hillary Clinton, in which the candidate hawked her campaign's branded "chillery" beer cozy and declared that she was "just chilling" herself, must have cringed; an android in a Philip K. Dick novel struggling to mimic human emotion could display more charisma and sincerity. Like the 82-year-old "Notorious R.B.G.," Clinton will require a transparently fabricated campaign to be perceived as current and something that appeals to a younger generation. Among Democrats with ample national name recognition, only Joe Biden effortlessly projects the kind of approachability and nonchalance that drew young voters to Barack Obama, and he is not in the race. Yet.

-- Noah Rothman
She got up in somebody's business in a very public place. She sought to dominate a situation where her very presence was untoward. And she asserted her titular authority in the pursuit of special treatment at a time when such a power play seemed wholly inappropriate.

But there's one way in which the altercation last month between XXX's Democratic congresswoman and the Capitol Police deviated significantly from her reputation: She was coming to the defense of an aide, not castigating one.
Can you name the congresswoman without peeking at the article?
Quote of the Day IV - Nostalgia For the Collectivism of the 70s
I recall a collective meeting about setting up a weekly telephone support service for lesbians. It was decided that each collective member would volunteer to take turns manning the phones at their own home, until we could raise the money to rent a space. One of the members did not have a telephone in her house, but insisted she was being discriminated against and "oppressed" by being left out of the rota.

...Sitting in endless meetings, unable to reach agreements, and taking days to produce one leaflet because someone objected to the word seminal.

...There was a total resistance to the cult of the individual...until the Thatcher government declared war on society.
Ah yes the Thatcherite War on Society. Good times, good times.
Obamacare To Be Opened Up To Illegal Immigrants In California
Advantage: Joe Wilson
Marine and Navy Commander Both Engaged Chattanooga Terrorist With Personal Weapons
It now seems that both a name officer who survived the Chattanooga terrorist attack and one of the Marines who died both engaged the Islamist with their personal handguns, despite an out-dated Department of Defense directive banning personal weapons.

...Once upon a time, not so very long ago, the United States military celebrated and revered troops who disobeyed orders to save lives.

We should do so again, and commend Lt. Cmdr. White and the as-yet unnamed Marine who took on bureaucrats in order to protect their men, not punish them for violating a directive that has cost us 34 lives and another 54 casualties under feckless leadership since 2009.
It'll be a sad day for America when surviving members of the military are punished for defending themselves against an enemy attack.
Why The Second-Tier GOP Debate May Be the One to Watch
Charlie Hebdo Says No More Mohammed Cartoons
And Mark Steyn comments sympathetically on their choice of dying on their feet versus living on their knees:
It's not pompous, but it is lonely. And the slippery, weaselly nature of the post-bloodbath support told Charlie Hebdo it was only going to get lonelier. It's hard standing on your feet when everyone else with the #JeSuisCharlie buttons is on their knees, bottoms in the air, prostrate before the fanatics. And so Charb's successor has opted to live on his knees.

#JeSuisCharlie? Even Charlie isn't Charlie now.
RIP American Marine Lou Lenart: Savior of Tel Aviv
On May 29, 1948-just two weeks after the fledgling Jewish state was invaded by the armies of five Arab nations-Lenart led the newly-formed Israel Air Force's (IAF) first combat mission, stopping a massive Egyptian army column less than 30 miles away from Tel Aviv.

In what can only be described as one of the greatest fake-outs in military history, Lenart-who, as the most experienced pilot, led the assault-and his three buddies flew four junk Czech-built German Messerschmitt fighter planes for a country that had no actual airforce. Dropping 70 kilogram bombs on the Egyptian column and attacking them with gunfire, this bit of daring-do managed to convince the Egyptians that there was enough competition in the sky to warrant a retreat.

...Had the Egyptians been able to advance to Latrun they would've joined the Jordanian troops. Lenart's mission pushed back a crucial enemy advance, helping to save the new Jewish state from what would've been a near certain defeat during that phase of the war.
The Irony: Global Warming Research Team Iced In In the Hudson Bay
A carefully planned, 115-day scientific expedition on board the floating research vessel, the CCGS Amundsen, has been derailed as the icebreaker was called to help resupply ships navigate heavy ice in Hudson Bay.

"Obviously it has a large impact on us," says Martin Fortier, executive director of ArcticNet, which coordinates research on the vessel. "It's a frustrating situation."

...Johnny Leclair, assistant commissioner for the Coast Guard, said Tuesday conditions in the area are the worst he's seen in 20 years.
Get On Board With The Nation's Caribbean Cruise
Because you'll have this to look forward to:
"AND a pre-cruise send-off featuring a freewheeling, intimate conversation with Representative Alan Grayson on December 12-free for all booked passengers!"
And of course the very first thing I thought of after reading this was PJ O'Rourke's classic essay, Ship of Fools, about his experiences aboard a Nation cruise in the Soviet Union in 1982. Ed Driscoll had the exact same thought and helpfully included a link to it:
They were leftists all right. In between palsies of fretting, they'd tell you how wonderful the Soviet union was: Pensions were huge, housing was cheap, and they practically paid you to get medical care. Believe me, you haven't been bored until you've been buttonholed by a seventy-year-old woman who holds forth all afternoon on the perfidity of American foreign policy and shows you pictures of her grandchildren. These were people who believed everything about the Soviet union was perfect, but they were bringing their own toilet paper.
Police Not Issuing Charges For Handgun-Firing Drone - Feds Undecided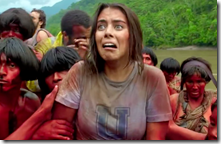 Finally: McDonald's On the Verge of Making Breakfast Available All Day Nationwide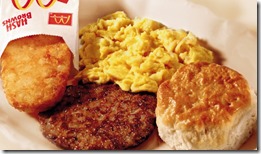 Studies Find Genetic Signature of Australian Aborigines In Native Americans
30-Year-Old Man Agrees to Full Head Transplant
Or body transplant depending on how you look at it.
Valery Spiridinov, a 30-year-old Russian man with the severely debilitating Werdnig-Hoffmann disease, intends to undergo the world's first human head transplant. The doctor who plans to perform the surgery - which would take place in 2017 - is Dr. Sergio Canavero, a confident neurosurgeon from Italy who claims the procedure can be done in one day and will have a 90 percent chance of success. Other doctors are highly skeptical, both of its possible success as well as the ethics of such a procedure.

The surgery, which was unsuccessfully performed on monkeys in the 1970s, is divided into three stages, as explained in the Telegraph. In the first stage the body must be chilled to 10-20 degrees. The second stage involves cutting the spinal cord. And in the third stage the nerves and blood vessels must all be woven back together before putting the patient into a coma for a few weeks. The biggest concern doctors have is whether or not Spiridinov's brain will still function after the surgery, but for Spiridinov, who is bound to a wheel chair with very little control over his body, it's a risk worth taking.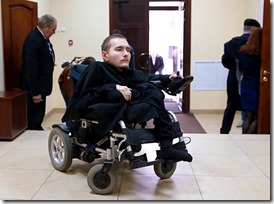 One of the inspirations for Frank Frazetta.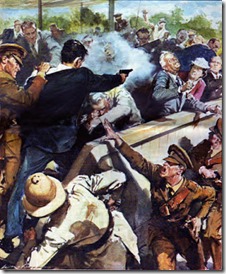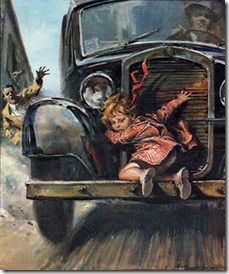 The Group knows your sins but doesn't care. But cross them and they just might.
Tonight's post brought to you by criticism: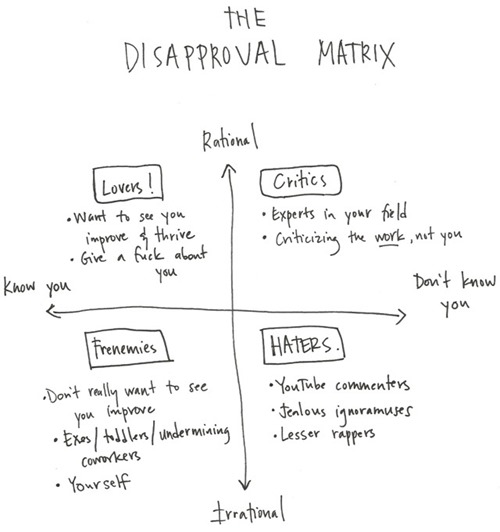 Notice: Posted by explicit and uncut permission of AceCorp LLC. The secret moderators have their directions. The rest of you just try and look busy if the ewok peeks his head in.

posted by Maetenloch at
11:00 PM
|
Access Comments