« Angela Merkel Blinks; Germany Will Once Again Subsidize Greece's Lavish Loafer Lifestyle
|
Main
|
Morning Thread for Friday »
July 09, 2015
Overnight Open Thread (7-9-2015)
Now a major portion of the left has stopped even pretending that they value work. Hence the growing support for a guaranteed minimum income, a lifetime handout large enough to provide everyone with a comfortable existence. The goal, according to one supporter of this idea, is precisely to allow people not to work. [But] the evidence suggests that when people are paid just for breathing, when they lose the basic habit of working, they don't spend their time writing symphonies. They sit on the couch smoking pot and watching bad TV.

-- Robert Tracinski
"Generally speaking, it's probably good advice not to try to commit a crime at a business that sells Class III firearms."
WFB: Hillary Clinton vs. Bernie Sanders, a Comparative Analysis
Gender

Clinton: Cis Female

Sanders: Cis Male

Advantage: Sanders. Hillary would be the first cis female president in history, but as the New York Times wrote in 2008, this is "not a reason" to select a candidate. In fact, the Times argued that Hillary's obsessive focus on "firstness" in 2008 had "tarnished the campaign." Historically, most presidents have been male. The edge goes to Bernie.
What If Most of Our Crazy Times Is Really All Due to a Small Group of Activists?
"Exactly two people are responsible for filing over 1,700 sex discrimination complaints with the federal Department of Education's Office for Civil Rights in the last few years. Catherine E. Lhamon, the Education Department's secretary for civil rights, won't identify these two highly litigious individuals. . . . Under the Obama administration, the growth in the Department of Education's sex discrimination complaints has been astounding. In 2010, Lhamon's office saw just 391 such complaints. In 2014, the number was 2,354."
Perhaps we should consider the Col. Kurtz solution.
NY Times Keeps Ted Cruz's Bestselling Book Off Bestseller List
It turns out their bestseller list is not actually a list of the bestselling books. To appear you have to sell some books but must also meet special secret NYT criteria.
"We have uniform standards that we apply to our best seller list, which includes an analysis of book sales that goes beyond simply the number of books sold," Times spokesperson Eileen Murphy explained when asked about the omission. "This book didn't meet that standard this week."
Unpersoning the Bad Thinker: FAA to Drop Donald Trump-Related Navigation Codes
The Everything's a Problem Blog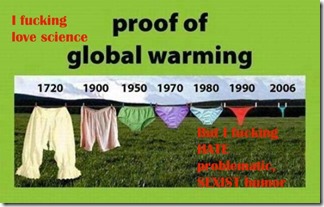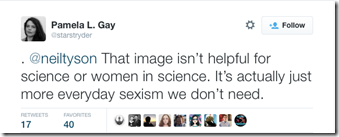 Because It's Summer, Weather Can Be 'Climate' Again
Clerk Provides Funny Commentary For That One Time She Was Held At Gunpoint
Heh.
Panzers in the Cellar: The Pensioner Culture That is Germany
It seems the tank's presence wasn't much of a secret locally. Several German media reports mention that residents had seen the man driving it around town about 30 years ago. "He was chugging around in it during the snow catastrophe in 1978," Mayor Alexander Orth was quoted as saying. But he later added: "I took this to be the eccentricity of an old man, but it looks like there's more to it than that."
The $7 Dollar Homemade Shotgun
Income Inequality From Caveman Times to Now
Because primate brains have a center dedicated to detecting unfairness within the group and our brains are still basically operating off Pleistocene firmware.
Anthropological studies of foraging societies suggest that their Gini coefficients for income and accumulated wealth both averaged around 0.25. In farming societies, however, the average income inequality almost doubled, to 0.45. The Roman Empire scored around 0.43, England in 1688 about 0.47, and France on the eve of the Revolution an eye-watering 0.59. Inequality in accumulated wealth increased even more, regularly topping 0.80.

But then everything changed again with the industrial revolution. Fossil fuels released a flood of energy, with steam and electricity powering machines that vastly augmented human and animal labor.

...The big question, of course, is just where this sweet spot is. By 1970, the Organization for Economic Cooperative and Development nations had driven post-tax income inequality down into hunter-gatherer territory, averaging just 0.26 on the Gini scale. The economic difficulties of the following decades, however, suggest that this was perhaps too low. Most people apparently thought so, electing governments in the Reagan-Thatcher era that allowed the rich to keep more of their gains. By 2012, average post-tax income inequality in the O.E.C.D. had drifted up to 0.31, but new waves of economic difficulty indicate that this is getting too high. The rise of populist, anti-elitist parties suggest that many people again agree.

If the twists and turns of economic history over the last 15,000 years and popular will are any guide, the "right" level of post-tax income inequality seems to lie between about 0.25 and 0.35, and that of wealth inequality between about 0.70 and 0.80. Many countries are now at or above the upper bounds of these ranges, which suggests that Mr. Piketty is indeed right to foresee trouble.

At the same time, the patterns of the past tend to reveal new questions just as much as they answer old ones. Farming swept away foraging and fossil fuels swept away farming; today, there are signs that the fossil fuel world, in turn, is coming to an end.
Also The Caveman's Home Was Not a Cave.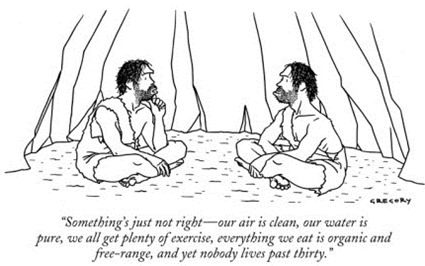 Overcoming Starvation: The Average Woman Today Weighs As Much As A 1960s Man
New statistics from the Centers for Disease Control and Prevention show that the average American has packed on the pounds in the past 50 years. Both men and women have gained a considerable amount of weight since 1960, with the average American woman now weighing 166.2 pounds - nearly identical to what American men weighed in the 1960s. U.S. men have been getting bigger too, gaining nearly 30 pounds from the 1960s to 2010 - 166.3 pounds to 195.5 pounds today. The good news is that both sexes have gained almost an inch in height since then, so that accounts for some of the overall weight gain.
"Harbingers of Failure": Consumers Who Habitually Pick Losers
Is your favorite TV show always getting cancelled? Did you love Crystal Pepsi? Were you an early adopter of the Zune? If you answered yes to these questions, researchers say you might be a "Harbinger of Failure." In a study published in the Journal of Marketing Research, researchers identified a group of consumers whose preferences can predict products that will fail. "Certain customers systematically purchase new products that prove unsuccessful," wrote the study authors. "Their early adoption of a new product is a strong signal that a product will fail.
Russian Artillery Crew Vs. 'Controlled' Avalanche
Advantage: Avalanche
How Does the Infamous NYSE "Pit" Depicted in Many Movies Actually Function?
There are a lot of reasons that they are alive in well in the option pits, but mostly its because the option pits are a better system at the moment and have more liquidity then electronic trading. If youd like to know details as to why and how it is better i can get into that but for now ill focus on your original question.

In my pit there about 150-200 guys on a given day depending on how busy it is. It may seem crazy but the pit is a very efficient system. It is controlled chaos, but it is transparent, there are checks and balances, etiquette and rules. Much of what you can do trading electronically would be seen as criminal in the pit. Again if you have interest i can provide specific examples.

In basics as others have said, there are 2 types of people in the pit. The brokers (work with customer) and the "locals" or market makers. The brokers will work with everyone from funds, to producers or users of a commodity and even other prop groups. The "locals" job is to try and make a 1/8th 1/4 cent of "edge" off of whatever they trade as many times as they can.

So ill walk you through how a typical trade happens..

I get a phone call. Customer wants me to "quote" the December 500 calls.

I scream at the top of my lungs as well as hand signal, "Hey Dec 500 calls, where are they" ( or something along those lines)

The locals in the pit scream back and hand signal two prices. First what they are willing to Pay for the Dec 500 calls or their Bid. And second what they are willing to sell the Dec 500 calls at or their offer.

I tell the customer on the phone, the market is 1 bid at 1 and a 1/2. (meaning locals want to pay 1 and they want to sell it at 1 1/2)

The customer tells me to sell 100 at 1 1/4.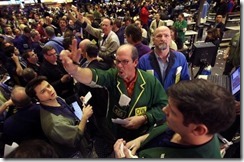 Man Bids $10K For a Girlfriend
A Japanese start-up company called ALE is partnering with researchers at multiple universities to create the artificial meteor showers, which will cost around $8,100 per meteor for buyers. The researchers said the manufactured meteors would be bright enough to be visible even in areas with light pollution, like Tokyo, assuming clear weather.

...The cubelike satellite that would release the artificial shooting stars is being developed by ALE in conjunction with the outside researchers. The satellite would orbit the Earth from north to south at an altitude of about 250 to 310 miles (400 to 500 km) for months at a time before falling back to Earth and burning up.

ALE is keeping the chemical makeup of the pellets it would launch secret, but the company revealed that it is considering different chemical compositions to create streaks of different colors.
Is There a New Faster Way to Swim?
Judge Rules Hulk Hogan Only Allowed One Plain Bandana During Gawker Libel Trial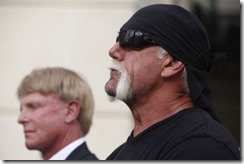 Yahoo group. That is all.
Come on be a smartie and join the yahoo group party! For the children. The beautiful, sweet sweet tender-fleshed children.
And my lo-fi Twitter spew.
Tonight's post brought to you by ready for the weekend: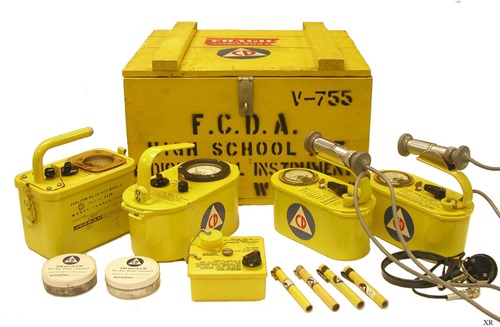 Notice: Posted by permission of AceCorp LLC. Note that the ferrets are for display only. No horseplay in the Danger Room. Do not taunt happy-fun ball.

posted by Maetenloch at
11:21 PM
|
Access Comments