« Food Thread: Sauce On Steak: Is It Legal? [CBD]
|
Main
|
Overnight Open Thread (7-12-2015) »
July 12, 2015
Grilling A Steak: A Primer [CBD]
Ace got everyone excited about his steak travails a few weeks ago, so here is a basic grilling technique. It's not authoritative....there are many other good ways to cook a steak, but it's a solid method.
And Open Thread until "The Fall of The House of Usher" discussion. About That [ace]: As I mention in the sidebar, I was on the blog all day yesterday and want to take a full day off, so I'm delaying putting up the bookclub thread until tomorrow, round 7:30 or 8 pm Eastern.
Buy This....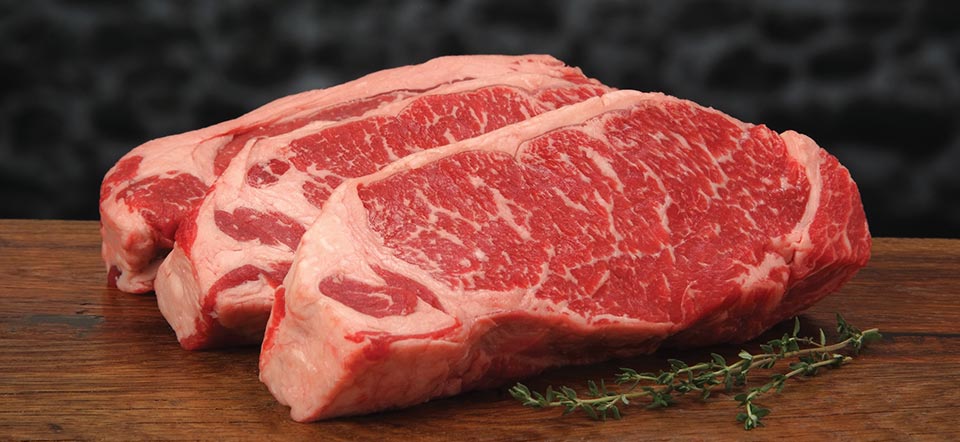 Not This....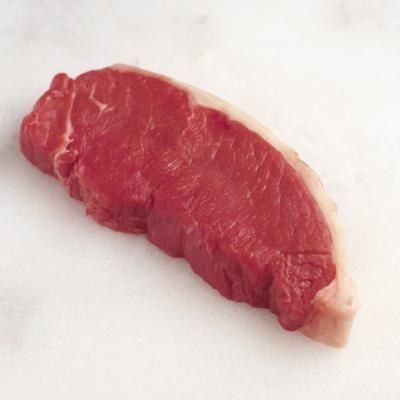 Buy a thick (1.5" is a good thickness) steak, with lots of fine marbling, and as little tendon and connective tissue as possible.
Take the steak out of the refrigerator and salt it liberally with Kosher salt at least 30 minutes before cooking. No pepper...it burns. If you like pepper, add it after the steak is cooked. Don't worry, the bacteria on the surface will be killed by the intense heat of the grill. Just keep it covered to be safe.
Clean the grill. Salmon flavored steak is rarely good.
Build a hot fire. Surface-of-the-sun setting on your gas grill, or lots of hardwood coals in your charcoal grill. But...have a space for indirect heat.
Place the steak on the hottest part of the grill...and close the top. Yes, this is controversial, but trust me, it works.
After two minutes, open the grill and rotate the steak 120 degrees, then close it again.
At four minutes, open the grill, move the steak to a new spot on the grill, flipping it, and close the top again. This minimizes flare-ups, but keeps the temperature high. If you are getting flare-ups, move the steak to indirect heat.
At six minutes,rotate the steak, move it to indirect heat, and close the top.
At eight minutes, remove the steak and allow to rest for at least five minutes before eating.
These times are for a 1.5" steak, cooked rare (bordering on bleu). Adjust accordingly for thickness and preferred temperature.
The easiest way to judge doneness is with your finger. There are a bunch of different ways to do this, but a simple one is the feel of the ball of your thumb when you touch your fingers.
Rare: Tip of thumb to tip of index finger
Medium-rare: Tip of thumb to tip of middle finger
Medium: Tip of thumb to tip of ring finger
Medium-well: Tip of thumb to tip of pinkie finger (although why bother)
If you have an accurate thermometer, then use the following temperatures as a guide. It's the most repeatable method, and once you find your perfect temperature you will be able to cook a steak anywhere using any technique.
Very rare (bleu): <100 degrees F.
Rare: 120-125 degrees F.
Medium rare: 130 degrees F.
Medium: 140 degrees F.
Medium-well: 150 degrees F.
And....realize that there is carry-over cooking. The internal temperature of the steak when you remove it from the grill is lower than the final temperature, so take the steak off the grill before it hits your target doneness. Carry-over is greater in big thick cuts, but count on at least five degrees.
If you want more of a charred flavor, then leave the steak over the coals for longer. Just be aware that as the fat melts it may ignite. Flare-ups are fine, but too much will coat your steak with a sooty mess.
I bounced this technique off a few people, including our very own Garrett, who pointed out that it really is just baking the steak. And he is correct, but what's wrong with that? There are lots of pan-searing techniques that call for finishing in the oven, although Garrett's technique puts the steak under the broiler to finish, which sounds interesting.
All of this sounds more complicated than it is. Just realize that the goal is to get a nice crust on the meat while cooking it to your preferred temperature.

posted by Open Blogger at
05:55 PM
|
Access Comments