« At least there aren't any videos this week (gaming thread)
|
Main
|
Yeah....Gun Pron [CBD] »
June 28, 2015
Food Thread: The Perfect Restaurant Menu: A Fable [CBD]
No, I don't mean this kind of issue.....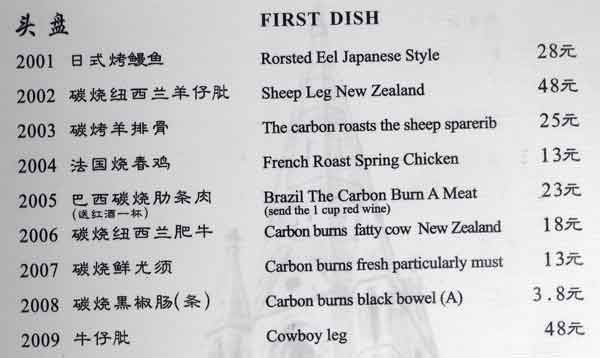 Rather, What we want when we walk into a particular restaurant, and hope to see on the menu, but rarely do.
Obviously, specialty restaurants don't count. When we want sushi, we go to sushi joints; when we want Italian-American food, we go to the local trattoria. When we want fried hobo cheeks in a cream sauce we....uh, never mind.
But wandering into the local pub or American restaurant....what do you want to see on the menu? It's a struggle to find simple classic food. Why is it that so many restaurants think that simple is bad and boring?
Here is my wish list.
1. Fried Chicken with good mashed potatoes and an interesting vegetable.
This is as simple as it gets, food costs are low, people love it, it goes well with beer.
2. French Onion Soup.
Duh. Cheap. great tasting. Easy to prepare in advance.
3. Roast Chicken.
Yes, it can be tough to make perfectly, but there are plenty of excellent recipes for roast chicken that will make most people very happy. One problem is finding good quality poultry, but come on....I'll bet that every restaurant in America is within shipping distance of a good poultry farm.
4. Steak and French Fries.
No, not a 60-day dry-aged steak for $67.50. A nice sirloin with good, crispy fries.
5. Fish and Chips.
It's easy to make, and very quick. Frying foods is usually the quickest way to cook them!
Can you tell that I crave the classic, simple dishes that mom is rumored to make best?
So....what is your #1 dish?

*******
This is a sticky bun from Balthazar Bakery, which is the baking arm of a small restaurant group here in the NY metro area. They have a few excellent (and relatively expensive) restaurants, and also a big bakery just over the river in NJ. It has a retail counter, where one can find spectacular baked goods, including this fantastic version of the common sticky bun found in every bakery on the planet.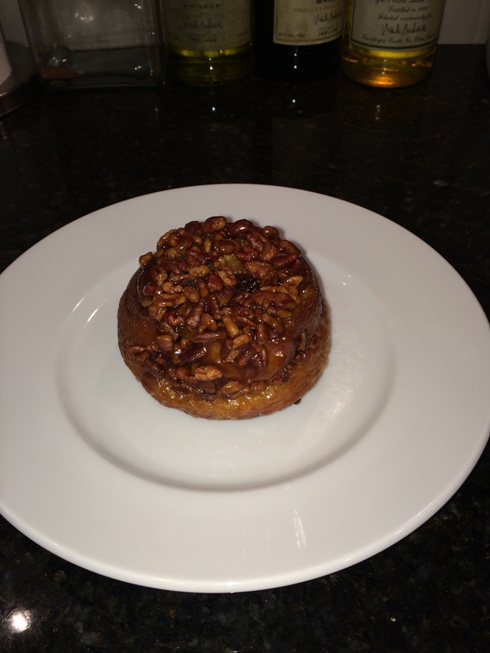 *******
Be careful of the Gell-Man Amnesia Effect:
Here's an article in Bon Apetit about common mistakes with marinades. Aside from the fact that it imparts no useful information, other than the most obvious and trite suggestions, it has some factually incorrect statements. Yes, you can use your marinade to baste the cooking meat....just make sure that you don't use it just before you remove the meat from the grill or the oven or wherever you are cooking. Bacteria are killed by heat. It's not difficult to understand that sufficient heat will kill the bacteria in the marinade!

*******
This is from "America's Test Kitchen." It's a bit busy, so read through it and get the important parts. It's really just pressing the chicken so it gets maximum contact with the hot pan. And...thyme and potatoes go really well together...
FYI...."Butterflying" is of course just spatchcocking.
Chicken Under Brick With Roasted Red Potatoes


Whole chicken, butterflied. 3lb fryers work well.

table salt and ground black pepper

2 tablespoons vegetable oil plus 1 teaspoon of vegetable oil

3 cloves garlic , minced or pressed through a garlic press (about 1 tablespoon)

1 tablespoon minced fresh thyme leaves

1/8 teaspoon red pepper flakes

2 tablespoons lemon juice from 1 lemon, plus 1 lemon cut into wedges

1 1/2 pounds Red Bliss potatoes (small), scrubbed, dried, and cut into 3/4 inch pieces

1 tablespoon minced fresh parsley leaves

1 One full brick, wrapped in foil.

1. TECHNIQUE: BUTTERFLYING A CHICKEN With the breast side down and the tail of the chicken facing you, use poultry shears to cut along the length of one side of the backbone.
With breast side still down, turn the neck end to face you, cut along the other side of the backbone and remove it.
Turn the chicken breast-side up. Open the chicken on the work surface. Use the palm of your hand to flatten the chicken, then pound it with the flat side of a mallet to a fairly even thickness. Season the chicken with salt and pepper to taste.
2. Adjust an oven rack to the lowest position and heat the oven to 450 degrees. Heat 1 teaspoon of the oil in a heavy-bottomed 12-inch ovenproof nonstick skillet over medium-high heat until it begins to smoke. Swirl the skillet to coat evenly with oil. Place the chicken, skin-side down, in the hot pan and reduce the heat to medium. Place the brick on the chicken and cook, checking every 5 minutes or so, until evenly browned, about 25 minutes. (After 20 minutes, the chicken should be fairly crisp and golden; if not, turn the heat up to medium-high and continue to cook until well browned.)
3. Meanwhile, mix the remaining 2 tablespoons oil, garlic, 11/2 teaspoons of the thyme, the pepper flakes, lemon juice, 1/2 teaspoon salt, and 1/4 teaspoon black pepper in a small bowl and set aside.
4. Using tongs, carefully transfer the chicken, skin-side up, to a clean plate. Pour off any accumulated fat in the pan and add the potatoes, sprinkling them with 1/4 teaspoon salt, 1/8 teaspoon black pepper, and the remaining 1 1/2 teaspoons thyme. Place the chicken, skin-side up, on the potatoes and brush the skin with the reserved thyme-lemon juice mixture.
5. Transfer the pan to the oven and roast until the thickest part of the breast registers 160 degrees on an instant-read thermometer, 10 to 15 minutes longer. Transfer the chicken to a cutting board and let rest 10 to 15 minutes.
6. Return the skillet with the potatoes to the oven and roast until browned and cooked through, about 10 minutes. Using a slotted spoon, transfer the potatoes to a large bowl, leaving the fat behind. Toss the potatoes with the parsley. Cut the chicken into pieces. Serve the chicken and potatoes immediately with the lemon wedges.

posted by Open Blogger at
04:00 PM
|
Access Comments