ę Let's Ban All the Things
|
Main
|
Oh, Boy: Debate Moderator Files Charges Against LaHood Campaign Manager For Assault, After the Moderator Asked Him Questions about Term Limits Ľ
June 25, 2015
Scientific Paradigm-Breaker Roils Academy:
SCIENTISTS DISCOVER THAT OUTPUT OF THE SUN COULD INFLUENCE EARTH'S HEATING AND COOLING
"I believe that non-human factors may be largely responsible for global warming and cooling. This hypothetical non-human factor would have to be very large, though -- on the order of magnitude of our own sun." -- A commenter, ages ago
In a discovery scientists are calling "shocking," it turns out that solar output, that is, how much radiative heat the sun pumps out, is, get this, somewhat variable and changes over the years, and furthermore, changes in solar output may actually have effects in places as distant as -- well, let's say the Earth, for example.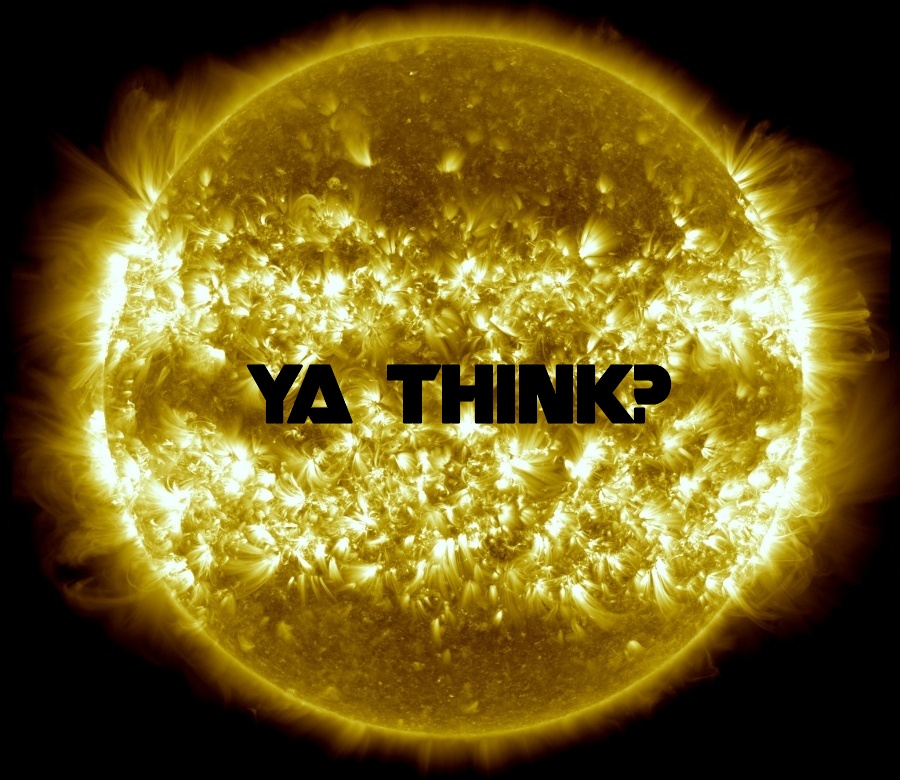 Artist's conception, courtesy of @the_Daily_Bleat

And you're not going to believe this -- it also turns out the sun is currently experiencing a lower-than-normal output of radiative heating, and that this has "offset" the expected global warming, that is, this is a pretty good excuse as to why there has been no damn global warming at all for 17 years.
Now, while the scientists say that this lower-than-usual solar output may cause the current cooling, they do not, for reasons I can't quite guess at, postulate that perhaps higher-than-usual solar output was a major factor in the 1980-1998 warming cycle.
Nope- only this lower-than-average cycle can change things.
Anyway, enough of my yammering. Let's listen to the Science Reporters. They always know exactly what the f*ck they're talking about, eh?
Global warming in northern Europe and the eastern US could be partially offset in future winters because of the sun entering a weaker cycle similar to the one which enabled frost fairs to take place on the river Thames in the 17th and 18th century, according to new research.
That was the so-called Little Ice Age.
...

The sun has been in a period of high activity for the past few decades. But scientists believe there is now as much as a 20% chance of a weaker period of activity, known as a grand solar minimum, occurring in the next 40 years.

If it's been "in a period of high activity for the past few decades," and they're now admitting solar output changes Earth's temperature (and a big A-doyyy on that one, huh?), why are they not even acknowledging the obvious here?
Answer: It's the things that are the most obviously true that have to be denied the most vigorously and emotionally.
The emperor's clothes are beautiful! Don't you agree?
"Even if you do go into Maunder minimum conditions itís not going to combat global warming, the sunís not going to save us," said lead author Sarah Ineson at the Met Office. The Maunder minimum is the name for the sunís weak period during 1645-1715, when the Thames froze solidly enough for eyewitnesses to report horse-driven carriages crossing it.

Climate change means such sights in the second half of the century would not occur, since the sunís cooling effect would only reduce manmade temperature rises in northern Europe and the eastern US by 0.4-0.8C. Such offsetting was not a "large signal", Ineson said, although the study found there would be more frosty days in those regions than there would be without the weaker solar activity.
When they talk about the Earth's temperature going up 3.2 degrees over a century -- that's a large signal.
This 0.4-0.8 degree change? Pshah. Nothing but a squirrel lookin' for a nut in my world.
The article goes on to discuss how horrible the global warming that isn't happening will ultimately, maybe, be.
Incidentally, this may be bad, as in some pretty serious cooling. (At which point they'll start talking about Global Cooling.)
Solar output is declining at the fastest rate in 9300 years, some estimate.
The past few decades have been characterized by a period of relatively high solar activity. However, the recent prolonged solar minimum and subsequent weak solar cycle 24 have led to suggestions that the grand solar maximum may be at an end. Using past variations of solar activity measured by cosmogenic isotope abundance changes, analogue forecasts for possible future solar output have been calculated. An 8% chance of a return to Maunder Minimum-like conditions within the next 40 years was estimated in 2010 (ref. 2). The decline in solar activity has continued, to the time of writing, and is faster than any other such decline in the 9,300 years covered by the cosmogenic isotope data1. If this recent rate of decline is added to the analysis, the 8% probability estimate is now raised to between 15 and 20%.
You all get out on the roads this weekend, and you all drive like banshees.
Then you come home and you start barbecueing, you barbecue everything, you even barbecue your damn old ratty sneakers you're keeping for God knows what reason (you think if you ever go crabbin', you'll need old sneakers -- but dude, when's the last time you went crabbin'? Just barbecue them already).
It is critically important you add as much precious, life-giving CO2 -- The Invisible Guardian -- to the atmosphere to counteract the effects of the lethal Maunder Minimum.

Carbon Dioxide
Your dad loves it. Your mom loves it. Your plants love it.
This country was built on two things: Freedom, and Carbon Dioxide.
Update: Senator and Leftwing Fascist (is there any other kind?) Sheldon Whitehorse calls for the DOJ to begin suing people for denying global warming.