ę A study In Contrasts [CBD}
|
Main
|
Sit! Roll Over! Beg! Good Proggy! [Weirddave] Ľ
June 20, 2015
Saturday Gardening Thread [Y-not and KT]
Greetings gardeners!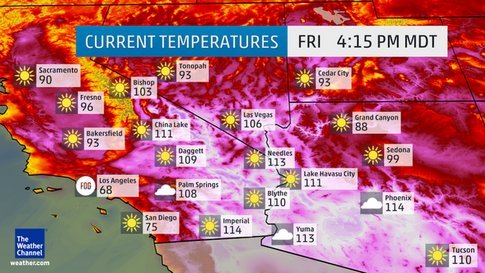 We've exceeded 100 several days already this week. HQ's very own moron, xbradtc, had it even worse...
He did still manage to do some gardening despite the heatwave. Go to his blog (which you should be reading daily, by the way) to check out the results of his hard work.
115 F is what I call "toasty."
You know what they say:

Speaking of deserts, today's thread will be a little lean, owing to scheduling conflicts of yours truly. Fortunately, KT has come through with content #LikeABoss, so without further ado, here she is:
An Indoor Tough-Guy Plant
Well, we continued to have Weather in the USA this week. Locally, we could have used some of that Texas rain. My main indoor "leisure" activity this week has been a tedious computer set-up involving a new OS. My primary outdoor activity has been helping to shepherd dozens of Cub Scouts in the afternoons and evenings, in 100 degree plus weather. The trees in the park really helped moderate temperatures, by the way. I hope the boys are on their way to becoming Men with Chests and not just tough (or not so tough) guys. Nice kids, sweet with their little brothers and sisters. I did not get much writing done, though.
We had an inquiry last week concerning Indoor Gardening. I have personally given up on indoor gardening, except for starting seeds and plants. But the recent weather tempts me to move some gardening back indoors. I know we have indoor plant enthusiasts here at Headquarters. Today I am focusing on a plant known for surviving the toughest of indoor conditions: the Cast Iron Plant.
It became known as the Cast Iron Plant by moving from forests in Asia to parlors in Victorian England, where most indoor plants had to survive low light, cool temperatures and particulate emissions from coal furnaces. I thought it might be fun to start this segment with a multi-cultural musical performance featuring a tough guy and a special cast iron instrument. Trigger warnings might be appropriate, but I am not sure what they should be.
The conductor is a Dutch violinist/entrepreneur who organized his own touring orchestra, with an emphasis on the waltzes of Johann Strauss II. But the performance featured in the video below, at a 1,400-room Imperial Hapsburg Palace in Vienna, is a Josef Strauss polka. Donít get discouraged by the opening taunts directed toward the French blacksmith in German (Austrian if you are Barak Obama). There are Italian subtitles if you wiggle your cursor near the bottom of the video.
If the featured video is too patriarchal for you, The Hoof Blog has posted several alternative performances, including one that may pique your curiosity about Transylvanian polka styles. The blog itself might be interesting to some 4-H type Morons and Moronettes.
Aspidistra elatior is an old-fashioned, tough, leathery foliage plant. It is so tough that it became known as the "Barroom Plant". Over time, it was associated with lower-middle-class life in Britain due to its ease of culture. George Orwell featured it as a symbol of working-class life in an early novel, "Keep the Aspidistra Flying". The word "Aspidistra" is also fun to say, leading to Aspidistra jokes and a comic song about The Biggest Aspidistra in the World. I can imagine a WWII-era crowd at a pub joining in the refrain after a few pints, especially on the verse about Hitler. The song inspired the name of the biggest broadcast transmitter in the world at the time, The Aspidistra, a British propaganda transmitter.
There are variegated forms of the Cast Iron Plant and a shorter spotted form known as "Milky Way", generally given the scientific name Aspidistra lurida, for some reason. The fancy forms may lose their special coloration if they are in rich potting soil. But I think the plain-leaved ones can be quite handsome in the right setting.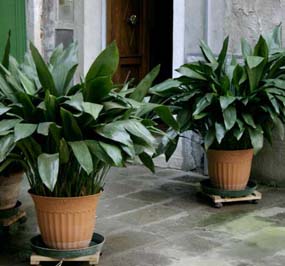 Caring for the Cast Iron Plant
Aspidistra also grows in dry shade where winter temperatures are moderate, surviving in sheltered locations up the East Coast to parts of New Jersey and in parts of the Pacific Northwest. It also tolerates heat, growing in Phoenix in full shade.
Back in our hot garden, the Tomato of the Week is Stump of the World. The other non-cherry tomatoes that have produced good fruit in the heat are all hybrids known for heat tolerance. This one is a potato-leaf heirloom, with dark pink fruit that is a little smaller and sprightlier than Brandywine. You might want to try it if the more famous Brandywine does not produce where you live.
We ran over a gopher in the driveway Thursday. Either a Garden Kitty left it on there or the Garden Kitties missed one. Either way, it is really, really dead now.
Y-not: Thanks, KT!
To close things up, this song seems appropriate:

What's happening in YOUR gardens this week?


posted by Open Blogger at
02:22 PM
|
Access Comments