« SMOD 2016 Re-Launches Campaign With Near-Miss On Earth
|
Main
|
Third Man Arrested in Mohammad Cartoon Shooting Plot »
June 16, 2015
Was Jeb!'s Florida Economy! Really as Good as He Says?
Short answer: No.
Longer answer: Nope.
Jeb's taking shots at Rick Perry:
But Jeb!'s Florida boom was in fact mostly due to the housing bubble. When the housing bubble burst, most of the Bush-era gains went with it.
Now, you can't really blame Jeb! for a housing market bubble. It's beyond the power of a governor (perhaps even a president or Fed) to restrain irrational exuberance and dangerously overleveraged speculation. No matter how many rules we impose to try to stop this from happening, it keeps on happening, usually in pretty much the same way.
But just as we can't blame Jeb! for the housing bubble, neither can we credit him for him.
A bubble is an imaginary thing, fueled by optimism, easy credit, and lots of cocaine. (I imagine; I know most of my economics from Hollywood movies about Wall Street.) The "gains" made in a bubble aren't real, and don't last.
So, as the Washington Post reports: Why should Jeb! Bush be taking credit for that which he would also refuse blame?
Jim Takersley writes:
Jeb Bush is boasting about his economic success as governor. But he owes a large amount of that success -- well more than half, at least -- to the housing bubble that popped as he was leaving office, leaving Florida in deep and prolonged recession.

Bush is officially running for president, and he's leading with his record as governor of Florida. In his kick-off speech Monday in Miami, he promised the U.S. economy would grow 4 percent per year if he is elected, creating 19 million jobs - "growth," he said, "that lifts up the middle class."

He touted his gubernatorial tenure as proof. "It's possible," he said. "It can be done. We made Florida number one in job creation and number one in small business creation. 1.3 million new jobs, 4.4 percent growth, higher family income, eight balanced budgets, and tax cuts eight years in a row."

Those stats are, indeed, something to brag about. They're also missing a huge caveat, as many Bush critics immediately noted: A significant amount of Florida's economic and job growth in the Bush era was driven by a massive run-up in housing prices -- which peaked in Bush's last year in office, then plunged the state into a worse recession than the nation as a whole.

When you account for the role of housing, Bush's economic record looks a lot more mixed. Almost all of the gains he talks up today, including three-fifths of the job creation, were wiped out in the four years after he left office, once the bubble burst.

It is "empirically inescapable" that "housing was a big part of the robust Florida economy at the time," said Stan Humphries, the chief economist at the real estate website Zillow, which analyzed the role of housing-driven spending in the state's economic boom.

A Bush campaign spokesman did not return two emails seeking comment.
Now, Florida still made some gains under Bush. But these shots he's taking at Perry seem out of place. No less an economic leading light than Matthew Yglesias* has noted that Rick Perry has the best story to tell of any GOP contender on job creation, not least of all because Rick Perry's Texas pumped out a prodigious amount of jobs -- during an economic recession/recoveryless recovery.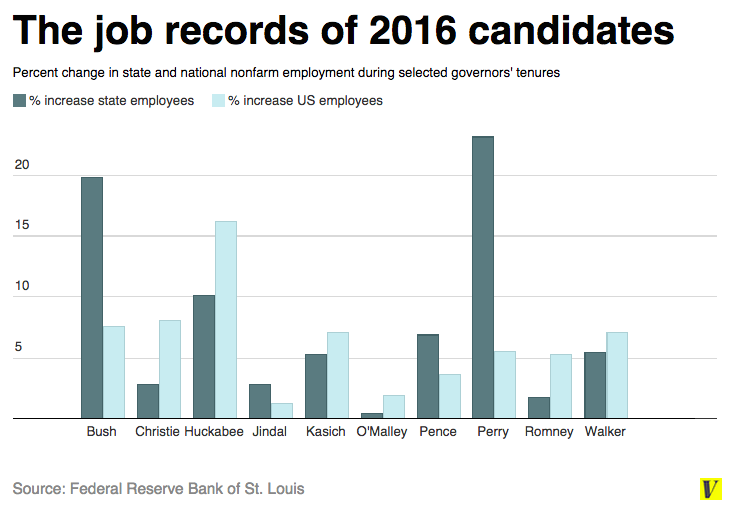 Perry's figures look even better when you consider his jobs don't seem likely to go away soon, given that they were produced during a hard spell for the US economy.
Perry's 14 years in office, by contrast [to Jeb!'s], included stints before, during, and after the Great Recession. His job creation record is the record of a big state weathering a national -- indeed, global --economic calamity and doing a pretty good job of it. The Republican field is crowded, but Perry has the opportunity to stand out with a fairly unusual story of success.
Jeb!'s record here is nothing to be ashamed of, but it's also not nearly as good as he's claiming.
* Matthew Yglesias, Bachelor of Philosophy, won a Marvel No-Prize in 1997 for noting that the explanation given of the Jackal's demise in the Amazing Spiderman #254 contradicted the explanation given in the original Jackal storyline (Amazing Spiderman 115-119).
He also once got the Final Jeopardy question right, or pretty much did. He said the answer pretty much when Alec Trebeck did. Tip of his tongue, you know.

posted by Ace at
06:45 PM
|
Access Comments