« Political Open Thread
|
Main
|
Morning Thread (6-15-2015) »
June 14, 2015
Overnight Open Thread (6-14-2015)
So Romance + Dinosaurs Fighting = Box Office Gold?
Despite lukewarm reviews and accusations of sexism Jurassic World had the highest-grossing global opening of all time with $511.8 million this weekend.
This may be the magic bullet for rom-coms: write out your Girl Meets Boy story, and toss in a dinosaur fight every single time the guys in the audience start fidgeting.  I'm not talking out of my rear on this one, by the way. I pitched my idea to my wife on the way home from the park, and she nodded vigorously at the idea.  Added a good wrinkle, too: dinosaurs that bond with individual humans, forcing the Girl and Boy to work together to. we dunno. Capture the old Alpha dinosaur, or something.

The point is: romance + dinosaur fights = gold. Gold, Jerry!
I'm surprised that Hollywood hasn't picked up on the rom-com-dino-action/rom-dino-action genre before this. Just imagine Romancing the Stone only with large mutant crocodiles or The African Queen with a cryptosaur subplot. And for an example of what you can achieve in this genre with a small budget checkout Monsters (2010) which is a mix of Before Sunrise and Cloverfield.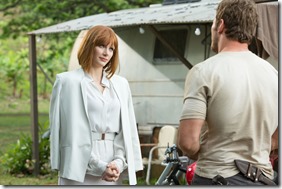 Fred Schwarz: Is It Just Me or Does Hillary Talk Like a Robot?
She truly is a terrible, awful candidate.
Seriously, she does. Not only does she pronounce the word "a" slowly and distinctly, like it's the answer to a multiple-choice question, without linking it to the words before or after, and not only does she sometimes put little pauses between each word ("it's . . . America's . . . basic . . . bargain") or in inappropriate spots ("it's the same old . . . song"), but she often puts odd stresses on words, seemingly at random: "too many of our kids never learn as they should"; "we see far more opportunities than threats"; "fight back against those who would drive us apart." Toward the end of her speech she began to seem a bit more natural, but for most of it, she sounded like a machine that had been programmed to synthesize speech and was still learning the fine points.
And her campaign re-launch was about as organized and thrilling as you'd expect from Grandma Hil:
If you've ever been to a high-school pep rally, it was almost certainly better organized than this event. First a blind college student gave a so-so rendition of "The Star-Spangled Banner," and then a "DREAMer" who recently graduated from the University of Texas came out and told her presumably inspiring life story - in Spanish. They were followed by a drum line from Brooklyn, which lent an incongruous note of excitement to the soporific proceedings. Then a decidedly mediocre rock band came out (after 15 minutes of setting up by their roadie) and did three forgettable songs whose lyrics no one could understand. The bass and guitar guys wore suits with the trouser cuffs rolled up so you could see their ankles. The band was followed by 40 minutes of silence, occasionally punctuated by random people wearing ID badges who walked onto the stage, looked around, and left. Then Bill Clinton showed up in the audience, and everyone got more excited for him than they would for Hillary. Finally, just before noon, Herself arrived. Before the event began, nobody who was standing on line had any idea when Hillary was scheduled to speak; evidently, neither did the organizers.

...Hillary's speech contained more boilerplate than a steamboat factory, but the gist of it was: "I'm down with the working class and I have lots of innovative new ideas." Yeah, that'll work. (She quoted lyrics from a Beatles song to explain that the GOP is stuck in the past.)

...Hillary also said: "No nation is better equipped than ours to meet the threat of cyber-attacks." She actually said that (and was cheered for it). Evidently she's been too busy to read the paper the last couple of days.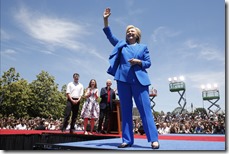 Glenn Reynolds: What if Pearl Harbor Happened and No One Noticed?
Mistress of Disaster, Jamie Gorelick, Now Defense Counsel for the Clinton Foundation Against Freedom Watch's Racketeering Lawsuit
The Clinton Foundation has also pulled in a legal big-gun, former Deputy Attorney General Jamie Gorelick, to lead its defense against the racketeering suit filed in March by Larry Klayman of Freedom Watch.

In her first filing in the case last week, Gorelick - a partner at D.C. law firm Wilmer Hale - called the claims in the lawsuit "fatuous." She argued that Klayman's grievance is derived from what he contends were incomplete responses to Freedom of Information Act requests his organization filed with the State Department. Klayman contends those responses could not have been complete because Hillary Clinton used a private email account and server for all her email and only returned some of her messages to the department at its request last year.
Her last federal litigation experience was defending Duke University against a lawsuit filed by members of the Duke lacrosse team over persecution for a non-existent rape. The university settled out of court for an undisclosed sum.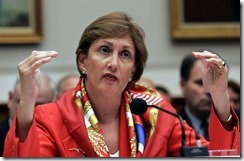 Mark Steyn on Christopher Lee: Fangs, Light Sabers and a Supernumary Papilla
As he did so often in recent years, Lee gave it his best - to the point where the sincerity of Pa Wonka's scenes with Depp seems weirdly out of place in a film whose heart is icy cold and never shakes the feeling that everyone's only doing it because someone told them it would be an easy way to make a pile of money. By now, Lee, in his mid-eighties, had more work than ever. On the Lord Of The Rings trilogy, he was the only member of the cast who'd actually known Tolkien. Yet my favorite moment in the series isn't even on camera, but in the DVD commentary. It's the scene on top of the tower where Lee's Saruman gets stabbed in the back by Grima Wormtongue, for which the director, Peter Jackson, wanted Lee to let out a scream.

The actor felt obliged to explain to Sir Peter why that would be all wrong. He proposed to let out a small groan, a quiet gasp, as the air is pushed out of his punctured lungs. The director was resistant, so Lee said: "Peter, have you ever heard the sound a man makes when he's stabbed in the back?"

"Um, no," replied Jackson.

"Well, I have," said Lee, "and I know what to do.'" And from somewhere deep in the recesses of his memory an old SOE agent conjured the sound a Nazi makes when you plunge the knife in.

A full life, on-screen and off.
Creditors have walked away from Greek negotiators but then as always Europe will delay the inevitable as long as possible, maximizing their pain and disruption.
There is a moment in Greek tragedy, called anagnorisis, where the hero, having pushed past the point of no return due to his own hubris, realizes in a moment of horror the full scope of his folly and the disaster to come. If the Greeks are lucky, something like that might be going on in Athens right now. The eurocrats have stopped talking (usually a reliable sign of the apocalypse), but there's still a way for Greece to come back to the table. Unfortunately, it would require something a lot closer to capitulation than a truly negotiated compromise at this point.

For a number of reasons, though, that might not happen. (And initial signs do not look promising.) Bunker mentality can be a strong force during a crisis-there's a reason why a government in peril (or the hero in Greek tragedy) is often the last to realize what's going on. Furthermore, woven deeply into Syriza's hard-left DNA is a series of impulses that might welcome a final split, either on monetary grounds or for the larger chance to build a Bolivarian-style socialist experiment on the Aegean.
Gawker in the Fight of its Life with Hulk Hogan Sex-Tape Suit
Between unionization and the likely payout from this lawsuit this could spell the end of Gawker. And good riddance.
Nick Denton is preparing for the biggest fight of his life. The Gawker Media founder and C.E.O.'s opponent: celebrated professional wrestler Hulk Hogan (real name: Terry Bollea), who sued Denton and Gawker in 2012 after the gossip blog published a supercut of his sex tape and refused to take it down. The case has seen numerous twists and turns over the past three years, but it's finally set to come to trial in Pinellas County, Fla.-where Hogan lives-on July 6.

Denton faces a judge and jury who are skeptical of, if not outright hostile to, his blog empire and philosophy of reporting the "story behind the story," and some inside Gawker say that they expect the company to lose the case. A loss, and an award of even a fraction of the $100 million Hogan's attorneys are seeking, could empty the company's coffers, forcing Denton to either sell the company outright or to hand much of its equity over to deep-pocketed investors.
And given their lack of assets (most patents have been sold off) this may result in liquidation this time.

Iowa Supreme Court: Yes A Man's Porch is Still His Drunken Castle
Lions, Tigers, Bears, and Hippos Roam Tbilisi, Georgia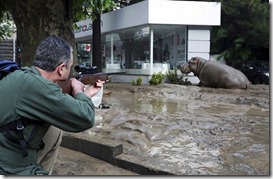 Early Morning Walks Can Be Deadly
Weekly Commenter Standings
Top 10 commenters:
1 [602 comments] 'Mike Hammer, etc., etc.' [84.53 posts/day]
2 [469 comments] 'Ricardo Kill'
3 [423 comments] 'J.J. Sefton'
4 [394 comments] 'ThunderB'
5 [361 comments] 'rickb223'
6 [353 comments] 'Lizzy '
7 [339 comments] 'Pappy O'Daniel'
8 [329 comments] 'artisanal 'ette'
9 [289 comments] 'logprof'
10 [285 comments] 'Vic  We Have No Party'
Top 10 sockpuppeteers:
1 [129 names] 'Caitlyn Jenner' [18.11 unique names/day]
2 [84 names] 'Narco Rubio'
3 [77 names] 'The Political Hat'
4 [76 names] 'Turd Ferguson'
5 [67 names] 'Mike Hammer, etc., etc.'
6 [67 names] 'Cicero (@cicero)'
7 [49 names] 'Islamic Rage Boy'
8 [41 names] 'RedMindBlueState'
9 [41 names] 'Ready For Hillary!!11!!'
10 [39 names] 'Blue Hen'
[redacted]
Where it's at - the Twitter
Tonight's post brought to you by subtle distinctions: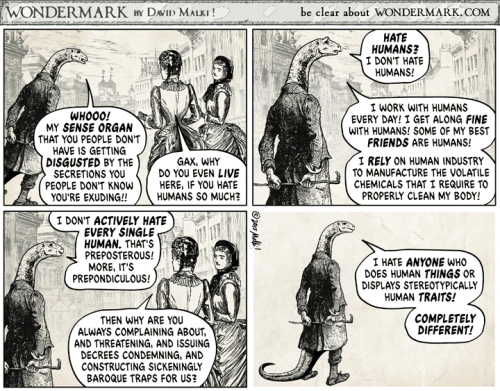 Notice: Posted by permission of AceCorp LLC. The ace is in repose - interrupt at own risk.

posted by Maetenloch at
11:01 PM
|
Access Comments