« E3! Yay I guess (Gaming thread)
|
Main
|
First AoSHQ Bookclub Meeting: The Crying of Lot 49, by Thomas Pynchon »
June 14, 2015
Sunday Food Thread: Kitchen Sink Edition [Y-not pinch-hitting for CBD]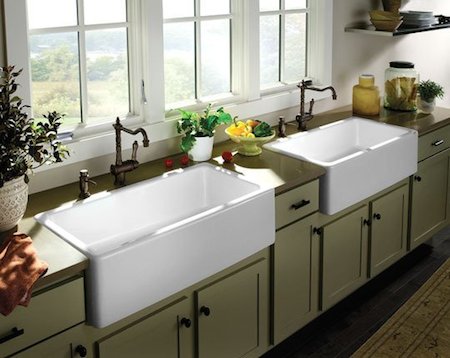 Sadly, this is not my kitchen.
Your regular Food Thread host, CBD, is "indisposed," so he asked me to fill in for him this week.
My understanding is that he was celebrating rather enthusiastically yesterday. In his honor, let's kick things off with a song:
By all reports, a good time was had by all. Early this morning, I received this footage of the aftermath:
As you can see from the video, "CharlieBrown" has been undergoing some changes. Hey, I'm not here to judge!
In any event, I'm afraid you're stuck with me today. Today's "kitchen sink" edition features an assortment of food-related links and frivolity.
First, this:
What say you, hordelings? What would you recommend to Mr. Taranto?
I've been very happy with this Calphalon pan, so much so that I scooped up a second one on a huge (think 75% off) sale several weeks ago: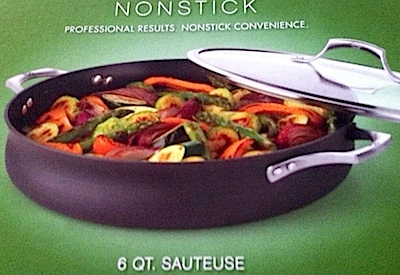 The surface is slightly rougher than many non-stick pans and the pan itself is nice and heavy (a requirement of any good pan, imho), but what I especially like about it is its size and shape. It holds six quarts, but rather than being tall and narrow, there's a nice large, flat surface. I also like that the sides of the pan are straight, rather than curving. Both the pan and cover are oven-safe, which is also a plus as I can start a meal on the stove and finish it off in the oven. It's absolutely perfect for braised meats and stews.
Speaking of non-stick surfaces, I assume you all know that the Feds are doing away with teflon. Here's an FAQ page if you want to learn more. And this blogger's page about alternatives to "traditional non-stick cookware" seems good.
While we're talking about cookware, my nephew is going to be moving out of my sister's house and setting up his first apartment soon, so that got me thinking about bare-minimum kitchen gear.
If you could only take one medium-sized box of cooking gear with you and had to rely on that to get by for a month of cooking, what would you take? Limit yourself to 10 items if you can. (Assume that you also have a place setting each of dishes, silverware, and drink ware as well as a stove and oven.)
I would take my 6-quart "sauteuse" pan, an enamel dutch oven, a semi-flexible "pancake" turner, an angled flat wooden "spoon", a large heavy kitchen towel, a set of metal mixing bowls (or one large one), a grooved wooden cutting board, a 6" knife, a knife sharpener, and a board scraper. If I could add two more things, I'd probably add a large splatter screen and a colander.
Since the Book Thread covered cheese today, I think it's only fair that our Food Thread talk a little bit about books. If you were going to give a young person just starting out one cookbook, which one would you choose?
My answer might surprise you. I know many people say old standbys like the Joy of Cooking or the Betty Crocker cookbook, and others will reference one of the cooking "bibles" like Larousse Gastronomique, when I was first starting out I relied heavily on this little gem, Keep It Simple: 30-Minute Meals from Scratch with Delicious, All-Fresh Ingredients! by Marian Burros: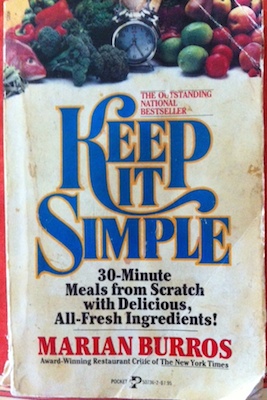 You can see how dog-eared it is after three decades -- yikes! It looks like you can still find it through Amazon (make sure to use Ace's Amazon link if you do). If I couldn't find that, I'd choose a book with a lot of 30-minute meals that use simple, cheap ingredients packed with a lot of flavor. Anything to get him away from a steady diet of fast food, microwaved meals, and pre-packaged stuff.
Also book-related, my husband has been reading me excerpts from a book called The Art of Dining: A History of Cooking and Eating by Sarah Paston-Williams which is an interesting history of cooking. He reads a lot of non-fiction, being a brainy cove. He tells me this book assumes a certain level of knowledge about British vernacular, but it's worth the effort.
Here's a brief excerpt:
It was essential that the kitchen fire was kept burning continuously, because this hearth was often the principal source of heat for the house and, before the invention of matches, relighting it with a tinder box was very difficult. At night, the ashes were drawn over the embers to bank the fire down, then a bell-shaped iron, copper or brass cover, or curfew from the French couvre-feu, was placed over the dying fire to keep it in until the next morning when it would form the basis of the new fire. The curfew was also a sensible fire precaution and was a legal requirement from Norman times. A bell was wrong at a fixed hour, telling everyone that it was time to cover their fires.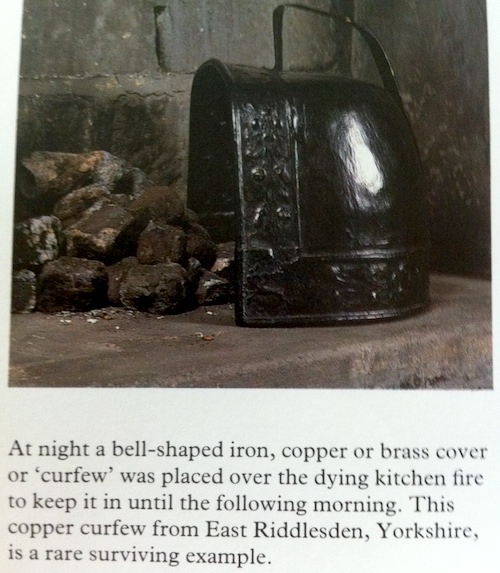 So that's the origin of the word curfew. Pretty cool.
He also recommends another non-fiction book he read earlier this year called Salt: A World History by Mark Kurlansky, particularly if you are a history buff. Here's a sample:
The Medieval Catholic Church forbade the eating of meat on religious days, and, in the seventh century, the number of those days was dramatically expanded... In all about half of the year became "lean" days, and food prohibitions during those days were strictly enforced...

On lean days sex was forbidden, and eating was to be limited to one meal. Red meat was "hot" and therefore banned because it was associated with sex. However, animals found in the water -- which included the tails but not the bodies of beaver, sea otters, porpoises, and whales -- were deemed cool, and acceptable food.
It goes on to provide a recipe for porpoise!
Speaking of history (and in keeping with the theme of today's thread), here's a little bit about the history of the kitchen sink:
Not all that long ago, people had to haul water from lakes, rivers, and wells into their homes for all their water needs: washing dishes, boiling food, and cleaning their clothes. These early homes had dishpans and dry sinks, not connected to a plumbing system, so they needed to be filled and drained manually. This is where the farmhouse sink came into play. Also known as apron sinks, or apron front sinks, these large kitchen sinks were often found in rural homes of decades past. They were originally designed for comfort; for women who spent long, long hours at the sink, ergonomics were important -- the apron front's forward orientation eliminates the countertop that causes the user to lean forward and strain more than necessary.
After doing more than our fair share of moving around, I am stunned to hear that ergonomics were once a factor in kitchen design! Badly designed sinks, in particular, are a pet peeve of mine. The folks designing kitchens and kitchen sinks so rarely get it right. And don't even get me started on today's trend toward artistically designed, but grossly impractical, bathroom sinks!
The happiest I've ever been with respect to my kitchen situation was in our first house (which we bought 16 years into our marriage), which had not only a deep double kitchen sink, but also a second smaller sink that I used for vegetable prep. To top that off, we had a third sink in the basement family room. All three sinks had garbage disposals as well, which I consider to be a near-necessity. I felt like a queen!
My current kitchen is "fancier" in terms of cabinetry and countertops, but as a cook's kitchen it's not as good. Sadly, there is only one sink. I think the people who built this house were not into serious cooking.
What's the most important feature in your kitchen?
I know CBD always provides a recipe, so here's a dish I made last week. I was inspired by some fresh peas I'd picked up at the grocery store and a few onions and dill weed from our garden. The rest was just thrown together based on what I had in the fridge.
Peas and Pasta
(Measurements are approximate for two people.)
1 TBSP unsalted butter
1/4 cup diced green onions
1 clove garlic, diced
3/4 cup mushrooms, coarsely chopped (I used fancy ones, but fresh buttons are fine)
1 cup freshly shelled peas (frozen is ok)
4 slices of thinly sliced serrano ham or other dry ham, coarsely chopped
1/4 cup white vermouth (or any dry white wine)
3/4 cup heavy cream (have more handy, if needed)
1/3 cup shredded dill havarti or other semi-soft cheese
1/4 cup finely chopped fresh dill leaves (dry probably won't work very well)
fettuccine or other pasta of your choice, enough for two people
Prepare your pasta in the usual way. Don't strain it until you are ready to use it.
In your large 6 quart sauteuse pan (SWIDT?) saute the garlic and onion in butter over medium heat until they are aromatic and clear. Add mushrooms and saute for a few minutes, adding butter if the mixture seems too dry. Add fresh peas and white vermouth, cooking for a few minutes more until most of the wine is reduced. Then add serrano ham, tossing in the pan to let the flavors mixture blend before adding the heavy cream. Watch closely. The cream mixture can bubble and reduce some, but don't leave the stove unattended. When the mixture has reached a sauce consistency that you like, add the freshly strained pasta (still damp) to the pan. Mix to coat. Test flavor. Add most of the dill and pepper to taste. (You can add salt, but I find the ham makes it salty enough.) Add the shredded cheese. Garnish with a little fresh dill.

I neglected to take a picture of this dish, but it's quite pretty with the bright green peas and dill, contrasted by the soft pink of the ham.
We served it with an inexpensive, dry sauvignon blanc.
Speaking of wine, I wondered what your go-to everyday wines are. We have two, a white and a red, that we always have on-hand. Both are under $10 a bottle.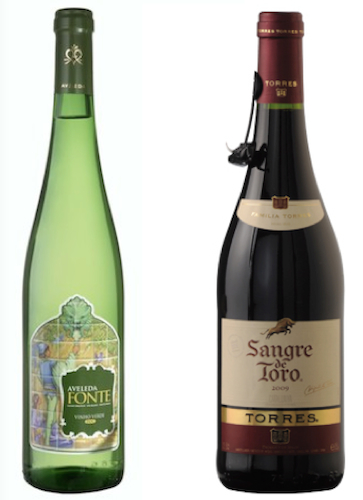 For the white, especially during the hot summer months, we love vinho verde, which is a young "green" wine that we first discovered during a trip to Portugal. Our favorite one is Aveleda Fonte. So far, although they can be a little harder to find, they are usually quite cheap. However, I fear the "discovery" of this wine by trendy people may change that. (I'm old enough to remember Santa Margherita Pinot Grigio when it was a fairly inexpensive wine, before it became popular with hipsters. Now I never touch the stuff.)
For the red, one of our favorites is Torres Sangre de Torro, which is a red blend featuring garnache grapes. Here's a description: "Deep ruby colour with a hint of ochre. Rich complex Mediterranean aromas with exuberant notes of spices and blackberries. Velvety tannins are noted on the palate with elegant flavours of licorice and small dark forest fruits." Very easy to drink and especially good with spicy, tomato-based dishes. The bottles used to come with fun, little plastic bulls attached, but they may have discontinued that practice.

What's cooking in YOUR kitchens today?

posted by Open Blogger at
04:00 PM
|
Access Comments