« TSA's Failure Rate in Detecting Bombs and Weapons? Ninety Five Percent; Chief Merely Gets Reassigned, Because Catastrophic, Stinking Failure Is Plenty Good Enough for Government Work
|
Main
|
Morning Thread (6-3-2015) »
June 02, 2015
Overnight Open Thread (6-2-2015)
There are no "new" Hillarys. There are, on occasion, new strategies to dupe people into thinking there is a new Hillary. But these Potemkin do-overs are usually as pale, thin, and see-through as the skin of an agoraphobic Goth computer programmer. The simple fact is: This is her. There is no other her. There is no other Bill, either, by the way. They are Clintons and they are eternal, Aesopian, unchanging. The tackiness and the lying, the parsing and corner-cutting, the entitlement and fakery: This is what they do. Scandals swirl around the Clintons like the cloud of dirt surrounding Pigpen not because the Clintons are the victims of their enemies, but because the Clintons are their own worst enemies. They do this to themselves. They create these problems. They are the authors of their own torment because this is who they are.

-- Jonah Goldberg in The Clintons' Favorite Way to Lie
This is not to say that Hastert is not an utterly repulsive creature and, if the allegations are true, someone who deserves every torment with which he can be afflicted. But this is the equivalent of nailing Al Capone because he forgot to put his W2 in with his tax return. It's all very clever getting somebody on technicalities, but it turns a land of law into a land of legalisms. It's entirely appropriate for public outrage to hound Hastert into obscurity, but to charge him with a pseudo-crime simply for the satisfaction of the attendant public humiliation is a use of state power I would be reluctant to encourage.

And to go back to Mr [RS] McCain's point: legal technicalities are no substitute for morality, and ultimately a subversion thereof.

-- Mark Steyn in Everybody Did It
Hillary's Accomplishments During the 8 years of the Clinton Administration.
A few highlights:
Husband Bill allowed Hillary to make recommendations for the head of the Civil Rights Commission. Lani Guanier was her selection. When a little probing led to the discovered of Ms. Guanier's radical views, her name had to be withdrawn from consideration.

Apparently a slow learner, husband Bill allowed Hillary to make some more recommendations. She chose former law partners Web Hubbel for the Justice Department, Vince Foster for the White House staff, and William Kennedy for the Treasury Department. Her selections went well: Hubbel went to prison, Foster (presumably) committed suicide, and Kennedy was forced to resign.

Many younger votes will have no knowledge of "Travelgate." Hillary wanted to award unfettered travel contracts to Clinton friend Harry Thompson - and the White House Travel Office refused to comply. She managed to have them reported to the FBI and fired. This ruined their reputations, cost them their jobs, and caused a thirty-six month investigation. Only one employee, Billy Dale was charged with a crime, and that of the enormous crime of mixing personal and White House funds. A jury acquitted him of any crime in less than two hours
Tumblr actually is not a bad platform but it seems to have become a home mostly for photo and feminist blogs.
The thing about Tumblr feminists - as with all feminists, really - is their bedrock conviction that men know nothing. All men are bad and wrong and stupid, the feminist believes, and the only things men ever do is (a) enjoy male privilege and (b) oppress women.

Fortunately, the suffering victims of oppression have Tumblr, where they can advertise to the world how pathetic they are, and how racist/heteronormative their mom is, etc., etc.

When I call attention to these pathetic creatures, I'm sometimes accused of an intent to "bully" or "harass" them. Because this is the definition of "harassment" in 2015: Quoting what people publish on their blogs.

All I did was search Tumblr for "heteronormativity," see?
Fighting Sexual Assault Across Space, Time, and....Fairy Tales
"Is it ok that the prince kisses Sleeping Beauty without her permission?"
Can you spot the rape in this image? Also the three instances of heteronormative privilege?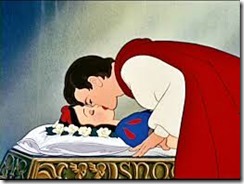 So The Iraqis Are Just Cowards Who Won't Fight?
According to Nate Hale (who I think know whereof he speaks) it was more than this that led to the fall of Ramadi. ISIS was also quite sophisticated and clever in their attacks and the Iraqis had no air support at all.
Analysts interviewed by the WSJ also gave ISIS grudging credit for masking its troop deployments to Ramidi.  In April, the terror group put out a call for fighters to move from Syria to Iraq, in preparation for the Ramidi campaign.  But instead of transiting in the familiar Toyota pick-up trucks long associated with the group, many of insurgents rode in ordinary sedans, traveling in groups of two or three.  That shift in tactics made it more difficult to identify--and target-- ISIS movements.  The deployments were also aided by the group's recent seizure of several checkpoints along the border between Iraq and Syria.

But the terrorist victory in Ramidi was more than a case of cowardice by security forces, or the introduction of new tactics and weaponry by ISIS.  Indeed, the terror army's recent success in Anbar can also be attributed to a deadly combination in Washington, D.C.: American political reticence, coupled with a steadfast refusal to use effectively employ available assets, namely airpower.

And we're not talking about a "bomb them back into the stone age" campaign plan.  The lack of air support at key moments in Ramidi was a major reason that ISIS took the city.  Consider this telling account from the WSJ report:          

By May 13 [after earlier attacks were repulsed], Islamic State had established a team of snipers closer to where Iraqi police and army units were based, said Iraqi soldiers and state media.

The next day, Islamic State launched its surge by sending a single armored bulldozer to the concrete barriers on the outskirts of the government lines. The bulldozer worked unimpeded for close to an hour, removing concrete walls, Iraqi officials said. Once the road was cleared, Islamic State fighters drove about six Vbieds, including an armored Humvee and armored dump truck, into the government complex, said Iraqi and U.S. officials.

"It was incredibly devastating, just horrific, gigantic explosions that took out entire city blocks," a senior U.S. official said.

You don't need to be Billy Mitchell to understand the potential impact of airpower at that critical moment.
The Ferguson Effect: A 20-Year Decline in Violent Crime Reversed in Six Months
Safety Tip: If A Criminal Orders You Into a Car, Do NOT Get In
Because once you do, your odds of being killed go way up. Also never get off the boat.
Rise of the Nurse Practitioners
Russia has turned Internet trolling into a profession with full time workers getting paid $700 to $1,000 a month (plus bonuses for especially effective efforts) and working in office settings rather than from home. These professional troops mainly write in Russian, to encourage pro-government opinions among Russian Internet users. The government also has an international program that pays a lot more because of the need for good foreign language skills. That means the ability to "write like a native" not only in terms of grammar but in terms of the Internet idioms unique to each language or country. The key here is not so come off as a Russian troll but a local.

Israel kicked this up a level in 2013 by establishing a special tuition assistance program for university students who agree to regularly post messages on the Internet to combat anti-Semitism and anti-Israel propaganda. While Israel is unique in being one of the few countries to admit doing this, many others have been caught at it and continue to deny any official involvement. One recent example is North Korea, which South Korea believes has at several hundred operatives who are basically full-time "Internet Apes", whose sole task is to battle anti-North Korean sentiments on South Korean Internet message areas and push the idea that North Korea is a better place to live than it actually is.
We must close this troll gap.
John Erik Wagner is a perpetual candidate now running for prime minister of Denmark and this is his campaign poster. Only on the real  thing you get to see the Full Monty. So you know what exactly your PM will be wielding I presume.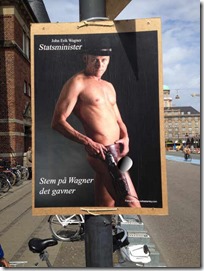 Also Danish bedtime stories for kids.
15 Things You Should Know About 'Dogs Playing Poker'
1. Dogs Playing Poker is not one painting, but a series.

Coolidge's earliest explorations of dog paintings were made for cigar boxes. Then, in 1903, the 59-year-old artist started working for the "remembrance advertising" company Brown & Bigelow. From there, he began churning out works like A Bold Bluff, Poker Sympathy, and Pinched With Four Aces, which were reproduced as posters, calendars, and prints, sometimes as parts of promotional giveaways.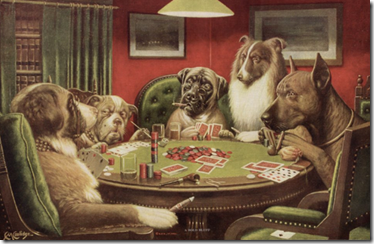 The Yahoo group is for closers only.
Teh Tweet!
Tonight's post brought to you by male gate privilege: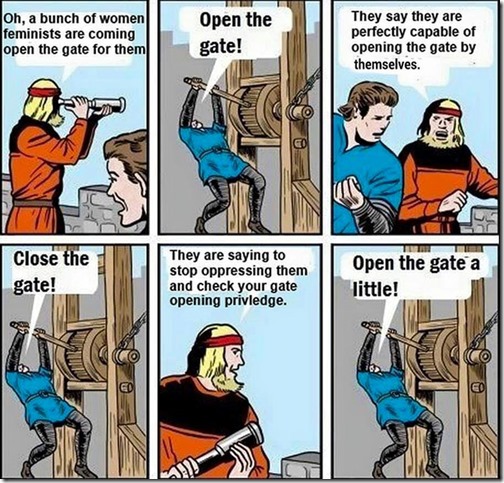 Notice: Posted by permission of AceC0rp LLC. Please e-mail overnight open thread tips to maetenloch at gmail. Otherwise send tips to Ace. Note: Do not look into laser with remaining good eye.

posted by Maetenloch at
11:05 PM
|
Access Comments