« Our first party lineup is a little sparse this year (Gaming Thread)
|
Main
|
Open Thread: Patriot Act/USA Freedom Act Debate »
May 31, 2015
Food Thread: Bourbon, and thoughts on drinking [CBD]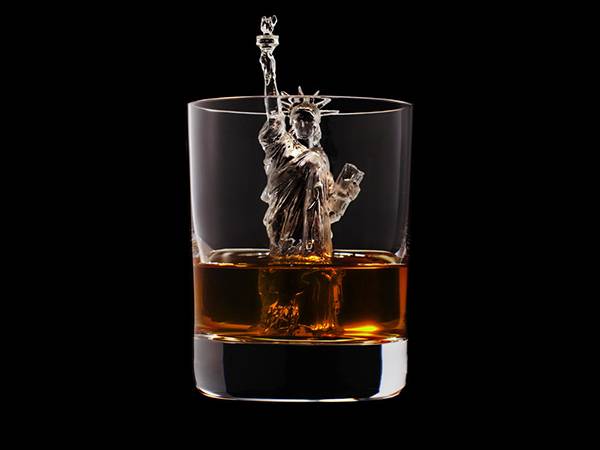 Photo courtesy of gadgetsin.com
Yesterday's
bourbon post
evolved into an informative longbow vs. crossbow discussion....but it made abundantly clear what I have thought for years: it doesn't matter what you drink, as long as you like it.
There were a fair number of comments mocking one of my favorite drinks (Laphroaig) as nothing more than bourbon with added cigarette ashes and charcoal briquettes. There were Morons in good standing who like stuff I find vile.
Worst Scotch whisky: The Laphroaig. It took two days, and I am not exaggerating, to get the taste of smoke, charred filth, and burnt tar out of my mouth. It took weeks to forget that taste as it lingered in my nightmares. -- Pastafarian
The point is that no matter what the reviewers say or the bottle proclaims, as long as you like what is inside, you are drinking the good stuff. And if that stuff is $15/1.75 liter bottle? Then you are very lucky!
******
Wow....restaurants are not perfect, even in the enlightened socialist republic of Boston!
Health code violations
are not unusual anywhere, and a careful observation of even the best and cleanest restaurants will reveal deficiencies. But we are a resilient species and can handle suboptimal food preparation. Sometimes. The trick is to be good with the big stuff. Hot stays hot, cold stays cold, and keep the prep area spotless.
******
This has nothing to do with a rapidly increasing minimum wage.
******
This is Mark Bittman's recipe from The New York Times. It is a bit pompous (mature Stilton? What an ass), but it is a nice base for easy pasta dishes that are just subtle attempts to get rid of the strongly flavored cheese in your refrigerator.
Farfalle with Gorgonzola, Arugula and Cherry Tomatoes
Summary
Buy a creamy piece of cheese that will ultimately melt into the pasta, and a variety with strong flavor: blue d'Auvergne, Maytag blue, good Roquefort or mature Stilton are all good substitutes for Gorgonzola. Because you turn the sauce into the pasta over heat, slightly undercook the pasta at first.
Ingredients



Salt and freshly ground black pepper

1 cup half-and-half, cream or milk

1 cup crumbled Gorgonzola or other good blue cheese

1 pound farfalle or other pasta

2 cups arugula trimmed of very thick stems, washed, dried and chopped

1 cup cherry or grape tomatoes, cut in half

Freshly grated Parmesan to taste, optional

Method
1. Bring a large pot of water to a boil and salt it. In a small saucepan gently warm the half-and-half and Gorgonzola just until cheese melts a bit and mixture becomes thick; chunky is O.K.
2. When water boils, cook pasta until it is just tender but not mushy. Drain and return to pot over low heat.
3. Stir in Gorgonzola sauce along with arugula, tomatoes and a healthy dose of black pepper. Stir to combine, taste and add salt, if necessary, then serve immediately, with grated Parmesan if you like.


posted by Open Blogger at
04:00 PM
|
Access Comments