« E3 Predictions (Gaming post)
|
Main
|
The Crossguard Joint »
May 10, 2015
Food Thread: A Bourbon Slushy, A couple Soft-Shells, And Thou [CBD]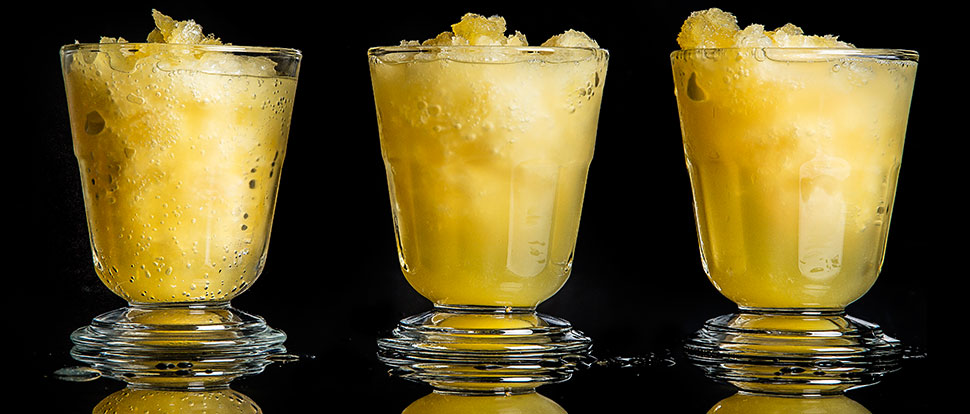 I would play with the proportions a bit, because less than one ounce of bourbon per drink sounds very sugary and not very bourbon-y. But the drink sounds like fun, especially on a hot summer day with some soft shell crabs on the grill.
And I appreciate the admonishment not to use expensive bourbon and expensive fresh juices. I am all for using the best ingredients for pretty much everything, but the subtleties of a fine sipping bourbon will be completely overwhelmed by the sugary fruit juice.
That reminds me of a drink order I overhear all too often..."Patron Margarita please." First of all, Patron is not a particularly good tequila, although it is marketed rather well. Just like Paul Mitchell hair care products, which is owned by the same guy who owns Patron. Second....use a reasonably priced tequila for margaritas, because the Cointreau and lime juice are going to mask much of the delicate flavors of a sipping tequila.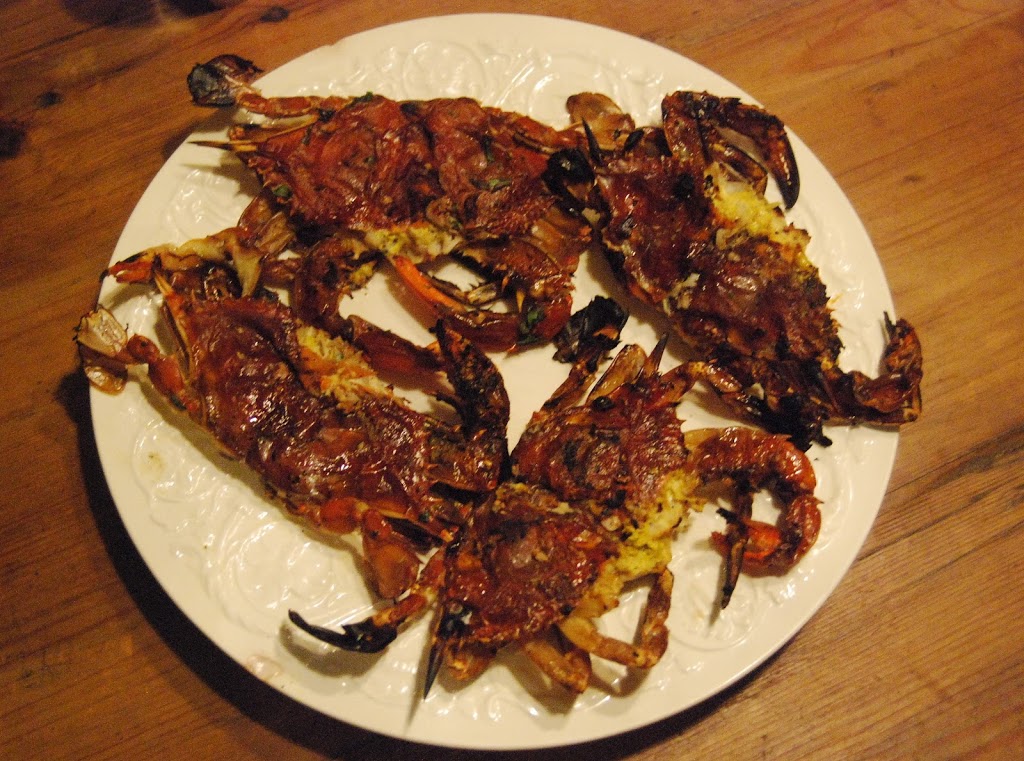 Grilled Soft Shell Crabs Photo courtesy of NY Food Journal
The photo is great, but their recipe is too busy. Soft shell crabs deserve to be tasted, not masked by garlic and herbs and spices, or horror of horrors! Old Bay!
I rub them gently with some light olive oil and then grill them just until they are marked...flip 'em, grill for a few more minutes until the tips of the legs are getting charred, and they are done. You can paint them with some drawn butter instead of the olive oil. Or in addition.
Soft-shells used to be cheap around here. There was a great fish store on 9th Ave. and 40th St. in Manhattan (just around the corner from the Lincoln Tunnel exit) that had them in season for $1 each, or $1.25 for big ones. Alas, those days are long gone (I blame Bush), but even at several dollars each, soft-shells are a great dish.
Oh....the link above leads to a wonderful example of the Gell-Mann Amnesia Effect. Platinum Membership with bonus Troll-B-Gone® for the first person to identify it.

*******
Here is
Dad Cooks Dinner's
recipe for
BBQ Beef Short Ribs on a Kettle Grill
He has a very approachable and comfortable writing style, and leaves nothing to chance. And he can cook! If you can't make one of his recipes, then there is no hope for you and you might as well just start voting Democrat.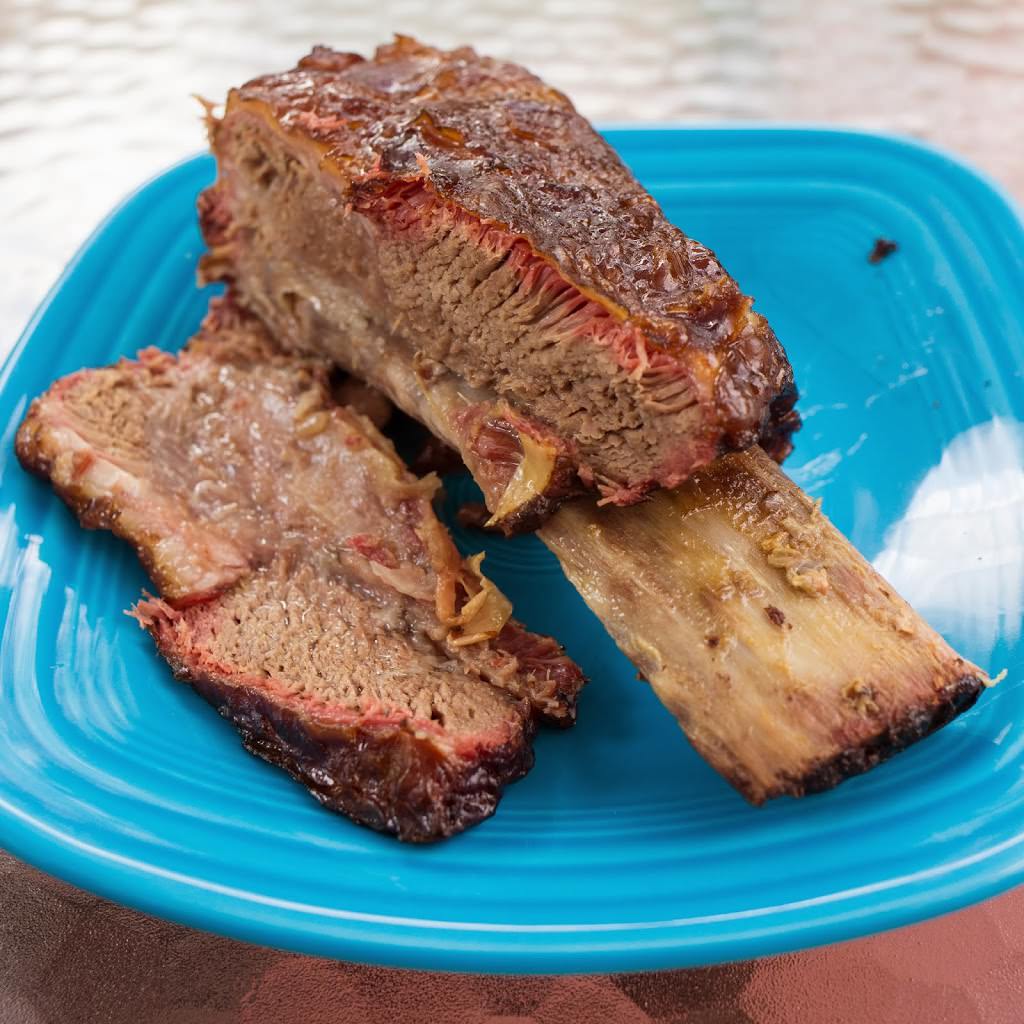 *******
This is brilliant:
Bacon-Wrapped Cinnamon Rolls
*******
I smell regulation and barriers to entry.
I don't care what the guy who makes my bourbon calls himself. If he wants to have "King of Siam" over his door then I'm perfectly content with his choice, as long as he makes good bourbon. But any regulation of the position on the part of trade associations or government will inexorably lead to rent-seeking behavior on the part of the distillers.
I am reminded of the wave of "Garagist" winemakers in France in the 1980s. Nomenclature is so tightly controlled in French winemaking that these young winemakers had to use the broadest designations for their wines...essentially, "Possibly Made From Grapes." But they had rejected the rigid hierarchy of the day and were making incredibly good wines.
So, if my favorite booze is made by the Chief Clown Paint Mixer, I'll be a happy man. I just don't want any of this guy's bourbon:

"Things have really changed in the past 15 years," Rutledge said. "I was a distiller working in the distillery. I wasn't out in the media. If someone came around and wanted tours and I was available, I would give tours. Now most of my time is spent traveling, talking to groups of people."
*******
Arugula* and Potato Salad


12 oz.Yukon Gold potatoes, 1/2"cube

2 oz. canola oil

1/2 red or yellow pepper, sliced into thin strips

4 oz. baby arugula
Dressing
1 oz. finely minced shallot (or Vidalia or similarly sweet onion)

1/2 oz. red wine vinegar

1 Tsp Dijon mustard

1 oz. Extra Virgin Olive Oil

salt and pepper to taste

Whisk the onion, vinegar and mustard together. Drizzle the olive oil into the mixture as you continue to whisk. It will emulsify, or at least mix nicely.
Mix the arugula with the sliced peppers and set aside.
In a large non-stick pan, heat the canola oil on medium-high heat.
Add the potatoes and toss until they are coated with the oil. Make sure that the potatoes are in a single layer as you cook them. Toss occasionally until the cubes are nicely browned on all sides.
Dump immediately into the salad, pour the dressing over everything, toss and serve.
* Shut up.

posted by Open Blogger at
04:00 PM
|
Access Comments