« Open Thread
|
Main
|
Stompable ONT Slightly Stale EMT- Limey Love Edition [krakatoa] »
May 08, 2015
Overnight Open Thread (5/8/15) [tmi3rd]
A good Friday evening to you, Morons and Moronettes, as you've got ONE MORE NIGHT with the show being run from the AoSHQ Science & Weather Desk. Maetenloch returns shortly.

I'm tmi3rd, and I've got quite a bit for you this evening, so let's dive in.

More below the fold...
Active Weather Underway Across The Great Plains

If you're in the Texas panhandle, Oklahoma, or Kansas, and areas just east of there, you're probably already aware that we've got a slow-moving system draped across your area and that there have been some pretty impressive thunderstorms and a few tornadoes in the past couple of days.

This will persist at least through tomorrow, and Sunday before things begin to calm down some (the system will exit into the Mississippi River valley at that point, and conditions will change). That doesn't mean an all-day event necessarily, but you do want to stay alert and informed for the next couple of days.

Here's a picture as of 6 PM EDT on Friday of the outlook...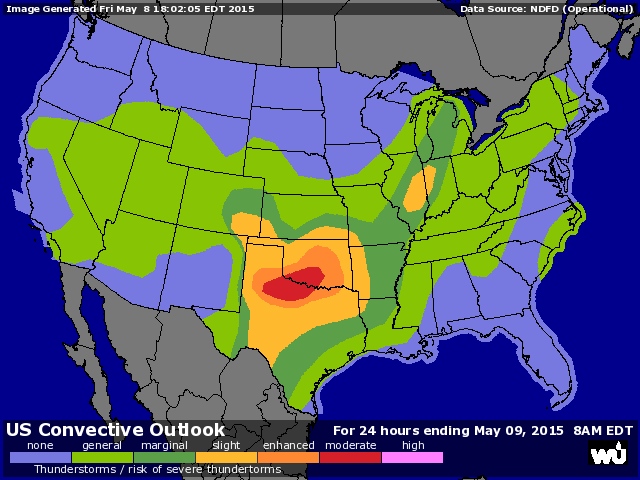 Where's it going to happen, specifically? Hell if I know. I'm just married to meteorology, and even Mrs. tmi3rd is of the attitude "just let them know to stay alert and aware", as this system hasn't behaved AT ALL.

Because I have to mention it...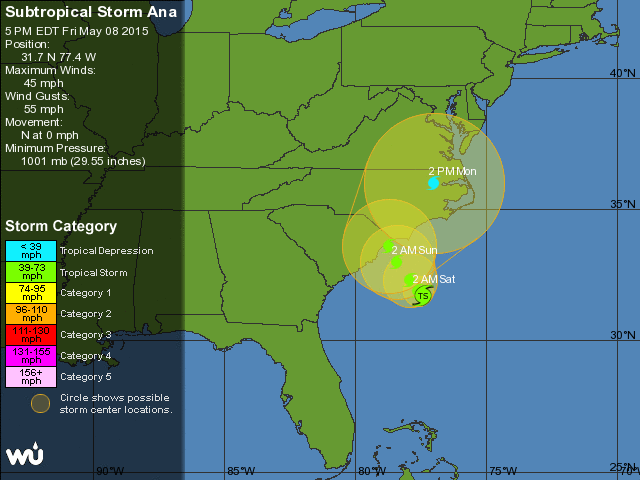 From the "relative nothingburger" department, I'm obligated to mention Subtropical Storm Ana, which will likely make landfall around the SC/NC border on Sunday sometime. Winds are a mighty (ahem) 45 mph sustained, and it's currently sitting stationary just off the coast of South Carolina while it waits for another trough to move in and ship it off to the north and ultimately off to the east.

It's sitting over comparatively warm waters, so it could intensify a bit, but the air around it is pretty dry, so it won't be much. It could warm up its tops a bit and satisfy the criteria for being a full tropical storm, but that's a distinction that won't matter much in terms of impacts when it makes landfall.

Short advice: don't go surfing or swimming for the next day or two up and down the SC/NC coastline, and don't drive into high water.

Summary of watches and warnings in effect: A Tropical Storm Warning is in effect for...

* South Santee River South Carolina to Cape Lookout

A tropical storm watch is in effect for...
* Edisto Beach South Carolina to south of South Santee River

A Tropical Storm Warning means that tropical storm conditions are
expected somewhere within the warning area within 36 hours.

A tropical storm watch means that tropical storm conditions are
possible within the watch area, in this case within 24-36 hours.

Interests elsewhere in eastern North Carolina should monitor the
progress of Ana.

For storm information specific to your area, including possible
inland watches and warnings, please monitor products issued by your
local National Weather Service forecast office.
I was home from class (getting ready for finals during my undergrad), and preparing to watch the Quebec Nordiques play Drew M.'s New York Rangers in the Stanley Cup playoffs when the rain started.

As the rain got going, it was remarkably heavy. I walked outside to take a look, and from the front porch, water was coming off the roof in a sheet like it was being continuously poured out of a pan. When I held my hand under the falling rain, it was falling so hard that the water striking my hand was painful.

By midnight, in the highest-lying areas of New Orleans, water was up to knee-height on our ground floor, and over 14,000 homes and apartments were flooded in Jefferson Parish (where I lived) alone. The final numbers of residences damaged was over 56,000. At my parents' house in the New Orleans area, we recorded twenty-four inches of rain in eight hours.

Six people died, and it was the worst flooding event across the metro New Orleans area in my lifetime that wasn't caused by a collapsing levee.

Ebola is found in doctor's eye months after virus left his blood

So, the short end of this is that the guy still has active virus in his eye (which has screwed up his vision pretty well), although he's no longer systemically infected.

Now, before everyone freaks out, he's pointedly NOT able to transmit the disease unless someone spills the fluid out of his eyeball. Here's a thumbnail description of how this happens...

Much of the eye isn't connected directly to the circulatory system (blood and lymph). As a result, if a virus gets into your eye, immune cells can't get to it. Conversely, it can't go anywhere, either. There's not much for Ebola to attack in the eye, so it doesn't really do a whole hell of a lot other than hang out and twiddle its nonexistent thumbs, waiting for something to go after.

There's a substance in your tears called lysozyme that is hugely toxic to pretty much every microbe out there, and any virus that would make its way to the surface would get wiped out on contact with your tears.

The remaining questions with this guy are 1) how the virus got into his eye in the first place, and 2) what you go after it with within the globe of the eye itself. My knowledge base in that regard is limited to emergency medicine (treating eye trauma before we get them to an ophthalmologist) and ear/nose/throat stuff, so all other questions need to be referred to eye doctors or immunologists.

With that in mind, I give you a puppy loving on a kitten...

That should take care of any puppy/kitten quotas I missed. You may now commence squeeing.

So this is what Ace was up to ten years ago yesterday. I was finishing up my two-year artist residency at Shreveport Opera, and marveling at the wonderful people known as the Moron Nation... many of whom have become my close and treasured friends since.

Tonight's musical selection comes to you courtesy of Damn Dirty Rino, who reminded me about this a few months back. Blame him for this...

This dood is as hawdcaw as twelve ducklings curb-stomping the Snuggle Bear, yo.

RUSSELL BRAND has resigned from politics after admitting that he got swept up in the General Election and thought he could influence the outcome.

Speaking in a short video on his YouTube channel today, the comedian said he expected the next five years to be full of "meanness" after the Conservatives were elected.

The 39-year-old revealed how he'd accidentally "become a de facto spokesperson for people who don't vote" after he said he didn't participate in elections during an interview with Jeremy Paxman.

The Forgetting Sarah Marshall star started the five minute-long clip by saying: "I'd like to thank my colleagues in the Trews party for all their hard work, I will be stepping down as head…

"No, no because I'm just a comedian, I'm not electable or nothing. I'm just a bloke with a laptop with a bit mouth."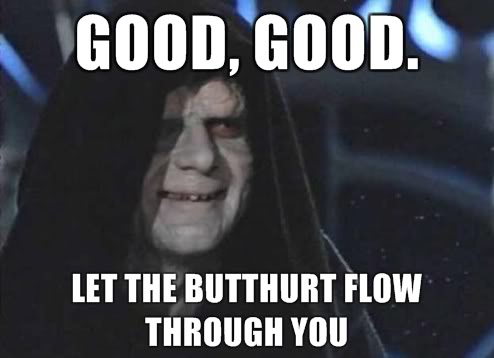 Thank God. Maybe this schmuck will disappear a bit more now.

I leave you with one of Andy Breitbart's favorite songs in the world...

Have a great night- stay safe!

-tmi3rd

posted by Open Blogger at
10:07 PM
|
Access Comments