« Something Uplifting for a Sunday Afternoon... Literally! [Y-not]
|
Main
|
Open Thread - We <3 Obamacare Edition [Weirddave] »
May 03, 2015
Food Thread: Cheese, Butter, Irritating Little Birds....And More! [CBD]
Salers, Bleu des Causses, Roquefort and Gaperon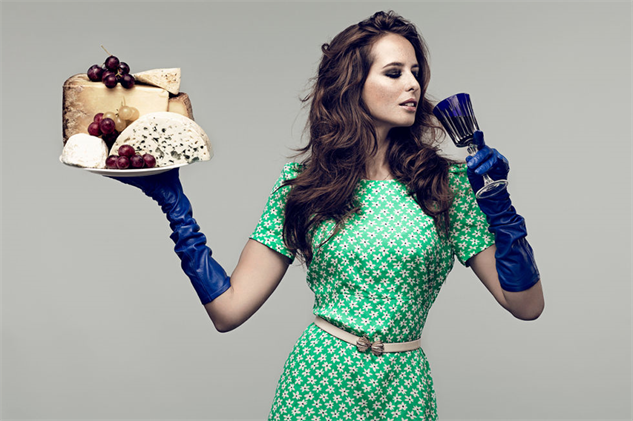 From: French Ladies with French Cheeses
Compound butters are fantastic carriers of flavor, mostly because butter absorbs pretty much anything around it. Leave a pat of butter uncovered in the refrigerator for a few days if you don't believe me.
They can be used as a simple garnish for a steak or a burger, melting onto the meat and perfuming it with whatever herbs and spices you feel like. But I think the best use is under the skin of a simple roast chicken. It's a bit messy, and you have to be careful not to tear the skin, but the end result is spectacular. Just make a compound butter (thyme, parsley, lemon zest, salt and pepper is a good start) and gently spread it underneath the skin of the best chicken you can find. With a bit of work and patience you should be able to get it underneath not just the breasts, but also the thighs and legs.
If this works for you, try some finely chopped chipotle pepper butter. It's spicy, but fantastic, and the potatoes will turn out a gorgeous reddish color.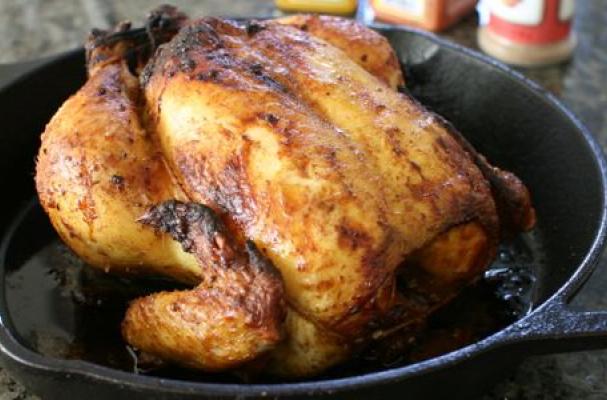 In case you are worried that you don't have enough fat in your diet, you can put thick-sliced potatoes in the bottom of the roasting pan (I use a cast iron skillet). That way you don't miss a single drop of the butter and chicken fat, and you get really, really good roasted potatoes!

******
I was poking around for interesting things to do with quail, and found this
roast quail recipe.
It's actually a primer on wild quail, and worth reading even if you don't hunt.
But....I still like butterflying the quail and cooking them in a hot pan. It's messier, but the great crispy, crunchy skin paired with the barely cooked meat is an experience. And it is really fast (just like wild quail).
And....lest you think I am a successful quail hunter....no, I am an extremely bad quail hunter. I can count the number of quail I have bagged on the fingers of one foot. Please do not ask me how many shells I have expended in said hunts.

******
Here is a post from Michael Ruhlman's blog
that caught my eye because of this quotation:
"...everything we eat is associated with both higher and lower rates of cancer."
[trigger warning: the link is to a NY Times article. It's a really good article, but still.....]
Maybe in 200 generations we will figure out that eating a varied diet and staying relatively fit is the best advice. Maybe....but I doubt it.

******
Lemon bars are usually too sweet and gloppy. These aren't. They are, not surprisingly, from The Barefoot Contessa. Ina Garten may be an irritating touchy-feely lefty, but she can cook, and thankfully isn't shy about using butter.
LEMON BARS
For the crust:



1/2 pound unsalted butter, at room temperature

1/2 cup granulated sugar

2 cups flour

1/8 teaspoon kosher salt

For the filling:


6 extra-large eggs at room temperature

3 cups granulated sugar

2 tablespoons grated lemon zest (4 to 6 lemons)

1 cup freshly squeezed lemon juice

1 cup flour

Confectioners' sugar, for dusting

Directions
Preheat the oven to 350 degrees F.
For the crust, cream the butter and sugar until light in the bowl of an electric mixer fitted with the paddle attachment.
Combine the flour and salt and, with the mixer on low, add to the butter until just mixed.
Dump the dough onto a well-floured board and gather into a ball.
Flatten the dough with floured hands and press it into a 9 by 13 by 2-inch baking sheet, building up a 1/2-inch edge on all sides.
Chill.
Bake the crust for 15 to 20 minutes, until very lightly browned.
Let cool on a wire rack. Leave the oven on.
For the filling, whisk together the eggs, sugar, lemon zest, lemon juice, and flour.
Pour over the crust and bake for 30 to 35 minutes, until the filling is set.
Let cool to room temperature.
Cut into triangles and dust with confectioners' sugar.

posted by Open Blogger at
04:00 PM
|
Access Comments