« REUNION OF GIANTS: The Only Two Avro Lancasters [CBD]
|
Main
|
Who Will Stand? [OregonMuse] »
April 25, 2015
Saturday Gardening Thread - Working Without a Net Edition [Y-not, KT, and Weirddave]
The gardening thread's captain my captain, Y-not, is unavailable today. She sent me an email explaining that she would be "tied up" all day, so she either has more pressing commitments or an urge to experiment with BDSM. Either way, she's not here, so it's up to KT and I. So, whostaa got KT?
Hydrangeas
We love getting suggestions for topics here at the Saturday Gardening Thread. And hydrangeas are a big topic. In anticipation of Weirddave's photos from Mount Vernon, I am limiting my segment today to a discussion of the hydrangea species most commonly sold by florists. Many people want to plant hydrangeas received as gifts out in their gardens. This may or may not be a good idea. More on other hydrangea species later.
In the wild, hydrangea blooms typically feature large clusters of small fertile florets. These become little fruits that sometimes resemble ancient water jars. This is the source of the name "Hydrangea". Larger, showier sterile florets often surround the fertile florets. Modern "lace cap" hydrangeas sometimes resemble these wild forms, and sometimes they don't.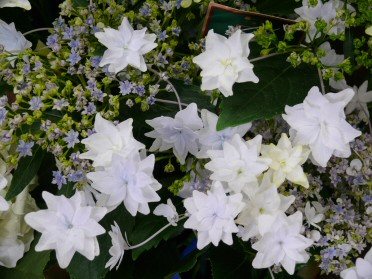 Hydrangea serrata Shooting Star

"Mophead" or "Hortensia" hydrangeas feature only sterile florets (or just a few fertile florets among the sterile ones). The sterile florets sometimes last for months on the plant, often changing color over time. Sometimes modern mopheads start out multi-colored.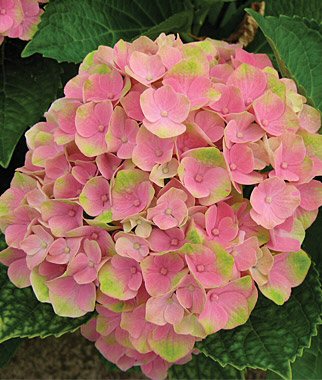 Hydrangea macrophylla Everlasting Amythest
Some worries about toxicity were also expressed in the comments last week. Hydrangeas are moderately toxic (at least when raw) because they contain cyanogenic glycosides. These compounds release cyanide. There are many edible plants that contain compounds like these in small amounts.
I think the chances of a dog or cat consuming a lethal amount of a hydrangea plant are slim. People have used one species of hydrangea medicinally and smoked leaves of another species as an intoxicant. Tea is made from leaves of the second species below. But I wouldn't put hydrangea flowers or leaves in a salad.
Hydrangea macrophylla
A painting by the famous botanical illustrator Pierre-Joseph Redouté, a contemporary of George Washington, demonstrates that "mophead" hydrangeas existed when the United States was just a new country. They are still the most popular type of hydrangea today.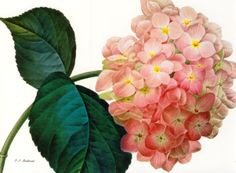 From the Annual Report of the Mount Vernon Ladies' Association of the Union, 1890. Page 31:
The garden and grounds show the faithful care of the gardener. Eglantine, pinks, sweet lilies and roses bloom resplendent and fragrant in their quaint, stiff parterres. Some of these plants are rare as well as historic; notably, the "Martha Washington rose," named for Mrs. Washington - a sweet-scented pink rose - also a white hydrangea, a rare variety, hardy even when transplanted to New England, which was brought from Napoleon's grave at St. Helena by Lafayette, and by him planted at Mount Vernon on his last visit there in 1824."
Think of the Ladies' Association when you see Weirddave's photos. They maintained Mount Vernon and recovered much of its history for visitors today.
If you are looking for a garden-related destination, the 8th annual Penny McHenry Hydrangea Festival will be held in Douglas County, Georgia from June 6 - 7 this year. Hydrangeas are not the only focus of the festival. Sounds like fun. The theme is French this year. "Ooh, La, La!"
Until this week, I did not know that hydrangeas had surpassed the popularity of azaleas in the South. According to Southern Living, Penny McHenry, an amateur enthusiast from Georgia, "did more to popularize these plants in the South than any other person." She gave a lot of her plants away. Her method for layering hydrangeas to produce new plants is outlined here. http://www.southernliving.com/home-garden/gardens/hydrangeas-share She introduced one of the first H. macrophylla cultivars to bloom on both new and old wood, "Penny Mac".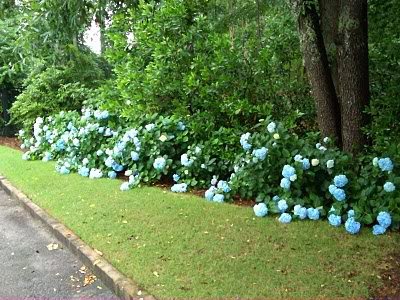 Penny Mac at the Aldridge Botanical Gardens
Bigleaf Hydrangeas are generally well adapted to humid areas with moderate winters. They need so little winter chilling that they can even be grown at higher elevations in Hawaii. They do not appreciate the conditions in the desert southwest. The hotter the climate, the more shade they appreciate and the more water they need. Many are cold hardy through Zone 6 or even 5 with heavy protection. The cultivars which bloom on both old and new wood can bloom on new wood even if the tops freeze in winter.
Even where the top growth survives the winter, the plants can look pretty ratty in the spring. It is important not to prune away your flower buds. See a pruning demonstration for areas where the top growth of H. macrophylla survives the winter here. Brief instructions for changing hydrangea color are also given.
Yes, you can change the color of blue, pink or red hydrangeas. Flower color is affected by soil pH, aluminum content and iron content. These plants concentrate aluminum in their flowers, and aluminum compounds are apparently largely responsible for flower color. It is easiest to change the color of container plants. This process can take from several months to two years. I think it is best to start with the color of flower you aim to end up with, as colors are often murky during the transition period. In my area, pink or red would be most practical due to our alkaline soil. Naturally, I would prefer blue ones. Though there are some beautiful pale pink cultivars.
Hydrangea serrata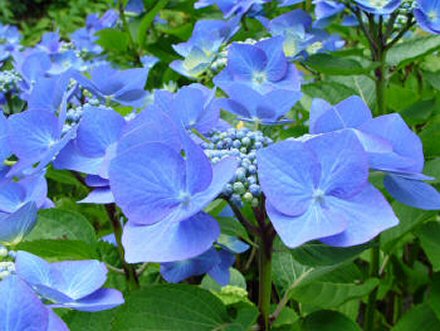 This species of hydrangea comes from the mountainous regions of Japan and Korea. Some botanists consider it to be a subspecies of H. macrophylla. It has smaller leaves and flowers on a smaller plant and is generally hardier to cold. Enthusiasts have identified several beautiful hardy cultivars. Some have colored foliage in the fall. Common names include "Mountain Hydrangea" and "Tea of Heaven".
The leaves of mountain hydrangea contain phyllodulcin, a natural sweetener, and are used to make regionally popular herbal teas. . . Amacha tea is used in Japan in the celebration Buddha's birth.
Below, Japanese children dipping "Tea of Heaven" to pour on a statue of young Buddha.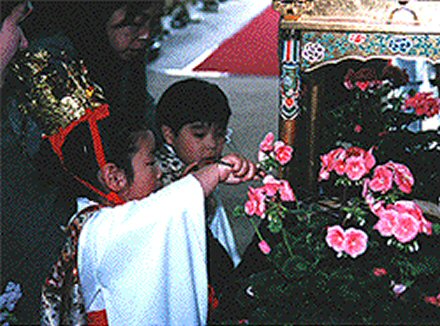 "In the past, people thought sweet tea had magical powers. People would write a spell in ink made of amacha and hang it upside-down outside the gate in the belief that the spell would keep away snakes and other unwanted animals and insects."
A 2010 story about the birthday celebration for Buddha in Ann Arbor (Michigan, not Japan) included several references to plants. It featured a sweet tea shower for Buddha administered by a little blond boy. It ended with the lighting of a large lotus lantern dedicated to the earth. The accompanying chant did not sound to me like Buddha wrote it. ". . Kale to the victors, for the earth belongs to our children. . " ?
Miscellaneous garden-related information
One reason many people, particularly children, don't like kale may be that they can taste the calcium in high-calcium veggies. http://www.livescience.com/17782-sixth-taste-flavors.html
JTB's daffodils were budding last week. Here's the famous poem about daffodils by William Wordsworth.
OK, thank you for that KT. Now, here's some pictures I took at Mount Vernon with an old Brownie Instamatic:
Mount Vernon by Weirddave
As I mentioned last week, Gingy took me to Mount Vernon for my birthday, and I took lots of pictures of the grounds. This is going to be more or less simply a photo essay of my visit. In order to keep oriented however, check out this interactive map of the plantation. The pictures are from the Upper and Lower Gardens.
Upper Garden.
You approach the mansion from the Bowling Green Gate: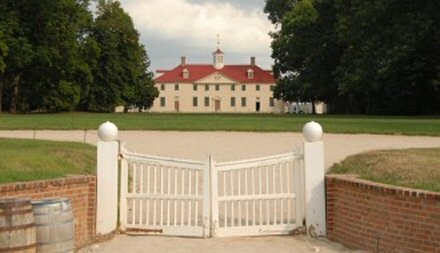 To the left is the Upper Garden, and to the right is the Lower. The Upper Garden was the formal garden, with flowers and sculpted hedges. This is where visitors would have been entertained, and beautiful days enjoyed. It also contains Washington's greenhouse, which was heated by a series of ducts built into the stone floor. These ducts were fed by a large fire behind the greenhouse which was kept going 24/7 during cold months.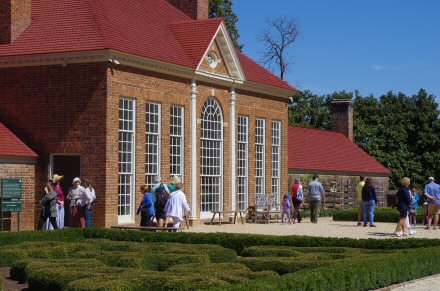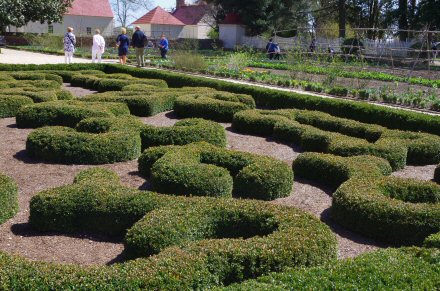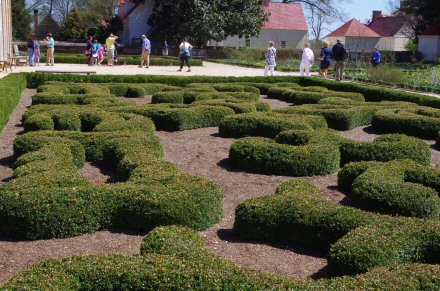 Second week in April was a little early to get the full effect of blooming flowers, but there were some hint as to what was to come. I imagine they're beautiful this week.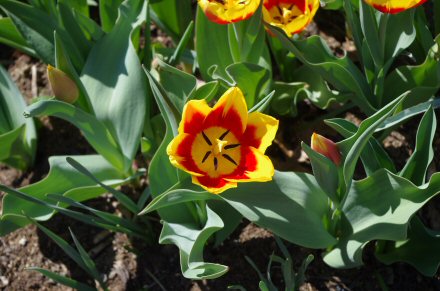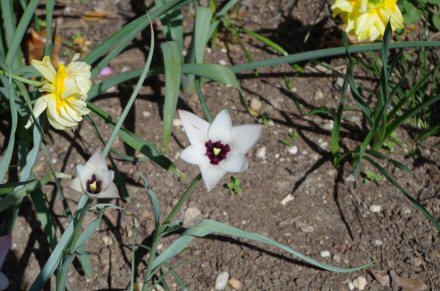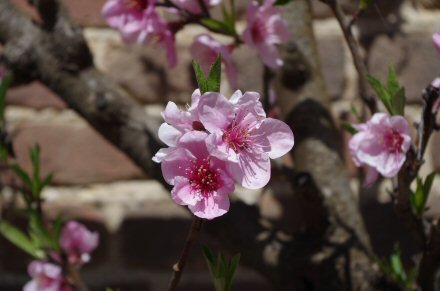 Does anyone know what these flowers are? They are so pretty.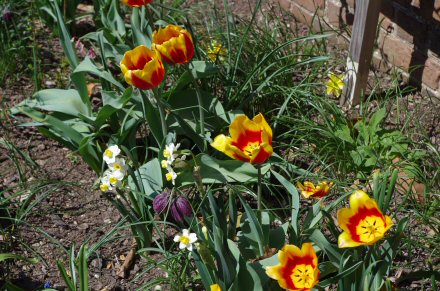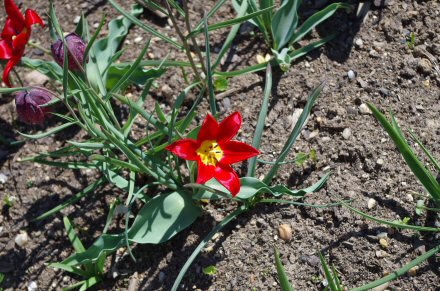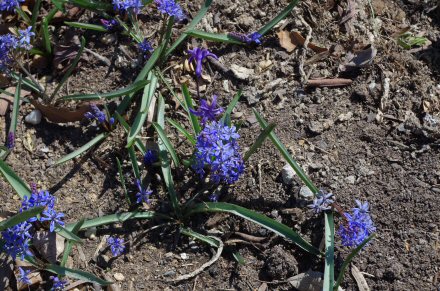 Lower Gardens
These gardens are to your right as you approach the house from the Bowling Green Gate. These are the working gardens, vegetable and fruit gardens, that kept the mansion fed. I just love the way that they are laid out, with paths of grass delineating each section of the garden, providing access and separation. If I'm ever in a position to garden on a large scale, I'm going to model my garden on this one.
I also appreciate how well utilized the space is here. Fruit trees are rigidly pruned to form the borders between the paths and the individual gardens, and also trained onto trellises around the perimeter. The whole thing is a marvel of efficient uses of available space.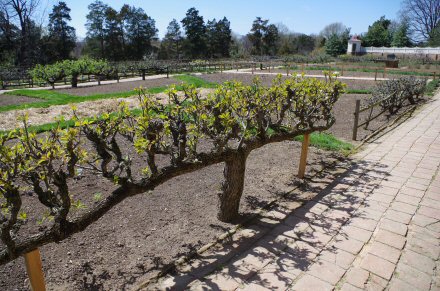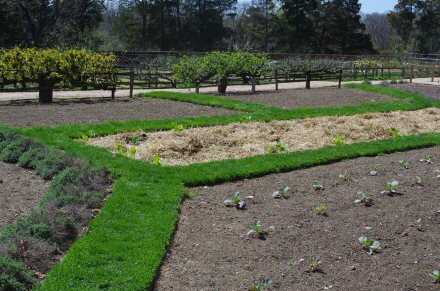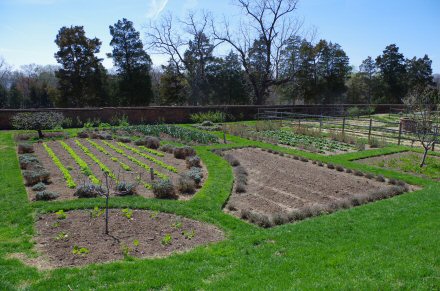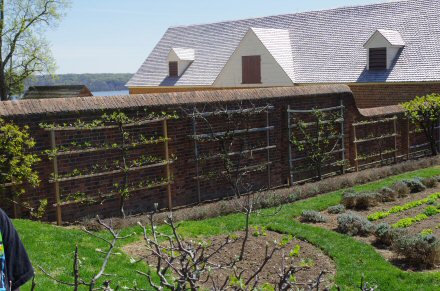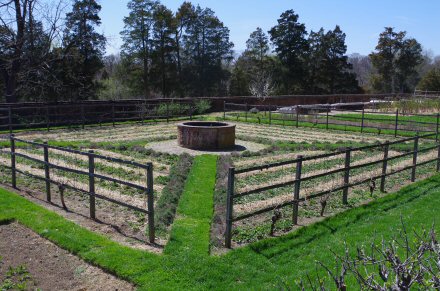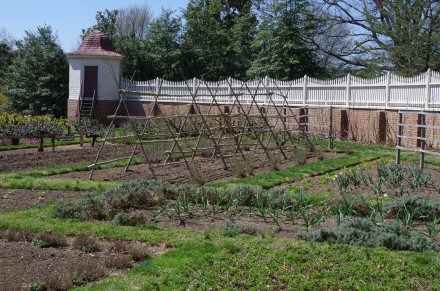 There are other areas of the grounds that are interesting, such as The Pioneer Farm and the Fruit Garden & Nursery, but these fall more under the category of "farm" rather than "garden", so I'm omitting them. Really, the entire place is worth a trip, why don't you just go see for yourself?
And that's it for this edition of the garden thread. Next week, Y-not should be back, so hopefully it won't suck so badly. Until then, have a great week!
What's going on in your gardens this week?

posted by Open Blogger at
02:34 PM
|
Access Comments