« EMT 4/11/15 - Phoned in edition. [krakatoa]
|
Main
|
Fundamental Concepts – Me vs We [Weirddave] »
April 11, 2015
Saturday Politics Thread: Political Potpourri [Y-not]
I came down with a bad case of Spring Fever last weekend and have not yet recovered from it, frankly. (I blame Halliburton. And Booosh.) So today's thread will be a political potpourri.
CANDIDATE ASSESSMENT TOOL
From Newsmax: Crowdpac Ranks 2016 Hopefuls on a Left-Right Scale
You may already know about this outfit, but it was new to me. Founded by Steve Hilton, who was a former senior advisor to UK Prime Minister David Cameron, it features a slick user interface that allows you to quickly investigate (and compare) the records and campaigns of politicians. Interestingly, it also includes campaign donation "buttons." I'm not sure I've ever seen that in one of these "non-partisan" politician assessment tools before.
Using a combination of voting records, position statements, and campaign donation data, Crowdpac ranked two dozen 2016 Presidential hopefuls on an ideological scale, from 10L (the most liberal) to 10C (the most conservative). Using their method, the two most liberal politicians are Bernie Sanders (8.3L) and Elizabeth Warren (8.2L). The two most conservative politicians are Senator Rand Paul (10+C) and Senator Ted Cruz (9.7C).
To help with legibility, I've reproduced the left and right sides of their political spectrum chart separately below: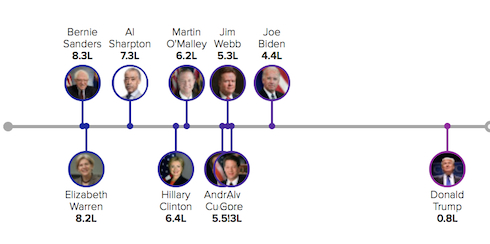 According to Crowdpac, of the Democrat 2016 Presidential hopefuls, Bernie Sanders is the most liberal (8.3L) and Joe Biden (4.4L) is the least liberal. Hillary Clinton received an ideology score of 6.4L.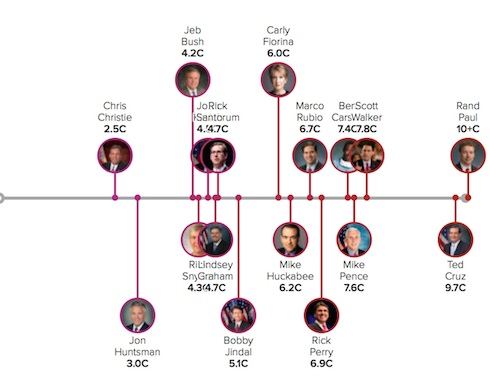 According to Crowdpac, of the Republican 2016 Presidential hopefuls, Rand Paul is the most conservative and Chris Christie is the least conservative (2.5C). Presumptive nominee Jeb Bush received an ideology score of 4.2C
(To see the full interactive graphic, follow this link if you want to play around with it.)
I fooled around with their candidate assessment tools, including this ideological scale, for a bit. I thought they were easy to use, but I think I detected a bias. For one thing, you'll note that none of the Democrats Crowdpac considers 2016 prospects (even long shots like Bernie Sanders) are considered to be as ideologically extreme as Rand Paul (whom they rate as an off the chart right-winger) and Ted Cruz are on the Right. That's pretty silly. Bernie Sanders is a self-described Socialist, for pity's sake.
You can also look for candidates who are closest to you on given issues. For shits and giggles, I checked immigration. (I'm what you call a "hard-liner" on this issue, so I scored myself as a 9.5, just short of putting gator-filled moats on the border.) Imagine my surprise when Marco Rubio popped up as being a hard-liner, too!
Finally, when I began burrowing into the candidate profiles, I got a distinct whiff of ideological framing. It was particularly apparent in the Presidential Qualities section (follow the link here, then go to the Presidential Qualities tab) which they say combines "ratings on effectiveness, trustworthiness, and grasp on national security". Here's how they describe their methodology:
YouGov Global conducted a survey for Crowdpac from December 15-17 about the qualities of potential Presidential candidates. The survey was completed by a group of people who are highly engaged in the political process and are evenly spread across the political spectrum ("Insiders"), and by active followers of Crowdpac ("Crowdpac users"). Respondents rated candidates on three criteria - working with both parties to get things done, trustworthiness, and capability on national security/foreign affairs - to create each potential candidate's "Effectiveness", "Trust", and "National Security" star ratings. For the 'Vision' statements, we summarized responses from supporters of the relevant party for each candidate.
And here are the ten candidates who scored the highest (meaning "most presidential") in their ranking: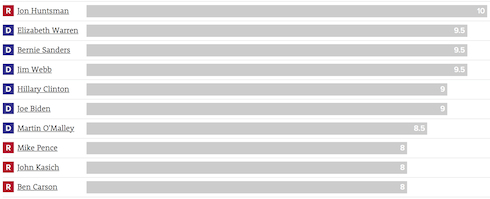 The top ten politicians in Crowdpac's "Presidential Qualities" rankings. 10 is the highest score possible. 0 is the lowest.
Are you ready for President Jon Huntsman (3.0C), boys and girls?!
You'll note that list of "most presidential" politicians is dominated by Democrats and features such luminaries as Elizabeth Warren, Bernie Sanders, and Jim Webb, each of whom scored 9.5. Ben Carson (8.0) placed 10th in their overall assessment of presidential qualities, well above Governor Scott Walker (who received a "presidential" score of 6.5 and a Crowdpac ideology score of 7.8C) and those insane hobbits, Governor Rick Perry (6.9C) and Senator Ted Cruz (9.7C). To their credit, Crowdpac gave Donald Trump, Al Sharpton, and Lady Lindsey ZEROES. (Perry and Cruz received the lowest non-zero scores at 6.0 each.)
Just to round out the candidates we've been tracking, here are the links to Crowdpac's reviews of Governor Bobby Jindal (5.1C) and Governor Mike Pence (7.6C). Although they do not consider them 2016 Presidential prospects, Crowdpac also maintains pages on Governor Nikki Haley (5.2C) and Governor Susana Martinez (5.8C).
I'm constantly on the lookout for good candidate assessment tools and information aggregators. I'd be curious to hear what you think of this one.

ANOTHER CANDIDATE COMPARISON GRAPHIC
A while back, Fivethirtyeight published a graphic mapping the GOP field by ideological alignment: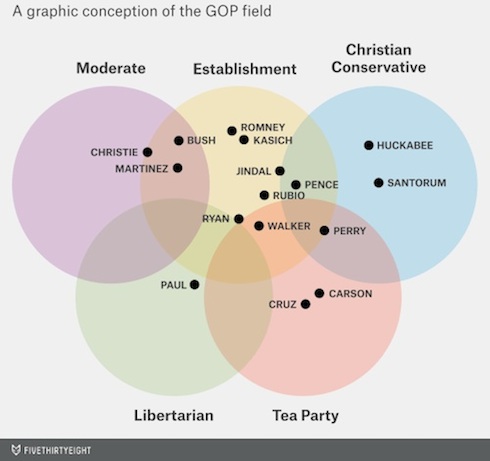 What do you think of it? Do the candidates' alignments seem accurate to you?

THEN THERE WERE TWO THREE
Senator Ted Cruz, who officially declared his candidacy at Liberty University, has company. Last week, Senator Rand Paul announced his candidacy. Follow the link to see his announcement speech, which he made at a hotel in Louisville called the Galt House. In addition to the silly criticism Paul received over his demeanor in interviews, there have been some more substantial criticisms, particularly over his position on Iran and criminal justice "reform." This article at Conservative Review briefly outlines some of those criticisms.
Next week, Senator Marco Rubio will be declaring his candidacy. The site he chose, The Freedom Tower, is considered to be "the Ellis Island of the South." I'm not sure what Rubio is attempting to signal with that choice of venue. It seems as though many of the people touting Rubio praise him on foreign policy, especially Cuba, but he could also be signaling his openness on immigration.
According to the NY Times, here's who's running.
I swear that last week I read on Twitter about another GOP politician who'd announced without anyone noticing, but I can't find the tweet. Did anyone see that?

NEWS ROUNDUP
Senator Mike Lee (R-UT) recently gave his assessment of his three Senate colleagues (Cruz, Paul, and Rubio) who are running for President.
Senator Ted Cruz (and associated PACs) raised over $35 million in his first week as a candidate.
Governor Nikki Haley (R-SC) called the recent shooting of an unarmed man in North Charleston by a police officer "unacceptable" and sought to reassure citizens of her state that the criminal justice system will be brought to bear. Senators Tim Scott and Lindsey Graham also weighed in on the shooting.
Governor Bobby Jindal (R-LA) is under a great deal of fire for his budget proposal, which cuts higher education funding in his state. He was one of the most vocal defenders of religious liberty when the Indiana RFRA controversy hit and since then.
Governor Susana Martinez (R-NM) just signed HB 560, a civil forfeiture abolition bill. There was also good economic news out of New Mexico this week.
Former Governor Rick Perry (R-TX) is doing a great deal of retail politicking, including a recent speech at The Citadel, where he touted his military background and ripped Obama's foreign policy. His legal team is pushing to have his legal situation resolved as quickly as possible. Recall that historically that the average announcement date for most candidates is mid-June. Perry waited until August during his previous presidential run.
Governor Scott Walker (R-WI) has been refining his comments on immigration, shifting to a more hard-line stance that emphasizes the impact the immigration crisis has on American workers. And, in what might be the single most laughable thing all week, President Obama attacked Scott Walker's preparation on foreign policy!

HOUSEKEEPING
Finally, I wanted to get your input on the candidates we're covering. Although we've reviewed a great many Republican politicians, I've restricted the detailed issues backgrounders to seven candidates selected based on our HQ polling, as well as my own personal interest (in the case of Nikki Haley, Susana Martinez, and Mike Pence). My sense is that many conservatives are deeply disappointed with how Governor Pence handled the Memories Pizza/RFRA affair. Should I drop him from these backgrounders or are you still interested in learning more about him? He really has a pretty conservative record from his years in Congress, but if you think he's disqualified himself, I can drop him. If I do, I would probably replace him with Marco Rubio.
Let me know what you think in the comments. Thanks!

To wrap things up, here's a song about Spring:

posted by Open Blogger at
08:25 AM
|
Access Comments