« Breaking the Stale Thread Thread - Niedermeyer's Dead Horse
|
Main
|
Morning Thread (3-16-2015) »
March 15, 2015
Overnight Open Thread (3-15-2015)
Frankly, I'm beginning to wonder if women are too delicate to handle the strain of voting, the poor dears.

-- Instapundit on feminists and college rape hysteria
In Ferguson, Guilt Should Not Be Collectivized, But It Should Be Apportioned
Here NRO's Andrew McCarthy weighs in on how much blame the racial rabble rousers have for the shooting of two Ferguson policemen.
My problem with Charlie's eloquent contentions is that they oversimplify the situation. He points out that the Ferguson officers "were not shot by" various agitators (Obama, Holder, Sharpton, the media), nor did these agitators "force" the shooter to pull the trigger, nor "commission" his crime. For Charlie, it seems so cut-and-dried: there is the shooter, who is guilty; no other person can rightly be deemed culpable unless he essentially coerced the murder - encouragement doesn't count. The rabble-rousers, because they don't quite coerce and aren't quite co-conspirators - should be seen as mere "bystanders," blameless for the perpetrator's act regardless of anything they may have done, no matter how knowingly, to make the act more likely.

To the contrary, our law recognizes that there are many criminal gradations between innocent and murderer. They include not only incitement but "aiding and abetting" - an offense that covers acts reasonably construed as encouragements that, in the statutory language, "counsel, command, induce, or procure" the commission of a crime.

Charlie is right that guilt should not be collectivized. But it should be apportioned. Incitement is not murder and should not - indeed, it is not - punished as severely as murder. But it is an offense nonetheless.
It's Hillarys All The Way Down
The fact that Team Clinton is relying on the old rat squad once again is vastly more significant than most commentators have suggested. Yes, yes, it's bad politics. A candidate looking to offer a fresh face forward, figuratively speaking, has no choice but to keep his or her own face (John Kerry notwithstanding). But she surely has plenty of options for who she picks to represent her in public. Mrs. Clinton has millions and millions of dollars at her disposal. She has people placed at the highest reaches of the government and the media. There are over 200 people working, formally or informally, for her as policy advisors already. And yet she chooses to get the old band back together instead.

Why? There are many possible answers, but the only plausible one is that a Clinton only trusts Clinton loyalists. This fits everything we know about the Clintons. And it speaks volumes about the thickness of her bubble.

But it also speaks even louder about what kind of president she would be. If you want to know what Hillary Clinton would be like as president, you're seeing it right now. There is no other Hillary. This is her.

...It's perfectly fine to want a woman to be president of the United States. All things being equal, I guess I might prefer it, too. But the question before the country isn't, "Should we elect a category?" It's, "Should we elect Hillary Clinton?" And these are wildly different questions. She'd "accomplish" being the first female president in the first second of her presidency. She'd then be Hillary Clinton for the next 126 million seconds of her presidency (Someone will check my math, I'm sure).
Hugh Hewitt Wants A 'Serious' GOP Primary And Will Be Assigning Homework
When radio host Hugh Hewitt questions Republican candidates at CNN's first primary debate this fall, he says, viewers will be "much more likely to hear about the Ohio-class submarine than contraceptives."

What, you ask at this point, is the Ohio-class submarine?

"The Ohio-class nuclear submarine is the biggest line item debate that will be held in the next 15 years," Hewitt said in a Wednesday interview with The Huffington Post. "Presidential candidates ought to know about it. They ought to be up to speed on it. That tells me seriousness."

Hewitt, 59, has carved out a niche in the conservative talk radio world as Mr. Serious, an unapologetic wonk in an industry full of bombast. And he's ridden that reputation to fairly prominent heights lately, becoming perhaps the most important conservative media figure of the still-early 2016 election cycle. Virtually all the prospective candidates have sat down for an interview with Hewitt. And Hewitt, in turn, has set intellectual bars that they must clear. Guests can expect to get into the nitty-gritty of foreign and domestic policy issues -- and they know to come prepared, lest they be embarrassed on air. Often, they leave with homework.

"There's something of a Hewitt primary that all these candidates are going to try to win," CNN host Jake Tapper, an occasional Hewitt guest himself, told HuffPost.

For years, Hewitt has asked guests -- whether politicians, journalists or think-tank fellows -- if they've read Lawrence Wright's The Looming Tower. Lately, he's also been asking about The Atlantic's recent cover story on the roots of the Islamic State, as well as Robert Putnam's just-published book Our Kids: The American Dream in Crisis.
Hewitt is a good interviewer who clearly does his own homework ahead of time. So even if you don't agree with all of his views, we could do far worse than having a "Hewitt primary".
Michael Douglas Finds Judaism, Then Anti-Semitism
(thanks to JTT)
Also: Why is Global Anti-Semitic Violence Up, When General Violence is Down?
...here's the rate of anti-Semitic incidents in the U.S., as tallied by the Anti-Defamation League. What you see is a peak in the early 90s and a decline ever since. This is exactly the same thing that you see in rates of violent crime in general. In other words, as violent crime fell, violent crime directed at Jews also fell. This makes sense.

But the global picture is quite different. Partly this is probably due to the fact that the worldwide numbers come from a different source (the Kantor Center in Tel Aviv) and are tallied up using a different methodology. But I doubt that accounts for the stark contrast: worldwide, anti-Semitic attacks have been on a straight upward path ever since the late 90s. This is despite the fact that violent crime in Europe, which accounts for most of the incidents, has followed a trajectory pretty similar to the U.S.
A Broken Door in Germany: Anatomy of a Meme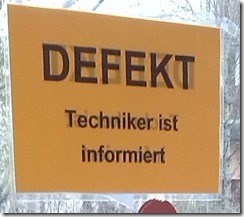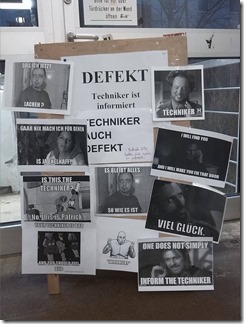 Austin Bay: Remembering Remagen Bridge - A Lesson in American Initiative
"L'audace, l'audace, toujours l'audace!" (via Insty)
On March 7, a 9th Armored Division task force led by Lieutenant Colonel Leonard Engeman approached Remagen. At 10:30 a.m., a pilot in an artillery observation Piper Cub reported Remagen's Ludendorff Railroad Bridge (its official name) was still intact. The Germans had blown up the Rhine's other 21 spans. Brigadier General William Hoge (commander, Combat Command B, 9th Armored) received the news. At 1 p.m., Engeman's armored scouts reported that German soldiers and vehicles were still streaming east. The bridge had two rail lines, one of them planked over for use by retreating vehicles.

Hoge arrived on the scene. Risk versus reward: He knew the risk in American blood was high. He had little information on German defenses in Remagen. If his men took the bridge and got across, what happened if German forces counter-attacked and cut them off?

Hoge believed he faced court-martial charges if the gamble he contemplated failed. U.S. commanders had been told their forces were not to cross the Rhine, though the prohibition had some maybes and a little murk. Alliance politics played a role. The British were to lead the Allied assault on central Germany. Field Marshal Bernard Montgomery's long-awaited Operation Plunder would begin in late March. Monty would star. U.S. forces were assigned a supporting role.

But Hoge also understood the enormous opportunity. Leap the Rhine now and U.S. armor would run loose behind still-fluid German defenses. British and American soldiers would not have to cross the Rhine in rubber boats and die by the thousands.

Hoge ordered infantry and tanks to attack into Remagen. At 3 p.m., a German prisoner told his American captors the bridge was going down at 4 p.m. Engeman took a cavalry troop (light armored vehicles) and a team of infantry and tanks, and struck for the bridge.

"At 3:50 p.m., as a U.S. infantry squad stepped onto the bridge, a demolition charge exploded. But it did not collapse. U.S. tanks fired on German machine guns. Infantrymen and combat engineers raced across, ripping every wire that might link to a demolition. One sergeant, despite heavy fire, ran across the entire 117-meter span. His squad followed him. That is physical courage and leadership, in the toughest of circumstances.

The Allies had a bridge over the Rhine. For the first time since the Napoleonic wars, a German enemy had successfully attacked across the Rhine.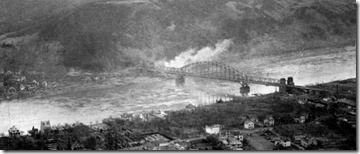 The First F-16s in the Air on 9/11
Things are different today, Degnon says. At least two "hot-cocked" planes are ready at all times, their pilots never more than yards from the cockpit.

A third plane hit the Pentagon, and almost at once came word that a fourth plane could be on the way, maybe more. The jets would be armed within an hour, but somebody had to fly now, weapons or no weapons.

"Lucky, you're coming with me," barked Col. Marc Sasseville.

They were gearing up in the pre-flight life-support area when Sasseville, struggling into his flight suit, met her eye.

"I'm going to go for the cockpit," Sasseville said.

She replied without hesitating.

"I'll take the tail."

It was a plan. And a pact.

'Let's go!'

Penney had never scrambled a jet before. Normally the pre-flight is a half-hour or so of methodical checks. She automatically started going down the list.

"Lucky, what are you doing? Get your butt up there and let's go!" Sasseville shouted.

She climbed in, rushed to power up the engines, screamed for her ground crew to pull the chocks. The crew chief still had his headphones plugged into the fuselage as she nudged the throttle forward. He ran along pulling safety pins from the jet as it moved forward.

She muttered a fighter pilot's prayer - "God, don't let me [expletive] up" - and followed Sasseville into the sky.
Bristol Palin Engaged to Medal of Honor Winner, Dakota Meyer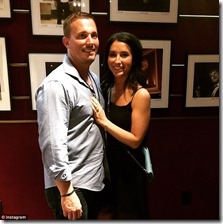 Chinese Wife Bobbitts Husband Twice
Double ouch. And to track him down at the hospital after reattachment surgery for a second snip shows some real commitment to de-penising the guy.
Weekly Commenter Standings
Top 10 commenters:
1 [454 comments] 'Turd Ferguson' [63.73 posts/day]
2 [428 comments] 'AllenG (DedicatedTenther) - TrueCon'
3 [424 comments] 'mynewhandle'
4 [401 comments] 'Anna Puma (+SmuD)'
5 [383 comments] 'Zap Rowsdower'
6 [348 comments] 'Insomniac'
7 [343 comments] 'Mike Hammer, etc., etc.'
8 [343 comments] 'ThunderB, PinUpWhoreBabyMachine'
9 [334 comments] 'J.J. Sefton'
10 [323 comments] 'Nip Sip'
Top 10 sockpuppeteers:
1 [155 names] 'Turd Ferguson' [22.14 unique names/day]
2 [124 names] 'Hillku' 
3 [116 names] 'The Political Hat'
4 [55 names] 'ManWithNoParty, unperson from Free Market Jesus Paradise '
5 [52 names] 'Doctor Fish'
6 [50 names] 'Turd Ferguson'
7 [44 names] 'Blue Hen'
8 [39 names] 'Cloyd Freud, Unemployed'
9 [36 names] 'Bill from Chappaqua'
10 [36 names] 'Skin organ grinder'
The group. Never heard of it.
Where it's at - the Twitter
Tonight's post brought to you by Mercury astronaut survival training, 1960: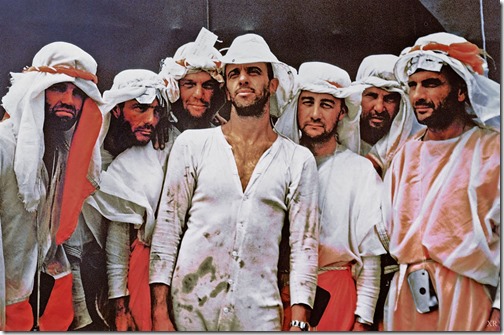 Notice: Posted by permission of AceCorp LLC. Please e-mail overnight open thread tips to maetenloch at gmail. Otherwise send tips to Ace. Techniker ist informiert.

posted by Maetenloch at
10:37 PM
|
Access Comments