« Early Morning Thread 3/08/15: In Search of a New Drug edition. [krakatoa]
|
Main
|
Is There A Cure? Will Pharmacology Save Us? [CBD] »
March 08, 2015
Sunday Morning Book Thread 03-08-2015: Hating Normal Life [OregonMuse]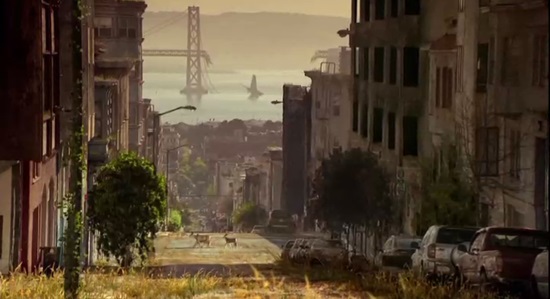 The Summer of Love
(pic stolen from here)
Good morning to all of you morons and moronettes and bartenders everywhere and all the ships at sea. Welcome to AoSHQ's stately, prestigious, and high-class Sunday Morning Book Thread. The only AoSHQ thread that is so hoity-toity, pants are required. Or kilts. Kilts are OK, too. But not tutus. Unless you're a girl.

Book Quote
Where is human nature so weak as in the bookstore?

-Henry Ward Beecher

Civilization And Its Discontents
You don't know what you've got 'til it's gone:
Dr. Dylan Evans, a respected behavioral psychologist, and an expert on robots and artificial intelligence...in 2006, sold his house in the Cotswolds and its contents, and moved to the Black Isle in Scotland to found a self-sufficient community in a remote valley, with a group of acolytes he had recruited on-line. The project was called the Utopia Experiment, and the idea was to attempt to imagine, through real-life role-playing, the conditions that might exist in the aftermath of society's collapse.
So was this an earnest attempt at Utopia, or an honest-to-goodness attempt at it? This review seems to think that Evans was a serious nutter who wanted to, and thought he could, create a utopian society out there in the wilderness.
But whatever it the case, it didn't work out so well:
Factions formed with different views about the future of the human race, and competition and fighting broke out. The yurts they lived in leaked rain. The vegetables they farmed wouldn't grow. Dylan began to fear for his sanity, and then his life.
Fighting? In Utopia? Whoever heard of such a thing?
...by the time he came to write this book [Evans] realized he was delusional. Though he had no difficulty recruiting like-minded eccentrics to join him in his 'experimental community'...Evans admits that his utopia was doomed to failure.
But he did write a book about this experiences, The Utopia Experiment, wherein he presumably learned to appreciate cooked food, clean sheets and a hot shower.
This appears to be a recurring conceit in modern life. Every now and then, someone gets bored with the comfort and prosperity they've grown accustomed to. and thinks they can just do away with civilization and everything will be just fine. Like 50 years ago when a group of people in California started experimenting with marijuana and LSD and soon the drugs so addled their brains that they began to delude themselves into thinking they could build a sustainable civilization on panhandling, free sex, and selling beads to tourists. They were like 3-year-old children who think they're actually flying when their Daddy lifts them up in the air and swings them around. A number of histories have been written about this cultural breaking point, for example, this one, which is a .pdf file you can download for free) and I think they tend to be a bit hagiographic, since "the 60s" are looked upon with great reverence by the culturally dominant baby-boomers. However, writer and critic Tom Wolfe observed things that the boomers would prefer to forget:
In 1968, in San Francisco, I came across a curious footnote to the hippie movement. At the Haight-Ashbury Free Clinic, there were doctors treating diseases no living doctor had ever encountered before, diseases that had disappeared so long ago they had never even picked up Latin names, diseases such as the mange, the grunge, the itch, the twitch, the thrush, the scroff, the rot. And how was it that they now returned?...The hippies sought nothing less than to sweep aside all codes and restraints of the past and start from zero...Among the codes and restraints that people in the communes swept aside...were those that said you shouldn't use other people's toothbrushes or sleep on other people's mattresses without changing the sheets...or that you and five other people shouldn't drink from the same bottle of Shasta or take tokes from the same cigarette. And now, in 1968, they were relearning...the laws of hygiene...by getting the mange, the grunge, the itch, the twitch, the thrush, the scroff, the rot.
All of this and bedbugs, too. And STDs. Which is why the expression "dirty hippie" or "filthy hippie" is more than mere invective. That whole social experiment really did create some serious health issues for the city of San Francisco that the "free clinics" that were set up only partially addressed.
This was from his article 'The Great Relearning' which was reprinted in Hooking Up (Ceramic Transactions), an anthology of Wolfe's essays which can actually be read in its entirety online here.
There are a couple of other essays in the collection that I think are worth noting. The first is 'The Invisible Artist', a biography of American artist Frederick Hart (who died way too young in 1999) who went against modern art trends and sculpted figures of people that actually looked like people. His best known sculpture is probably 'Daughters of Odessa', an allegorical representation of Faith, Hope, Beauty, and Innocence personified by the four daughters of Czar Nicholas II, who along with him were cruelly murdered by the Bolsheviks in 1917. The sculpture is subtitled 'Martyrs of Modernism.' Hart was a devout Roman Catholic who believed that the old-fashioned virtues (such as Faith, Hope, Beauty, and Innocence) were good things and that art ought to show them.
Google 'Frederick Hart' and look at his sculptures. He did some amazing work, particularly with acrylic.
The other essay in this collection which I found quite interesting is 'Two Young Men Who Went West', an examination of the theological(!) roots of Silicon Valley corporate culture. Specifically, how the engineer who was given seed money to get Fairchild Semiconductor up and running was raised in an area of Iowa dominated by Congregationalist churches, and so, even though he wasn't a believer, even though he never internalized the faith of his parents, nevertheless adopted that denomination's fiercely non-hierarchical ecclesiastical structure into his new company, and how it was radically different than the corporate culture of the parent company back East, and how it affected other Silicon Valley start-up companies. He went on to another start-up, Intel.
Both essays make for very fascinating reading, and in my opinion, are worth the price of the book.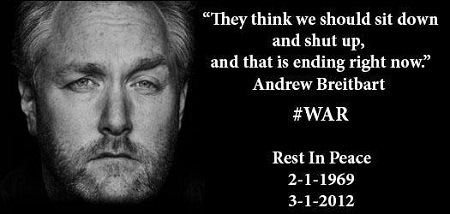 The Happy Warrior
I wish I had remembered that last Sunday was the anniversary of Andrew Breitbart's passing, so I am unfortunately a week late with this. Like many of you, I will always remember when I first got up that morning of March 1st, 2012, going to the computer, reloading the AoSHQ main page, only to be punched in the face by ace's obituary of Andrew. I screamed "No! This can't be true. This is some kind of sick joke. C'mon ace, this is a prank, isn't it? Isn't it? Please tell me you're just messing with us." And then the awful realization that it was indeed true.
Breitbart was a one-man wrecking crew of all things progressive, he had already done serious damage to the left, and he was just getting started. Just getting started, that's the tragedy. He had geared up to be in the fight for the long haul, but God evidently had other plans.
I believe that if Andrew Breitbart was still alive, Obama would have been a one-term president.
The first time I encountered Andrew was when I read the book Hollywood, Interrupted: Insanity Chic in Babylon -- The Case Against Celebrity that he co-wrote with journalist Mark Ebner, which I was able to check out from my local library. Don't know how I first found out about it, I probably saw it mentioned on the Drudge Report. I really didn't know who Breitbart was back then, and certainly not what he would become.
And now, looking back, I'm not sure I can recommend Hollywood, Interrupted. Not that it's a bad book, but it's entire raison d'etre is to show that Hollywood is a corrupt, degraded cesspool of vice trying to pass itself off as normal. But all of us here, we already know that. It doesn't need to be demonstrated, it's a given.
Plus, all the stories, as they involve contemporary (2004-5) Hollywood celebrities, would be somewhat dated now, and even more so as time goes on.
Of course, the book that Andrew is really known for is Righteous Indignation: Excuse Me While I Save the World!, which has been read and loved by many of us. For those of you who haven't read it, in the words of one Amazon reviewer:
...the Left taught him what they wanted him to know, showed him what they wanted him to see, gave him the Party Line that he should think. But Breitbart somehow retained a thread of sanity. When it came time to rejoin The World, he compared what The University had taught him to what he could see for himself in The World, and realized that the whole substance and foundation of his "liberal" education was a lie. A lie deliberate, malicious, and malignant. He chose to choose, and chose to turn on his creators. And since the Mad Political Scientists of the Left had also taught him how they think, and how they persuade, and how they lie and inculcate lies, they gave him the means to do what they had never planned. They gave him the means to destroy them.
"At last!" I remember thinking to myself when I first started reading about Andrew's exploits, "At last we have someone on our side who really understands how the media works, and can use it for the benefit of conservative causes."
This book made this Business Insider list of The 13 Books That Every Young Conservative Must Read.
You can watch a 30-minute Uncommon Knowledge interview of Breitbart about Righteous Indignation from 2011 here. I had forgotten that Andrew had helped Ariana Huffington start the Huffington Post. Good line from the interview: "It annoys me that our side does not commit to this battle [for the media]"
I'm afraid we will not see his like again.

Clean Up Your Reading
Hmmm... Apparently, there is now an app that will allow you to censor your own reading, in case you're offended by bad language and would rather not have to read it:
The Clean Reader app removes objectionable language from a book and adds in 'an alternative word with the same general meaning.' One user wrote, 'This app has brought me back to reading and loving books again.'
Eh. The books I usually read aren't overwhelmed by cussing, so I don't care. And the replacement-with-a-milder-word aspect of this app sounds a bit dubious. The example the demo video on the site showed the sentence "He wished he had his damn knife" being changed to "He wished he had his darn knife." Really? I'd say that that substantially changes the meaning of the sentence. The word 'darn' simply does not have the same force as 'damn'.
In other words, this app allows you to change the book that was actually written to the one you'd rather read instead. Is this a good thing? It seems to me that if your practice is to make sure everything conforms to the comfortable contours of your own expectations, that's a recipe for stagnation and complacency. Sometimes getting punched in the face is not necessarily a bad thing. Of course, you may say "ugh, I don't want to read that" or "I don't think my kids should be reading this" and that's perfectly OK. Just put it down and find something else. But don't delude yourself into thinking you're reading something when you really aren't.
I know that this argument can be used, and has been used, to defend some pretty disgusting material. But I would hate it if I wrote something and people messed with it to get it to say something I never intended.
My approach to this is basically libertarian, that is, if you think the books you're reading contain too much bad language, then maybe you should be reading other books. And I sympathize with parents to find appropriate YA books for their teenagers, but again, it seems to me that the libertarian advice is appropriate. Surely you should be able to find plenty of YA stuff out there that isn't an R-rated cuss-fest.
Clean Reader is available for free for both iOS and Android.

Titles
Sometimes, the title of a book is a either a quote or a reference to some other literary work. Here's a quiz where you have to guess what the titles of 10 different books are quoting or referencing. I scored 80% by guessing a lot. I think I only knew 2 of the answers for sure.
Along these same lines, do you know where the title of Anthony Burgess' novel A Clockwork Orange comes from? Apparently, "queer as a clockwork orange" was an expression used by Londoners back in the day, but perhaps not so much any more.
Also, unrelatedly, the novel has 21 chapters, but the version first published in American only has 20. Burgess tells the story about how this came about in a published introduction to the 1986 (restored) American version, and it has been reprinted here. It's an interesting piece to read, and I learned something I didn't know, that, as it turns out, Burgess doesn't like the book very much at all. Like Alec Guinness' detestation of his iconic role as Obi-Wan Kenobi in the Star Wars film franchise, Burgess wishes he would be remembered for his other works which are considerably more praiseworthy, but
are unknown today.

Books By Morons
Moron commenter Darth Cobalt Shiva has just published his first novel Not By Sight, a Cold War thriller:
Dennis Sandoval is a "Ghostrunner," an elite United States Air Force covert operator with a shadowy past. In the waning days of the Cold War, Sandoval must jump into East Germany and rescue an American missionary before a crucial East-West summit. But the mission spirals out of control; both the CIA and East German State Security are after the missionary. Cut off from his chain of command and hunted by Willi Metzger, a fanatical East German State Security officer with his own agenda, Sandoval must call on all of his skill and risk everything in order to survive and succeed.
Shiva says: "It's $2.99, and I believe that it will give my fellow Morons their money's worth in terms of enjoyment."

___________
So that's all for this week. As always, book thread tips, suggestions, bribes, rumors, threats, and insults may be sent to OregonMuse, Proprietor, AoSHQ Book Thread, at the book thread e-mail address: aoshqbookthread, followed by the 'at' sign, and then 'G' mail, and then dot cee oh emm.
What have you all been reading this week? Hopefully something good, because, as you all know, life is too short to be reading lousy books.

posted by Open Blogger at
09:10 AM
|
Access Comments