« Open Thread: In the Mind of the Beholder [Y-not]
|
Main
|
Overnight Open Thread (28 Feb 2015) »
February 28, 2015
See You In Dabiq [OregonMuse]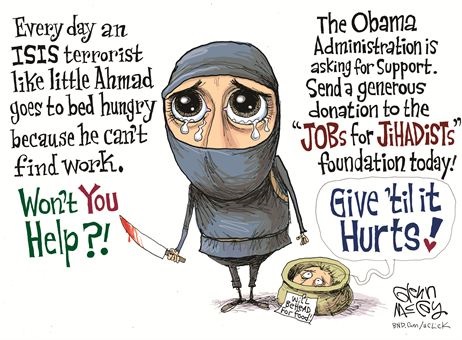 So, last Friday night, after eating way too much bacon and way too many chocolate chip cookies, and washing it all down with more Valu-Rite than is good for me, I passed out in a drunken stupor fell asleep in front of my computer while I was reading Graeme Wood's excellent article on what ISIS really wants that has been referenced in a number of earlier threads here. Particularly the part where he describes how the seemingly insigificant (to us) city of Dabiq in Syria in reality looms very large in the apocalyptic imaginations of the ISIS theoriticians and I remember thinking how odd this is, and then as I teetered back and forth in a dream-like state between consciousness and unconsciousness, I heard that the 2016 elections were over and Scott Walker had won a great victory.
And at his first press conference, some reporter asked him about ISIS. "Bunch of pussies" President Walker replied, a look of supreme contempt on his face. "They may think they're all tough and shit when beheading teenaged boys or setting women on fire, but put any of those flaccid cowards up against a U.S. Marine and they'll lift up their skirts and go crying back to mama, guaranteed."
Another reporter asked Walker if such a statement is exactly what ISIS wants, and that it would play into their hands. The President's look of contempt turned to disgust. "Play? They won't be able to play anything after I'm through with them, because they'll be dead. I'm calling every one of those delicate petunias out - on Easter Sunday, units of the Unites States Army, Navy, Air Force, and Marines will converge on the plains of Dabiq (that's in Syria for all of you journos who didn't bother to learn geography), where we'll be opening an extra large can of whoop-ass on their sorry jihadi butts. Although I hate to waste all that firepower. ISIS is such a pathetic bunch of nancy-boys, we could probably take them out with a couple 6-year-old tomboys with BB guns."
Shortly thereafter, the "#TrueFactsAboutISIS" hashtag started showing up on Twitter (and an unproved rumor was that this had been masterminded by Vice-President Jindal) with tweets (helpfully translated into Arabic) such as
"Did You Know that most ISIS brides are extremely disappointed by their husbands' tiny penises?"
"According to scientific research, 75% of all ISIS fighters prefer catching, if you know what we mean (wink)"
"After a hard day of bullying wives and terrifying goats, the men of ISIS like to relax in women's underwear"
Also Secretary of State John Bolton started the "#SeeYouInDabiq" hashtag that consisted of photographs of the men and equipment the United Stares military was assembling, and a countdown to Easter Sunday.
Whipped up into a frothing red rage, ISIS forces started massing in Dabiq. On all of the social media outlets, ISIS called out to all of its followers, announcing that the apocalypse was immanent, and that the armies of "Rome" would soon be vanquished. More than 12,000 fighters moved out into the fields outside Dabiq on Easter Sunday and waited. At precisely 12 noon local time, the battlefield was rocked by one massive explosion, followed by a second, that completely obliterated the ISIS army - except for a few staggering outliers who looked like Wile E. Coyote after an Acme Jet-Pak failure.
Nobody knew what caused the explosions, although there were rumors of a stealth bomber flying over the battlefield, too high to be seen, that released two precision-guided tactical battlefield nukes.
But the American forces were nowhere present.
When asked to explain the absence of American military in Dabiq, White House Press Secretary Ann Coulter smacked her forehead and said, "Wait a minute, did you say Dabiq? We thought it was Dubuque. Oh, crap, we sent an entire carrier group to Iowa, and it's been sitting there waiting the whole time. Whoops, sorry. Our bad."

posted by Open Blogger at
09:03 PM
|
Access Comments