« So? And What Does THAT Have To Do With Anything? - [Niedermeyer's Dead Horse]
|
Main
|
A Little of This...A Little of That [CBD] »
February 28, 2015
Saturday Gardening Thread: This Winter Is For The Birds [Y-not, KT, & Weirddave]
Good afternoon, gardening morons and moronettes!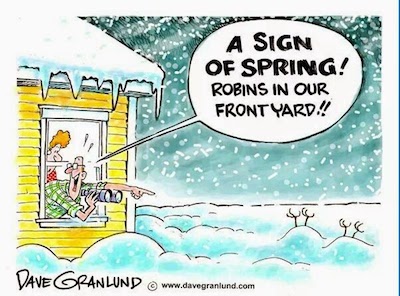 Today's thread is brought to you by Josh Groban's February Song:
Without further ado, let's see what KT has in store for us this week:
Chilling Out
My, it has been cold and stormy in parts of the East. Makes me think about retreating indoors for some low-stress activities - just out of sympathy.
After some unseasonably warm weather here, it turned seasonably cool and foggy late last week, then rained. We have had a little frost, too, so I am glad I had my tomato seedlings indoors at night. Some of the potato-leaved plants got a little lacerated in the rain. The leaves were probably a little tender from being indoors part time. Incidentally, I think potato-leaved tomato plants look something like bean seedlings at first. Front and center, below: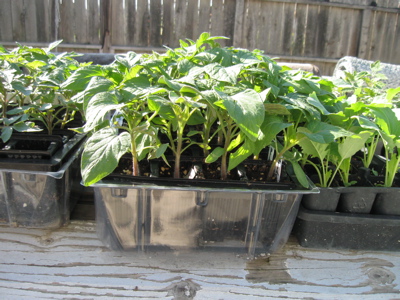 There was nothing here like the weather back east. I thought it might be nice for Morons to the north and east of me to have some garden topics they could browse through without thinking too deeply about what is outside their doors.
Florist's Cineraria - A low-stress gift plant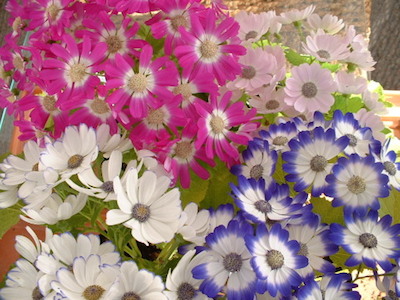 Florist's Cineraria
I have a compulsion to attempt to plant out the gift plants I get, or to try to keep them alive indoors. If you know a gardener who is the same way, how about taking the stress off during this wintry weather by giving a plant which no one expects people to keep alive? Even if you are giving yourself a gift, one without long-term expectations can be nice.
Florist's Cineraria is also pretty low-stress where it is adapted outdoors, especially in the San Francisco Bay fog belt. It goes feral around abandoned homes there. It may also survive in gardens near the beach in more southerly parts of California. It may not look much like it came from a florist under these conditions, though.
If you live in one of these favored locations, cut the plant back after it blooms. If it decides to stay in your garden, it will grow over the winter to bloom again in spring. The rest of us can just toss the plants out or compost them after they bloom, like cut flowers.
Florist's Cineraria was first developed in the British royal gardens by crossing two species of flowers from the Canary Islands. It was originally known as Cineraria x hybrida. It is now known as Senecio x hybridus, S. cruentus or Pericallis x hybrida, depending on your reference.
I particularly love the blue, purple and magenta flowers. They can be found with either dark or light eyes. Pretty sophisticated for daisies. I think the saturated colors of many specimens are at their best in natural light, like outside, in the shade.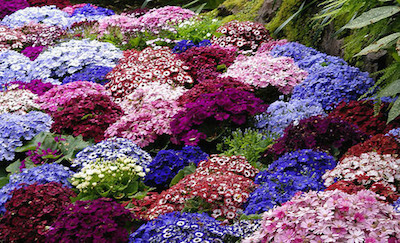 Don't Eat the Daisies
But indoors in low light also works.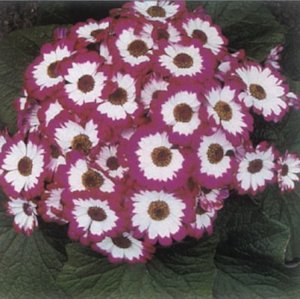 Songbird Retreats in the Garden
One feature Mr. and Mrs. JTB would like include in their future garden is plants which birds would find useful for cover and, I am guessing, for food. No need to make any decisions now, but Birds and Blooms Magazine is right down the alley of gardeners who want to attract birds. It also includes information and photos on garden designs made with hummingbirds and butterflies in mind. But more on the latter in future episodes. Too cold for them in Virginia, recently. Songbirds would probably appreciate some food and cover in this chilly weather.
The Sunset Western Garden Book includes lists of plants that attract birds for nectar (orioles and hummingbirds) or for berries and seeds. It also includes details concerning where the plants are likely to thrive. I am not aware of an equivalent for the Eastern USA. You could probably find some good, fairly local information on the web if you looked around, though.
You can look up information on the habits of specific species of birds in Field Guides or online, where bird song samples may be available.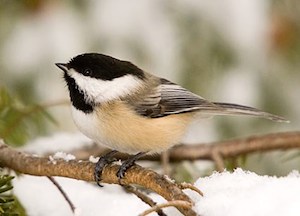 Black-capped Chickadee
Some people need to chill out about their garden plans
I enjoyed our somewhat technical discussion of yard and garden planning last week. It is tempting to dream big during the winter. But maybe a more relaxed attitude would serve some of us well. A garden designer at the Garden Rant group blog has decided that the industry has gone too far in trying to make the outside of our houses seem like the inside of a house:
My heart is wanting the garden that is simple -- that has a place to sit, a place to eat with my friends, a place for me to settle in and enjoy a book. No chandelier, no throw over my lap in case of a chill -- let the chill come. I want to go outside and feel outside.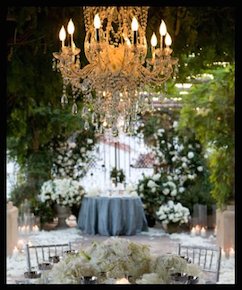 Can we reserve the garden chandeliers for weddings, etc.?
But maybe some other people are a little TOO chilled out
Also at Garden Rant, Messy Gardens - They're a Trend. Finally, a trend catches up with me! Though in my case, "messy" is not quite this deliberate, or expensive:
The songbird native planting area of Sing! by Mariposa Gardening and Design, a Berkeley design firm, was reminiscent of many Berkeley front yards: purposefully unmanaged (or at least, the aesthetic is to look unmanaged) flower fields.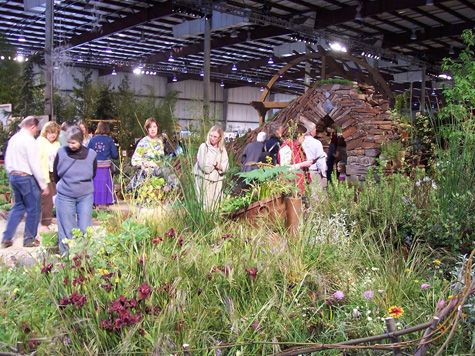 Y-not: Thanks, KT!
As it turns out, KT's section about bird-friendly plantings gives me an excuse to share an experience we had a month or so ago involving our dog and our own backyard feeders. Our two year old collie, who is normally very healthy, had a bout of intestinal problems (both ends). She's prone to chewing on (and swallowing) things, so at first we just monitored her and made sure she was getting enough water etc. But after a few days she developed a fever, so we brought her into the vet who put her on a course of antibiotics. (She was better in a couple of days.)
As it turns out, we are 99% sure she had become infected with Salmonella. The source? Our bird feeders, more specifically the droppings below the seed socks. Our dog likes to eat snow and in the process of doing that she'd ingested a lot of the seed husks and, presumably, the bird droppings.
I'd never realized before that Salmonellosis could be a concern, but it is a common problem:
An outbreak of avian Salmonella or Mycoplasmosis can kill songbirds in the Bay Area. These diseases are spread from bird to bird primarily at bird feeders and bird baths. WildCare receives multiple calls about ill and dead songbirds in people's yards whenever there is an outbreak of bacterial disease. Our diagnoses are confirmed when lab test results from deceased patients show signs of Salmonella poisoning or when birds with tell-tale symptoms start arriving at the Wildlife Hospital.

The diseases Salmonellosis and Mycoplasmosis are common causes of disease and death in wild birds. Bird feeders bring large numbers of birds into close contact with each other, which means diseases can spread quickly through multiple populations. THe bacteria are primarily transmitted through contact with fecal matter, so birds at a crowded feeder are much more likely to be exposed than birds in a wild setting.
Here are a few things you can do as a preventative:
Bird feeders should be disinfected every two weeks regardless of disease outbreaks.

Bird baths should be emptied and cleaned daily regardless of disease outbreaks.

For feeders: Do not use wooden feeders (click for more information). Immerse feeders in bleach solution (9 parts water to 1 part bleach.) Soak 10 minutes, scrub, rinse thoroughly and allow to dry fully, ideally in the sun, before refilling (a dry feeder will deter mold growth on seeds).

For baths: You can make a 9:1 bleach solution in a jug to bring outside. Scrub with a hard brush, cover with board while soaking to prevent birds bathing in bleach, rinse very thoroughly, allow to dry before refilling.

For hummingbird feeders: NO BLEACH! Change food often. Clean and fill with only enough to last 1-2 days (sooner if gets cloudy/moldy). Use vinegar and water in a 9:1 solution (9 parts water to 1 part vinegar) and special bottle brushes to get into small holes. Rinse thoroughly!

Wash hands thoroughly with soap and water after handling feeders or baths.

In our case, the problem originated from "seed socks" (often called Niger Thistle or Nyger Seed) -- and a dog so dumb that she ate seed husks.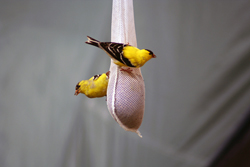 Here's a little more about this type of bird seed:
NIGER SEED IS NOT THISTLE SEED (AND OTHER CONFUSING THINGS ABOUT THE NAME)
Niger seed used to be called thistle, but it is not the noxious thistle weed we see growing on roadsides. It typically will not germinate under your feeders since the USDA requires that all niger seed imported to this country be heat-treated to sterilize the seed.
You can even grow your own. The flowers are very cheerY: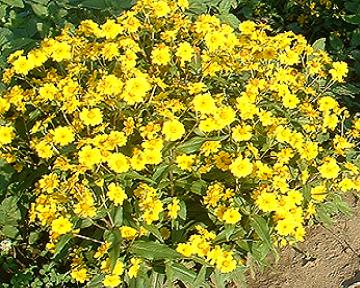 There was even some research into its potential as a commercial crop in the U.S. and in Canada.
Here at Casa Y-not we have taken down our bird feeders. We'll probably go with a bird bath instead. Here's a DIY project that looks within my capabilities: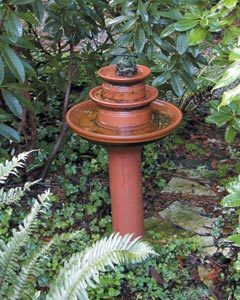 Of course, as I predicted we had snow here last week, so I'll have to wait until Spring!

*Beep* Hi! You have reached Weirddave's gardening post. I'm sorry, but I can't get to the blog at the moment, if you leave your name, number and gardening question at the sound of the tone, I'll get back to you as soon as possible. *BOOP!*
We would like at announce a new feature for future gardening threads: Ask Weirddave. Post any questions in the comments today, and next week I'll pick the best ones and answer them, Ann Landers style. You may get serious advice. You may get insanity. Hopefully we can have fun with it.

Y-not: To wrap things up, moronette Jane D'oh has been watching the Great Horned Owls Cam that the Cornell Lab for Ornithology maintains. Here's a neat video of one of these amazing birds singing his territorial song at dusk:
Owl-y bonus: a Great Horned Owl swims in Lake Michigan after being attacked by falcons. Wow.

What's happening in your gardens this week?

posted by Open Blogger at
01:15 PM
|
Access Comments