« One of the World's Tallest Residential Building Now A Blazing Inferno
|
Main
|
Saturday Politics Thread: FrankenPOTUS [Y-not] »
February 20, 2015
Overnight Open Thread (20 Feb 2015)
I'm not going to watch the Oscars this weekend but I hope this happens. Why 'American Sniper' will ambush the Oscar Best Picture race.
Now, for a bit of humor, here are 9 military categories the Oscars forgot.
And then there is Canadian Sniper.
Launching An F-14 Tomcat

How to successfully get launched off a carrier at night in a F-14 Tomcat. There will be a quiz on flightdeck nomenclature later.
Science
I find it ironic that in an article that states that throwing science at anti-vaxxers just makes them more hardline, the author goes on to pretty much equate climate change deniers to the anti-vax crowd even while noting that "the most scientifically literate are also some of the strongest climate change skeptics". Scientific consensus on climate change my ass. A truer statement would've been to equate the AGW crowd to the anti-vaxxers.
Climate change and terrorism. Yeah, not buying that. The claim that the Pentagon is overwhelmingly on board with the climate change group is BS. They're just dancing to the tune that the political bosses are playing. A change in political bosses will get you a change in tune.
80's Teen Movies
Manufacturing
Obama's carbon rules could cost thousands of manufacturing jobs in your state.
Syndicated TV Shows
Did you ever watch a rerun of Seinfeld or something and thought the episode felt sped up? Wonder no more. How cable networks speed up shows to squeeze in more ads. Now if they speed up the commercials, they could fit even more in.
Sport Team Name Origins
Strange but true stories of how 18 sports teams got their names.
Baseball
With baseball season upon us, I found this to be a little interesting. Here is why baseball managers wear a uniform instead of other attire found on coaches in other sports.
John Carpenter
I've always liked the scores John Carpenter did for his movies so it was a pleasant surprise to find out he released an album late last year of some unreleased music. This song is pretty good. It's like a cross between Jan Hammer (Miami Vice) and Halloween.

Police Dog
Florida police dog fired from the force after biting an officer, doughnut shop worker. I'm betting it was the doughnut shop worker bite that brought about the firing. Just a hunch.
Dog Video
Tonight's ONT brought to you by vintage Delta Airlines menu: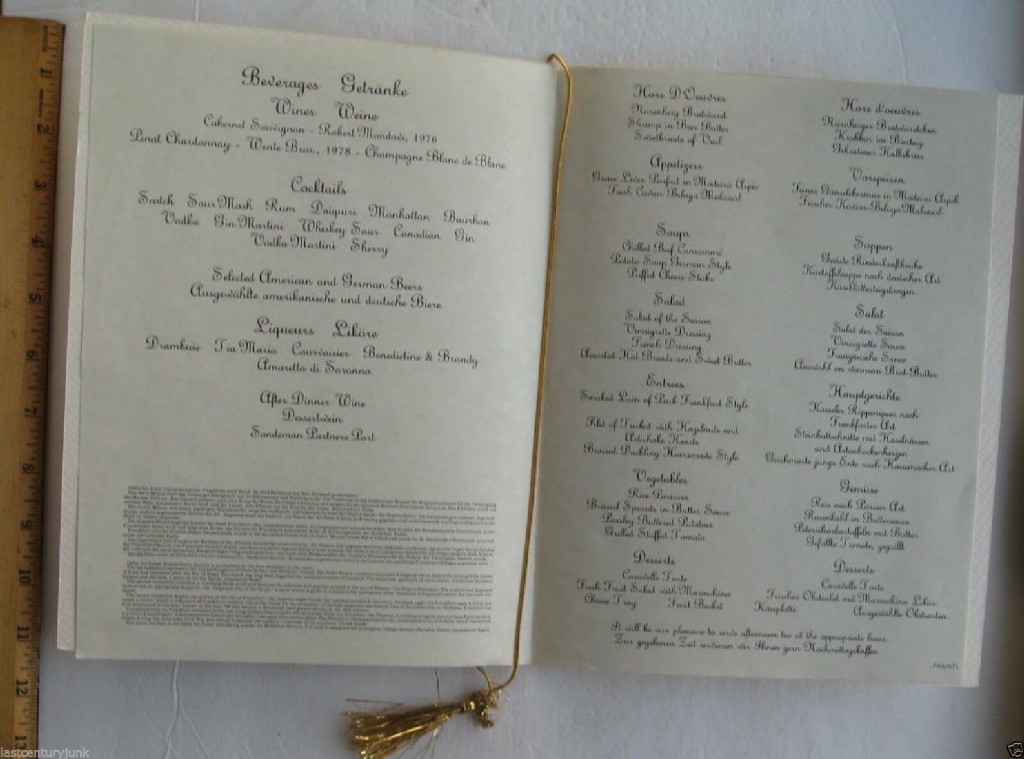 Notice: Posted by permission of AceCorp LLC. Please e-mail overnight open thread tips to maet or CDR M. Otherwise send tips to Ace.

posted by CDR M at
10:03 PM
|
Access Comments