« The Order of Gaming (2/15/2015)
|
Main
|
Obamacare follies / open thread [Weirddave] »
February 15, 2015
Food Thread: Cabin Fever Edition [CBD]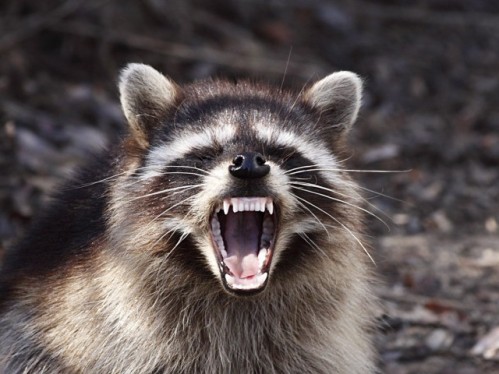 I am feeling rather inadequate as a cook: I have made biscuits about 100 times, but this morning's batch was....crappy. No, not crappy, but not particularly pleasing. Maybe I overworked the dough. Maybe I mis-measured, although it's not that difficult to portion out two cups of flour and one cup of buttermilk.
I blame Bush.
********
A 707-pound hog
probably isn't the best eating because it is old and tough, but I suspect the bragging rights make up for any deficiencies in the flavor of the meat.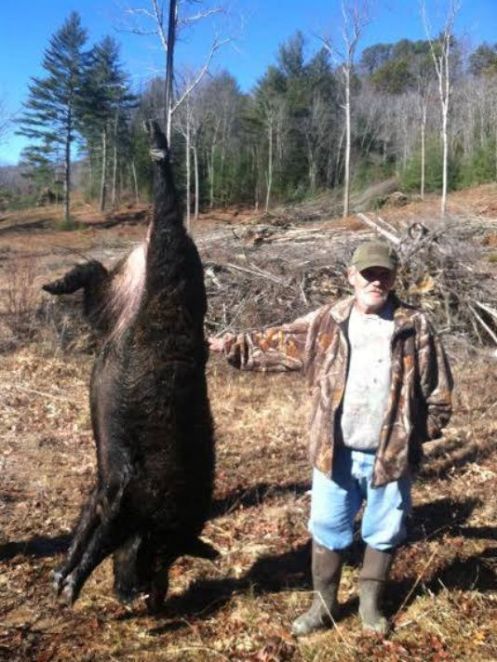 The only wild pig I have eaten has been young and tender and unbelievably good. The best piece was the ham from a small pig shot by a friend, processed by a local Anderson Valley CA butcher. It was almost 20 years ago, and I still remember it vividly.

********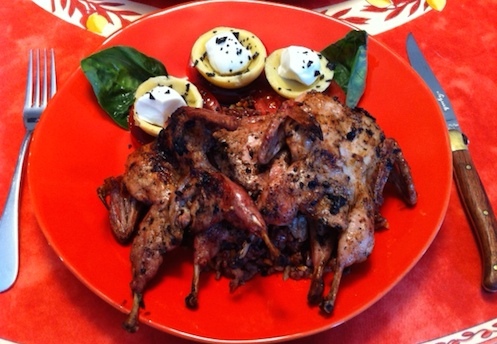 Intrepid blogger Y-not is enjoying unseasonably mild weather in her neck of the woods. So she tortured me with a photograph of her lunch: grilled quail.
Aside from the startling and unexpected cruelty demonstrated by her taunting me with this photograph (I have two feet of snow on top of my grill, and it is 19 degrees, with a low of -2 expected tomorrow morning), it is a glorious example of how a simple preparation can be a thing of beauty. I'll bet that prep for this dish took about three minutes.

********
I don't know who Charlotte Voisey is, and I have no idea whether this drink is any good (although I suspect it is), but there is something appealing about her and her
Ace of Clubs cocktail.
[If the video doesn't play, try this:
Ace of Clubs
]
********
I'm sure I have posted this recipe before, but I have been staring at my grill and smoker, mostly buried on the patio, and figure that this is as close as I will get to grilled food for the next several weeks.
Oven-Barbecued Pork Ribs
2 Racks pork ribs, peeled and trimmed of flap meat, upper knuckles (reserve for later) and excess fat (That's called a St. Louis cut).
3 tablespoons Brown Sugar
3 tablespoons Granulated Sugar
3 tablespoons Paprika
2 tablespoons Kosher Salt
1 1/2 tablespoons Garlic Powder
1 1/2 tablespoons Dry Mustard
1 tablespoon Freshly Cracked Black Pepper
1/2 tablespoon Cumin
1/2 tablespoon Cayenne Pepper (optional)
1/2 tablespoon Ancho Chile Powder (optional)
1/4 teaspoon Cinnamon (optional)
Mix dry ingredients with whisk, or even better, blend in a food processor. Make sure that the rub is free of lumps of brown sugar.
Cut the knuckle meat into 2" chunks.
Rub the ribs, knuckles and flap meat with the spice mixture. You don't have to use it all, just make sure that the meat is thoroughly coated.
Allow to rest for at least a few hours in the refrigerator, but preferably overnight.
Preheat oven to 250 F.
.
Place racks flat on baking sheet. (Sprinkle additional brown sugar over the racks).
Place knuckles and flap meat onto another baking sheet.
Bake, uncovered for about 3 hours, turning occasionally. The sugar will gradually caramelize and look very appetizing. It's tough to overcook them, especially at such a low temperature. Take them out when they look a sort of deep reddish caramel color (weird, I know).
Remove racks to covered platter and allow to rest until barely warm. At this point I slice the racks into single ribs and serve. But, if you really insist on being authentic, grill the ribs over medium-high heat until the sugars caramelize even more and meat is crispy and brown (about 5 minutes). If you don't have access to a grill (mine is covered in two feet of snow), put them under the broiler for a few minutes on each side. But watch carefully, the sugars will burn!
Let ribs rest for 5-10 minutes. Cut into individual ribs.
Serve knuckle and flap meat to any stray children. Although it's a tossup in my world whether the knuckles are better than the ribs, so try a few before you serve them to the kids. You might want to order them a pizza.
Any NY/NJ Morons reading this screed? We are in discussions for a Moron Meet-up in Hoboken for the first week of March. Please e-mail nynjmeet at optimum dot net to express your interest or disgust. And a preference for weeknight or weekend would be helpful (It seems like it will be Friday or Saturday).

posted by Open Blogger at
04:00 PM
|
Access Comments