« So Brian Williams Has Been Suspended, Without Pay, For Six Months
|
Main
|
Morning Thread (2-11-2015) »
February 10, 2015
Overnight Open Thread (2-10-2015) – Surprise Early Edition!
Just to see who's really pantless and who's just talking a good trouser-free game.
Brutal: Buffy the State Dept Tri Delt hits peak flopsweat explaining "random" Kosher grocery attack in Paris http://t.co/mX5N39fNmb

-- David Burge (@iowahawkblog) February 10, 2015
Obama's right. Terrible things have been done in the name of Christianity. I have yet to meet a Christian who denies this.

But, as odd as it may sound for a guy named Goldberg to point it out, the Inquisition and the Crusades aren't the indictments Obama thinks they are. For starters, the Crusades - despite their terrible organized cruelties - were a defensive war.

"The Crusades could more accurately be described as a limited, belated and, in the last analysis, ineffectual response to the jihad - a failed attempt to recover by a Christian holy war what had been lost to a Muslim holy war," writes Bernard Lewis, the greatest living English-language historian of Islam.

...We are all descended from cavemen who broke the skulls of their enemies with rocks for fun or profit. But that hardly mitigates the crimes of a man who does the same thing today. I see no problem judging the behavior of the Islamic State and its apologists from the vantage point of the West's high horse, because we've earned the right to sit in that saddle.

-- Jonah Goldberg in Horse Pucky from Obama
Not from this site of course. Here traditionalguy at Althouse's site has a modest proposal to deal with 'rape culture' on college campuses:
We are close to a solution here . Airlines have black boxes. Women need vagina implants that monitor their speed, height, motion and reaction to the men that fly them while drunk.

To be fair the male penis will need an implant doing the same measurements including length and hardness of course

All we have to work out is getting the drunks through metal detectors. This will be to College Fraternities what birth control pills were 50 years ago.
Vox Accidentally Breaks News, Regrets It
By revealing that Obama views all 'terrorist' attacks as really just random attacks on random people for no discernable reason other than free-floating 'extremism'.
And then the Obama administration triple-downed on stupid.

Researchers: It Turns Out That Fat's Not Actually Bad For You
Not only were the low fat dietary recommendations issued for decades wrong but they were essentially based on nothing at all.
Guidelines warning people to avoid eating fatty foods such as butter and cheese should not have been introduced, new research has found. Dietary advice issued to tens of millions warned that fat consumption should be strictly limited to cut the risk of heart disease and death.

But experts say the recommendations, which have been followed for the past 30 years, were not backed up by scientific evidence and should never have been issued. The guidelines, introduced in the UK in 1983 and in the US six years earlier, recommended reducing overall dietary fat consumption to 30% of total energy intake and saturated fat to 10%.

But researchers say the guidelines "lacked any solid trial evidence".
But I guess someone had a hunch. And it turned out to be...wrong, a bad call Mr. Heart-and-Waistline, a bad call.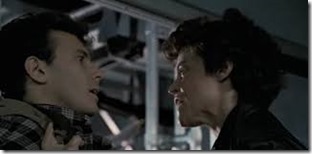 The Greatest NBC News Moment Ever?
Comes 17 seconds into this report.
Scientists say settling for 'Mr Right Now' is better than waiting for 'Mr Right'
If you're living in a group of under 150 people. Which was human society for most of history.
As Parents Get More Choice, San Francisco Schools Resegregate
Because racism apparently because what other reason could there be.
The Ghetto Paradox: Poor Children Do Better in Poor Neighborhoods
Poverty and disadvantage are intensified when poor people cluster, runs the argument; conversely, the rich are unfairly helped when they are surrounded by other rich people. Social mixing ought to help the poor. It sounds self-evident-and colours planning regulations that ensure much social and affordable housing is dotted among more expensive private homes. Yet "there is absolutely no serious evidence to support this," says Paul Cheshire, a professor of economic geography at the London School of Economics (LSE).

And there is new evidence to suggest it is wrong. Researchers at Duke University in America followed over 1,600 children from age five to age 12 in England and Wales. They found that poor boys living in largely well-to-do neighbourhoods were the most likely to engage in anti-social behaviour, from lying and swearing to such petty misdemeanours as fighting, shoplifting and vandalism, according to a commonly used measure of problem behaviour. Misbehaviour starts very young (see chart 1) and intensifies as they grow older.
The Top 50 Sci-Fi Babes of Classic TV & Cinema
And 50 is a lot! A very special award goes to Mathilda May who managed to be nude for the entire length of Lifeforce.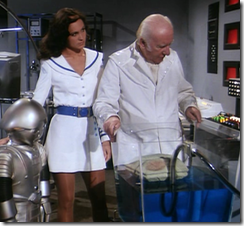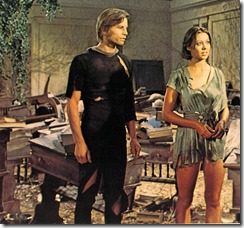 Teh Tweet!
Tonight's post brought to you by accused killer finally exonerated after 54 years:
Notice: Submitted as a contractual obligation to AceCorp LLC. Please e-mail overnight open thread and hot racing tips to maetenloch at gmail. Otherwise send your long romantic letters to Ace.

posted by Maetenloch at
08:57 PM
|
Access Comments