« Early Morning Thread 2/8/15: Crossroads edition. [krakatoa]
|
Main
|
Gun Thread - My Wife, I Think I'll Keep Her Edition [Weirddave] »
February 08, 2015
Sunday Morning Book Thread 02-08-2015: Footnotes to Solzhenitsyn [OregonMuse]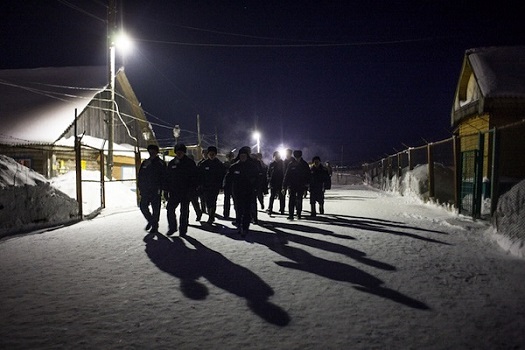 "You Know, Maybe I Should've Just Baked That Damn Wedding Cake"
Good morning to all of you morons and moronettes and all the ships at sea. Welcome to AoSHQ's stately, prestigious, and high-class Sunday Morning Book Thread. The only AoSHQ thread that is so hoity-toity, pants are required. Or kilts. Kilts are OK, too. But not tutus. Unless you're a girl.
Book Quote
It is a good rule after reading a new book, never to allow yourself another new one till you have read an old one in between.

-C.S. Lewis

Americans In The Gulag
In his best-selling memoir Angela's Ashes, Frank McCourt tells how life got so bad for his Irish immigrant family in New York during the 1930s that they relocated back to Ireland. Which was still a pretty dismal place, never having really recovered from the potato famine of 1845-1852. But that McCourt's family thought their lives would be better there is an indication of just how bad the Depression was in the United States.
Others left the country, too. A number of progressives and commies, faced with grim prospects at home, and hearing that Russia was implementing a communistic system they were enamored with, packed up and moved, some with their entire families, to the USSR. They saw the future, and they were told that it worked.
If I remember correctly, one of the 7 companions of Slavomir Rawicz on his Long Walk out of Siberia was an American commie who went to the land of his dreams and ended up in one of Stalin's labor camps. And he wasn't the only one.
Ideology wasn't the only reasons for emigration to the USSR, but a number of Americans who went there were eventually imprisoned. Particularly when Stalin was in power, when things were definitely crazy.
Some were fortunately able to write of their experiences.
For example, Alexander Dolgun's Story: An American in the Gulag is the account of an American embassy employee who was kidnapped by the KGB, imprisoned, tortured, and falsely convicted of espionage, political terrorism, anti-Soviet propaganda, etc. He spent eight years at a forced labor camp. After his release, he met Solzhenitsyn, who interviewed him while writing The Gulag Archipelago.
And then there is the unfortunately titled Coming Out of the Ice: An Unexpected Life by Victor Herman. I say 'unfortunate' because these days, any book with 'Coming Out' in the title makes you think it's going to be one of those "hey everybody, I'm gay now and aren't I wonderful?" fiestas of cornholery, but fortunately, that's not true in this case. This memoir is written by
...a young American man who was sent to the Soviet Union with his parents by the Ford Motor Company to set up an auto plant. He was eventually thrown into Soviet prisons and could not return to America until forty-five years later.
In other words, they ruined his entire life. But that's not all:
During his life in and out of Russian prisons, he met and fell in love with a beautiful Russian gymnast who followed him into exile and lived with him and their child for a year in Siberia, in a cave chopped out under the ice.
What human beings can endure never ceases to amaze me.
A movie was made based on Herman's book, available on VHS, but I don't think it ever made it to DVD.
Not a first-person account, but a carefully researched investigation by British writer and filmmaker Tim Tzouliadis, The Forsaken: An American Tragedy in Stalin's Russia, tells of American men and women who went to the USSR during the Great Depression in search of jobs, ideology, or both. They were welcomed when they were needed to help build Soviet industry. Then they began to disappear into the gulags.
You'd think that the American government would raise holy hell because of missing American citizens, but that never happened. Tzouliadis cites extreme "Russian duplicity" in dealing with the FDR administration, and while that no doubt is true, there was also the question of Roosevelt's government being lousy with commie agents and spies, and maybe that had something to do with it.
And not only Americans. Hungarian Rupert Raphael was working from the British embassy in Budapest when, in 1947, he was arrested, convicted of "spying" and sent into the Gulag. Fortunately, he survived and wrote about his experiences in A Hidden World: My Nine Years in the Soviet Gulag, first published in 1963.
Hell On Earth: Brutality And Violence Under The Stalinist Regime by Ludwik Kowalski, the son of Polish civil engineer and "idealistic communist" who emigrated to the USSR in 1931. His wife and his infant son joined him soon after. In 1938 he was arrested and sent to a Gulag camp in Kolyma, where he died two years later at the age of 36.
After All These Years
When I first heard the news earlier this week that Harper Lee, the author of the modern classic To Kill A Mockingbird, had written a new book, I thought, why? After all this time, what could she possibly have to say?
But, as this NY Times article points out, this is not a new thing:
On Tuesday, Ms. Lee's publisher announced its plans to release that novel, recently rediscovered, which Ms. Lee completed in the mid-1950s, before she wrote "To Kill A Mockingbird." The 304-page book, "Go Set a Watchman," takes place 20 years later in the same fictional town, Maycomb, Ala.
So it's not actually a "new" book, but rather a "new old" book, and it's from a hitherto lost manuscript:
Ms. Lee said she had thought the draft of "Go Set a Watchman" had been lost or destroyed. Then last fall, Tonja Carter, her friend and lawyer, discovered the manuscript in a secure place where Ms. Lee keeps her archives, attached to an original typed manuscript of "To Kill a Mockingbird."
This actually makes me feel more hopeful that it might be worthwhile. I had assumed that Lee had written it recently, and I was dreading how bad a progressive morality play it was going to be, and speculating about how much Kool-Aid Lee had been drinking.
To Set A Watchman is available for pre-order on Amazon, where it's already a bestseller. It's scheduled to be released in July.
And incidentally, the NY Times piece I linked to is a good example of the kind of interesting, informative journalism they're capable of when they're not acting as shills for the Democratic Party.
Ms. Lee has occasionally addressed the question of why she never published another book after "To Kill A Mockingbird." She has said she found the publicity surrounding "To Kill a Mockingbird" overwhelming and that she had said all she had to say in that single work.
So in other words, she said she what she had to say, then shut up. I admire her restraint.

Ideas Have Consequences
So, a while back I told of some brick-and-mortar bookstores in San Francisco that were still somehow managing to survive in spite of Amazon and other internet book sources. These included Borderlands, a science fiction/fantasy bookshop located on Valencia Street.
In November, San Francisco voted to increase the minimum wage to $15 by 2018.
So, yay living wage! Yay fairness! Yay equality!
But how's it working out?
About like you'd expect. They're going out of business! From the Borderlands web page:
In November, San Francisco voters overwhelmingly passed a measure that will increase the minimum wage within the city to $15 per hour by 2018. Although all of us at Borderlands support the concept of a living wage in principal and we believe that it's possible that the new law will be good for San Francisco -- Borderlands Books as it exists is not a financially viable business if subject to that minimum wage. Consequently we will be closing our doors no later than March 31st.
Heh. The progressive is strong in this one. One the one hand, it is possible to argue that something is generally beneficial even though it may hurt you personally. But even so, the Borderlands owner must believe that there has to be other businesses in San Francisco that can absorb the wage increase, thus benefiting bottom tier employees. I wonder if it had occurred to him that other businesses are subject to the same economic pressures as his, and that every regulation that adds to the cost of hiring will result in less hiring.
Richard Weaver e-mailed to tell me "See? I told you so."

Little Free Libraries
You might come across a little caches of book in a box or case in some public area, with the instruction "Take A Book, Return A Book". These are little free libraries and they're springing up all over:
Little free libraries are becoming more and more common to communities from Maine to California and all over the world, according to the non-profit FreeLittleLibraries.org.

They allow for members of a community to exchange their favorite books with their neighbors. The trading of these books can generate discourse and an exchange of ideas between neighbors who may not interact often, despite their physical proximity to one another.
Naturally the government has to get in and screw things up:
Actor Peter Cook, who acts under the name Peter Mackenzie, and his wife Lili Flanders, a writer, operated a little free library at their home in Los Angeles. But one day last month, a city investigator demanded that they remove the library. The "library" was nothing more than a series of wine crates containing the books fastened to a redwood post near the curb, or face a fine, according to the Los Angeles Times.
I wonder what public good the city thought it was doing by threatening Mr. Cook. No man's life, liberty, or property is safe when the legislature is in session. Or when power is given to petty, small-minded bureaucrats.
Update: a moron emailed me, noting that these little free libraries are perfect opportunities for conservative infiltration. So, my question to you is, what conservative-learning books could we put in a free exchange library that are fun, easily accessible, and that won't scare people off?

What I'm Reading
I've started Unbroken by Laura Hillenbrand and it is surprisingly good. I never would have suspected that the juvenile Zamparini was a sneak thief and petty criminal and Nrs. Muse, who's also reading the book, remarked to me that he's fortunate he didn't wind up in reform school or jail. Also, I'm learning stuff about WW II that I never knew before. Like, if you were a pilot or part of a flight crew, you were far more likely to get killed in a training accident than you were by enemy action. That's just weird.
I also discovered that Zamparini has written his autobiography, Devil at My Heels: A Heroic Olympian's Astonishing Story of Survival as a Japanese POW in World War II and I think that's an embarrassing, full-of-yourself kind of title, but maybe it was written by some guy in the publisher's marketing division. At least I hope it was.
___________
So that's all for this week. As always, book thread tips, suggestions, bribes, rumors, threats, and insults may be sent to OregonMuse, Proprietor, AoSHQ Book Thread, at the book thread e-mail address: aoshqbookthread, followed by the 'at' sign, and then 'G' mail, and then dot cee oh emm.
What have you all been reading this week? Hopefully something good, because, as you all know, life is too short to be reading lousy books.

posted by Open Blogger at
09:04 AM
|
Access Comments